COAL TOWNSHIP — A dinner plate laid before Tom Shicowich, of Strong, is divided four ways with each meal — a quarter each for proteins and starches and a quarter each for different vegetables.
Shicowich adopted the healthy eating strategy to combat Type 2 diabetes using lessons learned through Geisinger's Fresh Food Farmacy program at Geisinger-Shamokin Area Community Hospital. He said he cut his blood sugar by nearly half and gradually dropped 50 pounds over one year.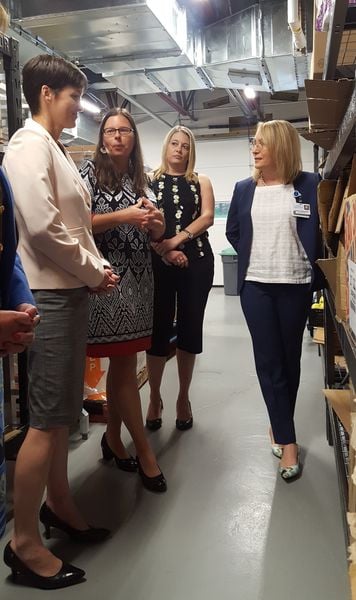 "It strikes me, even those without diabetes can probably benefit from a diet like this," Teresa Miller, secretary, Department of Human Services, said during a visit to the Fresh Food Farmacy Thursday.
"I live by it," Shicowich replied.
Miller's visit kicked off a statewide Medicaid Innovation Tour that highlights innovative ways managed care organizations help recipients to improve their health and find homes and jobs.
About 150 patients are enrolled in the Fresh Food Farmacy, which feeds 450 people and delivers 4,500 meals into the community as a result.
Patients pick foods from suggested items — fresh fruits and vegetables, dairy, lean proteins, canned and boxed goods and whole grains. The goods are low in fat and sodium and follow a heart-healthy suggested diet. They're allotted enough for two meals a day, five days a week.
The program was born out of a pilot program in 2016. Northumberland County was chosen as the first location because of high rates of diabetes and food insecurity. Potential patients are identified through electronic health record information and screenings.
Andrea Feinberg, medical director, Geisinger Health and Wellness, said the program is based on four pillars.
Patients participate in 15 hours of evidence-based diabetes management and also undergo one-on-one counseling with a registered dietician. They receive support in seeking social services and are provided fresh food.
In studying the results of participating patients with those who turned down program enrollment, Feinberg said there's a 25-percent drop in emergency room visits and a 50-percent decrease in admissions. Results are obvious in as little as three months, she said, such as in blood sugar or cholesterol improvements and weight loss.
Geisinger didn't develop the program specific for Medicaid patients, Feinberg said.
"We knew we would hit a large portion of our Medicaid population," she added.
"At DHS, we are focused on healthy individuals, which means looking beyond just what happens in a healthcare setting to the social and environmental factors that impact an individual's well-being," Miller said. "Nutritious food is a critical step toward better health and development, including preventing illness and disease."
Learn more at www.geisinger.org/freshfoodfarmacy.
Email comments to escicchitano@dailyitem.com. Follow Scicchitano on Twitter @ericshick11.