Multiple memorials to baseball greats with ties to Valley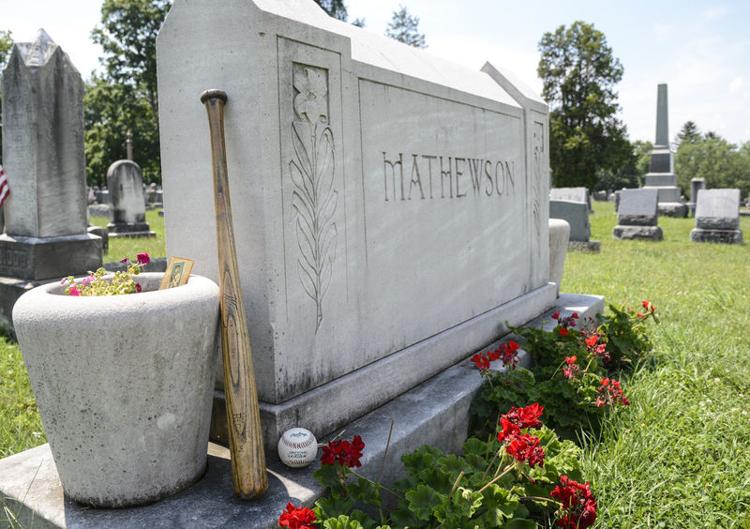 Memorials to the Baseball Hall of Fame members with roots in and near the Valley are easy to find in some places and not so easy in others.
Honors bestowed to Christy Mathewson are most obvious, and rightly so. Mathewson became an icon of early 20th Century professional baseball and was enshrined in the Hall's very first class alongside Babe Ruth and Ty Cobb.
Bucknell University added Mathewson's name to its football stadium in 1989, Christy Mathewson-Memorial Stadium. The main gates to the university along Moore Avenue were built in 1927 and dedicated a year later to Mathewson.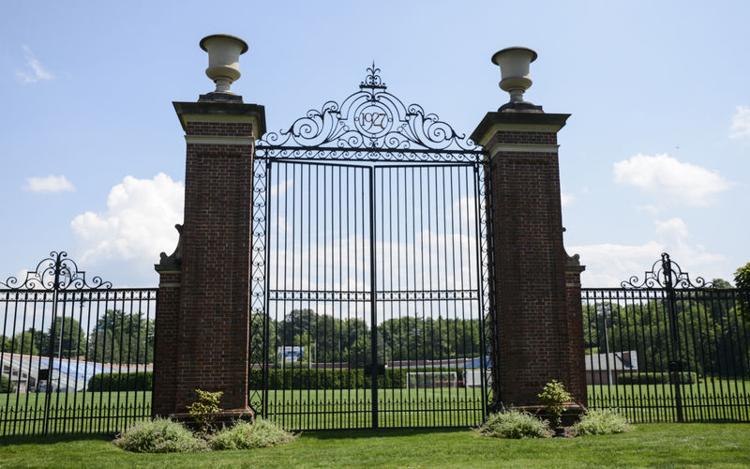 Every big-league team donated toward the construction of the gates, according to Society of American Baseball Research. Judge Kennesaw Mountain Landis, baseball commissioner at the time, attended the ceremony along with Mathewson's son, Christy Jr.
"Christy Mathewson deserves this tribute because of his astounding feat as a pitcher and also because of his sterling character and his fine influence over the boys of the nation who idolized him. He was a credit to the college that helped to train him, for he had brains and character as well as skill," Landis said in 1937 during a ceremony at which the cornerstone was laid on campus for Davis Gymnasium.
A short walk behind Sojka Pavilion to the middle of Lewisburg Cemetery is Mathewson's gravesite.
"Yes, we do take pride in Christy being in the first group inducted. Few, if any colleges can claim that for an alum since … college men were not common in early professional baseball," said Gary Sojka, former Bucknell University president for whom Sojka Pavilion is named.
Mathewson's hometown of Factoryville, Wyoming County, hosts a community celebration annually in his name. A park there bears his name, too, and a small statue was installed near youth baseball fields.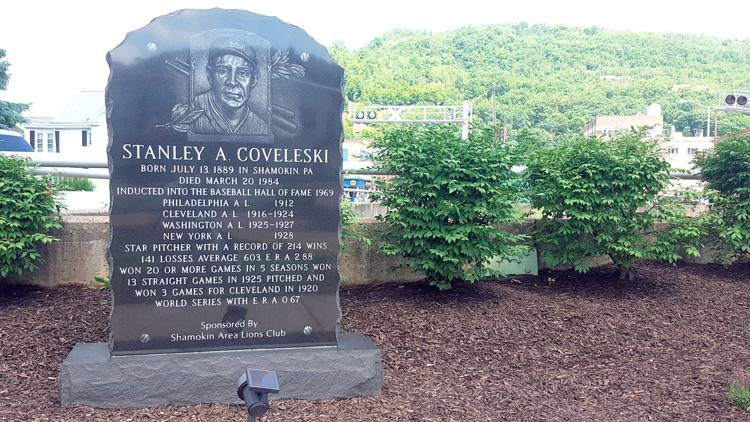 Coal for Coveleski
Stanley Coveleski is a Shamokin boy who became a world-class pitcher and member of the Hall of Fame.
Though he was born and raised in the coal region, he settled in South Bend, Indiana when his playing days ended in 1929.
There, the Chicago Cubs Class A affiliate plays in a stadium named in his honor, Four Winds Field at Coveleski Stadium. A bronze statue of him delivering a pitch is placed beyond centerfield. It's a 13-minute drive from the Notre Dame University football stadium.
In his birthplace is a memorial work of another kind — coal.
Coveleski worked as a boy picking slate from coal mined beneath his town. Across from Independence Hose Co. on an island separating the northbound and southbound lanes of Market Street rests the memorial, sponsored by the Shamokin Lions Club. On it is a portrait from his Hall of Fame plaque along with stats and facts from his career.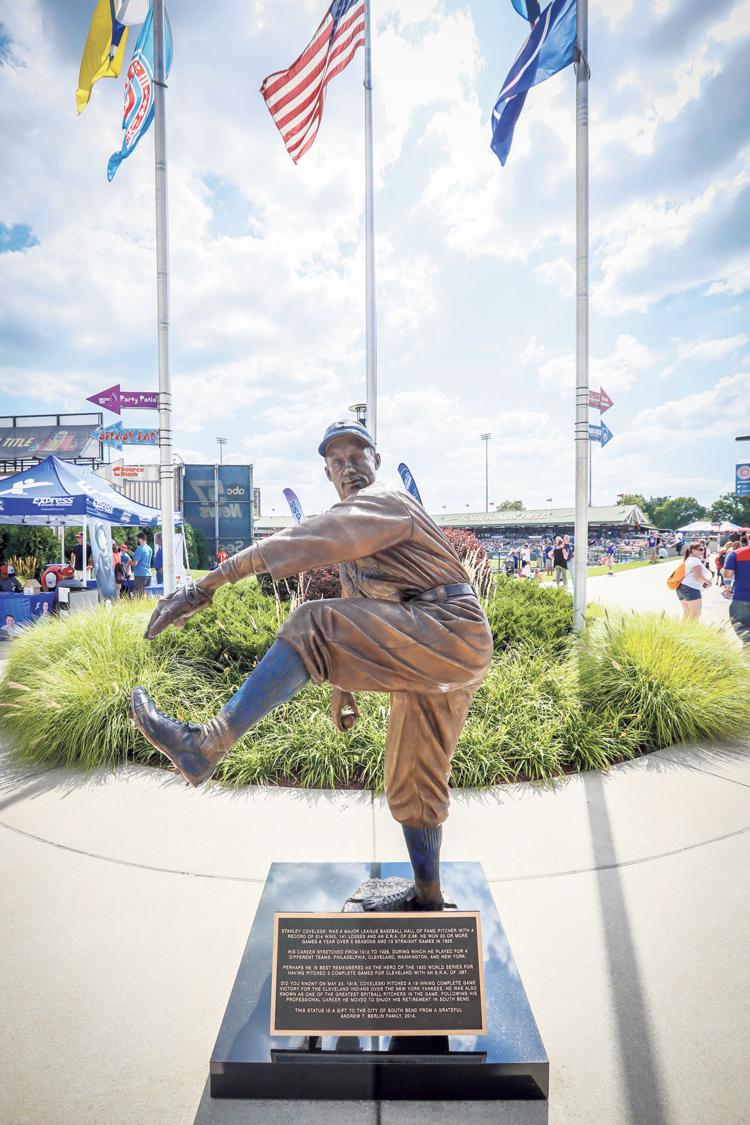 When he was inducted almost 50 years ago, Shamokin hosted a banquet and parade with Coveleski as the guest of honor.
Tom Kutza, known from his days as "The Morning Mayor" at WISL, interviewed Coveleski ahead of the celebration. Long retired from radio, Kutza remembers it vividly. Coveleski came to the studio, white button-down shirt sleeves rolled back, toting an Acme bag. Inside were chunks of ice covering cans of Shamokin's own F&S beer. The Hall of Famer offered, kind as he was, but Kutza declined since he was working.
"I'll never forget, it was ice cold," Kutza said. "I would have loved to have 10 of them with him, believe me."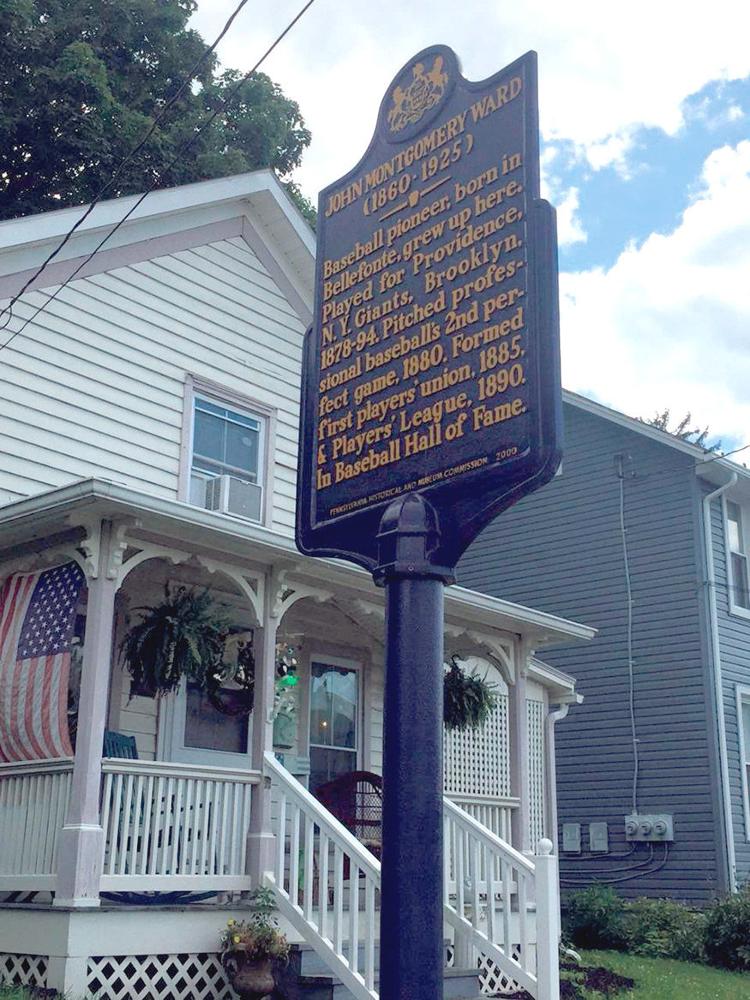 Fields, road in Ward's name
Retired Centre County Judge Charles Brown shies just short of certainty in saying he'd once lived in the same Bellefonte home of John Montgomery Ward.
Property records show Ward's mother, Ruth, purchased the home at 236 E. Lamb St. from a sister after the death of Ward's father, Brown said. It was in her name through the year of her own death in 1874, which leads Brown to believe Ward lived there before he went off to State College at age 13 to attend what would become Penn State University.
"It was always part of Bellefonte lore. We just accepted it," Brown said, reiterating the chain of possession through property titles.
It's accepted by the Pennsylvania Historical and Museum Commission, which placed a marker honoring Ward outside the home in 2000.
Bellefonte's teener league baseball fields are about 1.5 miles west of the home. The road off Parkwood Drive leading to the fields was renamed John Montgomery Ward Lane. Another ballfield at Governor's Park is named after Ward.
"Few if anybody besides me or a couple others really think about it," Brown said of Ward. "I think it's great. We're doing a bit better than we used to in recognizing him."