Valley trio among baseball's elite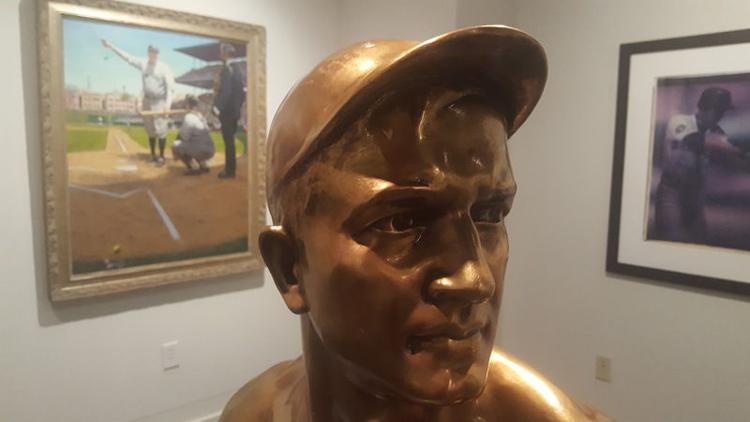 Long are the odds to become a professional baseball player. Longer still are the odds to be enshrined in the National Baseball Hall of Fame.
An estimated 18,900 players found their way into a Major League Baseball lineup since the first professional ball club was established in 1869. Just 226 left behind a legacy Hall of Fame voters found fit for a bronze plaque in Cooperstown, N.Y., distinguishing them as the greatest to play the game.
Six more ballplayers today join the iconic 1 percent enshrined in the national baseball museum, where affixed to the walls of the Hall of Fame Gallery are plaques honoring a Bucknell University legend, a Shamokin coal miner and a revolutionary from Bellefonte.

Christy Mathewson
The five plaques belonging to members of the National Baseball Hall of Fame's inaugural class of 1936 anchor the museum's gallery. The names ring immortal in the game: Babe Ruth, Ty Cobb, Honus Wagner, Walter Johnson and Bucknell's own, Christy Mathewson.
Mathewson's strict upbringing in Factoryville, north of Scranton, shaped his character in such a way that bucked the norms of the rap professional baseball players gained in that era, fairly or not — barely educated men with violent, carousing lifestyles.
The culture of professional baseball evolved at the outset of the 20th century and Mathewson stood out as a shining example.
"Into that world stepped Christy. He was a college man, he was tall and painfully handsome, well-spoken, religious, well-mannered, clean cut and thoroughly decent," said Gary Sojka, former Bucknell University president and himself a former athlete. "All that taken together made him a true national hero. Not just a sports hero, but a true national hero."
He promised his mother as a kid that he'd never play ball on Sundays, a promise he later kept as a professional player, too.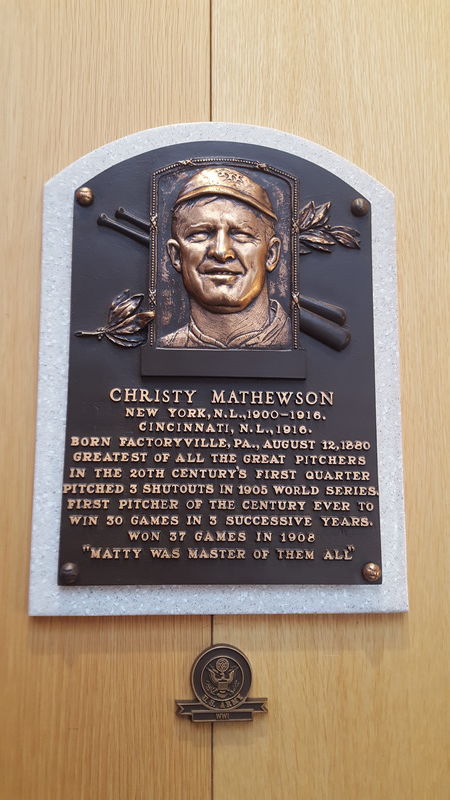 The Hall of Fame describes Mathewson as an A student. Bucknell's own history shows the three-sport athlete was class president, sang in the glee club and played bass in the school band. He enlisted in the U.S. Army during World War I at the age of 38. He was exempt but volunteered anyhow, leaving behind a budding managerial career.
"He was the 'Christian gentleman,' they called him," said Lou Hunsinger Jr., a baseball writer and historian with the Society for American Baseball Research. "He was an example to the youth."
Before his legendary baseball career began, Mathewson excelled in football at Bucknell, where he enrolled in 1898, according to his Bucknell biography. He was among the nation's best drop kickers, not to mention a bruising scoring fullback. Walter Camp, the father of American football, named Mathewson an All-American in 1900 on the strength of the young man's kicking leg.
His arm, though, would thrust him into America's consciousness.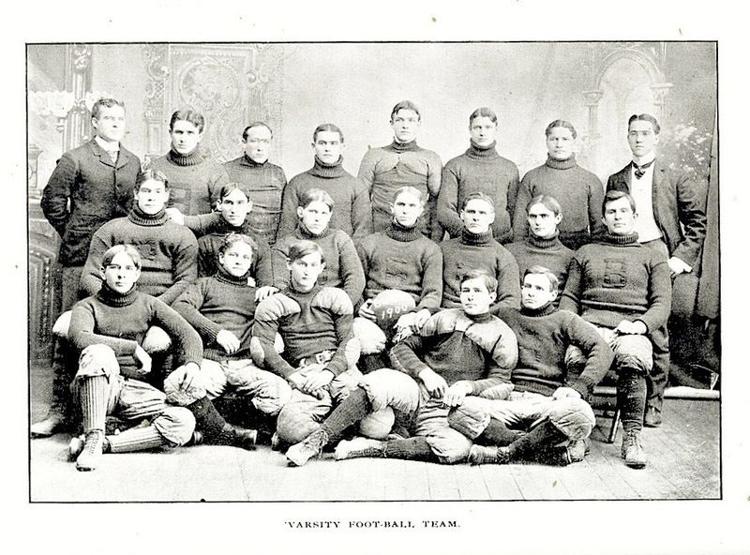 Mathewson dominated with a four-pitch arsenal, most famous among them a fadeaway that would become the "screwball." He won the National League pitching title five times. Over his career from 1900 to 1916, he finished with 373 victories, third-most in Major League history, tallying 37 wins in 1908 and winning at least 30 each season from 1903 to 1905.
That latter year, Mathewson pitched three shutout victories in six days to lead the New York Giants to a World Series championship.
Mathewson's legacy is meticulously archived at the Hall of Fame's library. Folder after folder contains accounts of Mathewson's feats on the pitching mound and his grace off of it. There are personal records and writings, too.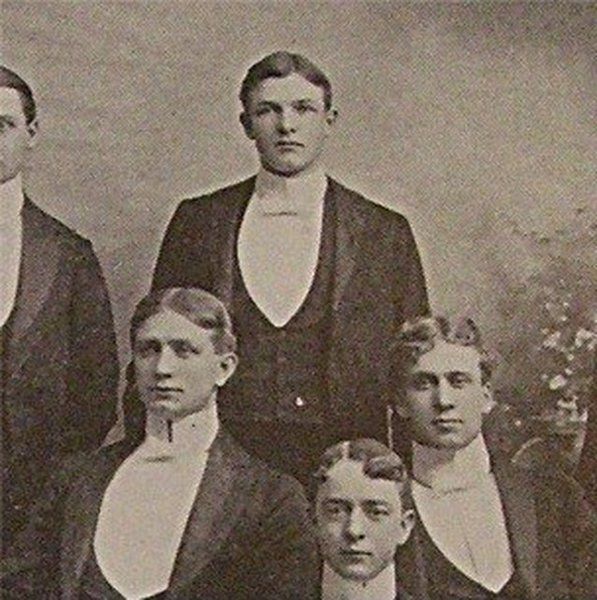 Inside one envelope is the wedding invitation Mathewson and his wife, the former Jane Stoughton, sent to her parents for their Lewisburg matrimony in 1903. There are Army documents noting Mathewson's honorable discharge in 1919 after he was "frequently exposed to poisonous gases" during training with the Chemical Warfare Service — exposure that would lead to his death in 1925 at age 45. A letter from Jane Mathewson to Bucknell University in 1955 confirms a university scholarship, $15,000 at the outset.
Ray Robinson penned a biography on Mathewson, "Matty: An American Hero," and wrote: "With his brains, demeanor and attractive personality, plus his achievements on the field, he was the first authentic sports hero — certainly the first baseball hero. His chief accomplishment, perhaps, was that he came close to living up to his popular image."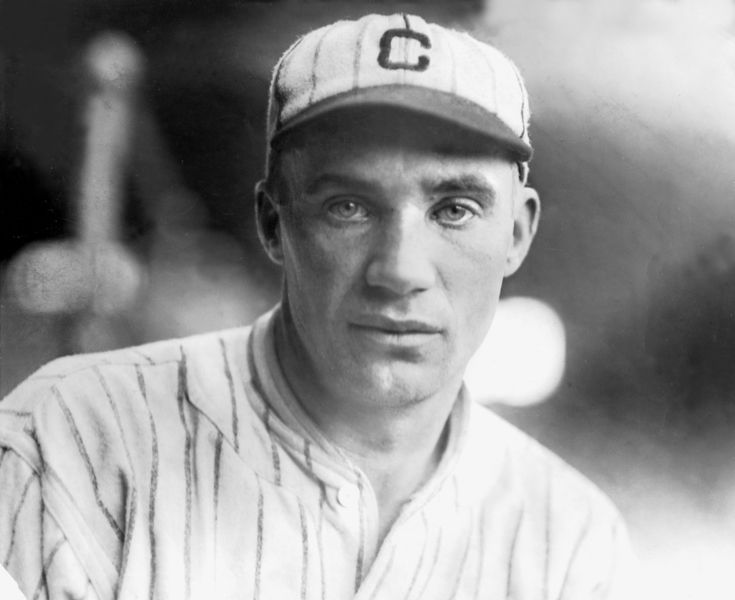 Stanley Coveleski
A month before his induction into the National BaseballHall of Fame, Stanley Coveleski was home in Shamokin.
It was June 30, 1969, and Coveleski's sterling Major League career had long ago ended. He pitched 14 seasons with four teams, won 60 percent of his starts, and twice won the American League pitching title.
Coming off a 24-win regular season in 1920, "The Silent Pole" — a reference to his demeanor and Polish heritage — collected three wins against the Brooklyn Dodgers, also known as the Robins at the time, in leading the Cleveland Indians to a World Series victory. He gave up just two runs in 27 innings pitched over those three games, including a shutout in the deciding seventh game of the rare nine-game series.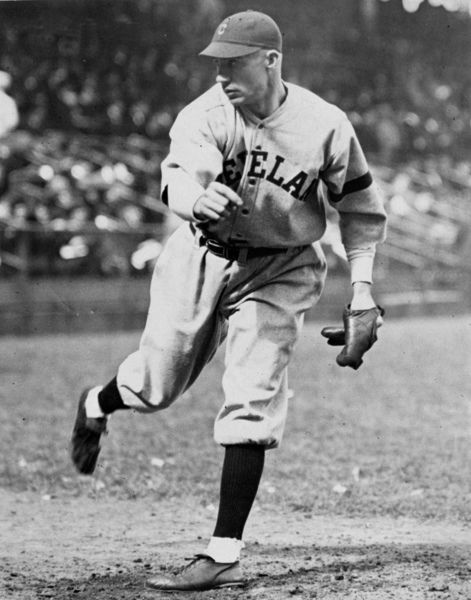 The now-defunct Veterans Committee of the Baseball Writers Association of America elected Coveleski, adding to a class voted in by baseball writers that included Roy Campanella, Stan Musial and Waite Hoyt.
Born in 1889, Coveleski worked the mines at age 12 like many in his era: 11-hour days, six days a week, $3.75 weekly pay. He told WISL's Tom Kutza that June day — the interview is available at www.wislradiohistory.com — that the boys "had our own union," once going on strike to get a single day off.
At the time, he knew more about mining than he did baseball.
"I had a habit of throwing stones, tying a can on a tree," Coveleski said, practicing in the city's Bunker Hill section.
That tin-can aim got the attention of a teacher who recruited him to pitch for a school team. He hadn't pitched in organized ball before that. He was 19. He played five games for a team in the Springfield section of town before joining a professional team in Lancaster of the Tri-State League in 1909. He'd never left Shamokin before. He was shy and unsure. It almost kept him from signing for $250 a month, a sure upgrade from his job hauling timber for $9 a week.
In the diamond, on the mound, he played without fear.
"Did you ever have much trouble against the great hitters of our time, say Babe Ruth, Lou Gehrig and Ty Cobb?" Kutza asked.
"No. Every one of them fellas has a weakness. I never seen a ballplayer didn't have a weakness. If you have control, you can pick through the weakness and you'll have no trouble at all," Coveleski replied.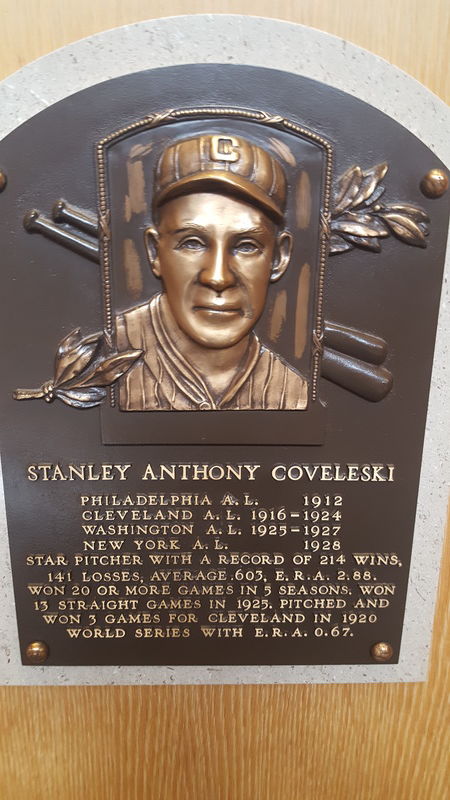 As Coveleski told it, he had a lot of pitches. History knows him most for the "spitball." That's a pitch he used not just to beat batters when he threw it, but to beat them by making them guess when it was coming. He was just one of 17 pitchers grandfathered to use the pitch beyond 1920 after it was banned.
Coveleski led the league in strikeouts in 1920 and finished his career with 215 wins. His Hall plaque credits him with 214 wins, but further research found that the total was one win shy.
A brother, Harry, older by three years, played in the big leagues, too, winning 81 games over nine seasons and earning the nickname "The Giant Killer."
Stanley Coveleski retired in 1929 and settled in South Bend, Indiana, where a minor league stadium was named in his honor. He became a fixture in the community. It's where he's buried. Shamokin, though, was home. He told Kutza he figured he'd move back someday but that didn't happen. He died at age 94 in 1984 and is buried in South Bend.
On July 6, 1969, at a banquet hall outside of Shamokin, a crowd of 500 people gave Coveleski five standing ovations as he was honored ahead of his Hall of Fame induction.
"I'll come home to you someday," Coveleski told the crowd, according to an account archived at the Hall of Fame, "and it won't be too long."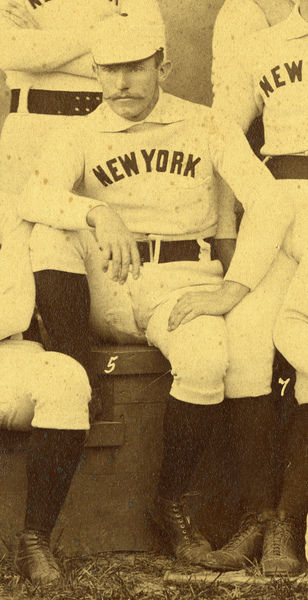 John Montgomery Ward
The organizer of the first players' union, the trailblazer behind a radical player-owned league, the second pitcher to throw a perfect game — a man from Bellefonte accomplished it all.
John Montgomery Ward's history in professional baseball, an on-field career spanning 1878-1894, is one fit for modern days.
His advocacy for players' rights was fierce. To him, baseball was business, not sport. He challenged owners publicly and in the press toward upsetting the control management had on unrepresented labor.
Ward broke into pro baseball at age 18. Born and raised in Bellefonte, Ward was enrolled at age 13 in Pennsylvania State College, the precursor to Penn State University. He helped launch the school's baseball club in 1875.
"The town took an interest in him. He was something in his heyday growing up in Bellefonte," said retired Centre County Judge Charles Brown, a historian who at one point lived in what's believed to be Ward's childhood home.
Well-liked by fellow students, the same couldn't be said for the college's disciplinarians. He'd been in trouble both for stealing a bushel of apples and leaving campus without permission, once to play baseball in Williamsport. A final transgression saw him expelled before his 17th birthday in 1877: stealing chickens.
Bryan Di Salvatore writes in his comprehensive biography on Ward, "A Clever Base-Ballist:"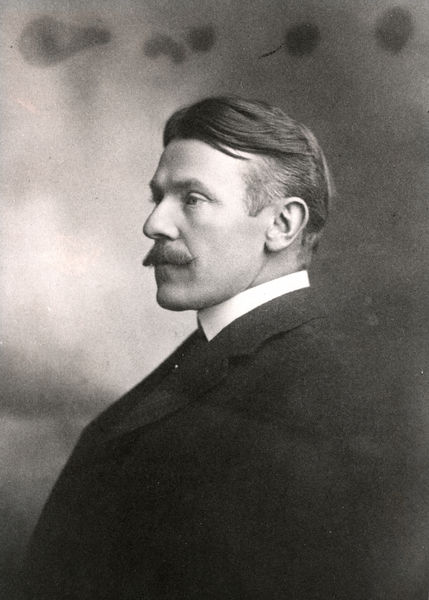 "The last Pennsylvania State College notation for John Ward consists of these words: 'Left College.' He was no longer a popular, award-winning undergraduate and mainstay of the college baseball team. He was a sixteen-year-old expelled liar and chicken thief."
Also, he was a talented athlete and an early master of the curveball. Ward quickly found himself with the Providence Grays of the National League in 1878. He won 22 games in 37 starts that year, leading the league in earned run average. In 1880, he threw professional baseball's second perfect game.
Ward pitched, played outfield and infield at different points of his career. Halfway through his playing days, he earned a law degree from Columbia in 1885. That same year with the support of a handful of fellow ballplayers, he led the formation of the Brotherhood of Professional Baseball Players — not just baseball's first players' union but the first of its kind in the history of American sport.
He earned a second degree in 1886, found celebrity in 1887 when he wed Broadway actress Helen Dauvray, and helped the New York Giants win league titles in 1888 and 1889.
SLIDESHOW: Valley trio among baseball's elite
"By a combination among themselves, the owners are able to enforce the most arbitrary measures. The player either has to submit or get out of the profession. Even the disbandment of a club does not free a player from the octopus clutch. He is still peddled by the league to the highest bidder," Ward is quoted as saying in 1889.
Much of that 1889 championship team and much of the National League itself joined Ward when he opened the Players League in 1890, a bold but doomed move. It folded within a year. He returned to the National League, eventually finishing a 17-year career in 1894.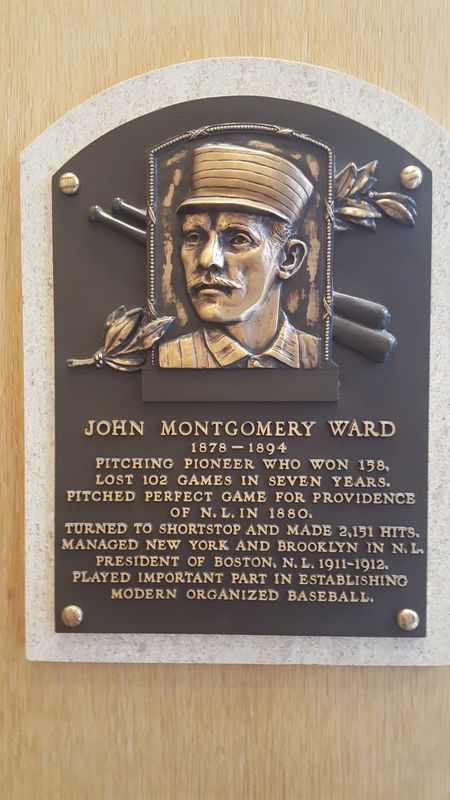 After that, Ward went into law and became something of a player agent and an accomplished amateur golfer. He'd serve as president of the Boston Braves and eventually, in a turn, became a pro-management attorney, at one point arguing against the labor rules he rebelled against as a player. He died in 1925. Four decades later, in 1964, he was inducted into the Hall of Fame for both his achievements on-field and off-field.