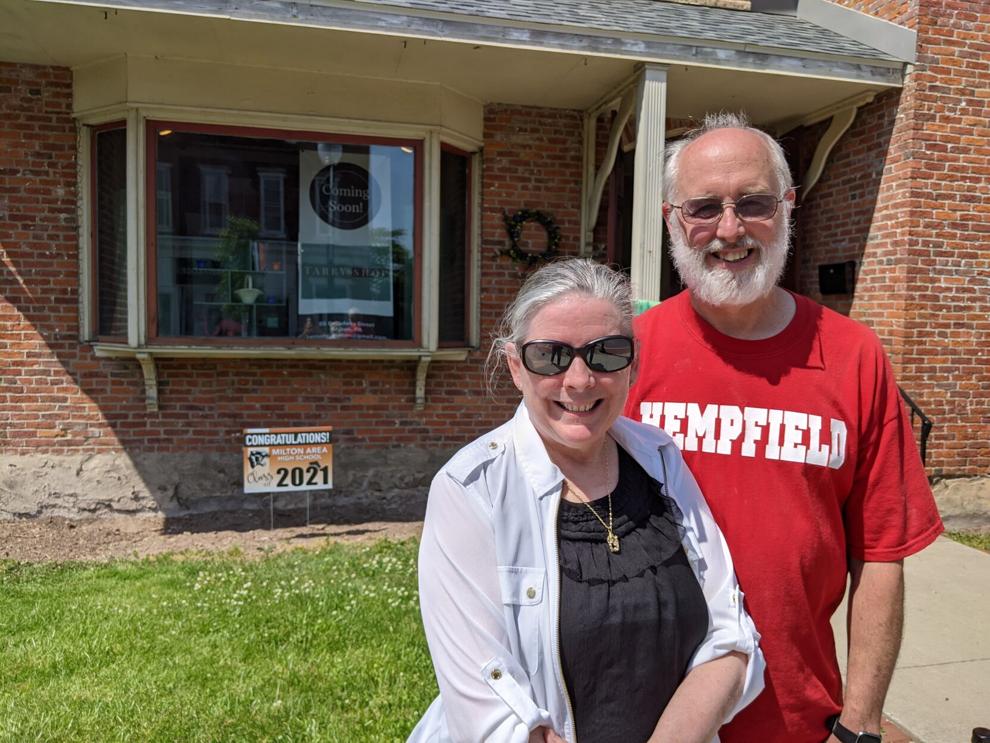 Elaine and John Pfeil settled on one Broadway Street property when they moved to Milton four years ago but kept their eyes on the vacant old Victorian home at the intersection with Arch Street.
"This is one of the properties we looked at in Milton to possibly live in. It's not really functional for that," Elaine said.
"There's no kitchen, no bathrooms. We passed on it at that point," John said.
"But then we watched and we hoped somebody would purchase it," Elaine said.
"Unfortunately, it just kind of sat," John said.
So, the Pfiels reached out to the owner of 65 Broadway St., which had once housed Enterline's Flowers, and reached an agreement. They closed on the purchase in February and are in the midst of a major renovation to convert the building into a new business venture.
Tarry Shop is envisioned as a curated shop of antiques, art and decor, gifts and used books and Milton memorabilia. The Pfeils also plan to open a micro-theater in the upstairs for live performances.
John Pfeil is leading much of the work himself with plenty of help from Elaine: ripping out plaster and exposing a brick wall, restoring hardwood floors and other woodwork like pocket doors, painting walls, cleaning virtually everything, refinishing the building's first and second stories. A handicapped accessible bathroom is in the works, too.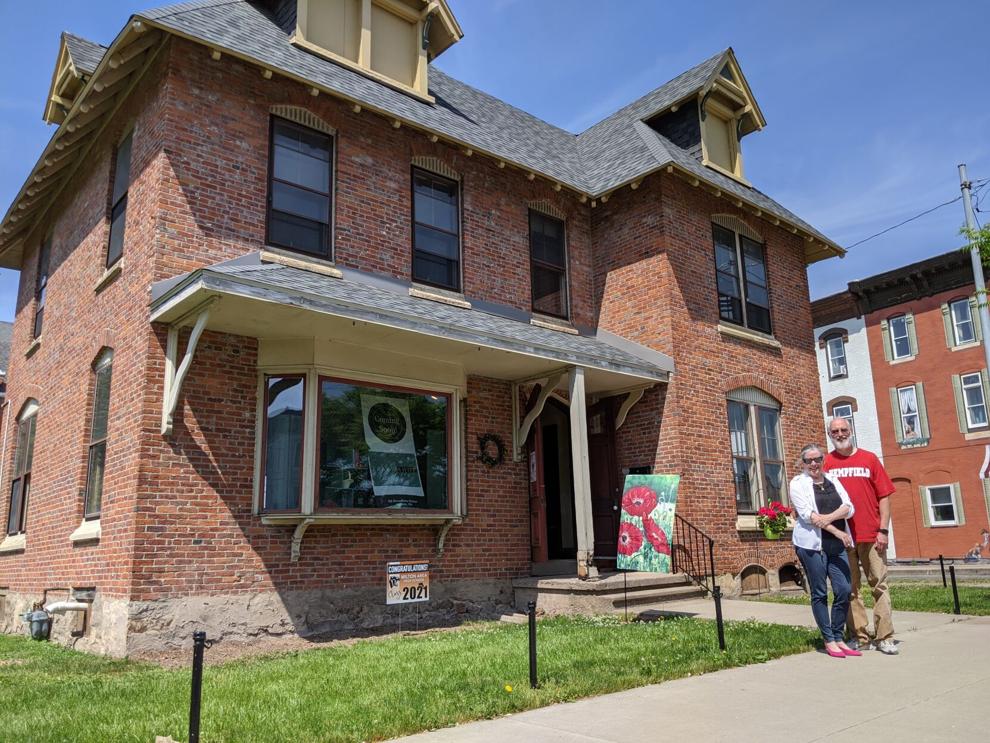 The married couple documents progress on their business's Facebook page: @tarryshop. They share photos of demolition, a story and photos of a family helping to clear brush from the property's yard, promotional posts for Milton events like Beer Fest on June 12 and the property tours they've twice given on First Fridays.
"We're working on preserving as much of the original intent of this building as we can," Elaine said.
The Pfeils are discovering the history of the building as they work. They haven't found much in the way of documentation but note that the home first showed up on local maps during the rebuild period after the massive fire in 1880 that wiped out most of the town. There's charred lumber in the walls, evidence that the Pfeils believe shows some repurposed wood from the fire was used.
Their efforts in restoration and the eventual operation of Tarry Shop will add to the building's history, too.
Elaine envisions Tarry Shop as a place of beauty, joy, welcome. "A place you wouldn't mind hanging out in," she said.
The Pfeils are retired, and their efforts at 65 Broadway St. aren't geared solely to generate new income, they said. As Elaine put it, they're trying to offer an experience and they want to be a part of a business renewal in Milton's downtown.
"We felt like the downtown wasn't going to go anywhere without local people investing in the property and making sure it's preserved for the foreseeable future. The whole downtown is in the flood plain. If the buildings go down, they're down and they can't be rebuilt," John said. "If this works out, maybe sometime down the line we'll try another one."