Gov. Tom Wolf said Friday local school officials and boards of directors will have the final say about whether public schools will open for in-person instruction this fall amid the COVID-19 pandemic.
Wolf sent out a pair of tweets Friday morning to quiet "rumors" that he was eyeing another shutdown. In March, at the beginning of the pandemic, Wolf ordered schools shut down for two weeks before eventually shutting then for the remainder of the academic year.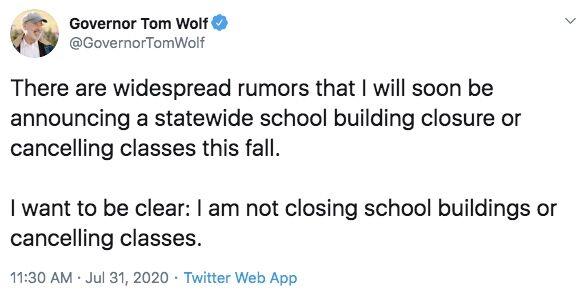 "There are widespread rumors that I will soon be announcing a statewide school building closure or canceling classes this fall. I want to be clear: I am not closing school buildings or canceling classes," he first tweeted.
He followed it with a second tweet giving local control for the decision: "School governing boards and administrators will determine if school buildings reopen and if classes resume in person, remotely, or a combination of the two," he tweeted." The best way to find out about these local decisions is to contact your school's governing board or administration."
Wolf's message was welcome news to Valley school leaders. Many Valley schools have already rolled out plans for fall instruction, offering options of in-person and remote learning for students across all grades. The PIAA also has said fall sports will begin on time with official practices set to begin on Aug. 17.
"We are still a few weeks away from our opening. I appreciate Gov. Wolf's statements, and I am looking forward to having our students back in the schools," Mifflinburg superintendent Dan Lichtel said. "We are planning for in-person classes this fall. If we need to adapt to the changing environment created by the pandemic, we will be prepared to do so."
"This is good news and a positive reinforcement to move forward with reopening plans," said Line Mountain Superintendent Dave Campbell. "We hope the situation continues to show improvement."
"We continue to monitor the impact of the pandemic on our local community and how it relates to our reopening of schools plan," Warrior Run Superintendent Alan Hack said. "We also remain sensitive to the needs of our school community and will continue to provide learning options that match those needs.
Lewisburg Area School District Superintendent Jennifer Polinchock said Wolf, just like many school teachers, is in a "no-win situation" but she would appreciate more guidance from the state.
"It would have been more prudent to mandate the secretaries of each department to map out how they will need to coordinate communication and cross-reference guidance, at least for public education," she said. "Mandating remote learning would ease the pressure we are receiving from our communities and the need for us to become instant public health and safety experts. We cannot afford to get this wrong, so if the Governor is not going to tell us what to do, then he can at least listen to what we need.
Several school districts across the state have already decided to switch to remote learning to start the school year. The School District of Philadelphia is switching gears to keep all public school students in online classes after a previous plan to return students to class two days a week drew fears and criticism from parents, teachers and administrators.
The district announced its revised plan for students Tuesday, which calls for online-only instruction at least through the first marking period that ends in mid-November. The district will hold a public forum on the revised plan Thursday when the school board is expected to vote.
The new plan would switch to a hybrid model of in-person and remote learning after Nov. 17, officials said.