Walls on the sides of buildings can remain blank, blending in with the structures around them. Alternatively, they can become soaring canvases for paintings that reach to the roof and add color, culture and quirkiness to a town.
Over the years, murals have been spotted in places throughout the Susquehanna Valley. Here is the story behind some of them.
Selinsgrove Community Swimming Pool, 30 Linda Lane, Selinsgrove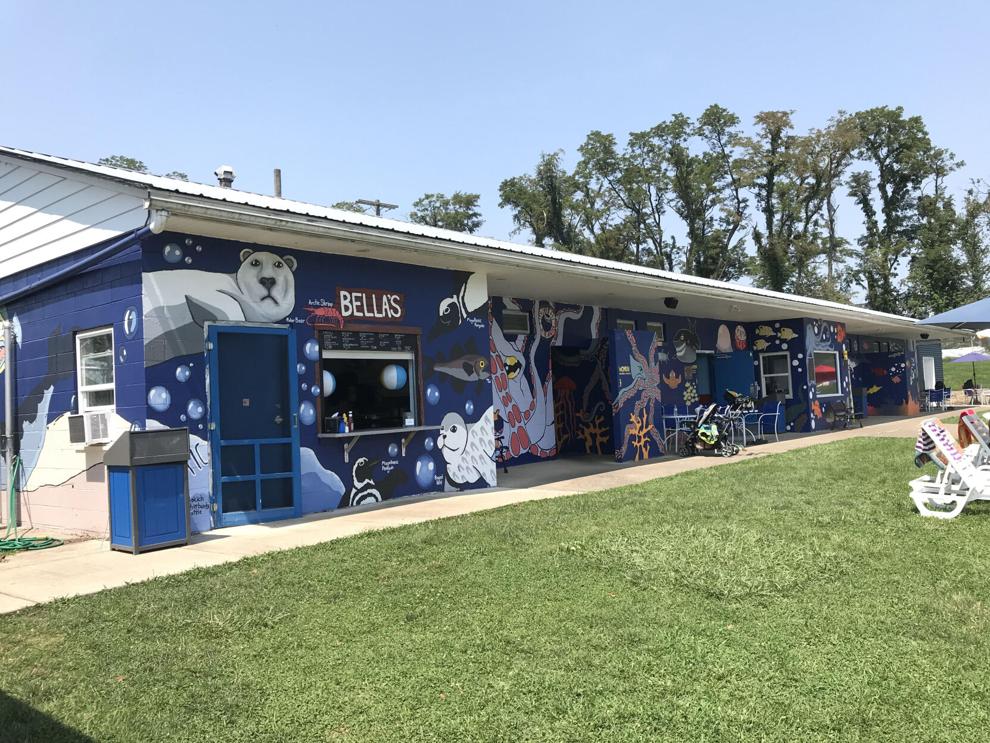 The beauty of a mural on the front of the bathhouse prompted pool leaders to cover the side and back of the building with a colorful array of sea animals.
"We showcased the seven different seas and the aquatic life within them," said Rick Mease, chairman of Selinsgrove Area Recreation, Inc. "There is a mural on the front and inside of the office area, (that is) probably 30 or 40 years old. They're beautiful, but they're fading. We wanted to do something just for the kids, to have something educational to do, and fun."
Sea animals from the North Atlantic, South Atlantic, North Pacific, South Pacific, Arctic, Indian and Southern Seas now swim and cavort along the length of the bathhouse. A whale glides through a cloud of plankton. An Arctic polar bear gazes from the top of the concession stand. Creatures like the ringed seal and Arctic salmon are named, prompting curious kids to learn more about them.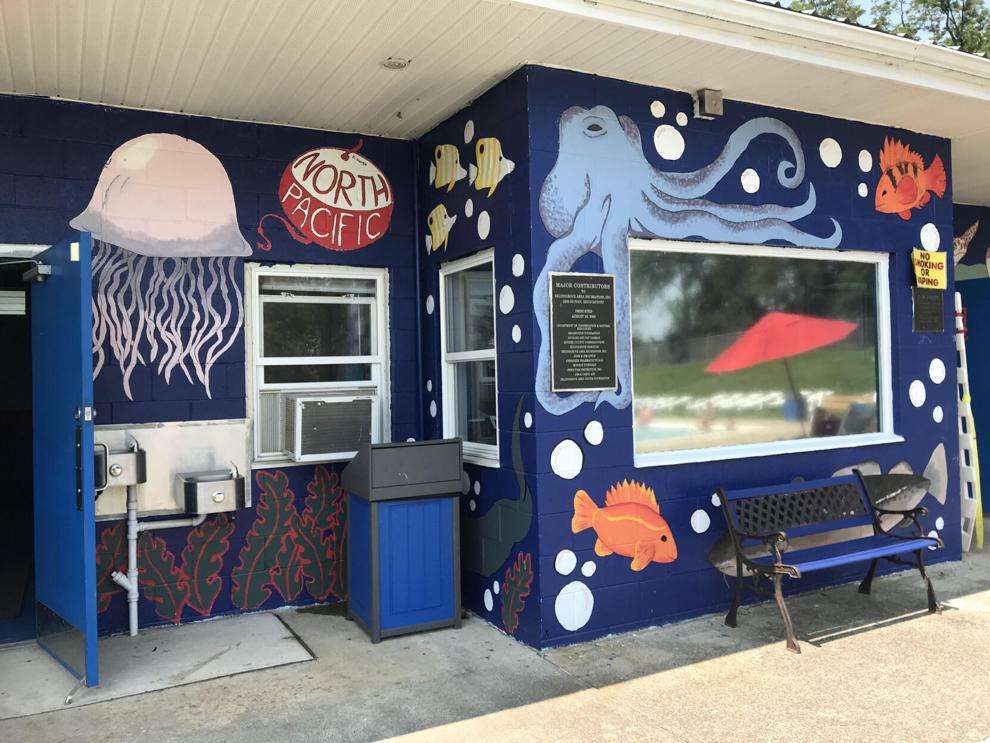 A result of true community collaboration, the murals began with SARI contacting Cristi Beeler Nobre da Veiga, who is an art teacher in the Selinsgrove Area School District. She connected them with Debrah Baxter, chair of the board of directors for START (Student/Teen Artist Resource Team). From there, Selinsgrove Area High School artist Isabel Proger led a group of students in painting the first mural, while Baxter approached Selinsgrove alum Mike Bennett, a Portland, Oregon, artist who allowed the group to use designs from his "A to Zoo" characters in the first mural.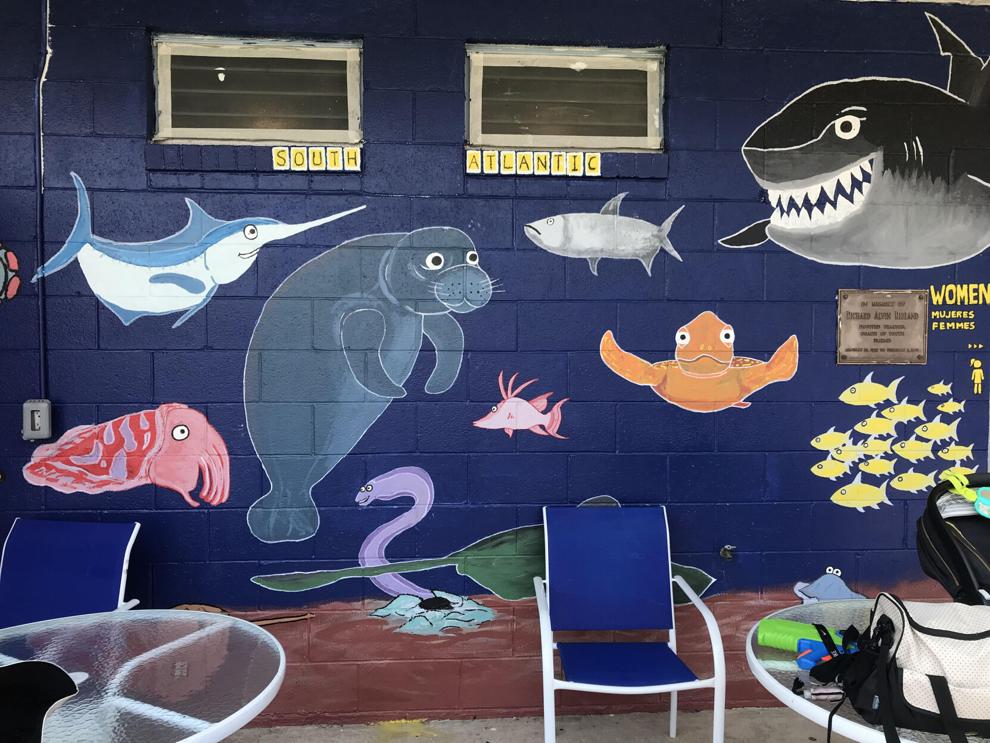 "We are completely blessed that Mike Bennett is on the START board," Baxter said, "and for someone with an international presence, he is about the nicest, most down-to-earth guy you could meet."
Due to pandemic restrictions, Bennett was unable to return to Selinsgrove, but allowed the painters to use three of his characters in the first mural.
"That mural is on the southern wall of the bathhouse and faces the elementary school, so the students can look at it when they play outside, which is really fun," Baxter said.
She and Beeler Nobre da Veiga gathered a group of high school Art Honor Society members, college students and other local residents who donated their time to brighten the bathhouse wall facing the swimming pool.
"I think it'll benefit the kids more than anything," Mease said of the mural. "We wanted it to be educational for the kids, but really bright, something that stuck out and that everyone would notice. They (the volunteer painters) just took the ball and ran with it."
"I have stopped by the pool several times in the past few weeks to take care of a few minor details, and I have had random people come up to me to express how much they love it," Baxter said. "What could be better than that?"
For more information, visit www.selinsgrovestart.weebly.com.
Buffalo Valley Trading Post and Boutique, 407 Chestnut Street, Mifflinburg
The mother-daughter team that turned an empty space into a shop that repurposes old furniture and screen-prints shirts and dish towels saw an empty, brick wall as a photo op.
"It was my daughter's idea," said Selina Heddings, co-owner with her daughter, Miranda Dellinger, of Buffalo Valley Trading Post and Boutique.
The women recently commissioned a painting of angel wings on the side of their building. One set of wings is big enough for adults to stand in front of and a second is sized for children. Dellinger saw a similar painting in Tennessee. "It's a photo op for people," Heddings said. "We thought it was a really cool idea."
She asked fellow Mifflinburg Area High School alum Kurt Ilgen, recently retired from the United States Penitentiary Lewisburg's arts and crafts program, to create the mural. "I went to school with Kurt," Heddings said. "I knew he was into art. It's nice to see his work where people can appreciate it."
Ilgen enjoyed working on the wings, even though the bumpy, brick wall created a challenge. He got a kick out of the reaction from passersby. "It's crazy, all the people, the honks and horns," he said, waving as a car drove by and people shouted his name. "It's neat to see people excited about something."
Heddings saw a car with New Jersey license plates stop, and a mother, grandmother and two small girls got out to take their picture against the angel wings. "I just think people are interested in it," she said. "It sparks an interest, and it just draws more people in."
Down the block and around the corner from Buffalo Valley Trading Post and Boutique is another Ilgen mural. On the wall of a building on the corner of Fourth Street and Cherry Street alley, the owner of a local business asked him to paint a Star Wars-themed warning to people who were using the dumpster: "…this is not the dumpster you are looking for!"
STEAM Innovation Lab, 363 Market Street, Sunbury
Right across Fourth Street from the Hotel Edison, city businesswoman Meghan Beck is working on creating STEAM Innovation Lab, a "maker" space where artists, scientists and tech experts can gather to work on projects. The building has a long wall just perfect for a mural with a theme that ties together the concepts of her new business.
"Think a little bit of history, plus education, plus innovation," she said of the mural's depictions of the hotel, bridges over the Susquehanna River, gears, clocks, and images of Thomas Edison and Nikola Tesla. "Plus, it's right across from the Hotel Edison, and of course, he was a great innovator."
Perhaps the most notable aspect of the mural is that it looks like a library with shelves of books. Shelves and shelves of books, which people can "buy" and inscribe with their name and the title of their choice.
Beck chose local artist Pedro Reyes to paint the mural after he helped on marketing concepts for the city of Sunbury. "It's become sort of a labor of love for Pedro," she said. "We agreed on an amount I would pay him. He's gone far above and beyond that amount."
"Every day is like a different adventure. You never know who's going to stop and speak to you," Reyes said, adding that people sometimes tell him the mural inspired them to work on their own projects.
"We wanted to bring something vibrant to the downtown," Beck said.
With the mural, Pedro is bringing her ideas to life. "He has the biggest heart," she said. Noting that he often listens to podcasts while working, she added, "He tries to be the best human he can be."
"I feel blessed," Reyes said. "It' kind of a ritual. I can't retire at the end of the day without trying to be out at the wall."
Cherry Street Alley, Lewisburg
Where others might see a boring wall, Lewisburg business owner Bob Albin saw an opportunity for color and whimsy.
"I tore down a building on my property that exposed the nondescript cinder block wall of a neighboring building," Albin said. "To improve the look for all, I suggested a mural to the neighboring owner, and they approved."
The result was the first of, so far, two murals on the 300 block of Cherry Alley, half a block north of Market Street.
Artist Jim Reid, who was born in Philadelphia and splits his time between Lewisburg and Barcelona, was chosen to paint the first mural after submitting sketches for Albin's consideration last summer. Reid spent six weeks on that one, based on modern artists Alexander Calder and Joan Miro. Then, hoping to beautify Cherry Alley with more murals, Albin started a GoFundMe account while Reid went to work on the second mural, right across the alley from Gram's Eatery.
Della Hutchison, vice president of the Lewisburg Arts Council, has seen the blank walls transformed into playful splashes of color. "One of my favorite elements is the little bird emerging from the green rectangle," she said. "That wasn't part of Jim's original design, but I love it! And Jim tells such a cute story about the bird."
Reid calls a region in Spain named Catalunya one of his "favorite places on Earth." Story has it that Monk Parrots from South America were sold there along with flowers, jewelry and other trinkets. Somehow, dozens of the parrots escaped or were set free, and today they fly about the skies and trees of Barcelona, the capital of Catalunya. "I paid tribute to this story in my mural by showing a Monk Parrot wandering out of Parc de la Ciutadella," Reid said.
Reid's color and subject choices are deliberate, from the salmon pink, Caribbean/Mediterranean feel of the second mural's background to images of coral reefs, pyramids, a ladder, a bull and other objects. He also included what looks like eyes and lips, the "signature image" of Miles Foreman, a Lewisburg artist who was killed in a car accident at the age of 17.
Along with Albin, Reid named Joanna Wiley and Samantha Wyvill as partners who "have given much of their time and energy in bringing these murals to fruition."
Before-and-after photos of the mural sites can be found on Facebook at "Modern Art Alley" and at the GoFundMe page under the same name. Much of the cost for the current murals has been underwritten by The Woodcock Foundation for the Appreciation of the Arts.
"It's really quite astounding how sprucing up a few buildings can make a huge difference," Hutchison said. "Besides Bob Albin, other business owners—Andre Garrote, at All-Star Bagels, and Sarajane Snyder, at Mondragon Books—have contributed financially to the murals. I would love to see more property and business owners follow suit."
Walking through Cherry Alley recently, Hutchison thought the 300 block looked cleaner and more vibrant. "It just has a really awesome feel," she said. "And since the murals are on display 24/7, folks can enjoy them at their leisure ... early morning dog walks, sunset strolls, whenever. Judging from the number of people I passed, others clearly agree."
"The feedback has been positive," Reid agreed. "I enjoy hearing that people go out of their way just to walk by the murals. The comment that always makes me smile is when one simply and sincerely says, 'Thank You.'"
QR codes near each mural give information about the artists whose work inspired it. What Reid hopes for most is that people take the time to research and learn about the artists he is honoring.
"They have dedicated their lives to art and have fascinating stories," he said. "They must be remembered."
Shamokin, Various Locations
The waffle in the mural seems a little out of place among the train, coal miner and 1920s factory clock, until you learn that the portable waffle iron was invented in 1891 by John Kleimbach, a German immigrant in Shamokin. "His waffles became immensely popular at the Chicago World's Fair and sold for a penny a piece or ten cents a dozen," according to the Susquehanna River Valley website.
And so, yes … Trains. Coal miners. Factory workers. And waffles. That's what built Shamokin and what is depicted, along with the F&S Brewery and Coney Island Lunch, in the 2012 mural created by Claude Harrington, Matt Leavens and Jeff Tweed.
Jeanne Shaffer, director of the Northumberland County Council for the Arts and Humanities, said the murals all around town that were sponsored by the NCCAH were created in an effort to showcase the heritage of the town founded in 1835.
"It's basically the same reason I started the (Anthracite Heritage) Festival," she said. "I felt our heritage was being lost, and I wanted to revive it."
Working together or separately, Harrington, Leavens and Tweed created at least nine murals in Shamokin.  They tell different stories of the town, including that factory clock that in the 1920s sat on top of the Eagle Silk Mill. A piece of the clock is now used as a hostess stand at Heritage Restaurant on Market Street.
A mural at 209 East Independence Street depicts Edgewood Park, which, back in the day, according to Shaffer, was almost as big an attraction as nearby Knoebels Amusement Resort. Another fun piece of Shamokin heritage? Ice cream. A mural at 531 North Market Street sponsored by NCCAH and Sam and Kathy Vetovich depicts Reed's, Maurer's and Martz Dairies, as well as Tharp's Ice Cream delivery service.
"We had some very good ice cream parlors, and we wanted to make sure people remembered that," Shaffer said.
Today, Maurer's Dairy & Ice Cream Shoppe, at 34 South Market Street, serves breakfast, sandwiches and their famous bittersweet ice cream.
Along with the NCCAH, Joe and Candy Gallina honored their family and Anthracite Italian businesses in a mural at 150 East Independence Street, site of the current Original Italian Pizza.
"Joe Gallina's grandparents are in the picture," Shaffer said. "His grandfather was a shoemaker. His grandmother is seen wearing a shawl."
The painting includes a list of Italian family businesses.
Shamokin's industries contributed to an appreciation for art, evidenced by the seven movie theaters that once gave residents a break from the reality of mines and factories. Murals on the corner of 8th and Independence Streets (across from the waffle mural) show three of the theaters that lasted past the 1950s: the Majestic, the Capitol and the Victoria (also fondly remembered as the Vickie). Also on that street is a mural of the Central Drug store showing the curbside produce markets that were active on Saturday mornings, Shaffer said.
The Vetoviches joined with NCCAH to create a mural on the side of their 52 North Market Street business, Heritage Restaurant, to pay tribute to their grandfathers in a painting called "When Coal Was King" and featuring a trio of breaker boys.
A more lighthearted mural adorns the wall of the Kallaway Center for the Arts, on 144 East Lincoln Street. With bright colors, the mural welcomes children to the art center.
The Vetoviches joined again with NCCAH to create a mural at 35 North Market Street celebrating C. Richard 'Dick' Kashner, who was involved in youth sports for more than 50 years. This one was painted by Emma Dailey, a 2019 Shamokin Area High School graduate.
The murals are a reminder of who the residents of Shamokin are and where they come from, Shaffer said. She referred to a quote by Albert Pike: "What we have done for ourselves alone dies with us; what we have done for others and the world remains and is immortal."
"I love it," she said. "It's just how we all feel."
For more information visit https://www.visitcentralpa.org/newsletter/shamokin-pa-mural-tour
K&S Music, 1247 State Route 487, Paxinos
It's tough to miss the dude with the electric guitar on the brick wall of K&S Music, at the intersection of Routes 61 and 1247. Reaching to the second floor, he seems to be jumping off the ground, arm extended and chin raised as he gazes at the K&S sign.
Patrons frequently comment on it.
"They'll say, oh, that's a cool painting," said Jason Kriner, manager of the store. "It's definitely something that catches the eye when people are driving by."
Milton
Milton could be called a mural town, with paintings adorning walls on several streets. They started in 2008 with a huge depiction of Milton's transportation history on the wall of the Milton Moose—easily seen when entering town from the Milton–West Milton bridge.
That mural was painted by Altoona-based artist, Pam Snyder-Etters. In the following summers, she painted a mural representing the Capitol Theater, on the wall of the Coup Agency on Broadway Street, and another on the Stetler Hotel, on the corner of Broadway and Arch.
Careful observers will find a consistent trademark in Snyder-Etters' murals: her dogs. Kensi, a black Labrador retriever, is on the packet boat with three little boys in the Moose mural and waiting in line at the Capitol Theatre mural. Snyder-Etter's then 2-year-old Great Dane, Hounslow, made his first appearance as Kensi's shadow in the Capitol mural. He made his first actual appearance in the Stetler Hotel mural.
Brice Brown, founder of the Milton Art Bank, housed in a former bank at 23 South Front Street, initiated the addition of more recent murals. Having moved from New York to Milton, Brown contacted artists he knew in New York to paint the murals for free. He also spoke with Anna Kell and Jon Frey, of Lewisburg, who painted "Milton Mail Pouch" on the side of the former Sherwood Florist shop, now the site of The Orange Chicken.
Other murals include John Breiner's vibrantly colored painting on the back of the YMCA, Chuck Webster's sea-like images of croquet mallets, and an enticing painting by JMikal Davis (aka Hellbent) that looks like ripped fabric over half-revealed words that might say, "It's not where you're from, it's where you're going."
Reactions to the murals are varied. "Virtually no middle ground. Some welcome the addition to the town and find it refreshing. Some are entirely indifferent," said Sabrina Wilson, director of the MAB. "But I think that's what any good art will do, start a conversation."