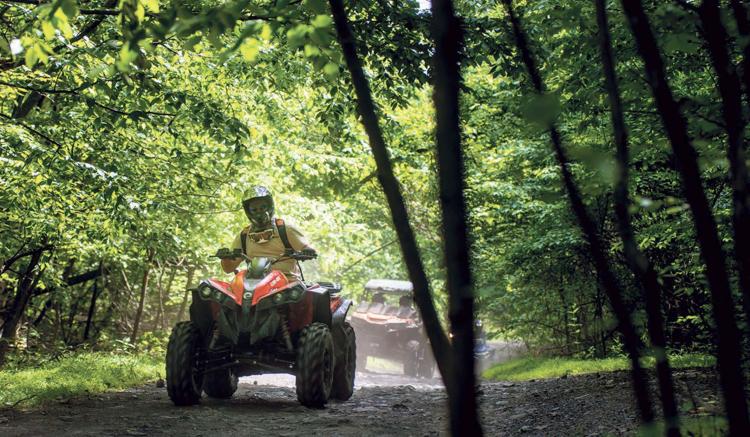 Editor's note: This is one of an occasional series of stories detailing what life is like on a typical day in various parts of the Susquehanna Valley.
COAL TOWNSHIP — It wasn't so long ago that the Anthracite Outdoor Adventure Area was just a concept.
The AOAA's master plan dates to November 2011 and work to create it began long before that. The park opened for business in May 2014 and has grown steadily into a renowned destination for off-road enthusiasts.
About 88,000 passes have been sold at the park since its debut, according to Dave Porzi, operations director. The number of riders visiting AOAA increases year over year, beginning with 4,600 passes sold in 2014 and as many as 30,000 anticipated this year, Porzi said.
It's expanded from 6,000-plus acres, owned or leased, and now features 375 miles of trails stretched across 8,000-plus acres of forest and reclaimed coal lands in Coal, East Cameron, Mount Carmel, West Cameron and Zerbe townships. The park is bisected near the trailhead by Route 125 in Coal Township.
The varied terrain is the major drawing point: Long wide straightaways along old mining roads, rugged single-track trails winding through thick brush and woods, stomach-dropping hill climbs, waist-deep mud holes and rock piles only an enthusiast could envision driving over.
PHOTO GALLERY: A Day in the Life of the Anthracite Outdoor Adventure Area
38 scenes from A Day in the Life of the Anthracite Outdoor Adventure Area.
This year is the first that AOAA has moved to an everyday operation: 9 a.m. to 6 p.m. until Labor Day. That began in mid-May. How long AOAA remains open daily depends on volume, Porzi said.
The AOAA caters to motorized recreation. That's what will keep the park economically sound. Authority members haven't forgotten about non-motorized use. Hiking and biking the trails is allowed when the park is closed amd the creation of dedicated trails is a potential next step.
The Daily Item rode along with Porzi across much of the AOAA on June 8. What follows is an account of a day in the life of the off-road park.
7:30 a.m.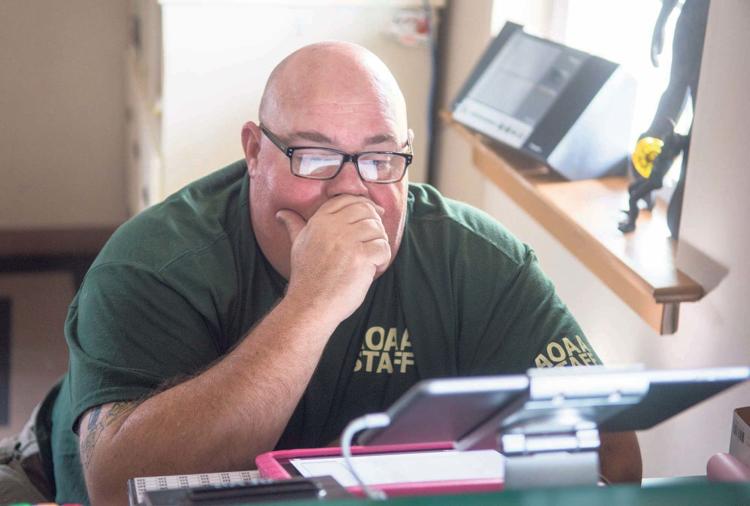 Dave Porzi lifts a can of Mountain Dew Kickstarter to his lips and guzzles the caffeinated quencher. He talks about an Anthracite Outdoor Adventure Area vehicle in need of repair. The alternator fried on a 2000 Jeep XJ.
Mechanical failure is surprisingly uncommon for the AOAA's own fleet, the operations director says.
"They've got to be ready to go at a moment's notice," Porzi says, likening the vehicles' necessity on-site to ambulances or police cruisers.
The sun continues an upward creep from its morning low, casting shadows from the dozen-plus on-road vehicles parked in the lot of the Route 125 trailhead in Coal Township, Northumberland County. Temperatures are rising, too, into the high-60s. It's the start of a banner day for riding off-road: Bright, warm, slight breeze, no rain.
Riders won't hit the trails until 9 a.m. A few already form an informal line on the office building porch. They wait to check-in, buy permits and merchandise. The cost of permits varies by vehicle and length of stay, from a single day to a full year. Passengers are charged separately. Northumberland County residents get a discount, anywhere from $5 to $75 off.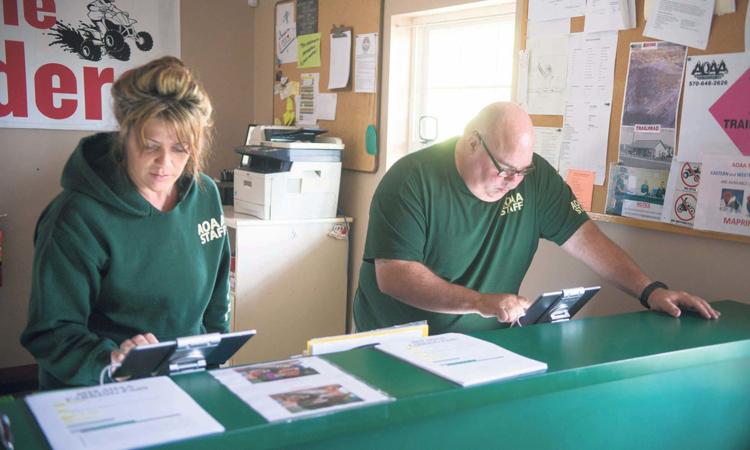 Inside, Thelma Amarose opens a safe and readies cash at the front desk. Amanda Elliott preps wristbands, turns on computers, tablets and the point-of-sales system. Porzi uses a hard reboot to fix a glitch.
The AOAA has a staff of 20. Half will work on this day.
"Well, good morning," Amarose calls out as Jacy Marquette enters a side door and greets the staff. She hands him some park-branded stickers to share.
Marquette is with Off-Road Consulting and Driving Instruction. He and Zac Miller are trail guides for the independent company. They're leading six riders from the Maryland-based Ocean City Jeep Club.
"It's a relief," Marquette says of the small group he'll guide, "because it's kind of like herding cats. There's a lot of turns."
8:45 a.m.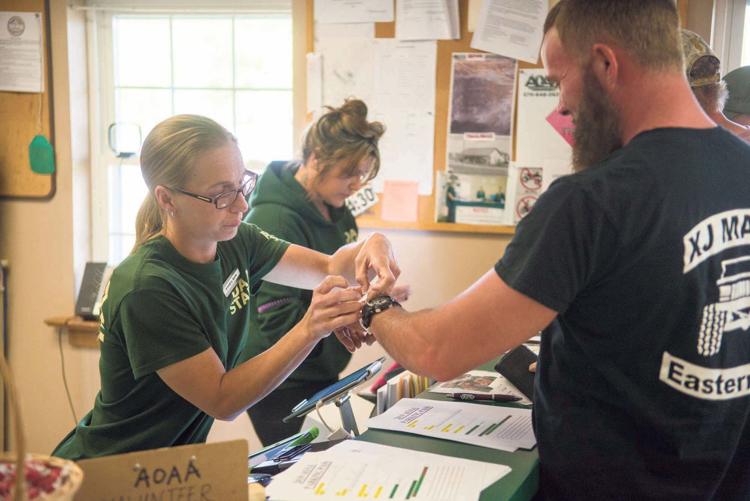 Two riders check in at the front desk. Thirty-nine before them already came and went since sales opened at 8:30 a.m.
Check-in grew remarkably easier when AOAA added its point-of-sales system. What had taken up to 90 minutes to register 110 people now takes about 20 minutes, Porzi says.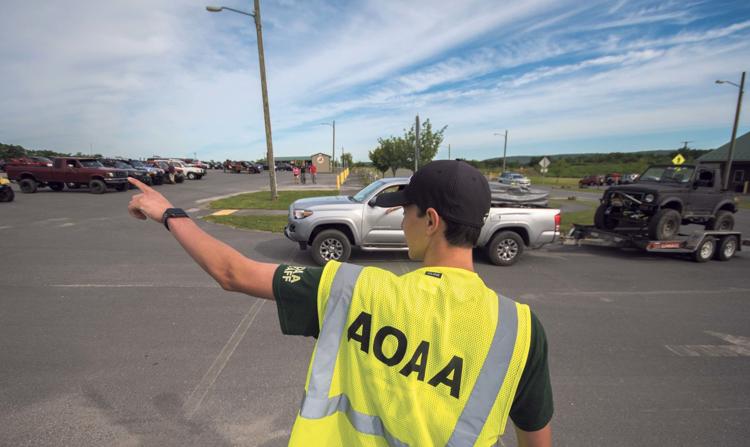 Outside, Mike Reilley, 16, of Ashland, directs new arrivals into the parking lot. A little organization makes for more efficient parking in the unlined lots, one painted and the other blacktop. He takes note of the tricked-out pickups towing shiny trailers and expensive four-wheelers.
"A lot of the rigs are pretty crazy," Reilley says before motioning to a Jeep. "On the blacktop, sir."
Activity will cool off between 11 a.m. and noon. Reilley motions his arms and uses a few quick words to guide the visitors.
9 a.m.
Karyl Miguel sits behind the wheel of her modified 2013 Jeep Wrangler. In the back is her yellow Labrador retriever, Chase. A friend, Joe Parent, rides shotgun.
Miguel and Parent are active-duty members of the U.S. Navy. They drove north more than 3 hours from Annapolis, Md., to ride. Miguel's been here before. She rides at Rausch Creek Off-Road Park in Schuylkill County, too. She prefers the AOAA.
"It's just really big," Miguel says.
For Parent, it's his second trip here. He's hoping for a better day than his visit in April when he blew out two tires.
"I had a little too much fun," Parent says.
9:10 a.m.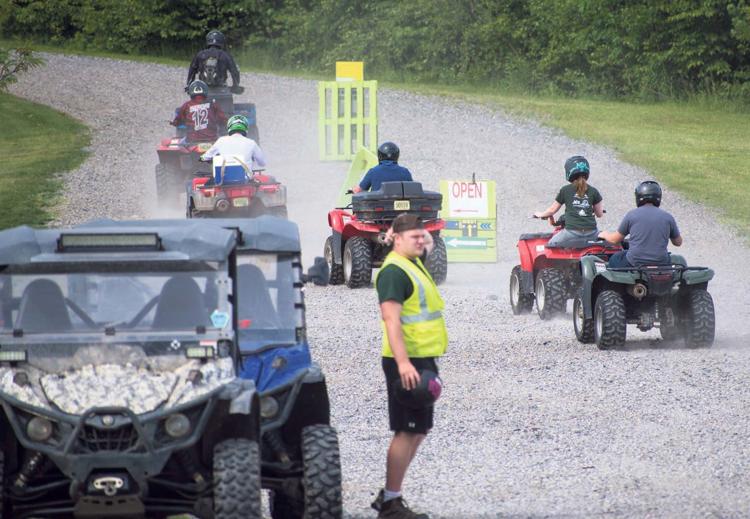 A line of six pickups hauling trailers arrive together. One has an all-terrain vehicle (ATV) in its bed and two utility-task vehicles (UTVs or side-by-sides) on a trailer. A side-by-side is a wide ATV with a roof. Riders sit in separate seats like they would in a regular passenger vehicle.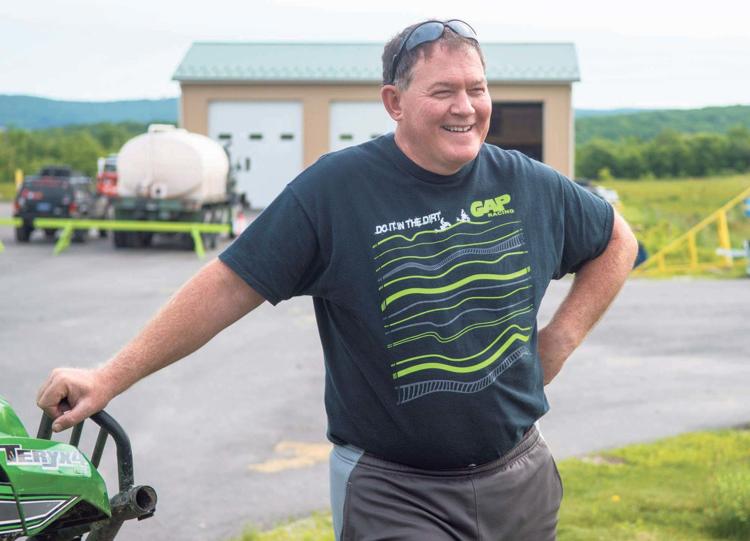 "There's some serious money on that," says Jim Backes, chairman of the AOAA authority, the operating entity appointed by the Northumberland County Commissioners.
Backes arrives for his routine Saturday sit-down with Porzi. This one's a stand-up, though. They talk business in a grassy patch next to the parking lot.
They chat about the value of digital media, how the 60-site campsite sold out each of the past two weekends, the need for a new hotel.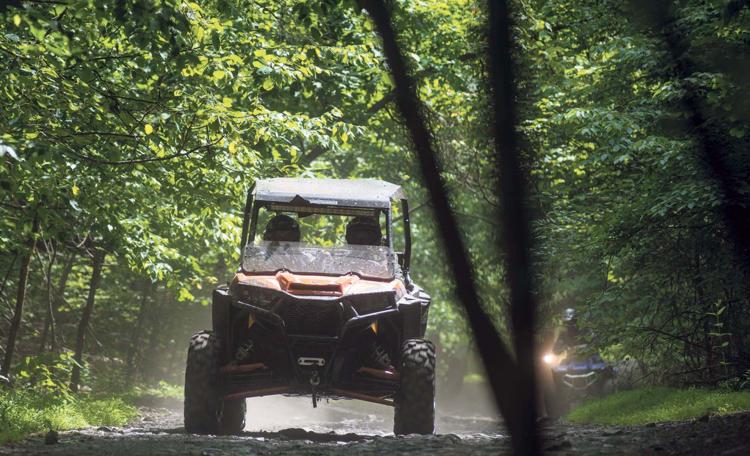 Backes chairs the five-person board. Its members haven't changed since the authority formed in 2013. Along with Porzi, they focus on the park's growth: slow and steady. There are many visions they keep tightly guarded to expand the park beyond its current borders. Not all such visions are secret.
Well-known is the desire by the City of Shamokin to further explore permanent access for off-road vehicles into the downtown. Restaurants and convenience stores saw sales receipts surge when street access opened twice on special occasions to hundreds of riders. How routine access would function could be different, Porzi says. Rather than large groups traveling at once, it'd likely be small groups in and out. In any event, the concept needs more planning, he says.
Two applications pending approval for state grant funding would bring a below-ground crossing of Route 125 and fund a feasibility study for non-motorized recreation at the AOAA.
The park's non-motorized use opens when off-road vehicle access closes. Year-round, bikers and hikers can explore the land as long as operations are down. There's also a two-mile walking track at the trailhead open dawn to dusk whether the AOAA is open or closed.
The biggest expansion of the park to date was announced by the state in May.
An estimated $5 million will be spent to transform an abandoned mine pit turned swimming hole known locally as "The Caves" into what Porzi describes as the world's largest manmade rock obstacle — 6,600 feet of extreme rock trails.
"The boulders will be as big as Volkswagens, or bigger," Porzi says.
Another 4,370 feet of trails plus a 2,000-square-foot mud pit, an emergency helipad and parking area are also planned for the Western Reserve off Bear Valley Road in Coal Township.
Porzi figures at least 2 million tons of dirt will be moved. The project will take 30 months to be completed, he says.
9:40 a.m.
Skip Edie waits for a break in the conversation between Backes and Porzi.
Edie and his wife, Candy, traveled eight hours from upstate New York, near the Canadian Border. They brought a Jeep to explore the coal hills.
Before they hit the trails, Edie asks about an old dragline excavator bucket. It's placed at an entrance to the eastern trails.
"I was told the first thing I need to do is get a picture in the shovel," Edie says. "It's a dragline from the coal mines?"
"Yeah," Backes says, motioning toward the bucket. "It was used here."
"Those are monstrous," Edie says.
"That's a small one," Porzi says.
Edie drives his Jeep up and with a friend, they each back their vehicle into the bucket for a one-of-a-kind picture.
10 a.m.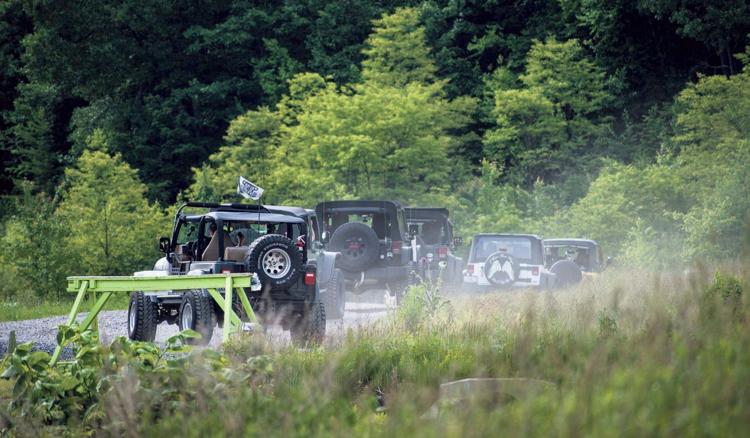 There are 142 riders registered.
The 50-acre campground, leased and operated by SKS Solutions, is largely dormant.
Main trails on the Western Reserve buzz with dirt bikes, ATVs and side-by-sides. Once off the well-known paths, the sounds of revving engines fade and at points, aren't audible at all.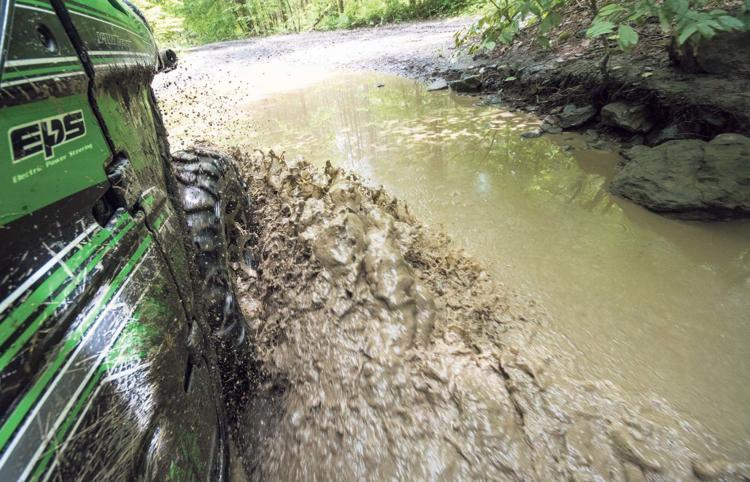 Porzi steers a four-seat side-by-side himself in a way suggesting even if you covered both of his eyes, he'd navigate the land with little trouble. Up and down a climb, turns tight and wide, slow around the puddles and bogs. Porzi has navigation on his phone — an app available to all visitors — but he doesn't need it.
He points toward the many signs nailed into trees marking the trail number. They're designated by color for level of difficulty and suggested vehicle. One sign is more common than them all.
"Pink and black brings you back," Porzi says. The mantra is repeated to riders, advising that they follow the signs to return to the trailhead.
Between the trail signs and the online map application, Porzi says the potential for riders to get lost is virtually eliminated.
Getting stranded is another issue. Porzi understands breakdowns come with the territory. It's still an annoyance, especially when riders don't bring tools or arrange for a tow vehicle. If it's clear that rules are broken and stranded riders are reckless, the AOAA will charge a hefty price to tow.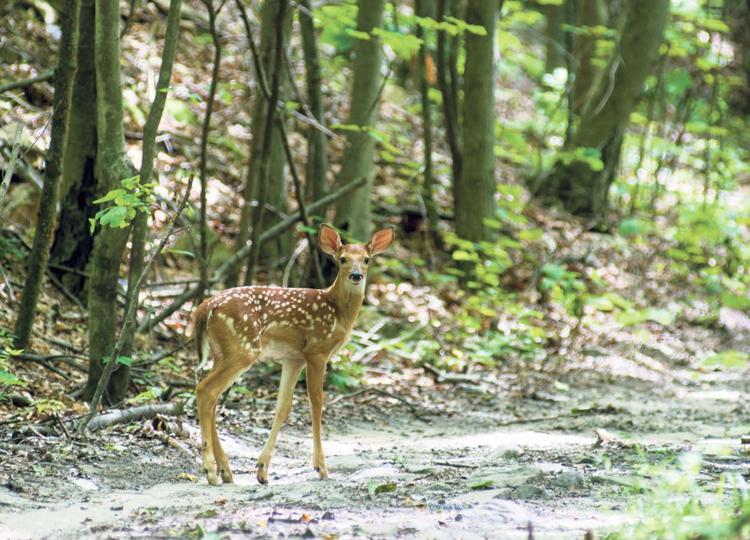 Porzi stops and cuts the engine. In a moment, silence. It underscores just how remote points of the AOAA can be. The only sound is nature: Breeze in the treetops, crickets and birds chirping. Mountain Laurel, the Pennsylvania State Flower, blooms in all directions.
A doe and a fawn walk maybe 50 feet away. They barely startle when Porzi's phone sounds. It's the office. Someone broke down.
"I'm gonna turn around and go find him and go from there," Porzi says.
10:45 a.m.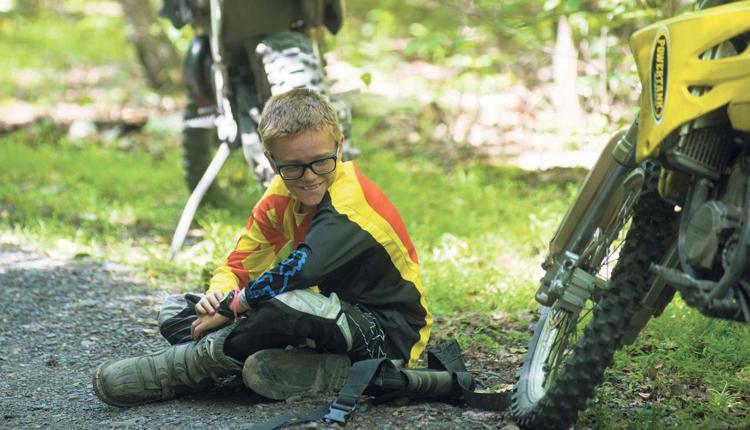 Ralph Bagnato, of Lancaster, and his 10-year-old son, Jack, stand near their dirt bikes just off a busy trail. ATVs buzz by in either direction.
Bagnato explains his son's Suzuki RM85 took on dirt in its carburetor. He has some tools but nothing he could use to unclog it. It's their fourth or fifth time visiting AOAA, Bagnato guesses, and the first with a breakdown.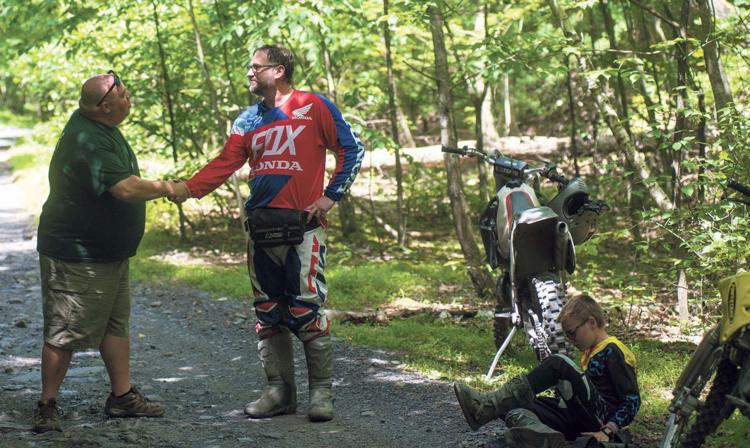 Porzi shrugs his shoulders and takes a screen grab of the map on his phone. He texts it to an employee and asks that they haul the bike to the trailhead. No charge.
"It's all part of the experience," Porzi says.
Porzi leaves father and son behind as help is on the way. He heads back west. Maybe a quarter-mile along, there's another breakdown.
"You got a size 13 socket?" asks one of five men in the group, their focus on a single ATV.
Porzi doesn't.
"I guess we're going back to the car," the man says.
Porzi steers expertly through a tight trail. Limbs and brush thwack off the vehicle. He drives up an incline steep enough to nearly put the clouds above in direct sight. He quickly makes a hairpin turn and drives down a decline just as steep.
Before long, past the Northview Overlook, he turns off a path and seems to make one of his own. It's uphill. Think it's steep? Sure is.
"I've been driving past this my whole life and never knew it was here," Porzi says after cutting the engine.
He walks a bit further uphill as a 6-foot stone wall comes into view. It's not a wall, actually. It's a narrow channel. A small stream trickles out.
Hundreds of stones are fit neatly in a line. They round like a cul-de-sac where the water originates. It feeds a pond at the bottom of the hill. Sometimes the pond's dry, Porzi says. Sometimes the stream is, too. He isn't sure when it was built or for what, exactly, but he thinks it's a cool find — something that will attract riders and hikers. There won't be an ATV trail direct to the site. To see it, get there on foot.
11:40 a.m.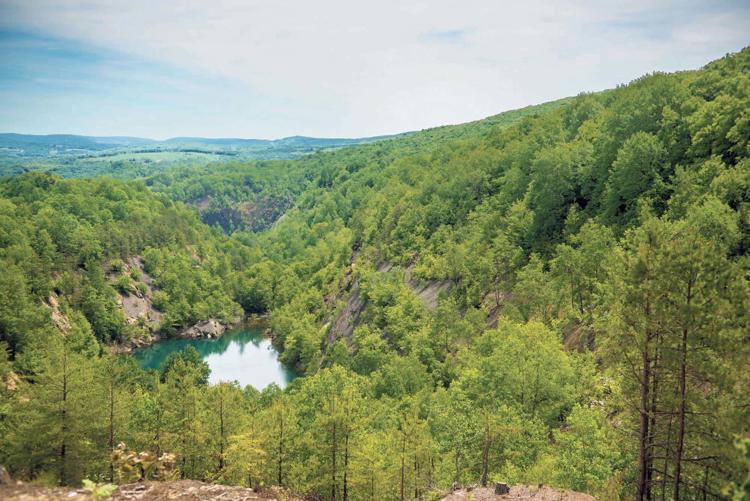 What has to be the best view across the entirety of the AOAA, and there are several competitors, is the panorama at the Western Reserve Overlook.
High above "The Caves," trees were cleared and the ground leveled to create a pull-off for riders to shut down their vehicles and take in the scenery. A short walking path leads to a lookout point above the larger overlook.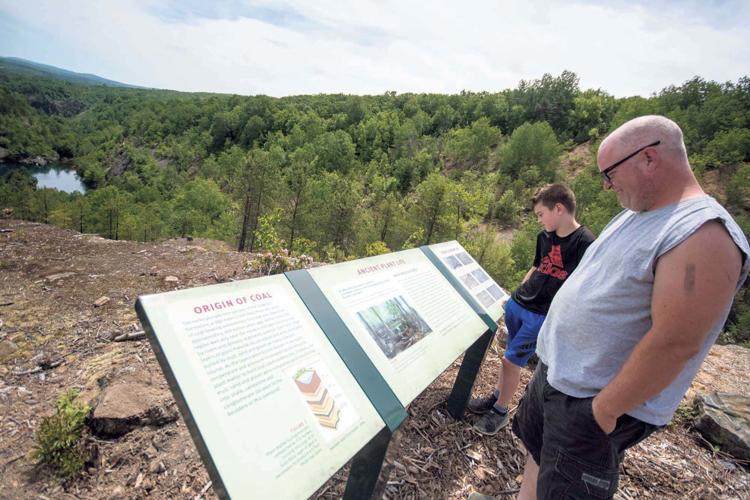 Barry Fisher, of Ottsville, Bucks County, and his 11-year-old son, Ben, ride up and stop. Fisher is an annual pass-holder. He's been to the AOAA too often to count, he says.
"Getting up here on a clear day, you can see a ways," Fisher says.
The view is exhilarating.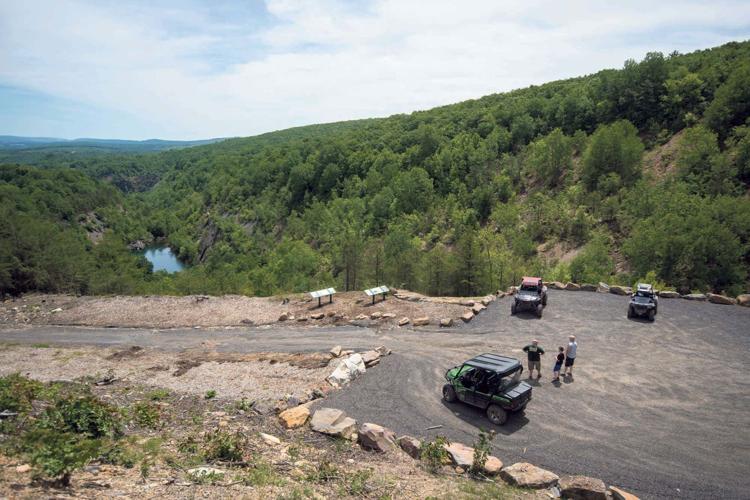 A hawk glides at eye level. Beyond it in plain view lies much of southeastern Northumberland County: Coal Township's west end, the Glen Burn culm bank, the City of Shamokin, the cogeneration plant in Marion Heights, the Borough of Mount Carmel, and a water tower at the Weiser State Forest.
Visible on the clearest of days — make no mistake, this is one of those days — are the wind turbines perched on a mountain top near Aristes in southern Columbia County some 15 miles east.
The AOAA installed a trio of educational kiosks on site. The first is a photo of the panoramic view with notations of each major point of interest. The other two include information from Bucknell University geologists and geoscientists about how coal forms, shows photos of plant fossils found on site and explains the discovery and origin of "The Whaleback," an ages-old rock anticline that draws geologists from around the globe to study its history and makeup.
NOON
Porzi pulls onto an unworn trail through some high grass and drives up to a pond. Its water is clear, sunshine brightening the blue and white reflection of the sky above.
It's the headwaters of Carbon Run, a tributary to Shamokin Creek.
Department of Environmental Protection (DEP) classifies Carbon Run as impaired due to abandoned mine drainage. Limestone was laid at the downstream end of the headwaters, an abandoned mine pit. It's part of a three-tiered passive treatment project to clean Carbon Run and its tributaries.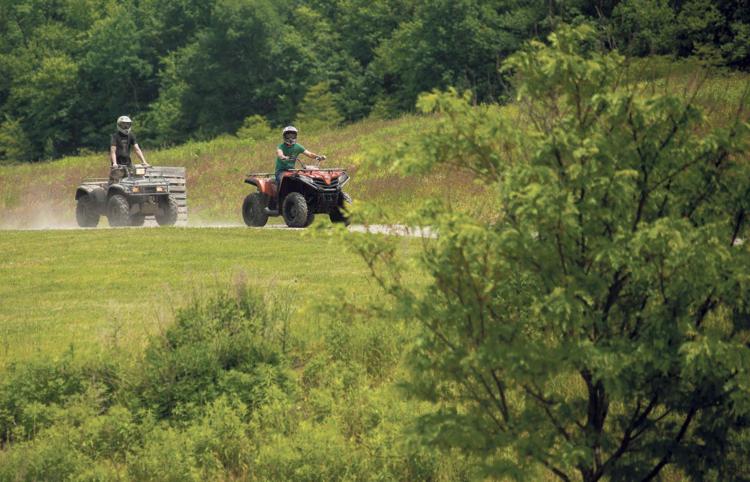 "There's a lot of beauty on this property. People don't know this stuff's here," Porzi says.
The AOAA takes a lot of heat from some locals. Hardcore opponents maintain county-owned land was stolen from them. They rode and hiked it for decades without a user fee, essentially giving birth to the off-road recreation that's now controlled by AOAA.
Families camped, hunted and fished, passing along the tradition for generations. Dozens of party spots dotted the hills, campfires glowing among the pines and oaks and water holes. Stories of good times blurred by beer and whatever else echo throughout the Shamokin area.
Unfettered access also allowed for decades of illegal dumping. Untold tons of trash had been discarded in the woods for generations, too — household rubbish, refrigerators and washing machines, baby toys, furniture and mattresses, vehicles, beer cans and bottles and tires upon tires upon tires. It exacerbated the blight left by mining companies that hadn't bothered to restore the land they dug up.
Aside from adopting the land to generate recreational tourism, AOAA mounts efforts of conservation and remediation. Partners include DEP's Bureau of Abandoned Mine Reclamation, Northumberland County Conservation District, Shamokin Creek Restoration Alliance and American Chestnut Foundation.
The Carbon Run initiative is one site. There have been coal mines remediated across the entirety of the property. At Boyer's Knob atop the Eastern Reserve, open pits were filled and polluted waters diverted.
There are three protected plantings of cross-bred chestnut trees among other species planted throughout. The American tree species had been dying off. Porzi says the plantings have a success rate of about 60 percent, well above the anticipated rate of 10 percent.
Porzi estimates 10,000 tires and 750 tons of trash have been removed from the AOAA in the last five years. The difference is evident to visitors who'd been on the land years before the off-road park was created.
1 p.m.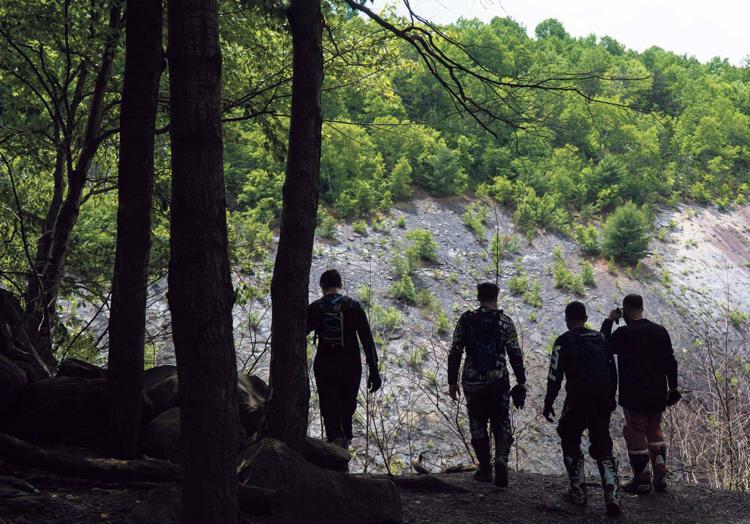 Porzi cuts through some pines and stops for a 4-foot black snake slithering across the trail. Another deer meanders through the trees.
Porzi makes his way to the area off of Bear Valley Road planned for remediation and comes upon four riders stopped roadside. Their kickstands are down on their dirt bikes. All are decked out in riding gear: Jerseys, pants, gloves, helmets, boots. Denny Diaz, of Staten Island, N.Y., tugs at his bike's chain. It's loose and needs to be tightened.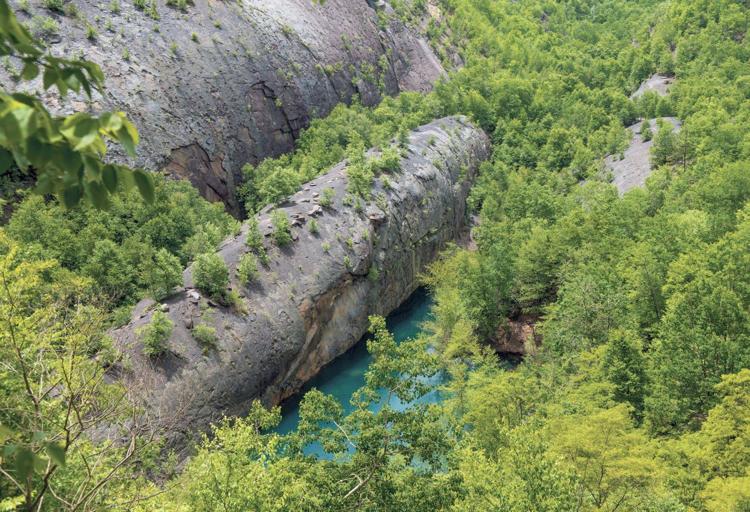 T
The foursome take a break before resolving the matter. They walk a marked trail back to "The Whaleback." It proves quite a sight.
"I'm from the Bronx. We don't have this," Adrian Santiago, of New York City, calls out to his friends as they dig their boots into the loose rock of a steep bank for a better look at the anticline.
The smooth, curved rock takes its name from what it looks like — a whaleback rising from the ocean's surface. According to Bucknell researchers, it was exposed during surface mining of the Mammoth coal seam.
Leo Marquez, of Blooming Grove, N.Y., is impressed. Among the places they ride, he says no place has scenic views and landmarks like AOAA.
"Wow, look at that. That's awesome," Marquez says. He takes a breath. "That's pretty darn cool."
"It looks like a whale," Santiago affirms.
---
Brian Griffin, an AOAA employee, keeps watch on Route 125 as Porzi approaches from the Western Reserve's entrance. Griffin is charged with ensuring safe crossing for riders moving from east to west and vice versa. It's the only highway crossing at the park. Should the underground crossing become reality, it may no longer be routine.
Griffin stops highway motorists or waves them through before motioning any off-road riders to cross. He keeps a tally of the crossings. At this point of the day, there've been more than 180.
2 p.m.
There are 320 riders on the trails. That'll prove to be the final count. Riders on the Western Reserve are asked to be off that land by 3:30 p.m. when the gates are locked. The out-time for the Eastern Reserve is 5:30 p.m.
Thelma Amarose remains at the front desk. At this point, she says visitors mostly come inside to use a restroom or buy merchandise. The AOAA doesn't just sell t-shirts and caps. They have oil, clutch levers, tubes, chain lube, tire plugs. They have mandatory gear, too, like helmets and goggles. A helmet can run about $125.
Out of the office and across the parking lot is a pavilion. It's got several bays for rent. Kelsea's Kitchen is a mainstay there. They sell burgers, fries and the like.
It's past lunch but a slow and steady arrival of riders stop for a bite and a drink.
Kelsea Bergeron and her boyfriend, Alex Johnson, run the stand on weekends only. They're in their second full season. Johnson says a visit to the AOAA sparked the idea to set up shop on-site.
"We wanted to bring good food to the riders," Bergeron says.
Bergeron breaks from the conversation. "Sorry, excuse me," she says before calling out a customer's order for pick-up, "Number Seven!"
Warren Remig sits at a picnic table nearby. He's president of the Anthracite Trail Riders. The group was instrumental in the AOAA's origins.
Before the AOAA opened to the public, only club members could ride as the park was developed. They helped clean up trash and create trails. It was a way to monitor the land's use as it had been accessible from many points for years without any sort of controls. For locals who remain opposed to the AOAA, they liked it better that way.
The Trail Riders grew to 400 members. Now that the AOAA is public, membership naturally fell. It stands at 125.
"What can you say? It gets going. It gets busy, busy, busy," Remig says of the park's evolution over five years.
Remig estimates he rides 2,500 miles annually. Porzi talks to Remig about adding in two miles of trail and closing another portion to allow regrowth. The AOAA does this from time to time, allowing nature to repair a well-worn area. Remig volunteers to help.
3 p.m.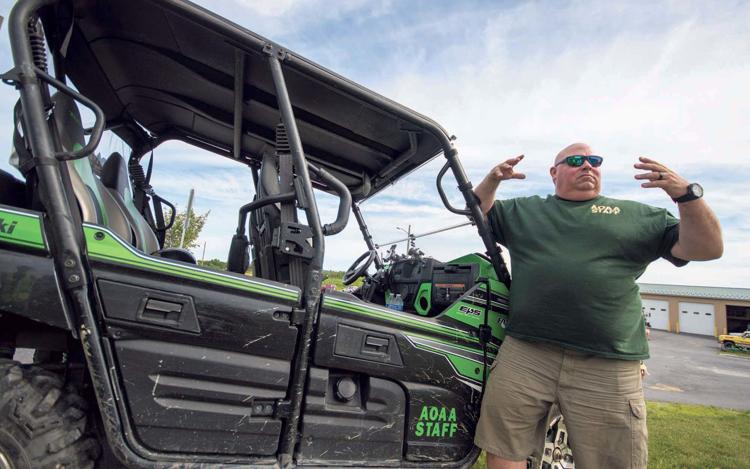 Emergencies are inherent in a hobby like off-roading.
Porzi tells of how the Shamokin Emergency and Rescue Squad were led the week prior to a man lost on the Eastern Reserve. He was reported missing by his son about 6 p.m. and was found within 10 minutes, Porzi says.
The man suffered a broken leg. Rescue Squad personnel secured the man on the rescue company's own side-by-side and drove him back to the trailhead where an AREA Services ambulance took him to Geisinger-Shamokin Area Community Hospital.
Porzi would soon learn of a similar incident from hours before.
4:45 p.m.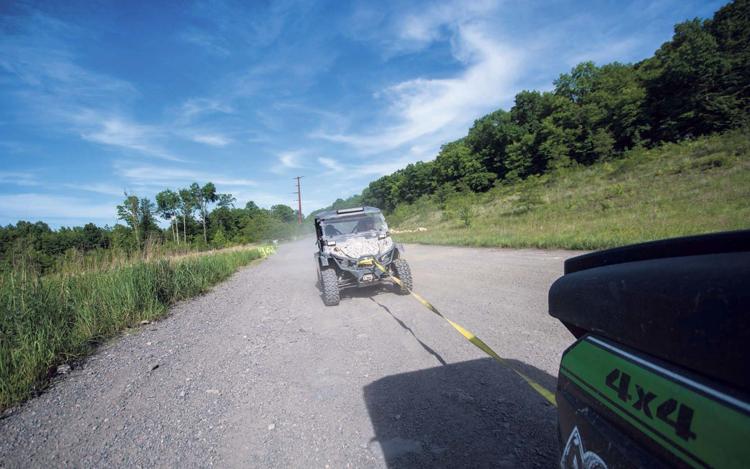 A park vehicle driven by Walter Kovalewski, an AOAA employee, broke down. He's by "Big Foot," a wooden cutout of Sasquatch that riders seek out for selfies.
"I was just by there. We're close. I'll get him," Porzi says.
"Sounds good," Amarose, the front desk employee, says over the phone.
---
"It won't go," Kovalewski says with a grin.
There was a noise and a scent of burning rubber before the side-by-side stopped, he says.
"It sucks when I have to recover our own vehicle," Porzi says, getting out a strap to tow it back to the trailhead.
Kovalewski is among the employees who monitor the trails making sure riders have permits, are wearing the required gear and are obeying safety rules.
He'd been on his way to where an off-road vehicle was being recovered by riders. An accident occurred and a woman in their group broke her arm.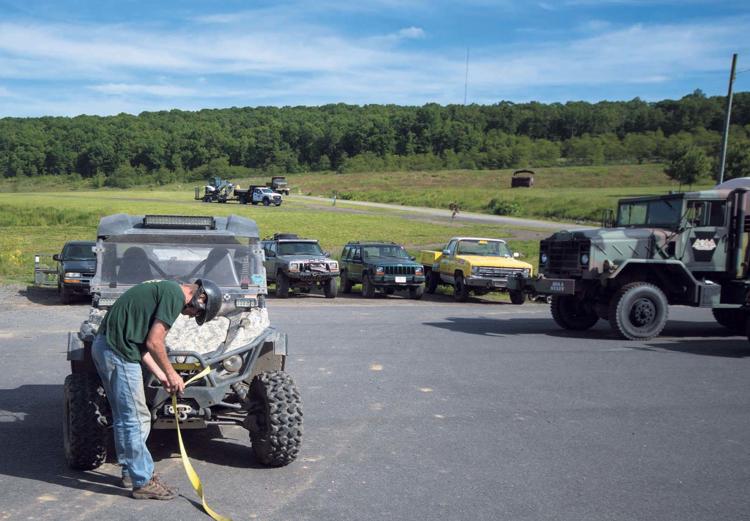 Someone else in the group was a medical professional, Kovalewski was told. They secured the woman's arm and left the woods themselves, bound for nearby Geisinger-Shamokin Area Community Hospital. Some returned later for the vehicle.
Porzi isn't pleased but he isn't overly concerned, either. There's a risk in riding, of course, and there's a risk of tending to an injury rather than calling for emergency medical help.
"If they do it on their own, then they do it on their own," Porzi says.
"Today's been a good day," Kovalewski says, "except for this."
5:10 p.m.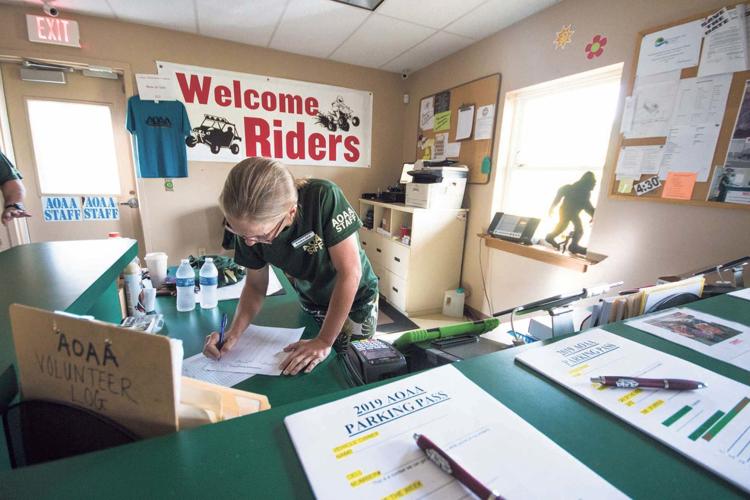 Back at the office, Amarose readies wristbands for the next day's riders. She cleans up around a well-kept office space and completes routine paperwork. Porzi checks on the day's cash balance.
There are a few stragglers still riding the Western Reserve. They were ordered to return to the entrance as fast as possible where the gate will be unlocked to allow them through to the trailhead.
The parking lot is mostly empty. There are eight pickups or Jeeps remaining with whatever they hauled to the off-road park.
Staff periodically check on the lot to be sure all the vehicles depart before they do. If a vehicle remains, there may be someone stranded.
Porzi and Amarose have some fun with Cory Mrowka. The 17-year-old Shamokin Area student works at the AOAA. They give him a hard time for all the "work" he's been doing.
The riders aren't the only ones allowed to have fun.
"Another great day at the AOAA," Porzi says.