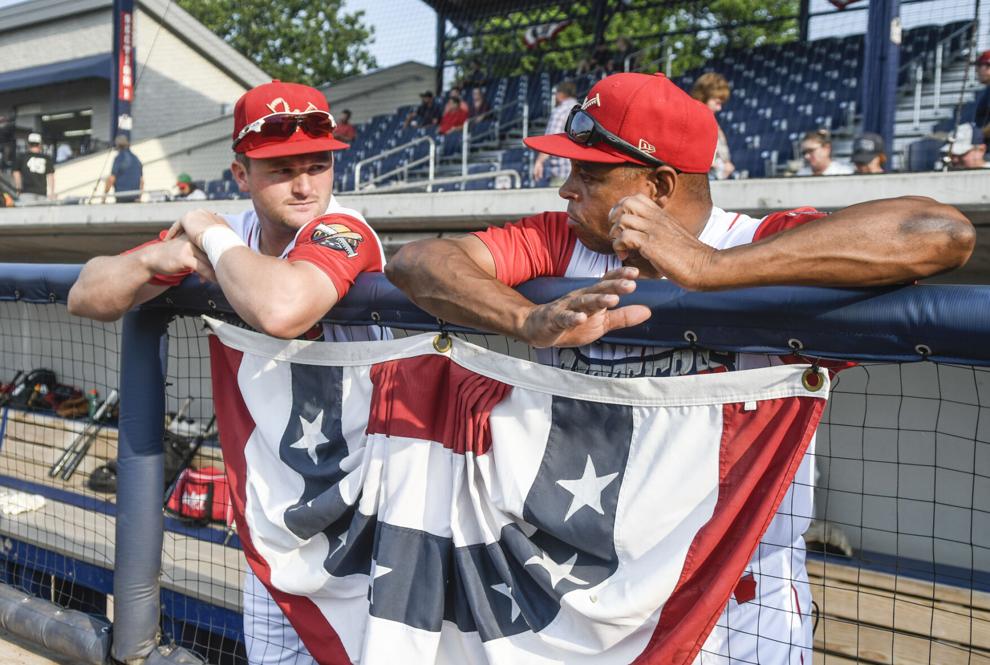 WILLIAMSPORT — A first pitch marks the start of every baseball game inside Muncy Bank Ballpark at Historic Bowman Field. For the Williamsport Crosscutters, though, game days begin many hours prior when the team's off-field staff arrives.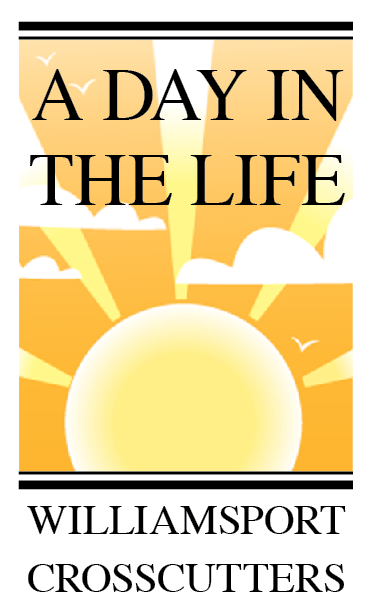 Much has changed in 2021 for the Crosscutters. The team plays in the brand new MLB Draft League, a wood-bat league for draft-eligible ballplayers. It's no longer an affiliate of the Philadelphia Phillies or a member of Minor League Baseball.
"We're kind of a farm team for all 30 (MLB) clubs," said Gabe Sinicropi Jr., vice president of marketing and promotions.
Historic Bowman Field was dormant in 2020 after the pandemic wiped out all of minor league baseball last season.
This year, baseball has returned to the stadium. Fans have returned, too, first on a limited basis in late May before state-imposed restrictions were lifted May 31.
The 2,366-seat stadium has a new sponsor and is now Muncy Bank Ballpark.
But, the game's the same. By and large, so is the work it takes outside the lines to get the ballpark fan-ready. The Daily Item spent time at Historic Bowman Field on July 15 for the Crosscutters home game against the Frederick Keys to learn about what it takes.
9 a.m.
Members of the Crosscutters full-time operations staff begin to arrive.
On game days, it takes up to 70 workers, full-time and part-time, to operate the ballpark: Front office staff and interns, grounds crew, ticket-takers, box office, concessions, operations and promotions.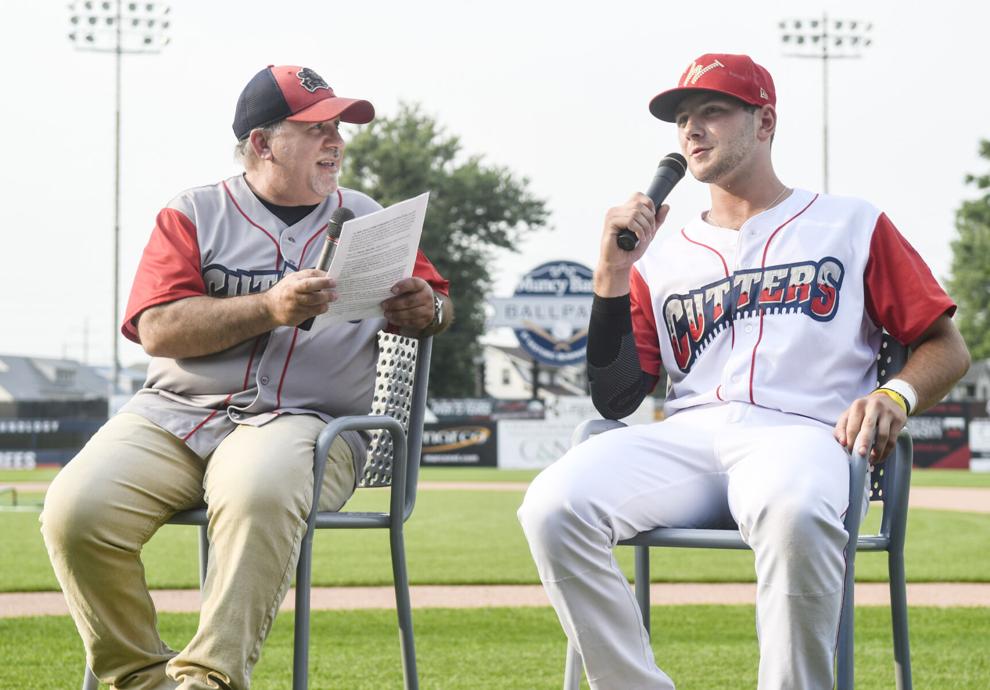 Gabe Sinicropi has been with the franchise for 35 years. He and Doug Estes, vice president of operations and general manager, literally came with the team when in 1993 the Geneva Cubs relocated from the Finger Lakes region of New York to Williamsport.
"You're just kind of getting things started, getting set for the day," Sinicropi said of a 9:30 a.m. staff meeting. "We go over everything happening for the game."
9:30 a.m.
What's happening on July 15? A lot.
The front office staff reviews it all together in a small conference room tucked among the staff offices behind the stadium gift shop.
It's Jelly Bean Bonanza. The first 1,000 fans get a free packet of Jelly Beans.
Also, it's Thirsty Thursday — $2 domestic pints and $1 off craft beer.
And, it's Thank You Thursday, allowing free tickets for military veterans and active-duty personnel.
Those are just the promotions.
There are fan games between innings; visitors from the Lock Haven Eagles, Tri-County Church, Lycoming Engines Young Professionals and the local summer theater cast of The SpongeBob Musical; on-field pre-game segments; post-game Launch-A-Ball for fans.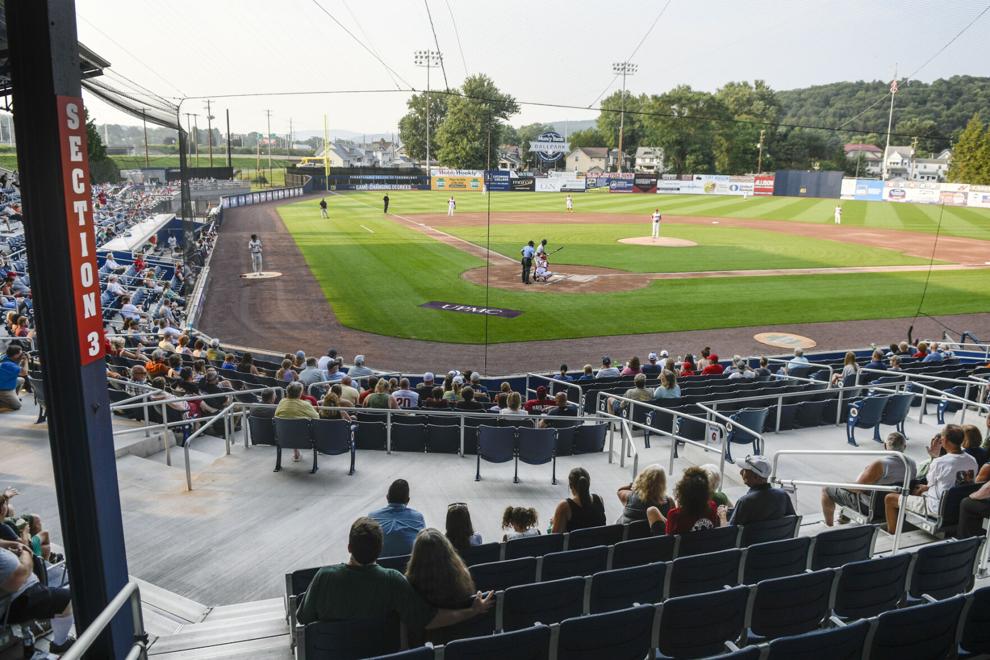 The team is hosting a re-do of a rained-out Sponsor Night Out. There are more than 200 sponsors for anything and everything from the field to online broadcasts to scoreboard content to between-innings fan games to the actual baseball game itself.
In baseball, whether it's major or minor or in the Crosscutters' case, collegiate summer league, virtually everything is for sale. Sponsorships drive revenue.
"Everything we do is sponsored," Sinicropi said. "The easier part is sometimes selling that stuff. The harder part can be following through and making it happen."
The box office window opens at 10 a.m.
10:13 a.m.
Dawson Harvey sweeps a broom across the kitchen floor of the Crosscutters' primary concession stand in the concourse.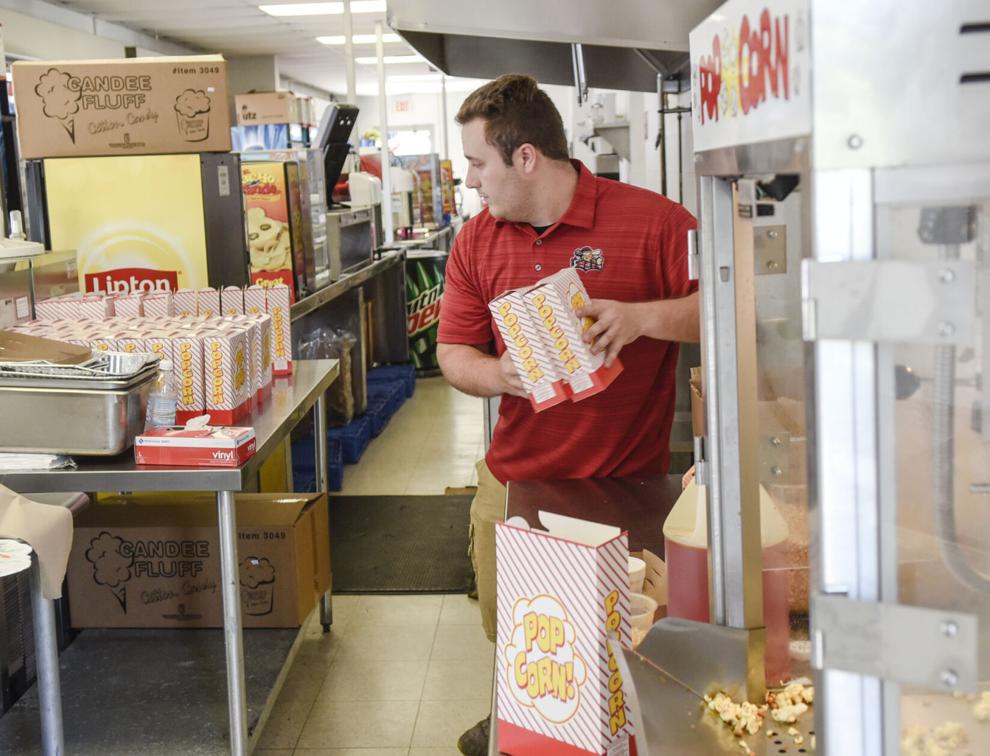 The 22-year-old Williamsport native is an intern. He studies sports administration at Lock Haven University. On this day, he's prepping concessions. It's not his first gig at Historic Bowman Field. Harvey used to be a bat boy. Now, he's handling less glamorous duties as he eyes a professional career in sports management.
"That's my favorite part, putting on a show for the crowd," Harvey said of helping with fan games between innings.
Cleaning the stadium? Prepping concessions? Maybe not Harvey's favorites, but they involve necessary tasks.
"You didn't start the popcorn yet," Sinicropi asks.
"Not yet," Harvey replies. "In about 10 minutes."
Twenty minutes later, corn kernels are popping inside the popcorn maker at the concession stand. Sinicropi hadn't stuck around. He'd already made his way back to his desk. He's popping the keys on his computer's keyboard, typing a script for a 2-minute video previewing the day's game: Crosscutters On-Deck.
10:40 a.m.
Sarah Budd is director of ticket operations and community relations. She's been with the Crosscutters for 21 years.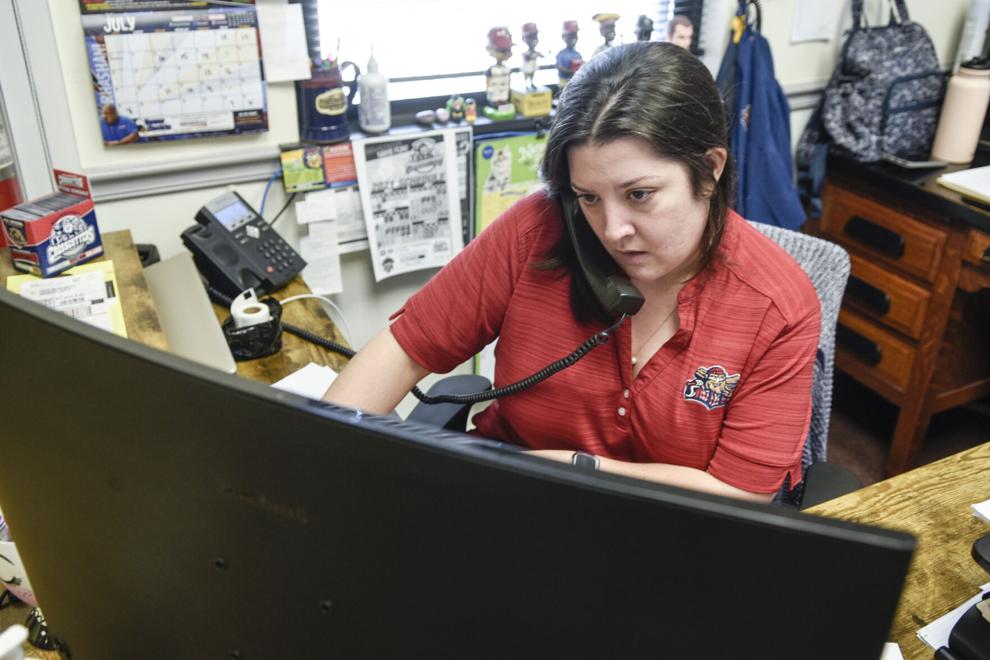 She helps staff restock the team store, opens the box office and gets the will call window ready. She'll help prep the night's giveaway at the front gate — tonight: jelly beans — and later in the day, get the cash registers ready.
"We're here until an hour after the game ends. It's a long day," Budd said.
The phone on her desk rings. She answers. A customer on the other end inquires about tickets for the next night's game. Budd begins telling the customer about different options."We can take the order right now if you like. 20 tickets," Budd repeats back to the customer. "You can get more tomorrow, even at the box office."
10:45 a.m.
Sinicropi walks from his office cuts the corner near where Budd's desk rests and picks up papers from the office printer.
"All right," Sinicropi said. "Let's go cut a video."
Intern Joey Morrison joins Sinicropi on the walk from the office through a staff-only door leading to the ramp that opens onto a landing in the seating area behind home plate.
Morrison, 21, attends Lock Haven University, too. He studies business administration and economics. With the Crosscutters, he's learning the ins and outs of marketing and promotions.
"This is unlike any job I've had," Morrison said. "It's exactly what I expected. It's fun. The days are long."
They walk below the press box when Sinicropi calls out, "Jayhawk."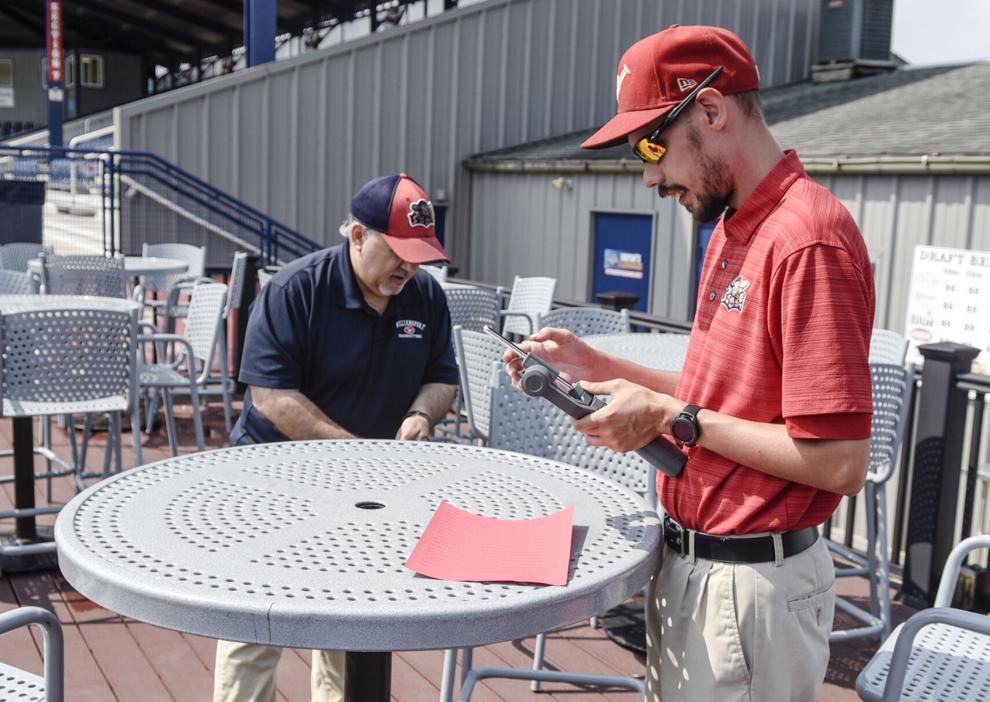 Justin "Jayhawk" Hawkins leaves the press box and joins Sinicropi and Morrison atop the Weis Dugout Deck just beyond the visitor's dugout along the third baseline.
Morrison holds up a script for Sinicropi as Hawkins presses record on a cell phone.
"Hi everybody, and welcome to Cutters On-Deck," Sinicropi begins.
11:08 a.m.
Bill Gehron is in his 19th year with the team. He leads stadium operations and food and beverage. His job counts among the year-round gigs for the Crosscutters.
"I got all kinds of cherries," Gehron said, holding up a large jar of chilled maraschino cherries used to garnish a Jelly Bean-inspired cocktail at the Loggers Landing seating and concessions area beyond the home team dugout.
Gehron starts his day by setting up traffic cones for parking. He then moves from one concession area to the next throughout the park. At this point, he's prepping snacks and drinks for the night's visiting sponsors.
Gehron didn't always work for the club. He was a season-ticket holder. In years past, he and his wife also housed players as a host family. Gehron made a career in financial services. He had sold off his business. When the Crosscutters needed to fill the food and beverage role, the predecessor recommended Gehron.
"I come to the ballpark and I get paid, too. Nothing better than that," Gehron said.
1:50 p.m.
Sinicropi knocks out another script, this one for public address announcer Rob Thomas, the voice of Historic Bowman Field. The script is an 8-page game-specific addition to the daily public address scoreboard script created in the offseason.
Club Manager Billy Horton arrives at Sinicropi's doorway. They talk briefly about the Crosscutters' roster turnover.
All games on July 15 across the Draft League are the first following the recent MLB Draft.
The Crosscutters saw eight players selected from the team roster, the most across the Draft League. Two others signed free agent contracts, Horton would later say. A combined 39 players were selected league-wide. Assuming they sign their professional contracts, they move on for assignment within the respective Major League clubs. Or, some could wind up back in the Draft League since the minors saw 40 teams eliminated as affiliates last year.
Those left undrafted could opt to remain with the Draft League through the end of the short season, May 24 to Aug. 13, retaining collegiate eligibility ahead of a return to campus, or move on — either in baseball or in life. They're not paid a salary so many have big choices to make.
Coaches and front office staff for the six teams across the nascent Draft League have no say on who plays for their teams. It's more about developing prospects than it is about a league title.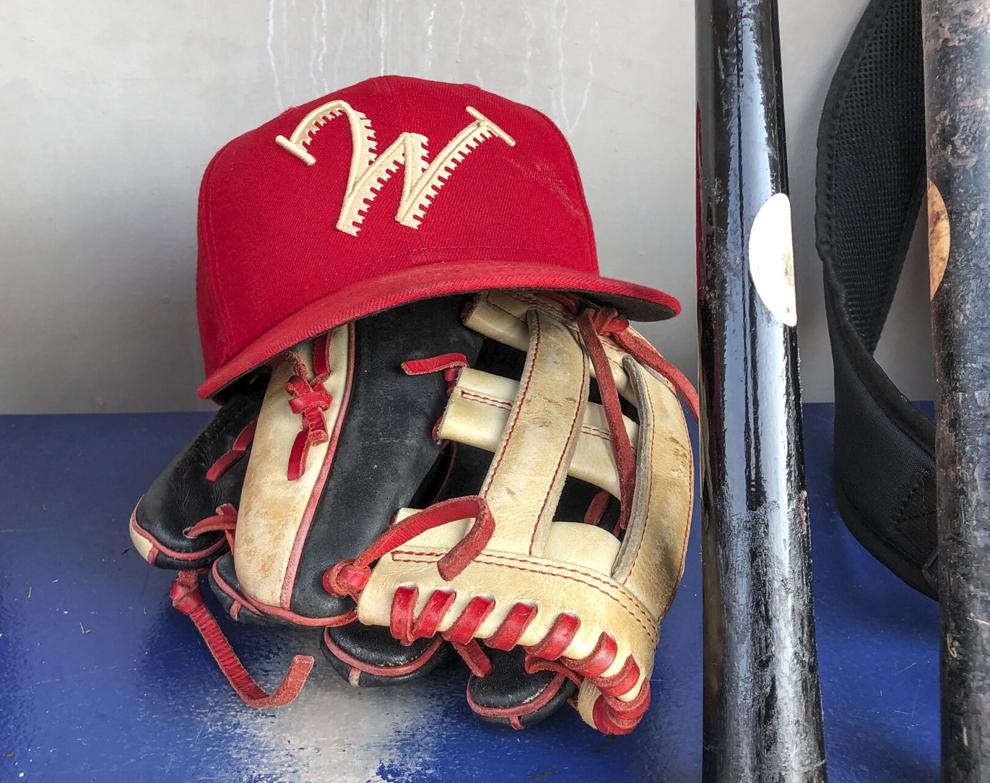 Major League Baseball contracted Prep Baseball Report, PBR, to source players league-wide. The firm is tasked to recruit and assign players and coaches and is responsible for roster management throughout the season. PBR collects advanced data on player performance and shares it with Big League scouts.
So, Sinicropi and Horton and the professionals who fill their roles for opposing teams across the Draft League all wait for PBR to fill the holes in the rosters.
"The Phillies would have handled that stuff. It's different in this league. They're all amateurs," Sinicropi said.
2:17 p.m.
Nate Schneider, director of client services, is prepping for Sponsors Night Out. He has a spreadsheet up of those expected to attend including potential clients targeted for sponsorships. He already sent out an email blast reminding of the event. He'll soon make name tags and other tiny touches.
Schneider was a Crosscutters intern in 2009, having served under Budd. Like current interns Harvey and Morrison, he went to Lock Haven University. He was hired full-time in 2016.
"They're all important to us," Schneider said of sponsors as he worked in his office, a room he shares with the front office team's conference table. "It's an opportunity for them to see in action what they sponsored. Gabe always says that our best sales tool is the game. That's a big aspect of my job, to entertain clients and potential clients."
2:35 p.m.
Gabe Sinicropi separates Jelly Beans into individual plastic cups. He's prepping a fan game — a blind taste test. Some of the jellies are the delicious flavors that entice. Others are those that revolt.
"I wonder what dirty dishwater tastes like," Sinicropi said.
2:55 p.m.
Rhashan West-Bey has a desk next to Budd. He's the face of the staff, holding the title Director of Smiles. There are plush dolls of West-Bey available in the team store.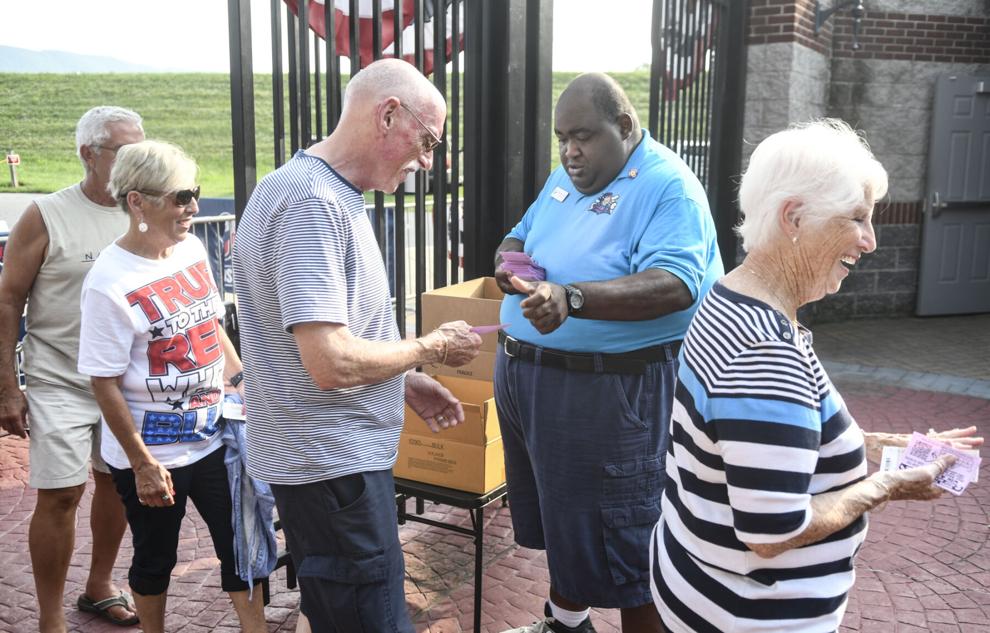 West-Bey, once lived in a home not far beyond the outfield fence at Bowman. He started coming to the ballpark as a fan in 2003. Eventually, he'd help Gehron collect recycling in return for a ticket to the day's game.
"The season ended and he kept showing up to help every day," Sarah Budd said.
West-Bey quickly endeared himself to the staff, the team and the fans.
The Philadelphia Phillies hosted the New York Mets at Historic Bowman field in 2018's Little League Classic. When Phillies players deboarded busses, they were met by West-Bey, many of whom remembered him from their time with the Crosscutters when the team was a Class A affiliate.
"Baseball is my favorite sport. I love baseball," said West-Bey, an avid Phillies fan.
"He's always happy-go-lucky, cheering people on," Budd said.
"I make everyone smile," West-Bey replied.
3 p.m.
Bill Gehron is back inside the concessions and along the third base line. Multiple fans are blowing inside and the slushie machine is working overtime on this hot day to keep the slushie in its delicious partially frozen state. He pulls a few items from a freezer to thaw in a refrigerator. Concessions staff will begin arriving between 4 and 5:45 p.m. prior to gates opening to fans at 6 p.m. Gehron said he needs to clean up soon to get ready for the game.
3:18 p.m.
Eric Budd is a production assistant with the team. He's also Sarah Budd's brother. Eric runs the scoreboard graphics from the press box. His full-time job is as a programmer with an intermediate unit. He had done this job for 13 years and after a brief hiatus, returned this season.
"Something's always breaking," Eric said of the outdated equipment and the scoreboard itself. "It's the nature of the business."
The scoreboard can display graphics and basic animation like GIFs but can't display video. Some of the panels on the screen are malfunctioning. It's tabbed to be replaced next season.
3:27 p.m.
"I'm kind of at the point of the day where all my stuff's done," declares Justin Hawkins, the production director, from inside the press box. "This is the built-in hour where if something goes haywire, we hope we can handle it in this hour."
Hawkins has long ago collected, organized and shared statistics for the night's game. On-Deck is filmed and he's input information into the scoreboard ahead of Eric's arrival.
Eric said he'd been coming to games since he was a child. Hawkins said the same.
"I grew up with this team. It's so much of my childhood," Hawkins said. "It's nice to see there's still a commitment in Williamsport for baseball."
3:37 p.m.
Van Morrison's "Brown Eyed Girl" plays over the stadium's public address system. Some players stretch on the field. Others toss a ball to warm up. Coaches watch from off to the side.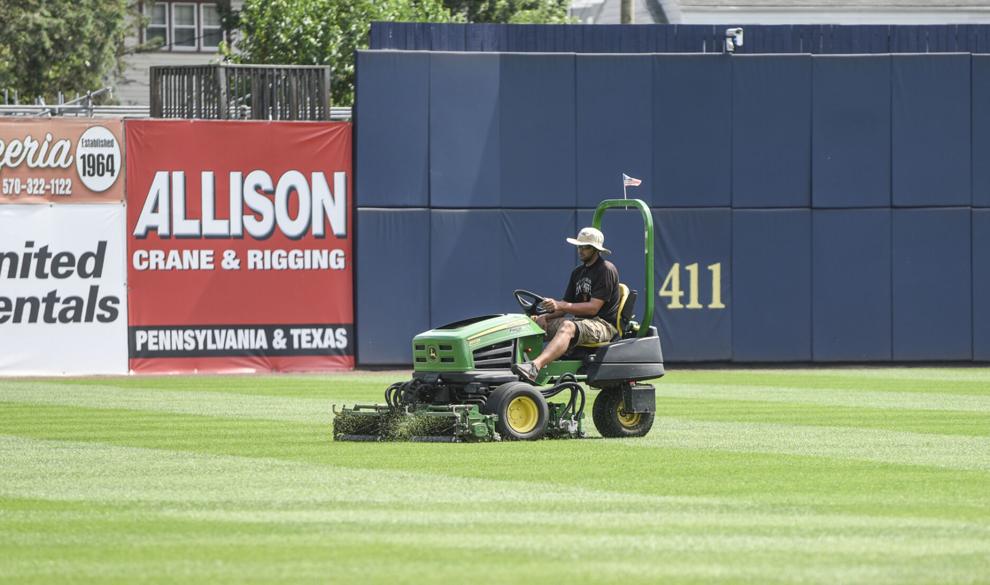 Cam Richardson, head groundskeeper, is off to the side, too. Much of his work is now done: A lot of mowing. Richardson joined in 2019. He works for BrightView Landscapes, MLB's official field consultant.
Bowman Field opened in 1926 and had been the second-oldest minor league ballpark in the country. The city-owned stadium underwent $4 million in upgrades ahead of the 2017 season — new individual seating, relocated bullpens and dugouts and a featured premium deck along the first base line. MLB committed approximately $1.5 million toward the installation of a Major League playing surface and an irrigation and drainage system, city officials said previously.
"The fields always have to be pristine and 100 percent perfect. I knew that was the standard here," Richardson said of MLB's exacting field standards.
"We're fertilizing, aerating, mowing, top-dressing — everything we can do to help this field perform to the best of its ability," Richardson said.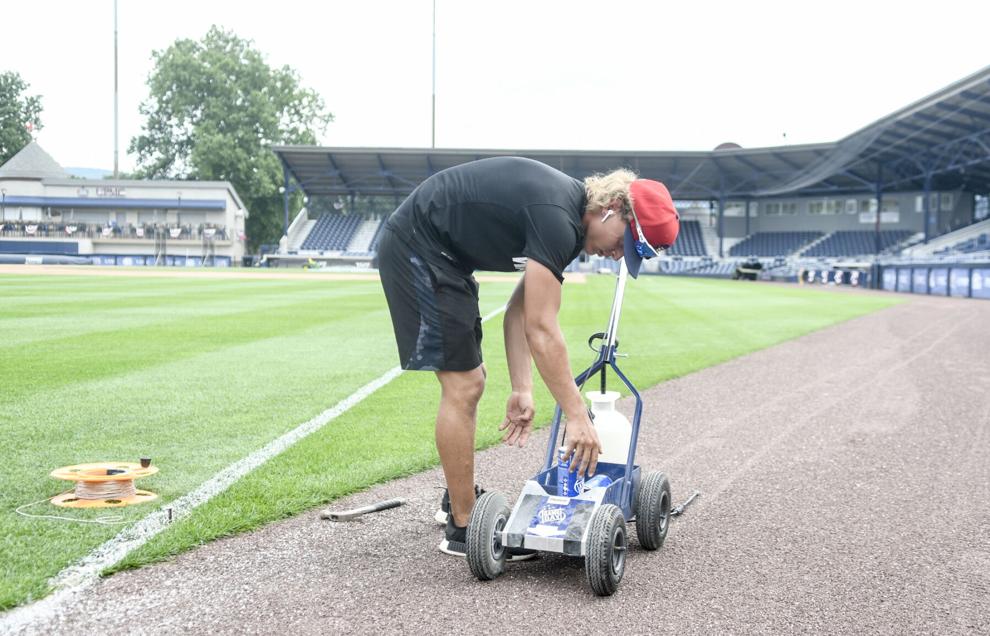 He works at the field year-round. The busy season is March through November. The winter is like a "teacher's summer."
3:45 p.m.
Rob Thomas, the public address announcer, is in the press box. This year marks his 22nd season, even if his 21st was a no-go because of the pandemic.
To his knowledge, Thomas is the only person to serve as PA announcer for games in the Major and minor leagues along with the Little League World Series. He's also a member of Bowman Field's Hall of Fame.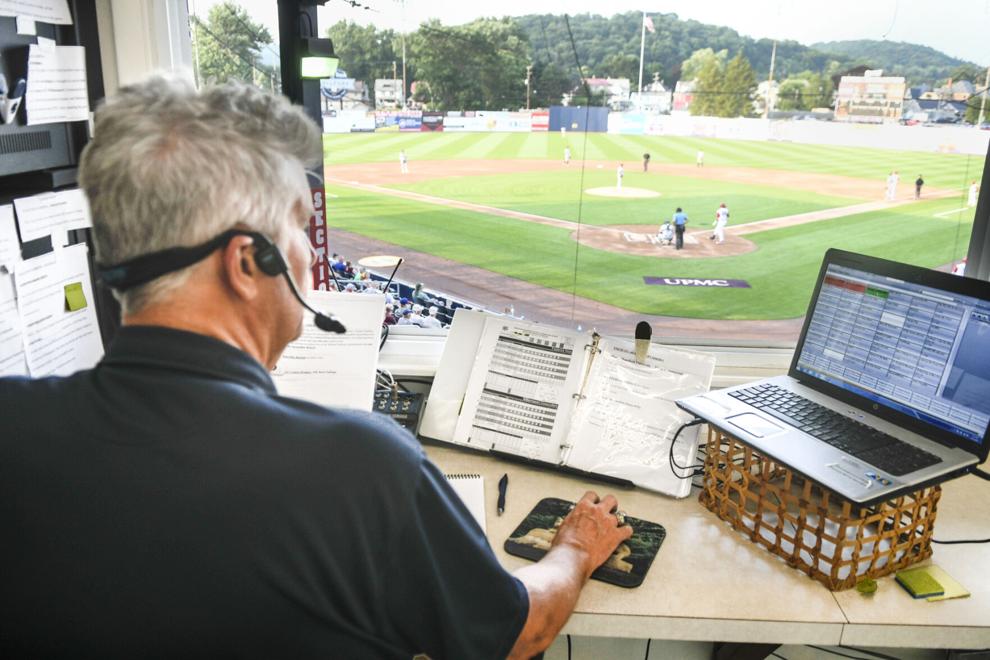 "Everything you hear in this stadium comes from me; the music, the reading, everything," Thomas said as he looked over the script Sinicropi typed out and checked that he had the necessary audio files for the soundboard.
He overheard Hawkins and Eric Budd talk about malfunctioning equipment and was reminded of a memorable mishap when a recording of the national anthem wouldn't work. A recording is used in cases where the team doesn't have a live performance slated.
It was a full crowd. Military night. A large American flag was stretched in the outfield.
"The national anthem wouldn't work. I mentioned it to the fans and said we're going to sing," Thomas recalled. "I started the national anthem a cappella. It worked."
"I thought you were going to tell them about the fireworks," Eric Budd said.
The Crosscutters used to shoot off fireworks for home team home runs and such.
PHOTO GALLERY: A Day In the Life Of The Williamsport Crosscutters
"One night we're sitting here and all of a sudden they just go off. I think we about killed our leftfielder. I thought he had a heart attack," Thomas recalled. "That's the last we had fireworks."
3:58 p.m.
Nate Schneider left his office. He's behind home plate hand-wiping the seats in the stand.
Most of the Crosscutters players and coaches are now on the field. Rhashan West-Bey walks through the stands to say hello. Bullpen coach Tito Fuentes Jr. yells out to him to let him know that his son, Tito III, joined the team.
"I don't know another Tito. Hi, Tito. You don't know me. I'm Rhashan," West-Bey said.
"Nice to meet you, Rhashan, I'm Tito the Third," Fuentes III replied.
Hitting coach Anthony Manuel, son of former MLB player and manager Jerry Manuel, walks onto the field to begin team drills. West-Bey spots him right away.
"Anthony!" West-Bey yells as the two greet each other.
Manuel begins hitting grounders to the infielders. In the outfield, players long toss.
4:06 p.m.
Doug Estes, the vice president of operations and general manager, had been hard to find throughout the day. He was in and out of his office. At this moment, he was in.
"He does the fun stuff, I do the boring stuff," Estes said.
Stuff like opening the mail, balancing the books, human resources, payroll, invoicing and on and on. He's an administrator and though he loves the sport of baseball, he makes clear that being a general manager of the Crosscutters isn't akin to being a general manager of a big league team.
"Our job is not to recruit players. Our jobs is to put butts in seats, sell sponsorships, sell ads and get people to the park. We are a support mechanism to the baseball team," Estes said.
There are more butts allowed in seats this summer than projected in the off-season. In February, capacity restrictions projected Historic Bowman Field could host about 600 fans when the league year began May 24. He estimated there were 400 to 450 season ticket holders at the time, leaving staff with 150 to 200 single-game tickets to sell for each home outing. As opening day approached in May, Gov. Tom Wolf announced capacity restrictions would expire May 31.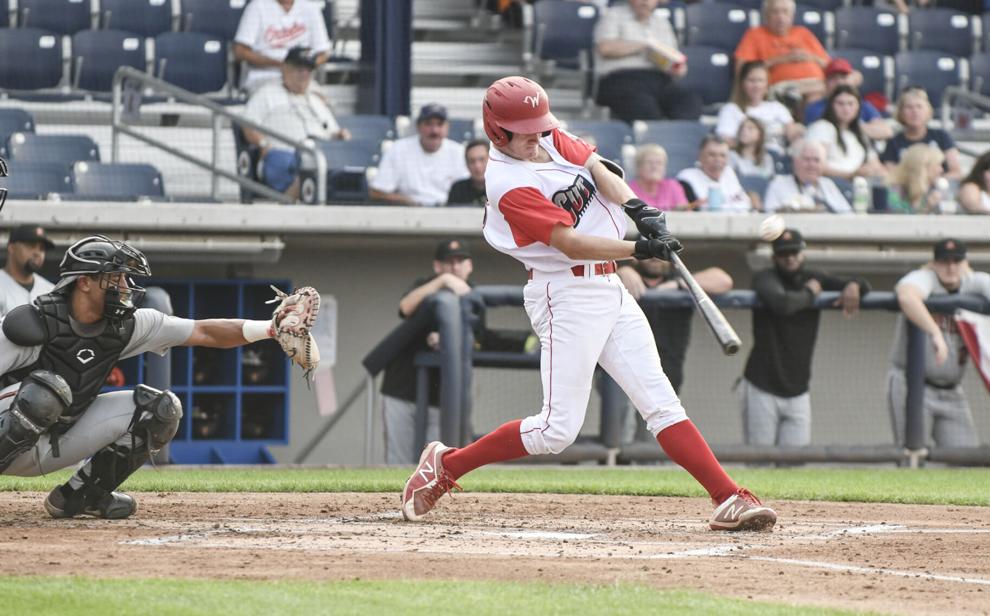 The news was welcome, Estes said, but it arrived 2 months too late. Sales season had ended. Operations season was in full swing.
Now, in an experimental league, without an MLB team affiliation and with some reluctance remaining for large public outings at this stage of the pandemic, Estes said the Crosscutters didn't sell tickets as it has in better circumstances.
"This is such an oddball year," Estes said.
4:46 p.m.
Pitcher Will Allen is in the midst of a throwing session in the outfield bullpen. He fires a pitch to catcher Rob Marinec. Pitching coach Jim Gott watches. When the pitch hits the catcher's mitt, Gott engages Allen about his throwing motion.
"You're starting it there," Gott said, mimicking Allen's previous throw. "If I start it where I want it to finish, that's going to be a ball out of hand. I want to tease the hitter as much as I can. You've got to show him a little bit of a strike at the beginning."
"Yes, sir," Allen replied.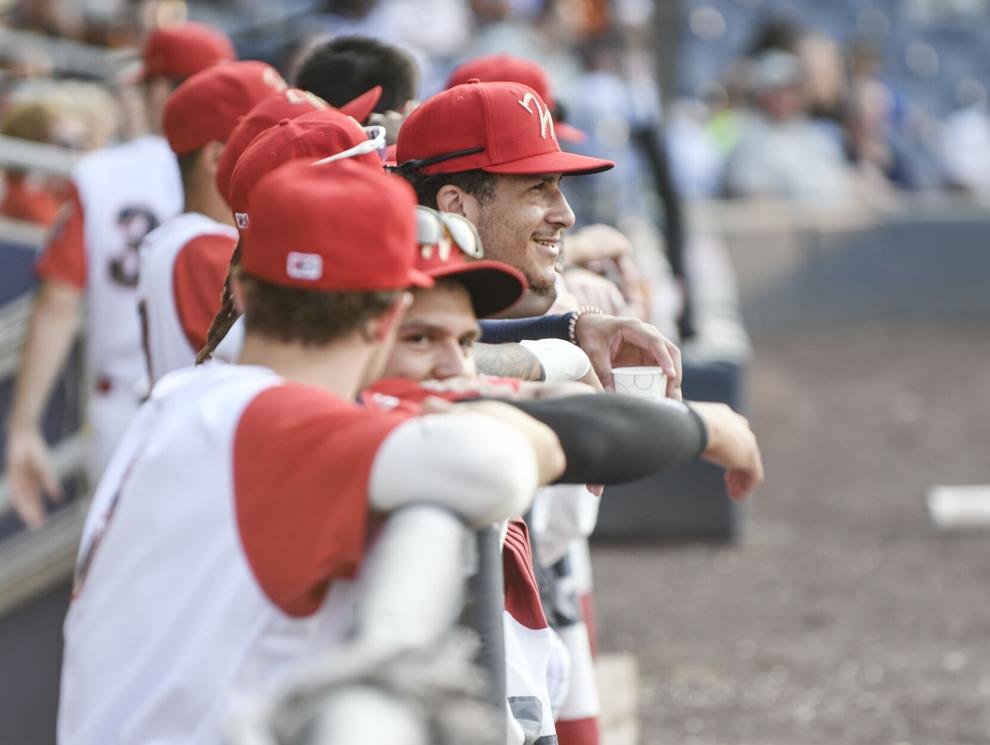 Gott is a former Major League pitcher himself. He's also a longtime coach, having worked with the Phillies' bullpen the previous three seasons. This is his first year in Williamsport.
Pitching talent and command of the strike zone are two major differences between the prospects and the professionals they're trying to join, Gott said.
"This is the second time I've seen him throw," Gott said of Allen once the session ended. "He and I are working on just making sure his direction is right. Within the mechanics of pitching, we need to keep on that line toward the plate. Everyone's line is different."
Gott goes on in-depth about pitching mechanics and direction. He chats excitedly about coaching the "kids," evidence the fire in his belly for the sport still burns hot decades after his own career kickstarted.
"This is really fun. I love this," Gott said of the low-level league. "It's a great opportunity for me to remind all of my guys that working your way to the Big Leagues, you're going to be faced with so many different situations. The fields are going to be different. The climates are going to be different. Everything is going to be different. You've got to be able to roll with the punches."
5:38 p.m.
Billy Horton, the team's manager, comes to the home dugout. Batting practice is over. The 5 o'clock hour is one for everyone to unwind before the crowd begins to arrive.
The Crosscutters are coming off a six-day break. Since it's a home game, they're doing more pregame work than they would on the road. They've got 28 players for a 30-man roster and Horton feels pretty good about the situation.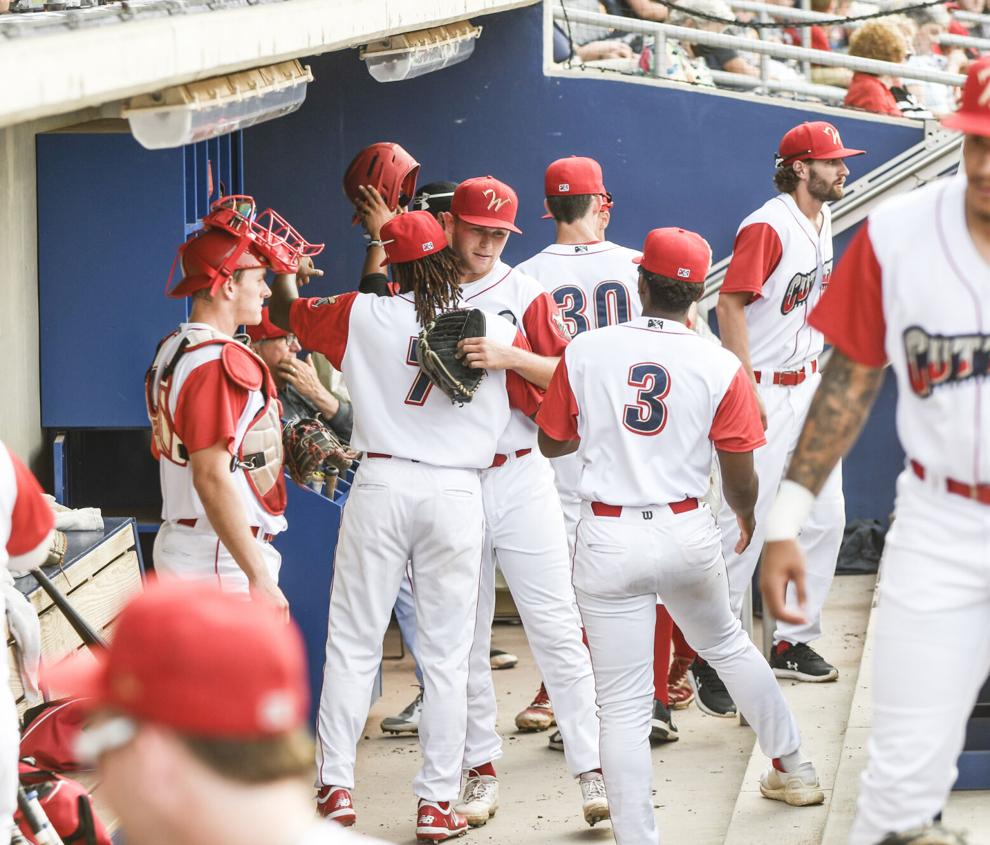 He's coached 25 years, from tee ball for his children to working with teams in the minors to jobs with professional clubs including the San Francisco Giants and Arizona Diamondbacks.
The pandemic allowed Horton's wife to work remotely, he said, which means his family is able to stay in Williamsport with him for the season. He has two young sons, one of whom is a bat boy and the other who watches from the crowd with mom during games.
"They love being out there during pregame," Horton said. "They're in the clubhouse, they're goofing off with the players, eating the pregame food. They're experiencing the whole thing."
"This is my sweet spot," Horton continued about coaching young talent. Eight of his past 10 years professionally has been as a coach in rookie ball. "It's always been about passing down wisdom to the next generation."
5:57 p.m.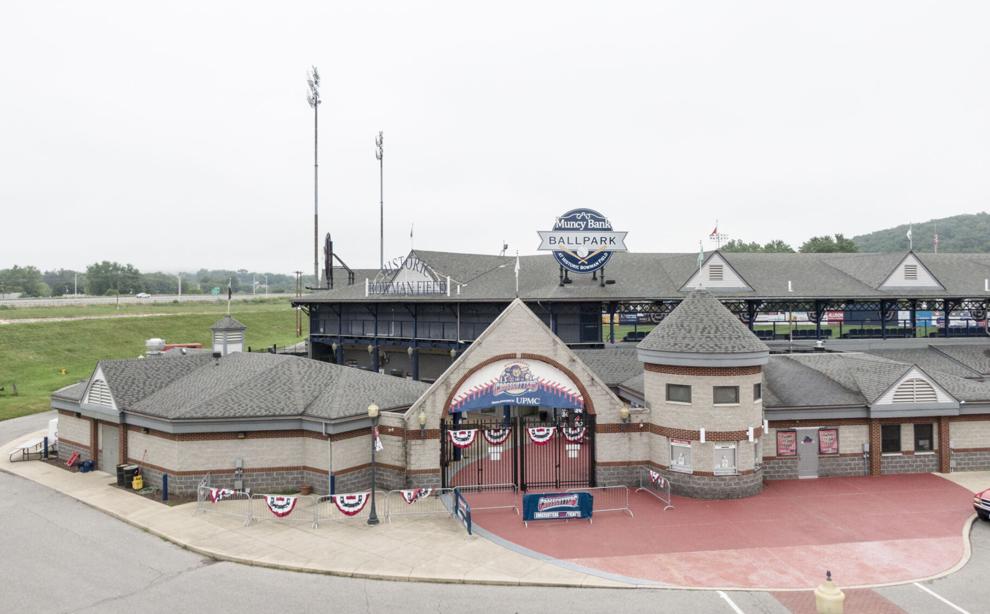 Lance Logsdon starts at first base tonight. He came to Williamsport by way of Quincy, Illinois, where he plays collegiate baseball for Quincy University.
"I'll be a COVID junior next year," Logsdon said. "That's what they call it."
Logsdon is taking advantage of the downtime ahead of taking the field about 6:15 p.m. He's the team's leading hitter entering the game batting .338 with 26 hits in 77 at-bats. This summer, he's working on pull-side power.
The players are living in dorms at Pennsylvania College of Technology. The team pays for lodging and meals for its players and the visiting teams.
Logsdon brought his car to get around the area. It was a 13-hour ride. Life in Williamsport doesn't present much else to do besides baseball, Logsdon said.
"You don't have much time to really do anything, to be honest," he said. "By the time we get done, it's usually 10:30ish. You're ready to go to bed and do it again."
6 p.m.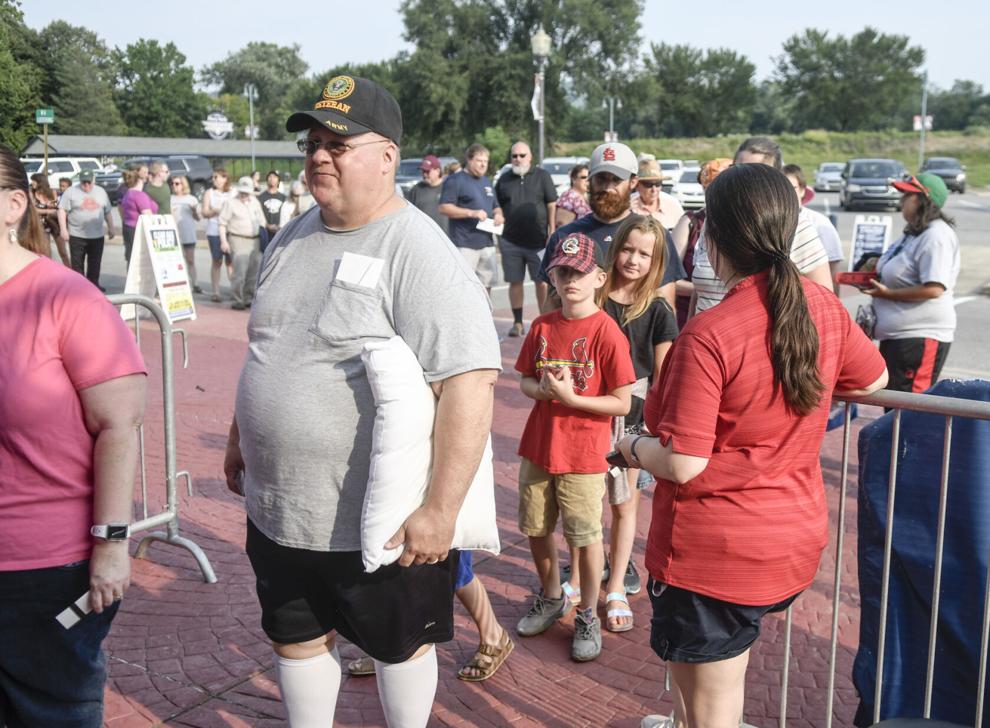 Gates open to Muncy Bank Ballpark at Historic Bowman Field. Rhashan West-Bey is in position, greeting fans on entry.
6:15 p.m.
Joe Cardinale and his wife, Sharon, recently moved to Pennsylvania from Northern Virginia. Tonight's game was the first they've taken in at Historic Bowman Field.
They've taken an open table at Loggers Landing. A waitress approaches to ask if they need anything. They're waiting a few minutes as the rest of their group of 12 arrives.
"I'm having a beer and a pretzel," Sharon said of what she plans to order. "I'm excited. Can't wait."
"This is a nice field, a very nice field," Joe said. "No ruts in the outfield. It's nicely groomed."
6:33 p.m.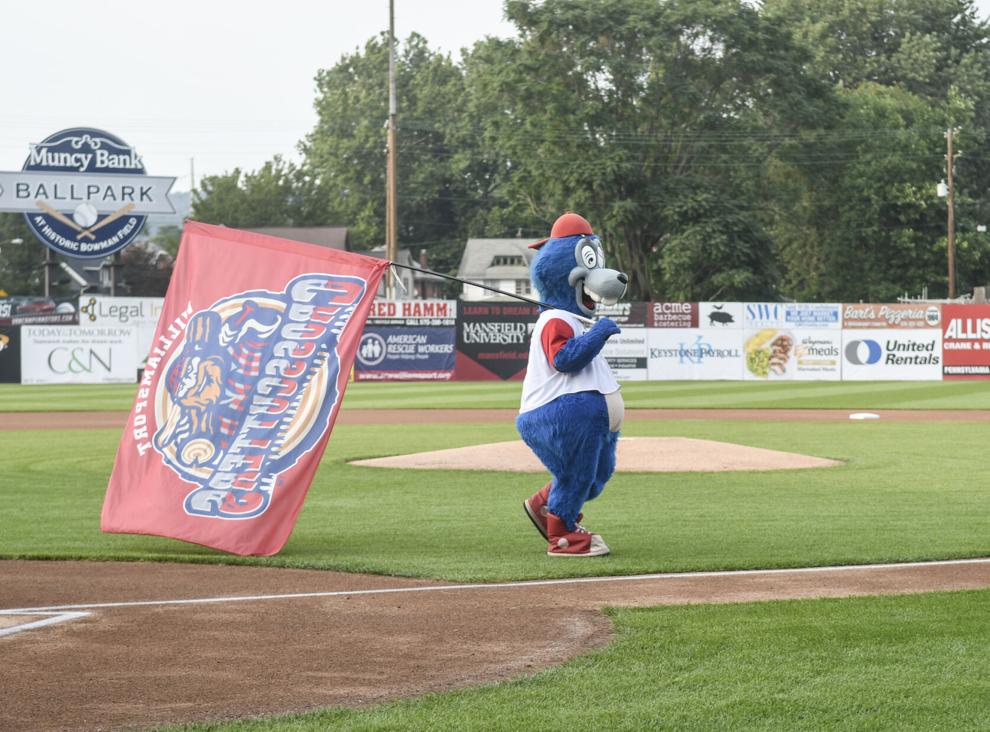 Players from both teams are milling about the field. The Crosscutters' mascot, Boomer, is making the rounds in the stands. And, he just stole someone's flip-flop. The woman is eating ice cream. She doesn't seem to mind all that much. Boomer holds it above its head and claps it against its … hand? Paw?
It's a mascot, one can't be too certain.
6:42 p.m.
Rob Thomas takes command of the public address system and reads off the night's starting lineups. Afterward, Sinicropi continues his work as an emcee, of sorts.
7:02 p.m.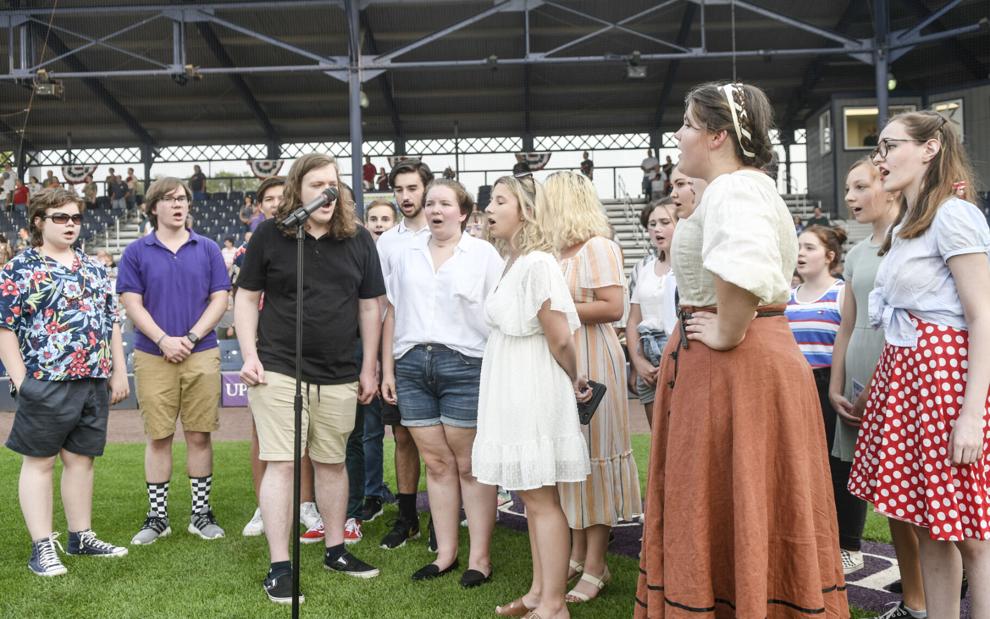 The Crosscutters take the field and the Keys emerge from their dugout and gather along the third baseline. A few minutes later, the cast of The SpongeBob Musical sings the national anthem.
7:07 p.m.
Max Loven, starting pitcher for the Crosscutters, fires a first-pitch ball. The game's underway. Loven's second pitch is hit by lead-off man Payton Robertson who grounds out to short.
The Crosscutters lost a tough one tonight. The final was 6-5 in favor of the Keys. The go-ahead run came on an error. The team has 16 games remaining on its schedule including eight at home. The next home game is a 7:05 p.m. start Friday against the visiting State College Spikes. For tickets and more information about the Crosscutters, visit www.milb.com/williamsport.