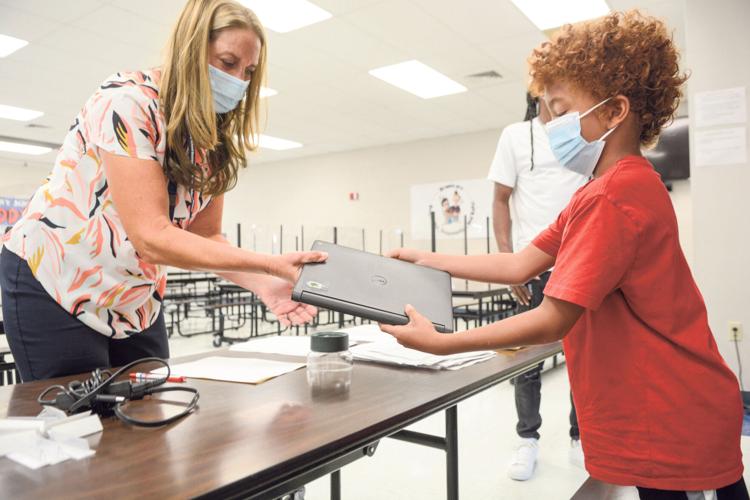 William James walked into Oaklyn Elementary School with his 9-year-old son on Thursday, having fought COVID-19 twice in the last five months.
James, of Sunbury, is the parent of one of approximately 900 students who have chosen some form of online learning at Shikellamy School District for the 2020-21 school year. He said he wanted to keep his son home this academic school year to avoid infection.
"I don't want to see him get sick," said James about his fourth-grade son Mardai James, during Shikellamy's Chromebook handouts. "I've had it twice already and I beat it both times. I don't want him to go through what I went through. It's no joke."
Students and teachers in the Valley are returning to a different world as classes resume for the first time since the state shut down in-person education in March due to COVID-19.
The state requires all students and staff to wear masks during the school day during the 2020-21 academic year. District leaders are setting up sanitizing stations, spacing students out in the classrooms and offering online learning for parents who wants to keep their child out of the classroom.
Students in the Valley started returning to classes on Wednesday with Selinsgrove Area followed by Milton Area and Warrior Run on Thursday. Five schools — Line Mountain, Midd-West, Mount Carmel Area, Our Lady of Lourdes and Shamokin Area — return tomorrow.
Southern Columbia Area returns Tuesday, Shikellamy, Northumberland Christian School and Meadowbrook Christian Academy return the day after that, Sunbury Christian Academy on Aug. 31, Danville Area on Sept. 3, Mifflinburg Area on Sept. 8 and Lewisburg Area on Sept. 9 and 10.
Even though children are least likely to catch the novel coronavirus, James said he and his child's mother agreed to keep Mardai home.
"I don't want to take the risk of losing him or any of my kids," said James.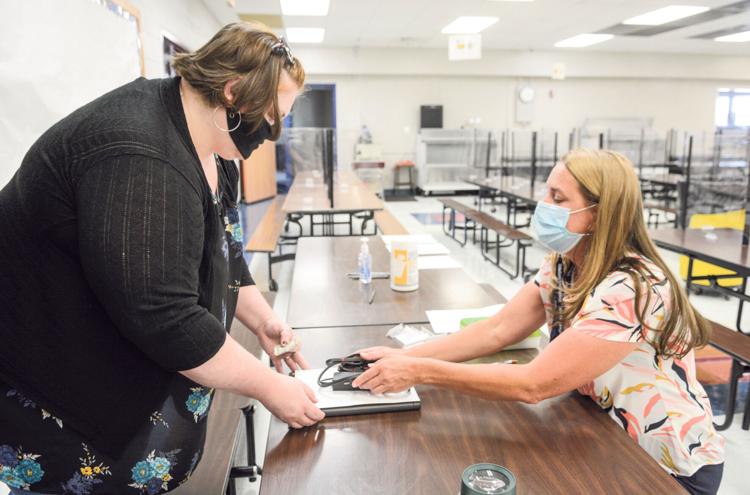 Christina Kidder, of Sunbury, also picked up a Chromebook for her 10-year-old son Gryphon Kidder, who is entering fifth grade. As a stay-at-home mother, Kidder said she and her husband chose to keep her child home.
"I think they have done a really great job," said Kidder. "I don't think I'm bringing him back, not until we know what's happening with the whole coronavirus thing. Let it settle down. Everything is too much in the air."
Kidder said Gryphon misses his friends and was not happy about staying home. However, the decision was easy to make, she said.
"The less students here, the safer they are going to be. Since we have that ability, there was no question at all," said Kidder.
Shikellamy Superintendent Jason Bendle said out of nearly 2,800 enrollment, 700 students chose the district's virtual academy, 100 students chose remote learning, and 99 students chose outside cyber schools. Students choosing outside cyber schools will cost the district and taxpayers approximately $1.8 million dollars, he said. Last year, the district had approximately 84 students in outside cyber placements and it cost approximately $1.7 million.
The district will follow the revised face-covering mandate from Gov. Tom Wolf, which requires students to wear a mask at all times indoors except during scheduled breaks, even when socially-distanced. When outside, and socially-distanced, students don't have to wear a mask. Under the mandate, students must be 6 feet apart when eating lunch. Each classroom and lunch table also has individual plastic guards for each seat.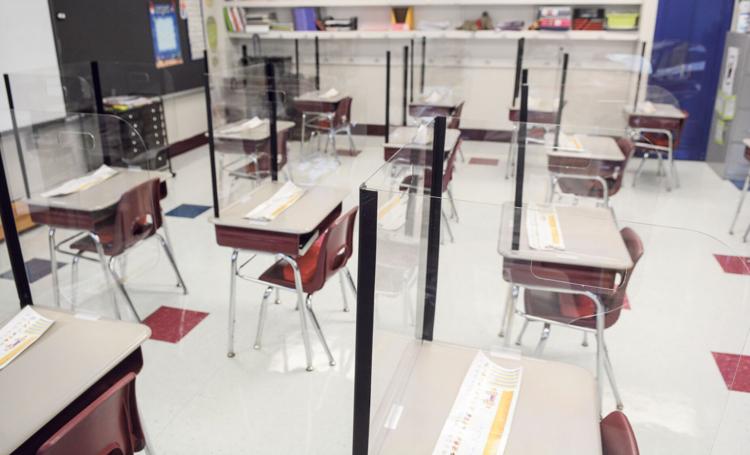 "We plan to increase our cleaning hours in order to clean and electrostatic mist classroom and common areas daily," said Bendle. "We have shifted some of our cleaning hours to have more hands during the school day to clean high touch areas and restrooms throughout the day."
He said the district has disposable masks that will be provided to any student that needs one. Families can purchase their own face covering for their children, he said.
"We have created professional development centered on online learning and Google Classroom," said Bendle. "Teachers will be keeping their Google Classrooms up to date daily for remote learners. Should the district need to go to a hybrid model where students attend two days a week in-person and three days remote, students will be working with their teachers from their Google Classrooms."
If that happens, the district will continue to grade students and take attendance and will work to make remote learning as close to a normal school day as they can, Bendle said.
"Remote learning is different from our Virtual Academy, which is a self-paced program in which students work through each of their courses," said Bendle. "The Virtual Academy is Shikellamy's in-house cyber school."
'You never really know'
Mike and Courtney Hendershot, of Dornsife, said they have reservations about sending their 5-year-old son Levi to kindergarten for the first time at Line Mountain School District.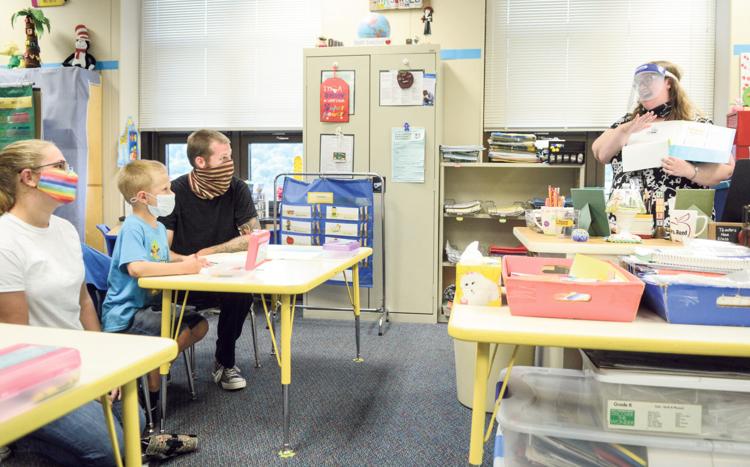 "Because you never really know," said Courtney Hendershot. "I feel strongly that it's very important for them to be around other kids and to learn in school."
Mike Hendershot agreed that in-person education is important to learn fundamental skills, but he recognizes that Line Mountain and other school district officials have a difficult task in preparing for this school year.
"They're doing the best they can do with the information they have," said Mike Hendershot.
The "unknown" is the most challenging part of sending students to school, said Jackie and Steve Kelley, of Lower Augusta Township. They are sending their second child off to school for the first time on Monday.
"We don't know what to expect," said Jackie Kelley.
Brittany Hohman, of Selinsgrove, picked up her 7-year-old daughter Brynn from her first day of school at Selinsgrove Elementary on Wednesday.
"It was a little rough compared to other years," said Hohman about waiting to see her daughter again. "Just nervous, not as emotional, just more nerve-racking with everything going on."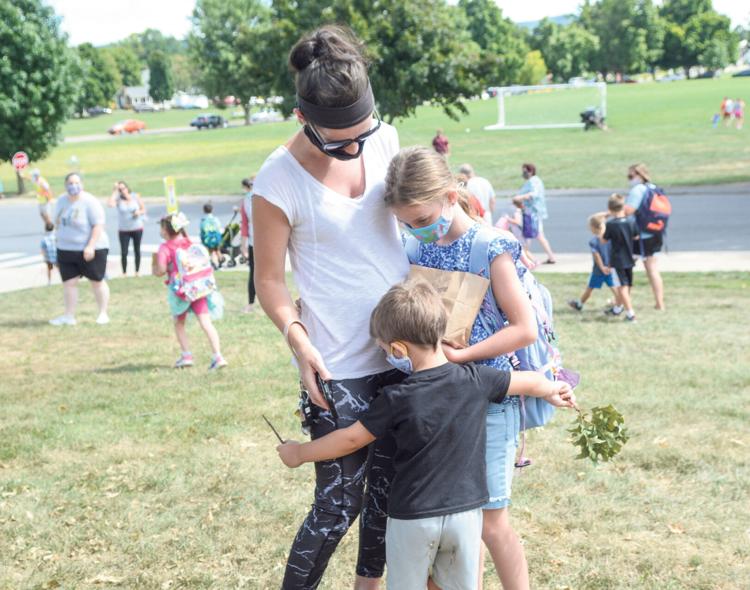 Brynn, though, said she was happy to be back. Her favorite part was "when I got to see all my friends and go back to school."
School district plans and procedures across the Valley overlap in several places — like socially-distanced desks, sanitization stations, signage, outdoor learning spaces and education plans, to name a few. In some cases, districts have added their own twists.
The Daily Item spoke with school officials who are in different stages of reopening to see where their districts are in the process and what efforts they are taking to keep COVID-19 from spreading through schools.
Danville 
Protocols in the Danville Area School District include elementary school students eating in classrooms. On the secondary level, additional areas have been designated as cafeteria spaces so students can maintain social distancing while eating, Superintendent Ricki Boyle said.
"Teachers have varying degrees of apprehension, but overall the Danville Area teachers are positive and looking forward to having the students back in the classrooms," Boyle said.
She said grading policies will remain the same, and professional development is centering on providing high-quality virtual learning as well as in-person instruction.
"Teachers are working through a series of modules regarding utilizing Google Suites, setting up parent-friendly websites, and the necessary training regarding the methods and procedures related to mitigating COVID-19," Boyle said.
There will be three models for instruction when school opens on Sept. 3. Besides traditional in-school learning, the district will employ the bridge model, which is synchronous teaching with some students participating on Google classroom while the teacher is in the classroom teaching other students. Students in the bridge model will receive the same assignments or an appropriate substitution. They will be graded in the same way as those in the classroom and will have the opportunity to connect with their teachers at various points throughout the day.
The third model is the Ironmen Cyber Academy & eLearning run by the district.
"In all three models, students will receive instruction and support from Danville Area teachers," said Boyle.
About 70 percent of students will attend school in person, about 325, or 13.5 percent, are enrolled in the hybrid model, and about 150, or 6.2 percent, district cyber. About 48 students chose an outside cyber school, which will cost the district more than $550,000.
Total district enrollment is 2,404 students.
"Our bigger issue is families who are choosing homeschooling," Boyle said. "At this time, the total is 125 students."
She said the district will continue to provide supplemental supports and services as appropriate to students with special needs and individual education plans (IEPs).
The superintendent said, though, she feels that guidance from the state Education and Health departments trickles in slowly, causing districts to react instead of being able to be proactive.
If a student doesn't have a mask or forgets one, the district has a supply.
Lewisburg
Lewisburg's plan provides hybrid and remote-learning options should the virus necessitate further restrictions to in-person instruction. The district has computing devices available for students to access learning materials and lessons, though availability is grade-level dependent.
The district will use distance and schedules to space students out for lunch. Some students will eat in a classroom or other setting outside of the standard cafeteria.
Lewisburg plans a staggered return by grade-level on Sept. 9 and 10. School officials delayed the start of school after Dr. Rachel Levine, secretary of the state Department of Health, recommended schools in Union County switch to online-only instruction due to rising case counts of COVID-19. Those case counts continue to rise, with data showing the disease is spreading beyond congregate settings like the federal prison in Lewisburg.
Dr. Jennifer Polinchock, Lewisburg Area School District superintendent, said district faculty trained on the institution of a learning management system and will receive additional training on the use of Zoom for video instruction.
Learning management attempts to allow teachers to conduct instruction as close as possible to in-person instruction: taking attendance, giving feedback, grading assignments, guiding individual and group work.
"The students will be in synchronous learning. They will log in to Zoom to be in class according to the bell schedule and be with their classmates and teachers for the learning. Teachers will be teaching from their classrooms," Polinchock said. "Parents will also be able to see their students' work, assignments, etc. through their (learning management) logins. This is a critical step that needs to be in place in order to ensure that this school year is a productive and meaningful educational experience."
According to Polinchock, about 20 percent of Lewisburg's student population opted for eSchool.
"This is still a fluid number as we also have some families deciding on LASD eSchool," Polinchock said when asked for figures of students expected to attend in-person compared to online. "We also have more homeschooling students who are doing this because of COVID."
Lewisburg has dedicated space in school buildings for isolation should students or staff present COVID-19 symptoms. Students wait for release to their parents and guardians. The district specifically asks students and staff to seek direct professional medical guidance.
The district plans to have teachers use face shields to allow students to see their facial expressions and plans to supply masks at all buildings.
Line Mountain
Students at Line Mountain with the exception of kindergarten, which is going every other day, will attend in-person classes. Students have the option to switch to online learning at any point during the school year.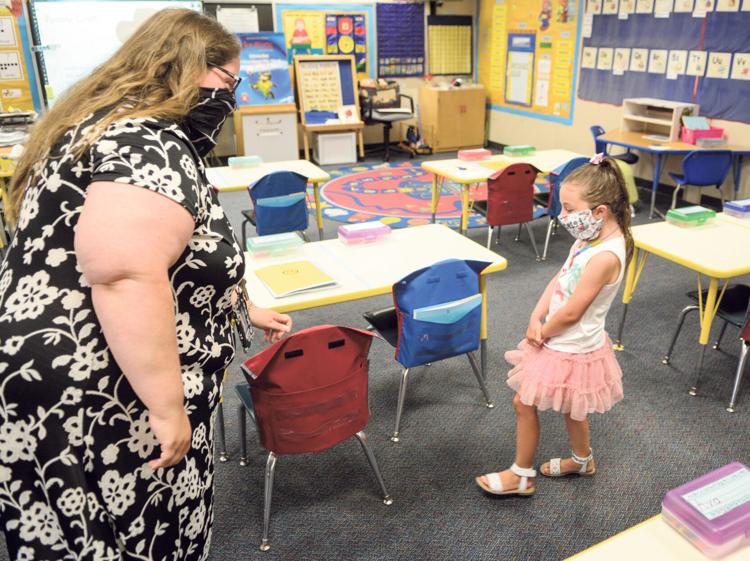 Lunches in the middle/high school are being split between the cafeteria and gymnasium to allow for social distancing. Elementary lunches will be staggered to allow one grade level per lunch period in the cafeteria, which will allow for social distancing. Gym classes, for now, will be going outside as much as possible. The school's physical education department has researched recommended and appropriate activities/games designed for the pandemic, said Line Mountain Superintendent Dave Campbell.
"The district has purchased through the ESSR (Elementary and Secondary School Relief) grant over 15,000 masks for students who lose/break/or feel they need to change their current mask. We will also get some extra masks to the bus drivers in case a student forgets," said Campbell.
The district brought in a trainer from Microsoft out of Pittsburgh to help train all staff on Microsoft Teams, said Campbell.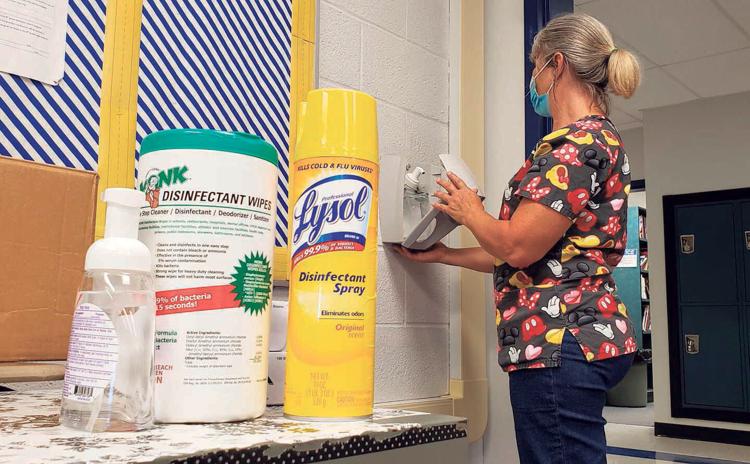 "We will continue to provide service to our special education students as always," said Campbell. "It will certainly be more challenging if those students choose online learning but we will communicate with them as much as possible and do our best to continue their services as if they were physically present in school."
Thirty-one online requests came in for elementary and less than 50 for fifth through 12th. The total enrollment is 1,100, said Campbell. 
Midd-West
Midd-West is still planning on returning for in-class instruction, no hybrid program at this time, according to Superintendent Rick Musselman.
The district's own cyber program Midd-West Cyber Academy has 174 students enrolled. The district has had 45 additional students enroll as being homeschooled, which is a program where the parents deliver the instruction in the home setting and they contract with an approved evaluator at the end of each year to have their child evaluated, said Musselman.
For outside cyber charter schools, Musselman said the district has had "only six withdrawals to outside cyber schools so far but we are being told some cyber schools are denying enrollment and telling parents and students to check back later. That's another option charter schools have over public schools, they apparently can deny enrollment. We do anticipate more students and parents may look to outside cyber charter schools as the year progresses but we would ask that they first check out their local Midd-West Cyber Charter School."
Mifflinburg
Like its Union County counterpart Lewisburg, Mifflinburg has a hybrid learning plan, computing devices available and plans to use distance and schedules to maintain social distancing.
Mifflinburg also delayed classes due to the state's risk assessment. The first day of school at Mifflinburg is Sept. 8.
Superintendent Dan Lichtel said teachers in all district buildings over the summer worked collectively to "solidify consistent practices and timelines for pacing lessons and grading student work."
Common approaches for the use of digital technology and the development of course materials for online work was covered in virtual training over the summer, Lichtel said, and that work continues.
"Teachers are always excited to get back to school. This year, the uncertainties and challenges brought about by the pandemic have contributed to a greater sense of anxiety, but we have been proud to witness the resilience and encouragement displayed by all of our staff members as we have prepared for the start," Lichtel said.
Mifflinburg will rely on several substitute teachers, along with temporary addition in medical and mental health personnel, to help at the start of the school year, Lichtel said.
Mifflinburg has 1,990 students enrolled, slightly down from last year. As the figures are changing daily, Lichtel said he couldn't yet provide a breakdown of how many will attend in-person compared to online.
In a letter sent to parents and guardians, Lichtel explained Mifflinburg plans in-person and remote learning to start the year. Parents can choose the district's online learning academy or the virtual classroom model where students effectively attend classes via live stream. There are also contingencies for a hybrid model and remote-only education for all students, which would be dictated by the severity locally of the pandemic, according to the letter. The district school board meets Tuesday night for a special meeting concerning these options.
Parents and students in the Valley will find similarities in respective schools' reopening plans throughout the area. Mifflinburg and Lewisburg are no exception.
Virus mitigation begins at home, according to both districts' respective plans. Parents and guardians are responsible for screening their schoolchildren each and every day by checking for common symptoms as defined by the CDC and taking temperatures. The same is expected of staff. If anyone is symptomatic, they're asked to stay home and monitor their condition.
Again, like Lewisburg, Mifflinburg has dedicated space in buildings for students or staff to isolate if they present symptoms, will have teachers use face shields and will have masks at all buildings.
Mifflinburg encourages students to bring at least one or two masks daily as supplies aren't guaranteed.
Milton
Milton Area School District Superintendent Cathy Keegan said the district is following all the Department of Health requirements regarding social distancing and mask-wearing.
"Arrows and signage were purchased to identify the direction of hallways and where students and staff are required to stand. Seating in the cafeteria was taped off to ensure all requirements are met. Our Health and Safety Plan provides direction for these areas. Master schedules have been modified to eliminate large group gatherings," she said.
The district spent the last several years preparing for digital conversion. During the planning and preparation phase for the digital conversion, staff members were provided with ongoing professional development and support to prepare for the initial digital conversion on March 13, Keegan said.
"It will look different for the 2020-2021 school year due to the educational options families were given for their child to return to school," said Keegan. "Flexible learning and the hybrid learning model include synchronous teaching and learning. Our staff (members) now have cameras in their classrooms, so those students selecting to learn from home, either through the Flexible Learning Academy (FLA) and on Wednesdays during 100 percent virtual learning."
The school district has purchased more 20,000 masks, face shields and gaiters. If a student or staff member forgets his or her face covering, one will be provided, she said.
Keegan said the district's health and safety plan "has additional mitigation strategies for students who are medically fragile," she said. "All students are eligible for a free and appropriate education."
Milton Area faces a cost of about $13,000 per non-special education student and about $24,000 per every special education student that attends an external cyber charter school such as PA Cyber Academy. They do not receive any additional state or federal funding for those students so the cost inevitably falls to the local taxpayers, Keegan said.
Total enrollment is 2,025 students with 203 students choosing the Flexible Learning Academy, 1,576 choosing hybrid/traditional, 186 choosing Milton Cyber Academy and 30 choosing outside cyber options, she said.
Mount Carmel
Mount Carmel Area Superintendent Peter Cheddar said the district is dividing lunches — half will go to the cafeteria and half will go to the gymnasium in both buildings.
"We purchased MCA face coverings for all students and staff," said Cheddar. "We also purchased desk shields for all students."
Voluntary Google Classroom training for all staff was held Tuesday, he said.
Right now 64 students are enrolled in outside cyber for the 2020-2021 school year. Each non-special eduction student costs the district about $9,000. If the student has special needs it costs the district approximately $20,000 per student. Last year the district paid roughly $800,000 for outside cyber students, Cheddar said.
The district has its own cyber school called Tornado eLearning Academy.
"Even during our first week of 'transition-hybrid' which is Monday, Aug. 24, to Thursday, Aug. 27, we are encouraging students with IEPs to come every day," he said.
The rest of the district will be on a hybrid model. Students with last names starting with the letters A through L will attend tomorrow and Tuesday and students with last names starting M to Z will attend Wednesday and Thursday. Friday will be an all virtual learning day for students. All students will return on Aug. 31. The sessions are also fully open to all students in Pre-K, kindergarten and first grade during the "transition week," said Cheddar.
Students who chose virtual options or are not present during certain hybrid days can pick up lunches from 12:30 to 1 p.m. Monday, Wednesday and Friday for junior/senior high school and from 1:15 to 1:45 p.m. Monday, Wednesday and Friday for elementary.
Cheddar said 65 percent of students chose in-person and 35 percent chose virtual in both the junior/senior and elementary buildings. Total enrollment is 1,500.
Selinsgrove
Selinsgrove Area Superintendent Frank Jankowski said the schedule has been built in a manner to reduce the number of large group settings. They are using the outdoors as well as auditoriums and gymnasiums to create maximum distance between students during both learning and eating components of the school day. Face coverings are available for all students and staff.
"Our teachers have been collaborating on how to build upon their spring experience and have put together a comprehensive plan to dually instruct in-person and from a distance," said Jankowski. "We have streamlined the learning platforms by school building and students will see all courses be available through distance learning."
Teachers are building relationships with students and their families to ensure student needs are met on a consistent basis, he said.
A relatively small number of families chose outside cyber due to the flexibility of the reopening plan and the community's confidence in educational programs. At this time, the district anticipates an additional $200,000 expense due to outside cyber enrollments for the 2020-21 school year, he said
Jankowski said 80 to 85 percent of students chose in-person while 15 to 20 percent chose remote learning. Total enrollment is 2,600.
Shamokin
Shamokin Area Superintendent Chris Venna said 64 percent of its students chose in-person instruction and 36 percent chose online instruction. Total enrollment is 2,269 and masks were purchased for all students and staff.
"So far, we have had only a handful (less than 5) who were with us last year choose to leave to go to outside cyber for the upcoming school year," said Venna. "However, we have had approximately 15 choose to leave the outside cybers and come back to us for the upcoming school year. We will continue to provide service to our special education students as always. It will certainly be more challenging if those students choose online learning but we will communicate with them as much as possible and do our best to continue their services as if they were physically present in school."
Lunches in the middle/high school are being split between the cafeteria and gymnasium to allow for social distancing. Elementary lunches will be staggered to allow one grade level per lunch period in the cafeteria, which will allow for social distancing. Gym classes will be geared toward more individualized instruction and locker rooms will not be used, said Venna.
Teachers received additional training this past week on Google Classroom. Various resources have been shared throughout the summer as well, he said.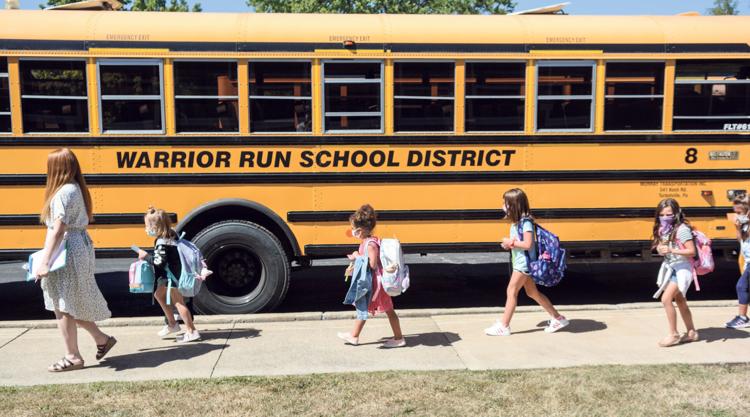 Warrior Run
In Warrior Run schools, Superintendent Alan Hack said, the district has taken measures to reduce seating in the common areas and provide alternate locations to eat. Masks will be available for students who forget them or do not have access to them on a regular basis. They will be provided on district transportation and in all of the schools.
"Professional development was initially provided at the end of the 19-20 school year with additional sessions offered over the past two weeks," said Hack. "Many of our own teachers shared their expertise with their colleagues and will continue to offer sessions throughout the new year."
Julie Petrin, supervisor of special education, has been working with families of students with special needs to create schedules and provide appropriate accommodations in accordance with their needs, said Hack.
Approximately 80 percent of the students chose in-person, 12 percent chose synchronous, 5 percent chose Warrior Run Cyber and 3 percent chose homeschooling. The total enrollment is 1,523, Hack said.
Those numbers continue to change and the exact amount of financial loss to the district for students selecting outside cyber schools is not known at this time, he said.
Staff Writers Marcia Moore, Francis Scarcella, Rick Dandes, Joe Sylvester, Rick Dandes and Eric Scicchitano contributed to this report.