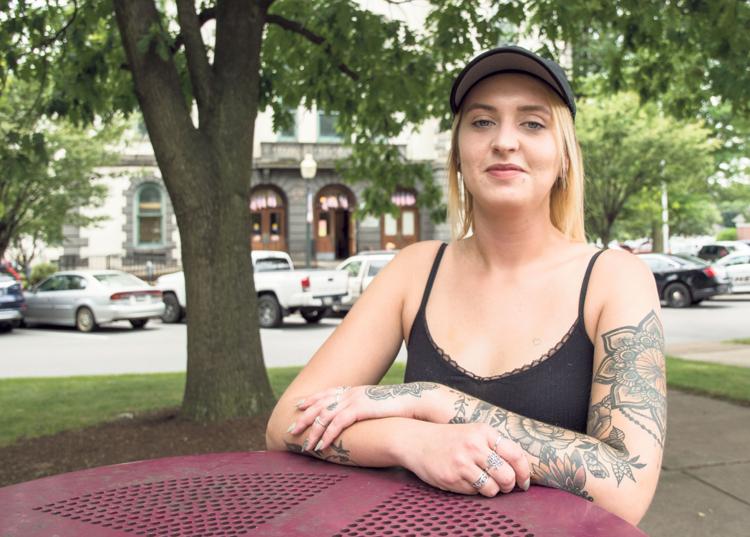 Proposed reforms to Pennsylvania's probation law intended to help those on probation and save taxpayers money undermine the court's authority, according to some Valley officials.
About 250,000 of the state's 12.81 million residents are on probation, a number that has remained level for several years, according to Helena Placey, executive director of the County Chief Adult Probation & Parole Officers Association of Pennsylvania.
There are about 3,700 adults on probation in the Susquehanna Valley, where judges, district attorneys and probation officials all voiced concern about the bipartisan legislation, proposed by state Senators Camera Bartolotta, a Republican from Washington County, and Anthony Williams, a Democrat from Philadelphia.
The proposed law would allow a judge to send the individual to prison for any violation of probation rules for a maximum of 30 days, and would limit probation to not more than five years for a felony conviction and not more than three years for misdemeanors.
Probation, under state law, is granted after a short time in jail or in place of jail time for a person found guilty of a crime. Probation can be ordered for as long as the maximum jail sentence of the crime. On probation, individuals must be supervised by a probation officer and comply with court-ordered rules, which could include meeting with the officer on a set schedule, passing drug tests or getting treatment for substance abuse.
Compliance and payment of all fines can lead to an early release from probation.
Noncompliance with the rules could lead to incarceration for the remainder of a sentence, under current law.
"The proposal I have seen for caps on probation is unworkable," Snyder County District Attorney Mike Piecuch said. "I am all for creating incentive for reducing time or early termination but in areas where the court mandates treatment, it will be tough to be workable with the caps."
Heidi Burkland, 25, of Sunbury, has been off probation only once since turning age 18. She said she loves her probation officer and feels probation has helped her. She also backs the proposed legislation.
"I think it is a help to those who are following the rules," she said. "I would love to come off probation knowing that I was doing all the right things."
Bartolotta told The Daily Item she is not trying to limit the courts, but instead trying to help those on probation and save taxpayers money by trying to not incarcerate individuals for long periods of time for minor infractions
"The big problem is $100 million is being spent to incarcerate people on probation for small violations," she said. "We have no problem listening to people and tweaking this bill. We have so many people who are in an endless revolving door when it comes to being reincarcerated for what are technical violations."
Sunbury attorney Jim Best said he is in favor or the proposed changes.
"I think the proposed reforms are a great idea and long overdue," Best said. "The probation system is overused and probationers are regularly locked up for silly violations.
Bartolotta said someone on probation today could be confined if they miss a call with a probation officer for legitimate reasons. A speeding ticket could also land someone on probation in jail.
The senator wants to hear from probation chiefs and district attorneys from across the state.
Overreaction to Meek Mill
Northumberland County Judge Charles Saylor said he spoke to the state court administrator and was willing to send county Chief Probation Officer Tim Heitzman to testify against the proposed change.
Saylor said he believed the law was proposed because of an overreaction to the Meek Mill case.
Meek Mill, whose real name is Robert Williams, spent five months in prison for gun and drug charges in 2008 and has been on probation for a decade. In 2017 a Philadelphia judge sentenced Williams to two to four years in prison after being arrested for minor parole violations, including for allegedly popping a wheelie on his motorcycle in New York City on the set of a music video.
"I think this (proposed bill) is an overreaction to that (Meek Mill) case," Saylor said. "I am not in favor of this new proposed bill as we are the ones who see the defendants and know the cases."
Saylor said he is all about helping defendants who are struggling with addictions and are on probation. "We have great treatments and the goal is to help them get the help they need and get off probation," he said.
Shamokin District Judge John Gembic said district judges can also issue defendants up to one year of probation.
"Probation is a privilege given to a person in lieu of prison," Gembic said. "A judge gave that individual the leniency to receive probation and that judge should have full say over the case. If a person gets in trouble the judge who heard the case, knows the case and should have full authority over it and not be limited."
State probation number fluid
Pennsylvania is one of 10 states with county-administered probation, according to Carl Reynolds, senior legal & policy advisor for the Council of State Governments Justice Center.
Reynolds said the system is a model that presents challenges for quality control and data collection. Other system objectives make it difficult to figure out the exact number of Pennsylvania residents on probation.
State probation officers follow the same measures as county probation officers and the two agencies interact often.
"There is just no real way of knowing" the exact number of people on probation, said Patrick Cawley, executive director and counsel for the Pennsylvania Senate Labor and Industry Committee. "Dealing with trying to get accurate numbers has been a challenge."
State data showed that 42 percent of sentences used probation instead of jail time and the average probation was two months for a DUI offense to an average of 10 years for kidnapping and rape.
Good compliance
Piecuch said the number of people on probation may be slightly higher than in previous years, but individuals are coming off probation much more quickly for good compliance.
According to the Snyder County Probation Department, 729 people are on adult probation.
"Setting the probation to the needs of the offender and offering the incentives for their performance while on probation is a good thing," Piecuch said.
Montour County Chief Probation Officer Jim Miller said there are about 200 adults on county supervision in Montour. These are people who have served time in jail and are now on probation, Miller said.
The number in the county has remained consistent and fluctuated up or down by 20 in recent years. he said.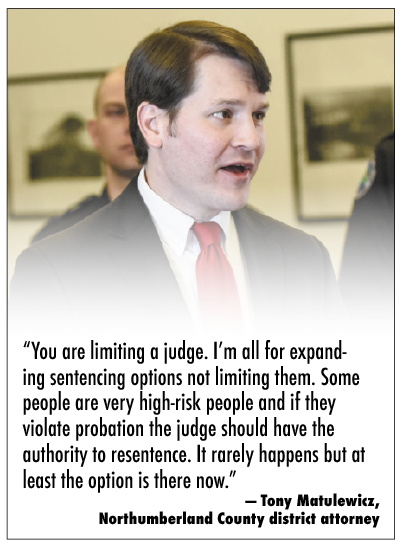 Northumberland County District Attorney Tony Matulewicz said Northumberland County also works with offenders who are following the rules and being compliant.
"We also do what we can to help those people who are working hard and doing the right things," he said.
DA against the bill
In Union County, District Attorney Pete Johnson said the proposed new law won't work.
"I think it is ill-advised and to try to take away the discretion of a judge is harmful overall." Johnson said. "If you put a blanket program out to apply to every defendant it poses a conflict right away. I am in favor of change but it has to be sensible and I don't see this as sensible."
Union County Chief Probation Officer Scott Lizardi said the county has 580 adult cases. He agrees with Johnson in opposition of the legislation.
"We already do what they are asking to some extent," Lizardi said. "I am not sure what they are proposing is appropriate because they don't know the background of cases and they should not be telling the counties how to manage the case loads."
Lizardi said Union County cases have gone down in the past three years but not by much.
"Long-term supervision is not all that beneficial," he said. "The way we handle it is if an individual is at the mid-point and beyond of their probation and they have satisfied everything with no problems then we can ask the court to discharge them early."
Crime rate up 25 percent
Matulewicz said an increase in Northumberland County of people on probation is because crime rate is up 25 percent in the last four years.
"We get guilty pleas or convictions on 98 percent of our cases and then they go on probation," Matulewicz said.
Matulewicz said he disagrees with the proposed change in the law.
"It takes the authority of the court away," he said. "You are limiting a judge. I'm all for expanding sentencing options not limiting them. Some people are very high-risk people and if they violate probation the judge should have the authority to resentence. It rarely happens but at least the option is there now."
Matulewicz said Northumberland County is also already helping those who follow the probation rules.
"There are cases where we will work with someone and get them off probation early," he said. "We are already doing this, but we aren't limiting ourselves."
Heitzman said there are roughly 2,200 people on probation in the county and that number has been about the same for at least three years.
Like many other officials in the Valley, Heitzman disagrees with the new proposed bill because it limits the courts.
"You are tying the court down," he said. "Some people just need to be on probation. We have done a great job with expanding our treatments that we are seeing results. I am not in favor of this proposed change in the law."
Sunbury Police Officer in Charge Brad Hare said people coming off probation too soon or only getting a limited amount of jail time for infractions has a trickle-down effect on police departments.
"We end up seeing those people out on the streets and if they get in trouble we find out they have violated their probation," Hare said. "It's often the same people over and over and we don't go looking but they find us. For some people getting off early works but for some it just doesn't and limiting the courts will hurt."
Valley Rep.: We want balance
State Rep. Lynda Culver, R-108, of Sunbury said she is in favor of balance.
"It is a balance we are trying to come across to reform the criminal system," she said.

"We also have to make sure we are protecting the public as well as trying to rehabilitate and help the person that has the record. We are checking with other states and data and again trying to come up with the best balance."
Bartolotta expects the state Senate Judiciary Committee to take up the bill when it returns in September from summer recess.
"We are talking to stakeholders and listening to all their input," Bartolotta said. "We are listening to people and asking questions. We want this to be right for everyone."
The Commonwealth Foundation, Americans for Prosperity, Justice Action Network and Families Against Mandatory Minimums, which supported the proposed reform when it was announced, did not respond to calls seeking comment.