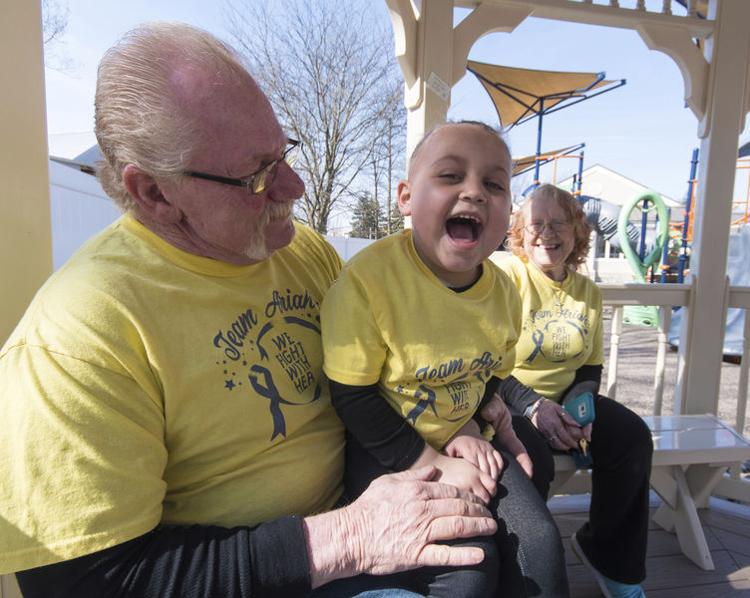 Editor's note: This is one of an occasional series of stories detailing what life is like on a typical day in various parts of the Susquehanna Valley.
Tucked away in a rustic corner of the Geisinger Medical Center campus, Danville's Ronald McDonald House provides a serene respite where families of pediatric patients can stay close to their children who are hospitalized or receiving multiple outpatient treatments.
The house, an independent nonprofit organization not owned or operated by Geisinger or the McDonald's Corporation, has been part of the Geisinger community since 1981. The original Ronald McDonald House sat along Bloom Road, just off the campus. But the growing number of guests in the two-story house soon required more room. In 1988, the current house was built on the campus, just beyond the parking lot. A section was added in 1999-2000.
The house is one of 368 Ronald McDonald Houses throughout the United States and the world, according to Ronald McDonald House Charities.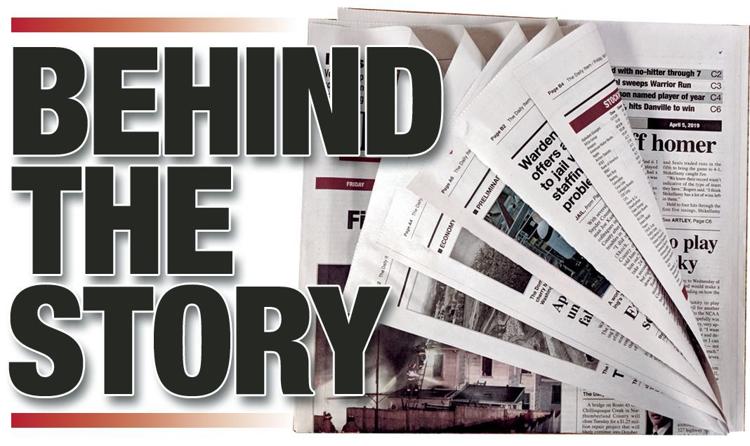 When Dr. Tom Royer, who became Geisinger's medical director in 1980, kept receiving letters from parents saying they needed a place to stay when their children were undergoing treatment, former Geisinger administrator Frank Trembulak helped established the Geisinger Ronald McDonald House with money from Geisinger. We visited and spent the day on March 20. Read all about that day on Pages A2 and A3.
9 a.m. to 10 a.m.
Ronald McDonald Day In The Life Gallery
It's quiet in the house as volunteer Sue Oberkircher buzzes in a couple of visitors from the small office behind the glass.
It's the start of the work day for many people, but in the Ronald McDonald House, where families of pediatric patients can stay to be close to their children, most of the guests have been out for hours. They spend the majority of their waking hours at the Janet Weis Children's Hospital across the sprawling parking lot, where their children are inpatients or receiving treatments.
All of the cases are serious — heart problems, premature infants and cancer, the latter of which seems to be on the increase among the children whose families stay at the house, said Ginnetta Reed, director of development and communications.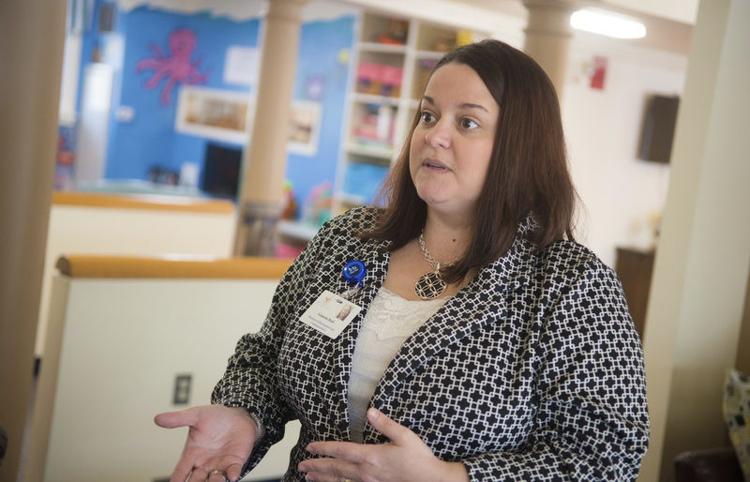 Reed said many of the families are gone most of the day, spending time with their children, waiting to speak with the doctor, or nurse, hoping to hear good news. They come back to take a break, or grab something quick to eat.
"Families are constantly coming and going here at the house," Reed said. "The majority of the families spend the majority of their time at the hospital. They get up early, take a grab-and-go snack. They're able to meet with doctors, make medical decisions."
On this day, two of the 17 bedrooms are empty, but that is rare. Usually, the rooms – five downstairs and 12 on the second floor, along with the two efficiency apartments upstairs – are full.
The efficiency apartments are more to accommodate oncology patients undergoing outpatient treatment and staying with their families here. They may have a weaker immune system and are not able to frequent the common areas. The efficiencies come with a kitchen, a television, DVDs, Reed said.
The rooms were remodeled last year for the first time in eight years.
The common areas allow families to sit, watch TV, read, or interact with other families.
***
Sandy Whispell, of Millville, works the night shift, 10:30 p.m. to 10:30 a.m. three times a week, and she is about to head home.
"I'm here for basically what might happen overnight," said Whispell, 75, who has volunteered at the house for four years.
"Hopefully, it's not too exciting. I make sure the kitchen is cleaned and stocked for the folks in the morning."
She also orders soda, gets linens or whatever other items guests need.
Whispell, who formerly worked as an insurance agent, in car sales and was an A.Y.S.O. and high school soccer coach, is one of six guest service associates in the house who are available throughout the day.
The associates undergo training to prepare for their volunteer work.
"There are a lot of things they have to know," Whispell said. "Guest registry cards have to be filled out properly. We do a quick background check on the guests to make sure they are not a danger."
10 a.m. to 11 p.m.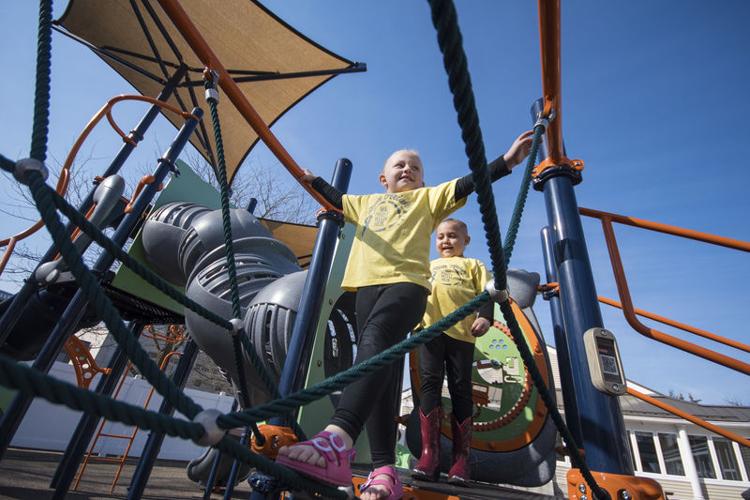 Just outside of the sunroom of the Ronald McDonald House, 5-year-old Ariah Cook and her sister, Seleen, who is 4, run to the playground. There, a sliding board and other equipment donated by Playworld Systems, of Lewisburg, and a gazebo, donated by another donor, stand inside the confines of a yard protected by a wooden fence.
The girls laugh as they play, with little indication that Ariah is fighting for her life. The scars on the side of her head, where part of her blond hair is missing, are the only sign that she has undergone surgery.
She has a brain tumor, or, technically, stage 3 glioblastoma.
"They only got a small part of the tumor out," said her grandfather, Rodney McConnell, as he and his wife sat inside the gazebo on the edge of the playground. "Only one-eighth of it."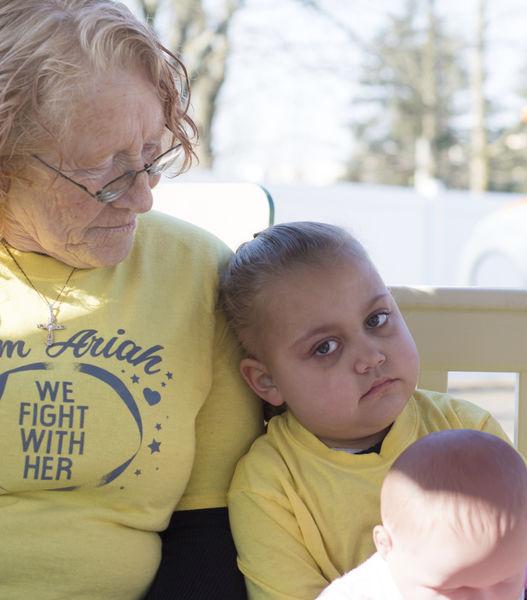 The girls were staying at the house with their grandparents, Rodney and Nancy McConnell, who say they are trying to get custody of the girls because, the McConnells feel, the girls are not in a safe environment.
Nancy McConnell said the doctors did not take more of the tumor out because they were worried about paralyzing her. As it is, her left arm and leg shake, a condition the doctors told them likely is permanent.
The McConnells and the girls were at the house for about 40 days when they were interviewed on March 20. It was their second stay there. They had stayed at the house for almost two weeks when Ariah had her surgery then went back home to Ulster, Bradford County, for a few weeks before returning Feb. 11 for Ariah's treatment. They were planning to go home again, but just for a month, before they return to stay at the house. Then Ariah will face almost nine months of daily chemotherapy.
"I don't know that I have any more tears to come out," Rodney said.
But if not for the Ronald McDonald House, they wouldn't have been able to afford a hotel room for that length of time.
Renee Gerringer, staff development officer, who had joined Reed and the McConnells for the interview, said that according to cost analysis done last year, it would cost families $250 a day for a moderate hotel, three meals, laundry and other expenses. Staying at the house, they don't have to worry and they are close to the hospital.
"They can focus on what they need to focus on," Gerringer said.
Rodney McConnell said he was grateful for the donation boxes at McDonald's and elsewhere.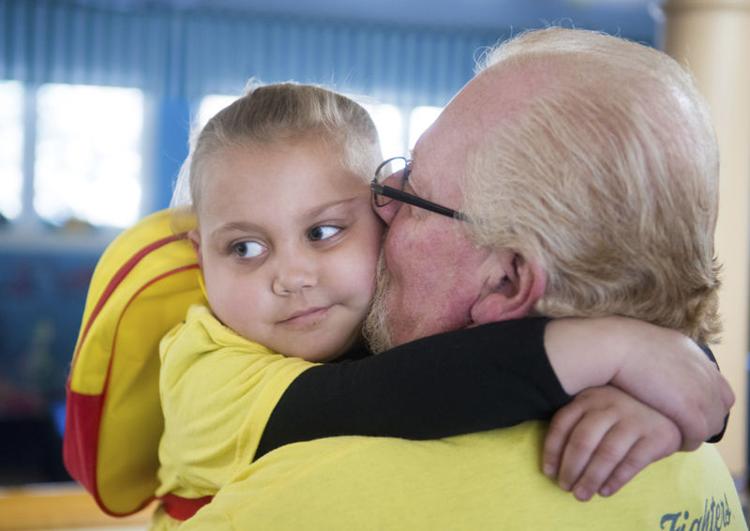 He said the house staff also has lifted them up.
"They love these girls to death," he said.
11 a.m. to 12 p.m.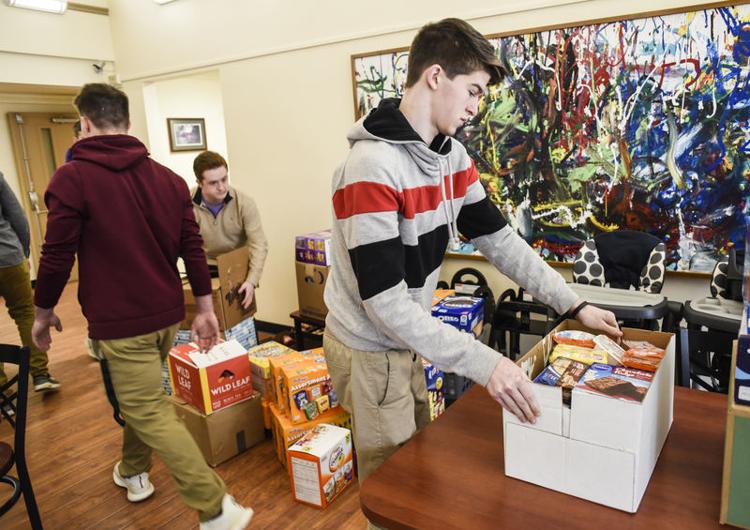 Sue Oberkircher has volunteered at Danville's Ronald McDonald House for the nearly 40 years it has been at Geisinger. She was a volunteer in the original house along Bloom Road. She has seen a lot of changes in that time, as the house went from the six or seven bedrooms in the original home to the current 17 bedrooms and two efficiency apartments.
"In the old house, there was a family there for over three years," Oberkircher said. "They felt like our family."
She also related how families will bring their children back years later.
She said most families come from Luzerne County, but there are many from Centre and Lycoming counties.
"Those change," Oberkircher said. "A lot of times, they will stay with their child in the hospital."
Her favorite part about volunteering is taking care of people and making sure they are comfortable.
"It's just an adventure," she said. "It's always different."
Oberkircher also loves to experiment in the kitchen.
"When the farmers brought in food, we had a brunch for them," she said. "I cook for them every year."
This is the 21st year the FFA and county farm bureau representatives from a dozen counties have dropped off thousands of dollars worth of food, supplies and cash for families staying at the house. They brought $21,049 worth of food and goods to the houses on March 12. The effort has raised $378,407 in the past 21 years in monetary, food and paper products, according to Reed.
As Oberkircher talks in the sunroom, the adjacent dining room bustles with busy Line Mountain FFA students who are sorting and labeling some of that food donated the previous week.
Once boxes are arranged, some of the students carry the supplies outside to the garage, where the items, labeled by expiration date, are stored.
Outside the garage, agriculture teacher Francine Ferster, of Dalmatia, is directing the 17 students who filled boxes with food items.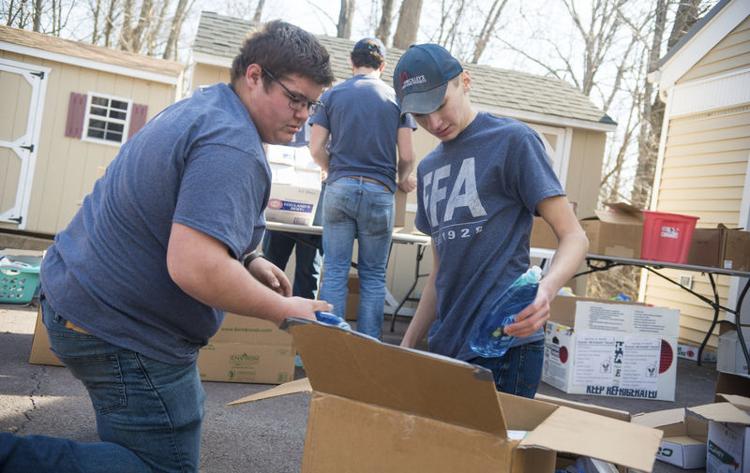 "The students all brought items in," Ferster said. "We brought 158 items that our students collected."
"This fills our pantry for about half the year," Reed said of the food and other goods the FFA and farm bureau reps donated.
Ferster's daughter, Keri, 16, a Line Mountain junior and president of the school's FFA chapter, enjoys the volunteer work.
"I thought it was pretty fun," she said. "It's good to help other people and see what we could do to help people."
She said the school Key Club plans to return on April 20 to volunteer.
"I think we're making meals here," she said.
12 p.m. to 1 p.m.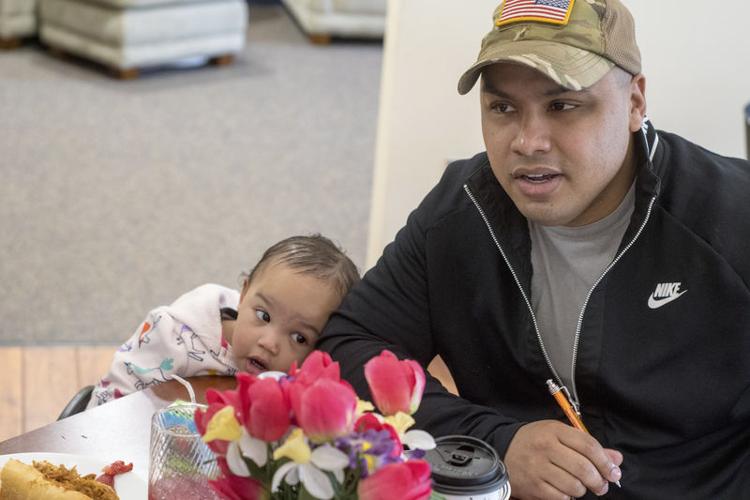 Calm has returned to the dining room. A Mifflintown couple, William Reyes, 32, and his wife, Dianamay, 38, are having a quiet lunch with their 15-month-old daughter, Illeana. They are taking a break from the hospital, where Illeana's newborn sister is in the neonatal intensive care unit.
"She was having trouble with her oxygen levels," said William Reyes. "We've been here since last night."
He said his daughter was first taken to Lewistown Hospital, then transferred to Geisinger. He was hoping they would only be at Geisinger for two or three days.
But staying at the Ronald McDonald House so they can stay close to their infant child eases the burden, said William, a U.S. Postal Service worker and Army veteran who served a tour in Afghanistan.
"It's definitely nice," he said. "It helps out. It's an hour-and-30-minute drive."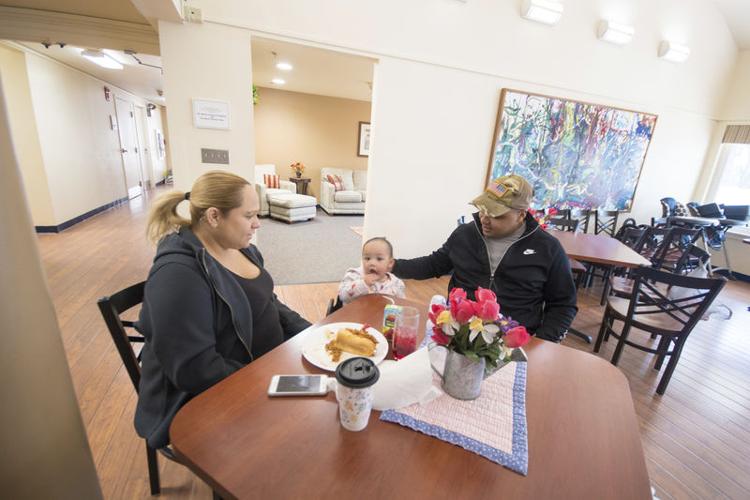 Speaking for Dianamay, who he said speaks little English, Reyes said she wanted to be closer to their daughter for breastfeeding.
"She feels good and secure," he said, interpreting her Spanish. "It's nice to have to not go back and forth."
"We service families who are not good with their English," Reed said.
She said they use interpreters from the hospital.
Families also form bonds with other families who are staying at the house. Sometimes they become friends and maintain that relationship even after they return home, Reed said.
They also form bonds with staff.
Georgiana Georgesco, 30, joined the volunteer staff just over a year ago.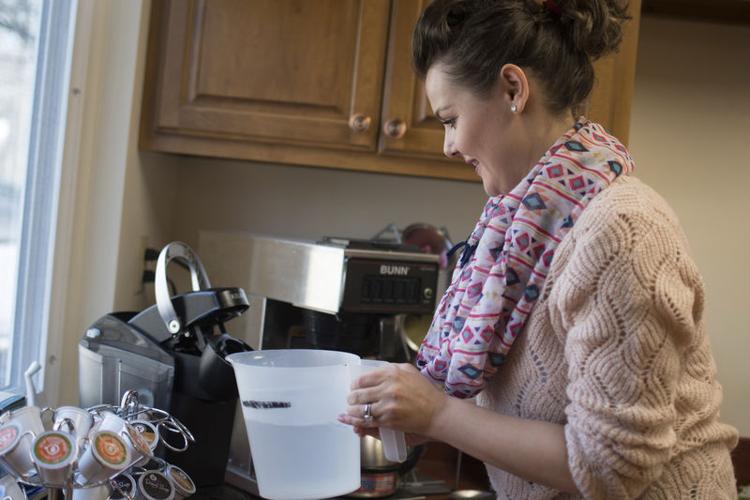 A Danville resident whose husband is a medical student who also works in Geisinger's intensive care unit, she volunteers twice a week and fills in, if needed. A native of Romania, she also is studying to improve her English.
"I don't like to sit," she said. "I like to go to the kitchen to clean the sinks. I like to see if everything is in its place. I like to spend time with the guests."
Georgesco said she likes to listen when guests need to talk.
"Sometimes we cry together," she said. "It's OK. I'm an outgoing person. They feel this."
1 p.m. to 2 p.m.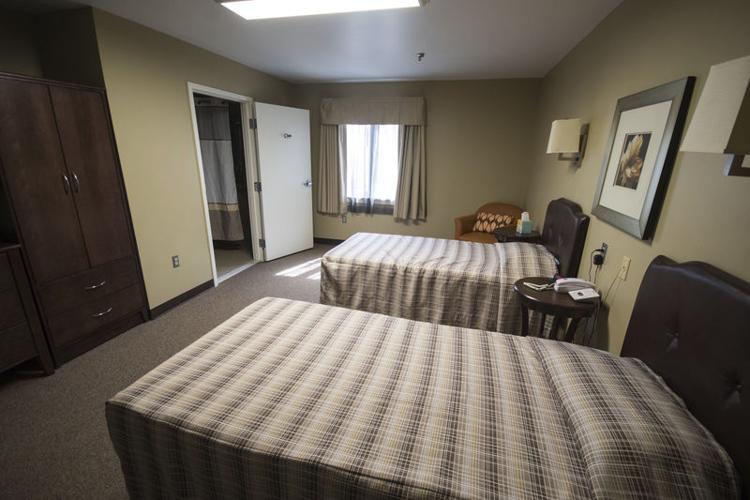 Reed offers a tour of the house. She starts with the living room, where families are encouraged to gather and share their stories. She points out some of the decor, the quilts hanging on a wall that were made by a local quilters group, furniture donated by La-Z-Boy.
Next, the sun room.
"It's just the calming feeling, it helps families feel like they are sitting on their back patio," Reed said. "They can relax, read a book, play chess, checkers."
In the dining room, the tables are moveable so groups can arrange them for packing boxes, as the FFA students did.
Reed walks back across the hall to the playroom, where the toys occasionally are changed out, a fish aquarium provides a calming vision and the TV is connected to the San Diego Zoo.
Down the hall, there is a TV room, where there also are books, DVDs, a fax machine and internet access.
The house's full kitchen with an island is roomy enough for groups of volunteers to cook. The appliances were upgraded through the Bloomsburg Rotary, Reed said.
In the refrigerator, one of several in the house, every family has an assigned bin. In the coffee room just off of the kitchen, there is another refrigerator for food and another just for breast milk.
Another room is for locked cabinets, where guests can keep their valuables. A laundry room is equipped with four washers and four dryers.
"We keep gender-neutral clothing and hygiene products for if they had to rush here," Reed said. "The bedding is laundered at the hospital to prevent allergic reactions.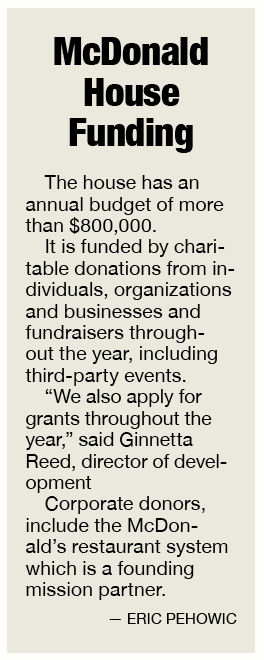 A Coke machine in the hallway helps to fund the house. Coca-Cola is a national sponsor of Ronald McDonald Houses.
"All have a Coke machine," Reed said. "They donate a portion of the product. All proceeds stay with the house."
She said McDonald's donates to the houses, but they are not owned by the restaurant chain. The Danville Ronald McDonald House is not owned by Geisinger, either.
"Geisinger owns the land," Reed said. 
Reed said the building is very secure and Geisinger security is close by.
Over in the Janet Weis Children's Hospital, a short shuttle bus ride away, the Ronald McDonald House Family Room allows parents to take a break, to relax or get something to eat from the fully stocked kitchen. There are two sleep rooms for parents or family members who need to rest.
The room constructed on a portion of the hospital roof, cost more than $900,000 to build, with the help of $220,000 from the Geisinger Health Plan.
2 p.m. to 3 p.m.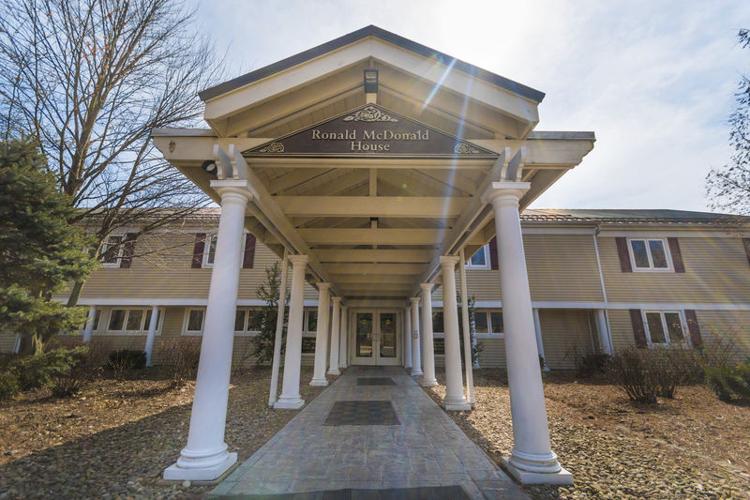 Chris Lehman is a program supervisor in the house and coordinator of Camp Dost, a camp for pediatric oncology patients, which the Ronald McDonald House has sponsored for 36 years.
"Most people do not know the association with the Ronald McDonald House. They think it's an independent camp or with the Geisinger Children's Miracle Network," said Lehman, who has been with the house for seven years.
"There is no charge to families whatsoever," she said.
The young campers can bring a sibling, and sometimes this can cause a delay in the application when the child cannot decide which sibling to bring, Lehman said.
The weeklong camp for kids 6 to 18 years old is held at Camp Victory in Millville.
"When they come to camp, they run and they hug the nurse, they run and they hug the doctor," she said. "The camp is not only a gift to the kids, it's a gift for the parents." 
***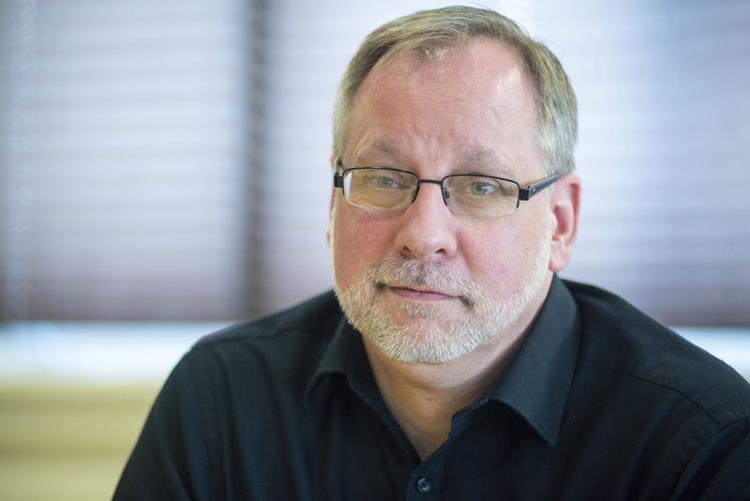 House Executive Director Michael Turlis, also stopped by the conference room. He said he has been the director for about five or six years but has been on the staff for 21 years. He served as a volunteer for three years prior to joining the staff.
"I came on as a volunteer," he said. "I worked in the hospitality industry."
What's most rewarding for him is seeing the families.
"They are going through the worst possible times of their lives," Turlis said.
He said he is in awe of families living at the house helping new families when they come in.
He said the house volunteers are compassionate and giving.
"They don't realize the impact they're having," Turlis said. "They give as much of themselves as they can."
3 p.m. to 4 p.m.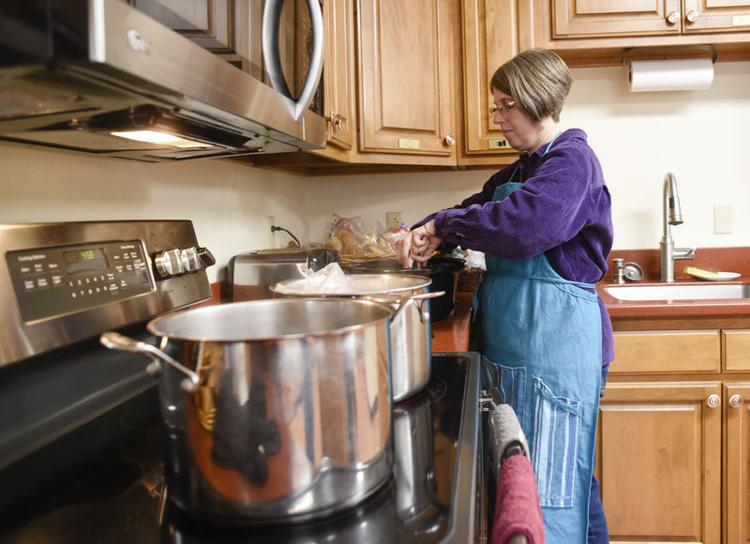 A distinct savory smell wafts through the air of the Ronald McDonald House hallway.
Bacon. It's coming from the kitchen, where four members of the Buffalo Valley Kiwanis Club, of Lewisburg, are preparing pulled pork, baked beans, cole slaw and chips for the guests.
"It's a fun thing to do," said Lisa Scott, who was preparing the meal with Cathy Platusich, Mimi Dow and Brinkley Sprunt.
"We've been coming for three years," said Dow, who was frying the bacon in a pot. "We try to come twice a year. We bring everything to cook a meal and put it out so it's ready to serve."
Once the food is prepared, it is available for house guests to eat when they choose.
At this time of day, most are either at the hospital or in their rooms.
A list posted on the wall shows what organizations — such as church groups, Kiwanis or sororities — are preparing meals in the coming weeks.
4 p.m. to 5 p.m.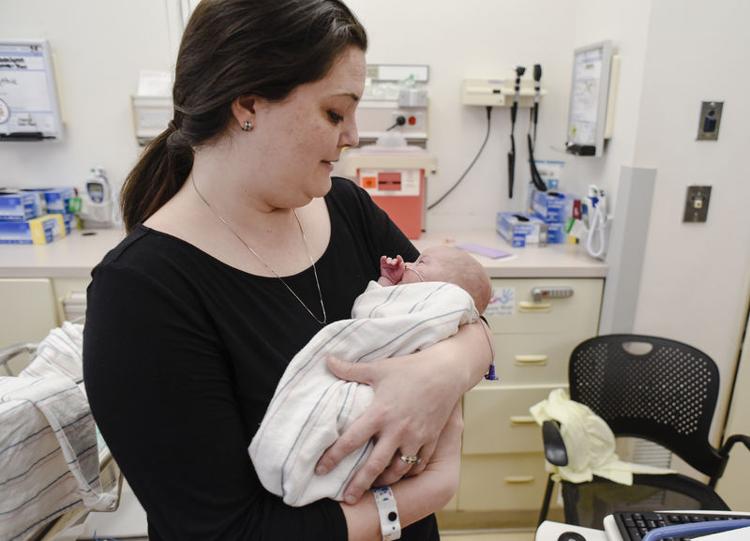 Amanda Woods is in the laundry room, just finishing drying a load and putting it into a white plastic laundry basket. She takes it to the TV room, where she folds the clothes.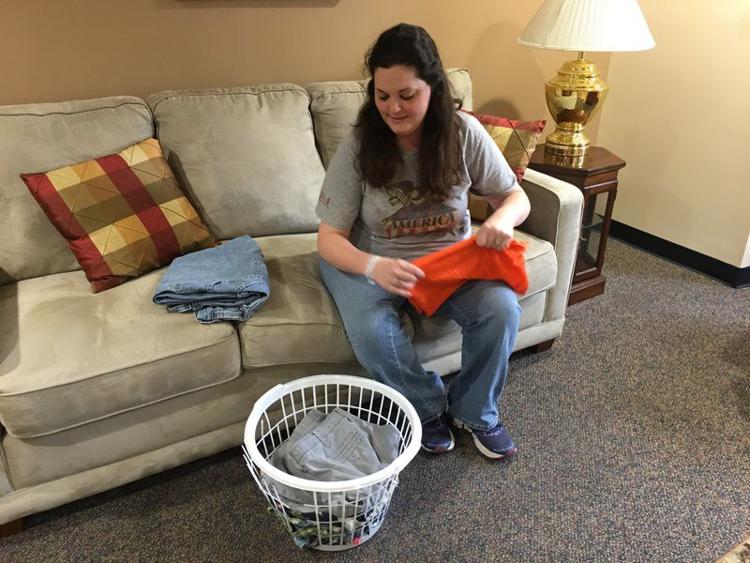 Woods, 34, of Philipsburg, a music teacher at Philipsburg Middle School, was 28 weeks pregnant and headed to her doctor's appointment in early February. But she was showing signs of preeclampsia, a condition in pregnancy characterized by high blood pressure, sometimes with fluid retention, that can impair kidney and liver function, cause blood-clotting, fluid on the lungs, seizures and, in severe forms, maternal and infant death. Her doctor sent her to Mount Nittany Medical Center in State College. The next thing she knew, she was on a Life Flight helicopter headed for Geisinger.
She gave birth to her son, Jameson, who was 4 pounds, 15 ounces.
"I've been here since Feb. 11," she said of the Ronald McDonald House. "I have made three day trips home, 1 hour, 45 minutes or so."
Because she did not know at the time she was going to Geisinger, she did not have any extra clothes or toiletries. House staff helped provide those until she could get her own.
Her husband, Josh, 35, works as Centre County district executive for the Boy Scouts of America's Juniata Valley Council. He has been staying with her.
"My husband goes to work from here," Woods said. "I go over and sit with (Jameson). People visit, take me out to eat. There's usually food in the fridge."
She pumps breast milk at night to feed her son.
"It's a different kind of exhaustion than if the baby is at home with you," she said. "When you're here, it's very stressful, wondering how he's doing."
She expects to be at the house for another two or three weeks.
"My husband and I had a date," Woods said. "It consisted of getting our pajamas on, coming down here and watching TV. It's what we would have been doing at home. It really is a home away from home here."
They also have made friends among the other families there.
"You share your stories with each other and give each other advice," Woods said. "I'm a first-time mom. The volunteers and front desk workers are always open to listen."
5 p.m. to 6 p.m.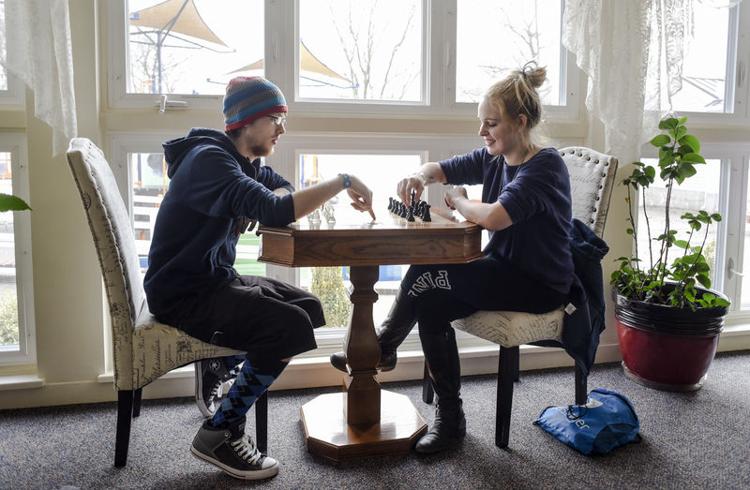 Brittany Miskewicz and Wayne Coyne, of Plymouth, are attempting to play chess in the sun room. He is trying to teach her, but it's been a long time since he has played.
The young couple — she is 22 and he is 20 — are the parents of a 3-month-old infant who doesn't have a full esophagus and has holes in his heart and narrowing in his heart valve.
After their son was born in December, the couple spent two months living at the house. They went home and were back two weeks later.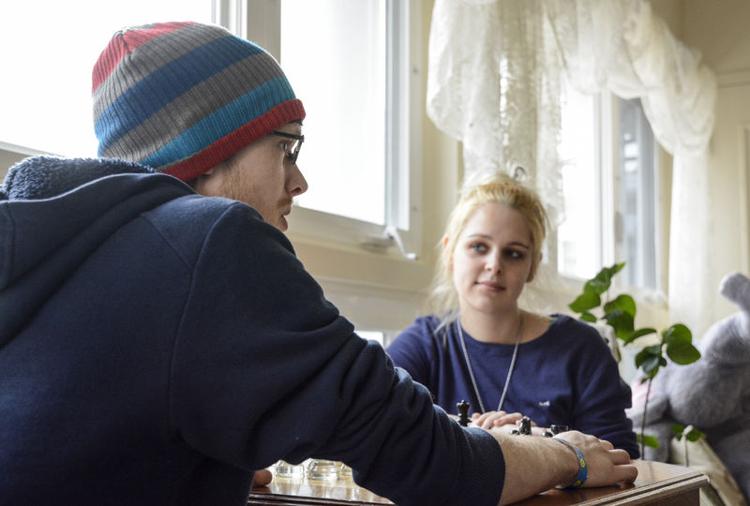 "He's been out of the hospital four weeks in all," Miskewicz said. "But he's a strong little baby."
"He's so happy all the time," Coyne said.
He said they sleep at the house and go over to the hospital. There, there is a lot of waiting to hear from the medical staff.
"We're waiting," Miskewicz said. "What are they going to say next? What's the plan? Over here, there is more calm."
She said they help clean at the house or help out any way they can. They are expecting to go home the next day. They pray they don't have to come back, but they probably will.
"He's going to have heart problems all of his life," said Coyne, who is hoping to get a warehouse job.
He previously was supposed to start a construction job but was hit by a car and couldn't work. But they are thankful that they are here, and they will soon take their baby home.
***
It's late in the day, approaching the 6 o'clock hour, and another group — the Lambda Chi Alpha fraternity from Bloomsburg University — arrives and again the dining room tables are rearranged for the food sorting and categorizing.
Reed said it is unusual to have two groups sorting food products in the same day.
Fraternity member Kyle Conway, a 20-year-old junior from Collegeville, is among the volunteers.
"We try to do something like this every semester," he said. "We're always happy to help."
After the fraternity is gone, the house returns to it usual nighttime routine. Guests watch TV, read, grab a snack. Then sleep, before facing another day.