MIDDLEBURG — Andrew Snook's life hung in the balance following a 40-foot fall from a silo on his Paxtonville farm three years ago. The dairy farmer has since recovered almost fully but now faces a "bleak" future due to falling milk prices.
Nationwide, low milk prices are putting dairy farmers out of business and Snook said he's not standing for it.
Between 1970 and 2006, the number of farms with dairy cows decreased 88 percent, from 648,000 operations in 1970 to 75,000 in 2006, according to the U.S. Department of Agriculture. Pennsylvania is ranked fifth in the country for milk cow inventory, but it has also seen the number of dairy farms decline markedly, from 82,708 in 1954 to 6,650 today.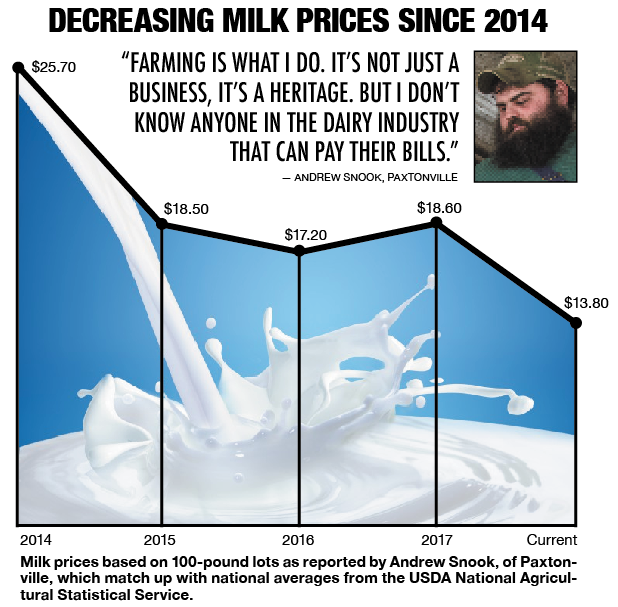 "This is what I live for. Farming is what I do," Snook said. "It's not just a business, it's a heritage. But I don't know anyone in the dairy industry that can pay their bills."
To put it in perspective, Snook was paid about $25 per 100 pounds of milk in 2015. There are roughly 12 gallons in 100 pounds.
He now is paid $13.80 per 100 pounds, about half of what he earned three years ago. Experts say a glut of milk on the market for the past few years has been driving the prices down. Snook said the trend for almond and soy milk is also hurting business. 
Last year, dairy farmers asked the U.S. Food and Drug Administration to step in and stop what they call misuse of the word milk by alternatives. They argue too many consumers falsely believe they are buying real milk and its nutrients.
Decline in assets
Making matters worse is that many farmers are unable to cut their losses, even if they wanted to, since their assets, including cattle, are selling well below cost. Snook said a cow that was worth $1,800 a few years ago now sells for about $800.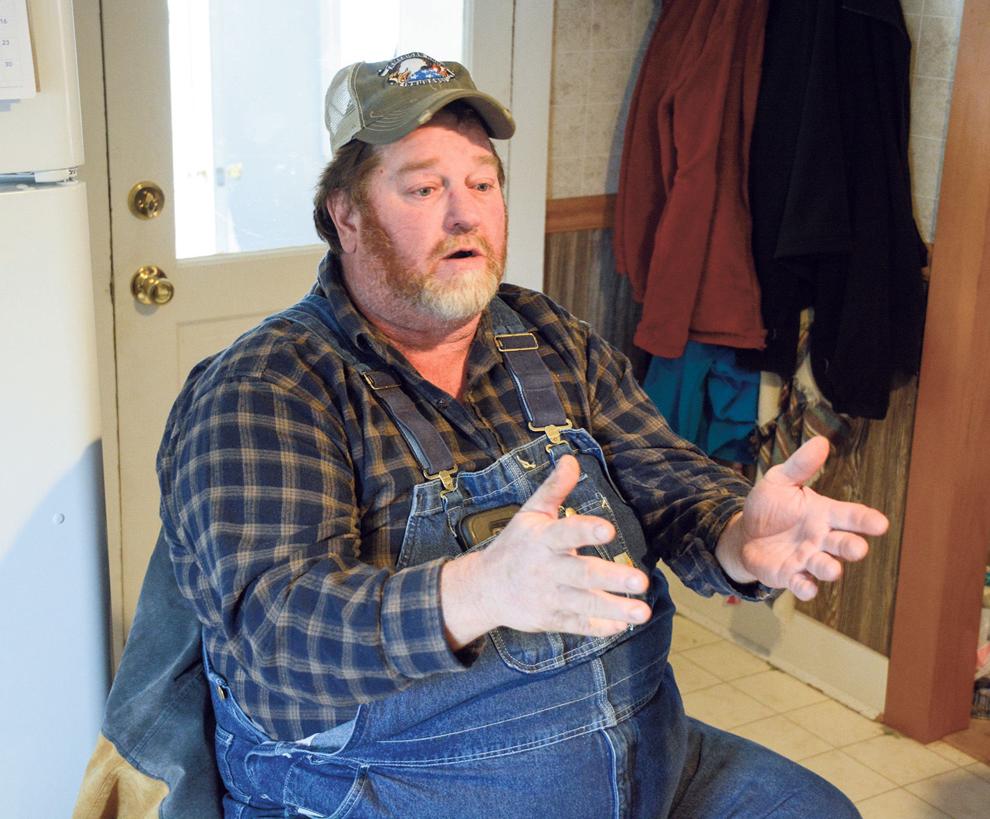 Don Sanders, an Agri-King nutritionist, works with Snook and about 60 other farmers across Pennsylvania, North Carolina and Wisconsin and sees the same despair in dairy farmers all over due to the milk glut and drop in demand. Agri-King is an animal nutrition company based in Illinois.
"There is no quick fix to this," he said.
Watsontown dairy farmer Gary Trunkemiller said the cut in prices has put five Valley farmers out of business and many are forced into selling off herds.
"It's just a slow grind," he said, verbally cringing as he recalled his wife purchasing a one-half pint of milk for a grandchild at a cost of $1.29. "Farmers get about 6 cents of that."
What this is doing to the farming community is appalling, said Snook, who is clearly distressed by a newsletter recently distributed to farmers offering suicide-prevention counseling.
The notice was sent out this month by Agri-Mark Cooperative, which buys milk from dairy farmers and sells it to processors.
"We have reached the halfway point of a particularly stressful winter while also facing falling milk prices," Agri-Mark Senior Vice President Bob Wellington said in the newsletter offering emotional support to affected farmers.
State Rep. Fred Keller, R-Kreamer, said he's working with members of the Pennsylvania Milk Marketing Board on promotion and awareness education to boost milk consumption.
U.S. Rep. Tom Marino did not return a call for comment.
Snook is hopeful that U.S. Sen. Kristen Gillibrand's efforts to pass legislation that would improve the dairy insurance refund program and help struggling farmers unable to make ends meet.
"This is a national problem, not a local problem," he said.
Long recovery
It's a difficult situation for the young farmer particularly since he battled so hard to get back on the farm after nearly losing his life working on it when his foot slipped on a broken step on a silo.
Andrew Snook didn't think twice about climbing the silo steps at his Paxtonville farm on the afternoon of Sept. 15, 2015.
The then 27-year-old dairy farmer spent six weeks at Geisinger and another eight weeks at a nursing home recovering from a shattered leg, broken eye socket and nose suffered in the Sept. 15, 2015 fall, but was back at the farm a week following his return home on Christmas Eve.
"He hobbled in on crutches, sat down and gave orders," said Snook's father, Ross, who began operating the farm in 1988.
The year after the fall wasn't easy.
Snook got an infection in his leg, underwent two more surgeries and had to wean himself off powerful prescribed opioid medications three times.
Three years after the devastating fall, Snook is walking, able to milk all 55 of his cows and do everything on the farm he used to do, except climb the silo, yet he says his farming future remains "very bleak" because low milk prices are threatening his business.
Still resolute, Snook said he has no other choice than to continue farming "until they force me out." 
Email comments to mmoore@dailyitem.com. Follow Marcia on Twitter @marciamoore4.