Jerod Waller slides a backpack weighted with college texts from his shoulders, no doubt relieving the 19-year-old's thin frame.
Waller's a freshman at Bloomsburg University. He's already chosen a dual major, English and Art. He plans to pursue a master's degree in instructional technology once he earns his undergraduate degrees.
Not so long ago, Waller was a 13-year-old boy re-entering a foster system of which he'd grown suspicious. His mother abused drugs, he said, and left for Florida. His father was out of the picture. Waller's older brother went to live with friends. A relative took in his younger brother. Waller was placed into foster care.
That experience, Waller knows, could have sent him in any number of directions. He found a good one in the home of foster parents Deana Gross and Grant Bitler, of Berwick.
"I don't think I would, actually," Waller said when asked if he believed he'd be in the same place were it not for his foster parents. "I think it would have been a lot harder on me. Changing houses all the time, changing friends, changing teachers, workloads piling up. I don't think I could have handled the stress."
"I would have eventually not given (school) my best or quit in general," said Waller, a 2017 graduate of Berwick High School.
A good foster home can solidify a fractured foundation for children removed from the custody of their parents or guardians.
Increasingly, though, a good foster home is hard to find.
Child welfare professionals across the Susquehanna Valley agree there's a shortage of foster homes. That lack of options forces some children far beyond their hometowns, in some cases by hundreds of miles.
"They're everywhere. We have kids in Pittsburgh, Erie, Philadelphia," said Mandy Wagner, director of social services, Northumberland County Children and Youth. "Bradford County."
For Central Pennsylvania kids transferred to unfamiliar urban centers, such long-distance moves can cause a culture shock, compounding the trauma of being removed, for whatever the reason, from the familiarity of their homes, friends and schools.
The same can be said for those taken to rural settings, including Mennonite homes, where lifestyles are wholly different.
The distance isn't an added strain only on the children. Caseworkers with mounting caseloads must travel to make visits at the out-of-county foster homes just as they do in-county.
"I drove out there, visited an hour, came back," said Meghan Weaver, resource family supervisor, Northumberland County Children and Youth, of visiting a foster home outside Pittsburgh. "It was my whole day."
More kids in care
When a court orders that a child needs to be removed from the custody of their parents or guardians, by Pennsylvania law adopted in 2013, a kinship option must first be sought — placement with a relative or approved mentor, like a coach, neighbor or the parents of a close friend.
If kinship isn't available, the traditional foster model is explored.
County workers in Northumberland and Union said the same as employees of local adoption agencies CONCERN in Lewisburg, Family Care for Children and Youth in Milton and KidsPeace in Danville: they struggle to find foster homes.
Each of those adoption agencies is frequently forced to turn down referrals of children because of insufficient families. That's not an option for county workers, who must exhaust all options to secure placements. For some children and teens, that means group homes or institutions.
"We rejected over 1,000 referrals last year agency-wide because of the lack of families," said Stacey Page-Miller, site director of the Lewisburg branch of CONCERN. The adoption agency as a whole receives referrals from 40 counties in Pennsylvania and six counties in Maryland.
"Some of the kids, medical-level children, may end up in institutions or they never get out of those institutions. Or, it's a cycle. They just go from one agency to the next to the next. Some children, unfortunately, end up in shelter care," Page-Miller said, adding there's been an increase in psychiatric hospitalizations.
It's not an issue unique to the Valley. States nationwide report struggles with a lack of available foster homes. The shortage comes as the need swells.
It's no coincidence the rise in children ordered into foster care came amid the spike in the ongoing heroin and prescription opioid crisis in …
The United States was trending downward for foster placements but in 2013, the trend reversed — coinciding with the opioid and heroin epidemic. The most recent federal fiscal year closed Oct. 1 with an estimated 687,000 children having spent time in the foster system — up 8 percent from fiscal 2012, according to the Administration for Children and Families.
One in three entries into foster care in Pennsylvania are children age 2 or younger, according to state statistics analyzed by the Pennsylvania Partnerships for Children. Three in four children entering foster care are doing so for the first time. The majority of children remaining in foster care are age 9 or younger. Children average just short of one year in care. Those who re-enter the system are often teens aged 15 to 17. Young adults can remain in foster care until age 21.
Factors that lead to children entering foster care include homelessness, domestic violence, sexual abuse, poor home conditions, neglect and untreated mental health.
Pennsylvania saw 25,381 children in foster care in 2017, an increase of more than 18 percent over 2013 figures, as reported by PA Partnerships.
Brian Bornman, executive director, Pennsylvania Children and Youth, said age and gender, mental health and physical challenges of children needing placement can compound the difficulty of finding a foster home.
"If you have a healthy newborn infant, it's really easy to find a home for them. If you have a 16-year-old struggling with their parents, they end up in placement and are hostile, you're going to end up finding a lot of trouble to find a home," Bornman said.
The number of foster homes in Pennsylvania, both kinship and traditional, increased nearly 20 percent over the past five fiscal years, according to the Department of Human Services. The state ended 2016-17 with 18,655 homes.
However, the Department's Lorrie Deck, director of the division of programs, Children and Youth and Families, said placements in rural areas remains difficult.
"There's not as many children but also there's not as many families available," Deck said.
Options limited in Northumberland County
The rise in foster care needs is no better illustrated in the Valley than in Northumberland County.
PA Partnerships data shows 303 total children spent time in foster care in the county in 2017, a nearly 30-percent increase over five years. There were 197 children in care simultaneously on April 3, a high mark for the county agency.
In making placements, courts aim to lessen disruption as much as possible. That means attempting to keep children in their towns or close by, and within their school district as eventually, the majority return to their homes.
That's a struggle in Northumberland County since there are just four foster homes combined in the Shamokin, Mount Carmel and Line Mountain school districts. Katrina Gownley, the county's Children and Youth administrator, estimates as many as 80 percent of children needing foster care come from the county's southern end.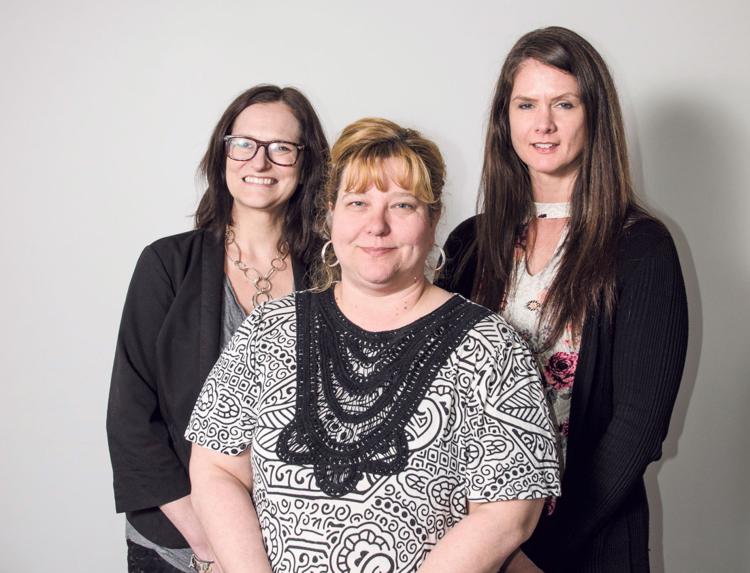 "I don't know what the issue is. It's a difficult job, we understand that. There's such a great need in that area," Gownley said.
"We need families that are willing to put themselves out there, understanding nothing's permanent with foster care," Weaver said. "Foster care is great because you're doing something amazing for a child and you're that person they need at that time."
Northumberland County isn't alone in its needs.
In Snyder County, 47 children were served by the system last year, up nearly 12 percent from 2013. Union County had 30, up 7 percent over that same period. Montour County had 7, down nearly 42 percent.
Though Union County trails neighboring counties in total children served and the rise in need, the struggle to locate foster families exists when the kinship option isn't available.

Years ago, Matthew Ernst said there was often a choice between foster home openings. Union County's director of Children and Youth said that's no longer the case.
"A lot of times you call agencies, either they have no homes or maybe they have one," Ernst said.
'It definitely gets better'
Bloomsburg University opened a summer camp program last year aimed at helping foster kids. There were 25 enrollees from nine counties participating in the supervised on-campus experience simulating college life.
An estimated 40 foster kids are expected to enroll this summer.
Participants are aged 15 to 18. They go through the move-in experience — meeting roommates and attending orientation. They attend workshops on all manner of academic pursuits: creative writing, art, science, seminars on social justice and leadership. Field trips are built into the experience as are after-hours programming like movie night, yoga and Ultimate Frisbee.
Everything is free — meals, housing, activities and program materials.
The experience is part of a multi-year mentorship program designed to disrupt patterns of homelessness and unemployment among teens aging out of foster care.
Waller joined in the first year. He was one of three program participants graduating high school last year who chose to attend college and the only one to go to Bloomsburg.
Throughout last year, The Daily Item, in collaboration with CNHI newspapers across the state and Ohio, produced a series we called "Protecting…
"A lot of them don't go to college because they don't think they can make it because nobody's giving them the ambition to do it," Waller said.
Waller one day hopes to become a foster parent himself. His experience will inform how to handle children going through the hardships he's overcome.
"It definitely gets better," Waller said of aging through the foster care system, offering advice to fellow foster children. "Try to see the positive aspects of everything. There's definitely going to be a lot going on in your life. It's not going to be the cliche 'normal teenage life' but it's still something."
Email comments to escicchitano@dailyitem.com. Follow Scicchitano on Twitter @ericshick11.
"Finding Foster Families" is a three-day series by The Daily Item and a part of our ongoing commitment to focusing on issues involving the Val…