Jamie Jo Hokenbrough, of Freeburg, will never forget her horrific car crash on Nov. 18, 2014 — yet she will never fully remember it, either.
"I was pulling out of a steep driveway onto Rt. 147 outside of Norry. I couldn't see very well, but I remember I wanted to get home as soon as possible because my son was getting off the bus from school soon," she said. "I wound up right in the path of an oncoming Dodge truck with a farm trailer attached. He hit me on my side, right in front of my door."
That's about as much as she can remember of the incident that left her with a ruptured bladder, a subdural hematoma, a subarachnoid hemorrhage and fractures in her back — except for the sound of an approaching helicopter.
"I vaguely remember the loud roar of LifeFlight coming, and it really scared me," she said.
"Emergency responders on the scene told me about my accident, and I was in and out of consciousness. I allegedly kept complaining about my belly hurting and that someone needs to get Wyatt off the bus."
Between the hospital and rehab, she was in treatment for 11 days, but has experienced a variety of health issues since the accident — including memory loss. A single mother, she said the accident has also affected her son — who was 10 at the time and deals with autism.
"To this day, he practically monitors my every move," she said. "He knows how long my commutes should be. So if I'm not back in time, he's a mess. He immediately thinks I wrecked. He'll try to call my cell right away."
Vehicle collisions come in all types and severities — from fender benders to fatalities — just don't refer to them as accidents, according to UPMC Injury Prevention Coordinator Annalisa Negrea.
"We like to call them crashes or collisions because they can absolutely be prevented," she said.
Regardless of the terminology you use, area medical professionals suggest the following tips if you find yourself involved in a car crash or if you come across one: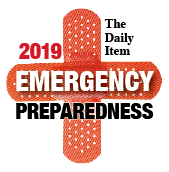 Safety first
"The first thing to do is to make sure you are in a safe position," said Melanie Stump, coordinator of Evangelical's pre-hospital services. "You don't want yourself in any additional danger, and if you are involved in a crash on a busy road like Route 15, it may not be the safest place to get out of the vehicle."
According to Evangelical Paramedic Coordinator Douglas Keefer, in most cases, it is safest to stay in the car.
"In most cases, you are putting yourself in a higher risk situation if you leave the vehicle," he said. "Of course, if the car is on fire or there are other immediate life-threatening situations, you may need to evacuate."
Before doing so, it is critical to take a moment and assess your situation and your surroundings.
"You want to calm yourself and evaluate yourself — in a crash, the adrenaline can be pumping and things may not hurt like they would in other circumstances. It all can happen really fast," Keefer said. "You also need to look beyond the car. Did someone hit a telephone pole? Are there wires down?"
If downed power lines are involved, extra caution is necessary, Negrea added.
"If that's the case, I don't suggest getting out of the vehicle, but instead call for emergency assistance first," she said. "It can be hard to assess which lines are live and which are not, and guessing wrong can be deadly."
Call for help
Once you assess your situation, how badly you and others may be hurt and what the scenario looks like, Stump suggested calling for help.
"Nowadays, everyone's immediate reaction is to grab a cell phone and dial 911," she said. "It is important to have as much information as possible to give dispatchers so the proper resources can be sent. How many are hurt? How severe are the injuries? Are there additional safety issues such as downed power lines? Where is the accident?"
The questions may be overwhelming to someone dealing with a traumatic situation, Keefer admitted, but the answers can make a huge difference in how the scenario is addressed.
"In the role of a first responder, we ask a lot of questions, and the more info we have when we arrive, the quicker we can jump into action," he said. "On the scene, we continue to ask questions and there's even a triage process that takes place. We don't need license and insurance information — our first goal is to help you and others involved in the situation."
Assist others
"If you see someone else who is hurt, it is OK to get down and ask right away if they are OK. Is that person unconscious? Are they breathing?" said Deb Erdman, trauma prevention coordinator for Geisinger Medical Center. "Is there serious bleeding? If you see enough blood that would fill a soda can, than you should try to do something to stop it. Rarely do people carry a tourniquet, but anything can be used as a pressure dressing — a scarf, a T-shirt, a towel. Apply direct pressure."
If that doesn't help, Stump suggested using a makeshift tourniquet.
"They can be a sketchy thing, but in a pinch you can use something like a belt and put it above the injury pretty tightly," she said. "It is also a good idea to keep refreshed on CPR. Classes are easy to find, even school-aged kids are learning the basics now and if you are trained and come across someone unresponsive, you could save a life until medical professionals get on the scene."
It is also critical to keep others calm and warm until emergency staff arrives.
"Shock can be a very dangerous reality for those involved in traumatic situations. Keeping a person warm can help them avoid shock, and keeping them calm and focused can make a real difference," said Erdman.
Throughout the process of responding to the crash, it is critical to keep re-assessing the safety of all involved, and to take steps to improve the odds that everyone stays secure.
"If you can, get your vehicle off the road and move it somewhere where it won't hinder emergency personnel when they arrive," said Negrea.
Assisting others also involves getting the word out that there is a collision ahead.
"Do what you can to alert other drivers as they come upon the scene. Use flairs and other things to let people know there is a situation ahead and to drive carefully," Erdman said. "If needed, use a vehicle and its flashers to help protect the scene."
Use common sense
In a world dominated by social media and instant updates, Stump advised being cautious what you share.
"Absolutely don't share photos or videos from the scene, because you don't know who out there is connected to those involved in the crash," she said. "We had an employee at Evangelical found out that her brother was killed in a motorcycle crash through a Facebook post."
It is also important to not add to the stress of a collision situation by gawking at the scene while passing … slowing down can cause additional accidents, Negrea said.
"I sit on some meetings with PennDOT, and there are actually people who share that they were involved in the crash simply because they drove past it and saw it. There is a new law out there where if you come along something like an emergency vehicle, it is necessary to get over as far as possible and slow down," she said. "Keep moving as you pass the scene — don't slow down more to gawk — you can become a victim yourself by gawking.
Don't ignore emotions
Witnessing a traumatic situation such as a vehicle collision can lead people to additional issues as they try to mentally cope with what they saw.
"As emergency responders, we have special training on how to deal with traumatic situations, and there is still an extremely high rate of Post Traumatic Stress and even an increased suicide rate among first responders," Stump said. "Don't be afraid to seek out help if you saw something you are struggling with, especially if it affects your sleep or daily functioning."
Keefer added: "A lot of companies offer employee assistance programs that can put you through to a counselor to deal with life changes or coping with a traumatic situation."
Paperwork, followup
Reporting an accident is an important step in the process, and one that should be handled once everyone's medical situations are addressed.
"It is still important to go through the proper process of reporting a crash to your insurance company, to trade information with the others involved in the collision and even to take pictures with your cell phone to document damage," said Erdman. "Just make sure to address the critical medical situations first. If police are involved, they can help with the reporting process. And if you start feeling worse after the collision, you need to seek out medical attention, even if you start by going to urgent care or your primary care provider."