In the midst of a global pandemic canceling concerts and closing schools, Milton Hershey music teacher and composer Jen Wagner struggled to find a way to connect with her students and inspire them through the troubling times.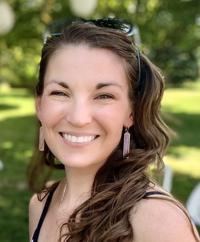 "I kept watching on social media in various Facebook groups different music teachers scrambling for ways to keep their students singing and just feeling defeated — that their students were missing out on so many opportunities," said the Lewisburg High School graduate. "I created a page on my website and offered music to anyone who wanted it at no cost — and that if they wanted to participate in a virtual choir project, that I would put together the audio and videos of combined students to share."
At the center of the project was "We are the Children," a song Wagner composed in 2019 for a Choral Composition Competition that she wound up winning.
"The text was important to me. I chose my words carefully," she said. "I wanted to make sure my message was clear."
Within the song, "Dona Dobis Pacem" is a "traditional Latin text which translates to 'Give us Peace.' It's used in many children's choral literature because it's simple and easy to pronounce, but profound in meaning," she said. "I wanted to keep a simple four pillars of love, peace, compassion and hope that would be a recurring theme throughout the piece. The rest of the text was truly inspired by my work with my students and what I wanted for them every day."
The resulting video provided a much-needed lift for Wagner and those touched by the piece.
"There is nothing more powerful than music in my opinion, and hearing these kids breath life into this piece is an emotional experience every time I hear it," she said.
Wagner is no stranger to sharing big music moments with her students at the Milton-Hershey School – rising to a unique opportunity to share with her students in the White House during the Barack Obama administration.
"The students prepared two-and-a-half hours worth of performance repertoire in a little over two weeks and were fitted with beautiful dresses and new suits for our gentlemen. It was a once-in-a-lifetime experience for all of us," she said. "However, nothing beat the moment that President Obama and First Lady Michelle walked in to meet the kids. They shook every single one of our hands, asked students their names and were gracious enough to take a photo with the group."
Wagner grew up in Lewisburg, where her parents had a rule that every child in the household had to play an instrument. Wagner began piano lessons with Lynn Berg, of Lewisburg, which led to her learning to play violin, percussion and eventually trumpet through the school district's various lessons and ensembles.
"I knew I wanted to be a music teacher, so I tried to be in any and all music activities that the district offered, including musicals, playing violin and piano in the pit orchestra and later music composition classes at Bucknell my senior year," she said, adding that her advanced choral interests were fostered further under the direction of Kathleen Osborne via the Susquehanna Valley Chorale's Children Choir.
Wagner graduated from Bloomsburg University with a music education degree and earned her masters in choral conducting through Messiah College. She ultimately wound up teaching at Milton Hershey thanks to childhood trips to Hershey on random car rides with her family.
"I always asked him to drive down the streets with Hershey's Kisses on the lights," she said. "As a kid, I couldn't imagine why anyone wouldn't want to live somewhere with Hershey's Kisses on the street lights!"
For more about Wagner and her music, check out this week's Keeping the Beat podcast.