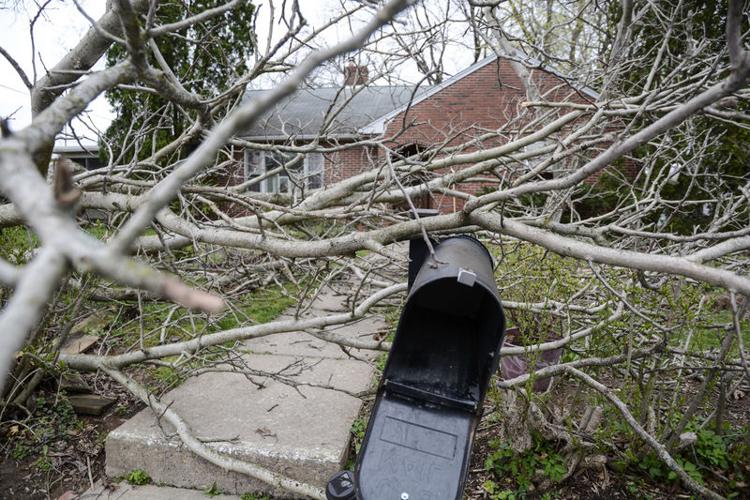 Hundreds of line workers, including some brought in from Canada, worked Monday to restore power across the region after more than 700 locations were damaged during a severe overnight storm.
PPL Regional Affairs Director Tracie Witter said Monday it might take until 11 p.m. Tuesday until power is restored to some locations in the Valley. 
Thousands of PPL customers were without power at 7 p.m. Monday according to the PPL Outage website. In Montour County, 1,859 customers were without power, mostly 1,384 in Limestone Township; In Northumberland, 1,084 customers, 359 in East Chillisquaque Township; 359 customers in Snyder County, 131 of which were in Penn Township; and in Union County, 220 customers, 80 in Monroe Township.
The storm originated in the Ohio Valley, said AccuWeather meteorologist Allison Hoegg, Monday night, "and moved with ferocity into the Susquehanna Valley about 12:30 a.m."
The most intense period of the storm, from midnight to 2 p.m. dropped about an inch of rain on the Valley. Winds were measured at 45 mph. The storm moved out of the area by 4 a.m.
As many as 2,700 Snyder County households were without power after the storm as winds took down utility lines and trees, said EMA Coordinator Derick Shambach said.
"The hardest hit areas were Spring and Adams townships," he said of the communities in the western part of the county.
Three roadways, Route 235 from Route 522 to Middle Creek in Spring Township; Route 3010 from Route 3008 in Franklin Township to Quarry Road in Beaver Township and Route 1011 from Fair Oak Road to Ridge View Road in Penn Township, had to be closed to traffic, a Pennsylvania Department of Transportation spokesman said. As of 8 p.m., only Flint Valley Road in Washington Township remained closed in Snyder County, according to PennDOT.
The storm also destroyed a small residential shed in Adams Township, Shambach said.
Beaver Springs Dragway had been without power since midnight, said owner Mike McCracken who estimated damage costs at a couple thousand dollars.
The storm knocked down light poles, signs, speaker and camera systems at the business, he said.
"We're being told the power may not be back on until tomorrow night (Tuesday)," McCracken said early Monday afternoon.
Schools in the Midd-West School District did not lose power but Superintendent Rick Musselman implemented a two-hour delay Monday morning to allow road crews time to clear roads, he said. Danville school district canceled classes.
In Union County, Michelle Dietrich, emergency management coordinator, said the hardest hit areas were Buffalo and East Buffalo townships and Lewisburg Borough.
"The storm tracked along the Rail to Trail, Buffalo Creek, Route 45," Dietrich said of the storm's west to east movement.
Abbey Lane, Hardscrabble Lane, Stadium Boulevard and Saint Mary Street at both 10th and 15th streets in Lewisburg were closed Monday morning because of downed trees or wires, she said. Portions of Hoffa Mill Road outside Lewisburg and Green Ridge Road outside Mifflinburg also were closed.
Dietrich said she'd heard multiple reports of a "freight train" sound after 12:30 a.m., which she said can be associated with tornadoes and straight line winds. Reports of hail, from the size of a pea to a quarter, were made about the same time, she said. National Weather Service a tornado touched down near Buffalo Crossroads, one of three tornadoes spawned by the storm in Pennsylvania.
There were also reports of minor flooding, Dietrich said.
William Cameron Engine Company's fire and ambulance crews ran more than 20 emergency calls after midnight due to the storm, Chief James Blount said, Monday.
Blount said storm damages were limited to earth and property.
"I'm not aware of any injuries associated with the storm," Blount said.
A tree fell atop a home in the 1800 block of Market Street, Lewisburg, crashing through the roof and penetrating the second floor ceiling, he said.
"That family, as of last night, was looking to seek shelter elsewhere," Blount said.
A family on Campbell Mill Road in Buffalo Township was safe after a portion of their home's roof appeared to be knocked off.
Blount said the calls mainly centered around downed trees and power lines, transformers that caught fire and fire alarm activations due to power surges. People should avoid downed lines as they travel this morning and especially avoid attempting to untangle trees, limbs or debris from wires, he said.
Blount credited the pair of dispatchers working overnight at Central Susquehanna Regional 911 for prioritizing emergency calls and dispatching responders.
"They were bombarded with calls for service," Blount said. "I know that's what we expect out of them but at the same time, they did an amazing job."
According to the 911 center serving Montour and Columbia counties, the traffic light in Washingtonville at Routes 54 and 254 wasn't working Monday morning. A center spokeswoman said there were numerous trees reported blown down throughout the area.
As of 8 p.m., PennDOT reported portions of five roads (Kaseville, Century, Little Roaring Creek, Mexico and Strick roads) remained closed in Montour County and portions of two (Mexico and Airport roads) were still closed in Northumberland County due to the storm.