Political Activist Gene Stilp burned a handcrafted Confederate-Nazi combo-flag without incident in front of the Northumberland County Courthouse on Tuesday morning, but was cited later that afternoon when he did the same in front of the Union County Courthouse.
These were the ninth and 10th times he demonstrated because he said both flags represent misguided and racist value systems. He has burned flags in Columbia, Luzerne, Adams and Perry counties, Gettysburg, and at NASCAR events in Dover and Talladega, but this was the first time he has faced any kind of legal issue.
Stilp, 67, of Harrisburg, pleaded guilty to the summary citation issued by Buffalo Valley Regional Police Cpl. Shawn Burns in front of Lewisburg District Judge Leo Armbruster, who set the fine and costs at $184.50. Stilp violated a Lewisburg ordinance against burning garbage and refuse.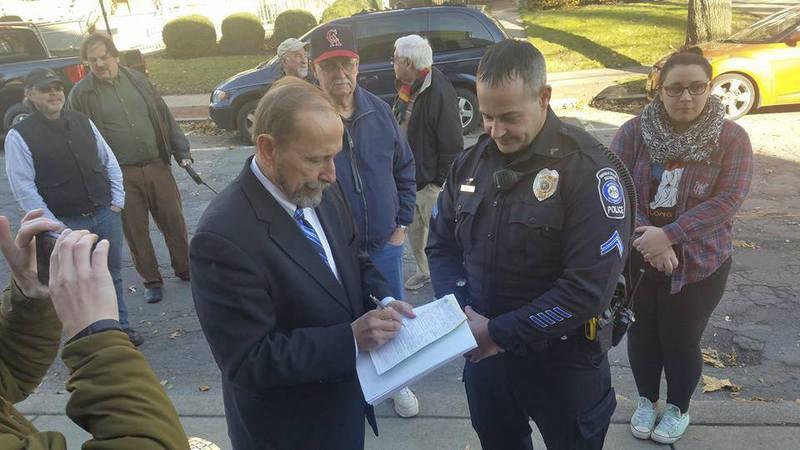 "This flag does fall into the definition of rubbish," Stilp said in front of Armbruster. "I am guilty of that, but I ask the court to consider the first amendment aspects of this."
According to the citation, Stilp "did cause, suffer or allow the open fire burning of any refuse, rubbish or garbage from which the products of combustion are discharged into the open air." He was verbally warned about future burning plans.
'Trash bins of history'
Stilp has been on a personal crusade ever since the Bloomsburg Fair board voted unanimously to allow vendors to sell Confederate flags at the fair. Both demonstrations, which had local law enforcement in place, were similar with a brief statement, a metal trash can and a flag with a swastika on one side and stars and bars on the other. Following his statement, Stilp set the cloth on fire and let it burn in the trashcan.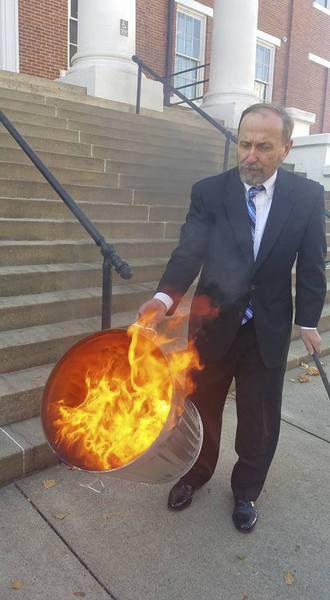 "The Confederate symbol stands for racism, hate, bigotry, social injustice, intolerance, slavery, genocide," Stilp said. "It's similar to the Nazi flag. That's why we join the two flags together to make one symbol. We use the symbol and burn it in a dramatic fashion, yes, to call attention to the fact that these symbols stand for the same thing. They should be confined to the trash bins of history."
The tour is designed to educate the public and start a discussion about whether racism exists in the communities he visits, Stilp said.
Stilp also briefly took a knee in support of NFL players doing the same during the National Anthem to protest racial injustice. He criticized President Donald Trump for turning the movement into an issue of disrespect toward the American flag.
Following the demonstration in Lewisburg, Burns issued the citation.
"A citation of honor right there," Stilp said.
Resident: No connection between the flags
The two political demonstrations attracted a little more than two dozen people between them. The reaction was mostly supportive, and even drew a round of applause from those in Lewisburg.
Joseph Loveless, 62, of Sunbury, was not one of those people. He described himself as "not a white supremacist in any way," but rather a "good, old southern boy."
"I do not see the connection between the two flags," Loveless said. "The Confederate battle flag is no more connected to the Nazi swastika than the Pennsylvania state flag is connected to it. What I see here is simply hate with a different face painted on it."
Loveless came to the demonstration after reading about it in The Daily Item.
"I'm sorry to see they went ahead with it, but I respect their right to do it," he said.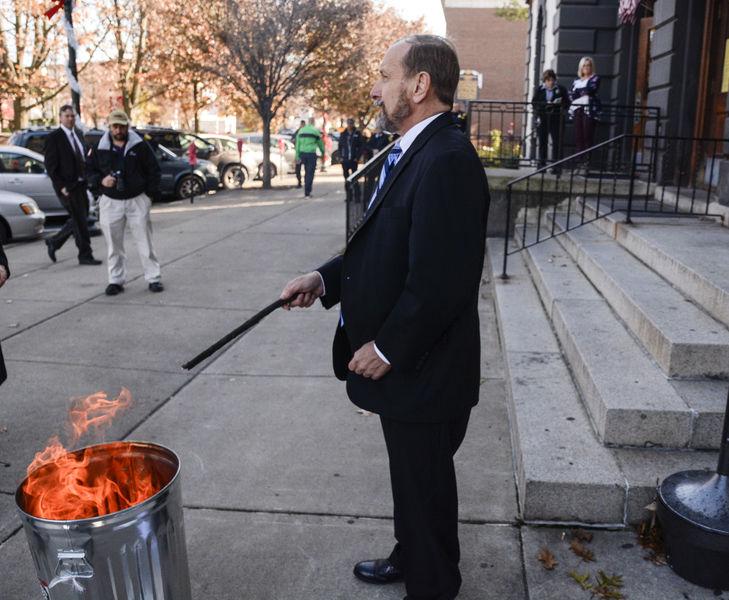 Jordie Comas, a newly elected Lewisburg Council member who will be sworn into office in January, said he agrees with Stilp and recognizes that the demonstration was not directed at Union County or the borough itself.
"I'm disappointed that people didn't come out who have Confederate flags," Comas said.
Comas said he would have been open to having a discussion with local residents who fly Confederate flags.
Northumberland County Sheriff Bob Wolfe said he and a handful of deputies watched on to make sure nothing went awry.
30 days to pay 
The maximum fine amount for Stilp's citation is $1,000, Armbruster said, and noted this is only the second time he has had to issue a summary offense. The other involved a farmer burning a field.
Burns said the ordinance is specific to Lewisburg.
"I am going to tell the judge that he (Stilp) was very cooperative, and I have no opinion on the fine itself," Burns said.
Stilp has 30 days to pay the fine. 
Email Justin Strawser at jstrawser@dailyitem.com. Follow him on Twitter @JustinLStrawser.