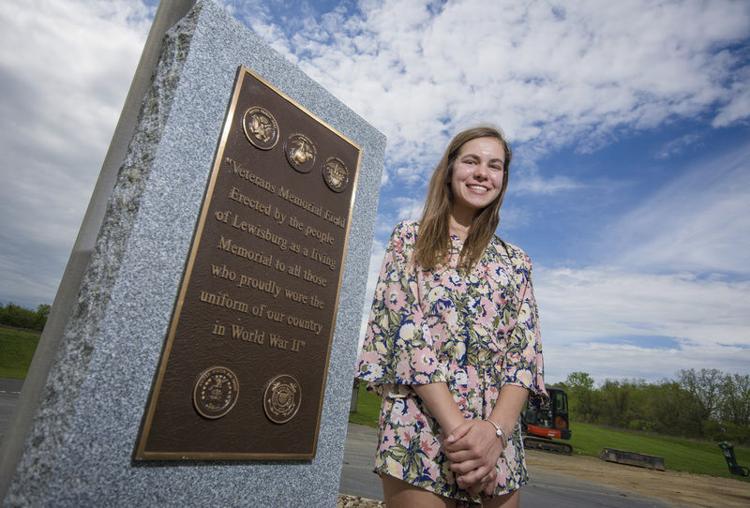 LEWISBURG — Military honor and respect for those in our armed forces runs deep in Sarah Mahoney's family — her father and grandfathers all served in the military.
So when Mahoney, a Lewisburg High School freshman, began thinking about a project that would lead to a Girl Scout Gold Award, the highest achievement within the Girl Scouts of the U.S.A., "I knew I wanted to do something that would be involved with veterans," she said Friday afternoon.
"As I looked around the community seeing what there was a need for," she said, "I realized this memorial had been left behind at the old high school and had not been transferred to the new school grounds. It was an issue that needed to be solved. That's how I adopted it as my project."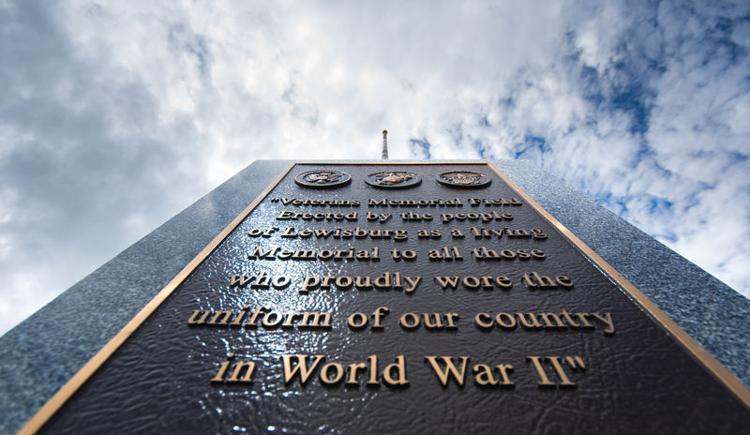 A Gold Award project requires more than 80 hours of service towards the community, and it must have a lasting impact on both the community and the world, Mahoney explained.
The memorial was originally placed in 1946 as a monument to Lewisburg High School graduates who served in World War II.
The memorial was refurbished in 1999.
The Lewisburg School Board agreed that it was an issue and that Mahoney could take it on as her Gold Award project.
"When the move to this location was agreed upon, one good thing was that in the deed, it was stated that this memorial would be relocated to the new school grounds," added Liz Mahoney, Sarah's mother. "It just hadn't happened yet."
The timing of the project all fell nicely into place, Liz said. "It had come to Sarah's attention, and then her advisor, Kathy Swope — on the school board — invited her to pitch the idea to the board."
Part of her project involved researching the history of the memorial. "I was able to look at 1946 and 1947 yearbooks, plus newspaper articles about when the memorial was originally dedicated."
Mahoney targeted the re-dedication date for May 28, the same day it had been done originally in 1999.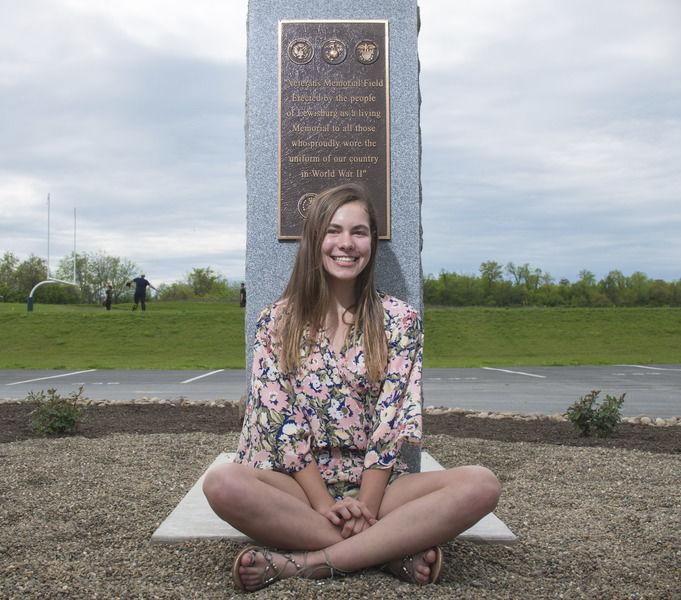 "It seemed fitting to do it on that same date," she said. "Coincidentally this year, May 28 is Memorial Day."
Mahoney, assisted by Swope, sent invitations out "to a lot of people in the community and to many local veterans," she said. 
Mahoney received a lot of contact information from people who worked on the project with her. "It will be such an honor to have so many veterans at the rededication."
What Mahoney has found most gratifying about this entire experience is "knowing that I'm helping to raise awareness for so many veterans, because many people don't realize how much veterans give to help out everyone in our country. It's great that they are getting the recognition they deserve."
The official re-dedication of the memorial monument will be May 28, directly after Lewisburg's Memorial Day parade downtown.
Mahoney estimates the time of the rededication at the High School as about noon and it will last until about 1 p.m., she said. 
Creative Plantscapes of Lewisburg, assisted in laying out the memorial. Also helping with the project was Dick Chalmers, of the Lewisburg American Legion.
Send comments to rdandes@dailyitem.com. Follow Dandes on Twitter @rdandes.