PENNS CREEK — Lewis and Clark hadn't conceived their fateful exploration of the Western United States the year George C. Spangler Jr. had a field stone engraved with his initials and the year 1802 mounted atop the thick mortared western wall of his family's farmhouse along Penns Creek.
Stone and mortar were again laid on the farm last week, 215 years later, as Tony Noll built one of two pillars planned to hold up a sign announcing the addition of what's now his family's farm to the National Register of Historic Places.
"Everyone has love for where they grew up," said Noll, 42, of the fertile, gently rolling farm west of New Berlin. "I wanted to do something to preserve the history of the place."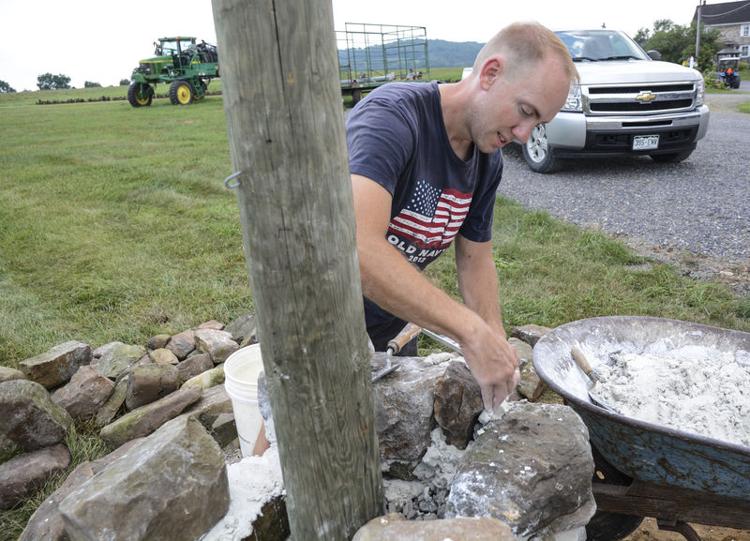 Noll and others worked four years to compile the farm's history and prove its significance in American agriculture, ultimately convincing the keepers of the National Register to deem it worthy of historical preservation.
Stony Creek Farm, which has belonged to the Noll family since 1963, was officially added to the Register in August 2016. It is the first of Union County's farms to receive the designation.
A public celebration is planned for 10 a.m. to 4 p.m. July 29 at the farm at 1175 Wildwood Road, Mifflinburg. It will include self-guided tours, displays from farming museums and a presentation by David Maher, a National Register reviewer from the Pennsylvania Historical and Museum Commission.
Tops in production
According to dates and data organized in a registration form with the National Park Service, the livestock, dairy and grain farm was tops in production by many measurements between 1840 and 1960 compared to neighboring farms.
It's still very much an active grain farm and more than two centuries later, its structures maintain integrity in all seven aspects measured by the Park Service: history, location, setting, design, workmanship, materials and feeling.
"The census production numbers, the house and outbuildings, and agricultural land collectively reflect historic regional trends, and convey the farm's National Register significance," the registration form states. "The 1802 stone house must have been quite an architectural feat in such a rural setting during the early Federal period, and it remains structurally sound today. This type of stone construction is rare within the local area, and it is a historic treasure all its own."
Noll's research tells of Spangler Jr., a Pennsylvania militiaman during the American Revolutionary War, having taken ownership from his father, George Sr., 140 acres of land in then western Northumberland County in 1791. He settled the land with wife, Anna Catherine Blank, and together the couple raised eight children.
150 years of farming
The farmhouse was built in 1802 followed by a series of structures to support more than 150 years of farming by Spangler and his descendants: a barn circa 1850 and 1900s summer kitchen, corn crib, butcher house, smokehouse, ice house and machine shed. All are considered "contributing buildings" to the farm's Register status.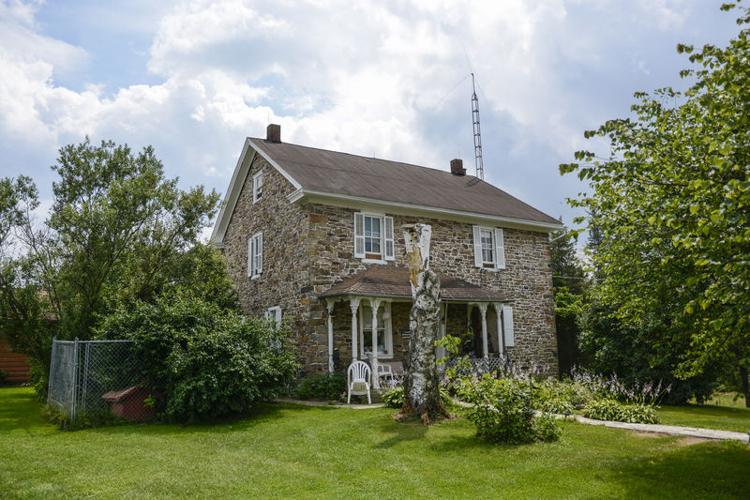 The stone farmhouse was built with walls 27 inches thick. It wasn't until 1938 that electricity was installed. Plumbing limited to a kitchen sink was added in the 1940s.
Over the years, acreage was sold off and, in 1947, the Spangler legacy on the farm ended with the farm's sale to William and Nina Showers.
According to research, the Showers rented the farm to tenant farmers until 1963 when Noll's parents, Richard and Grace (Kistler) Noll, approached the county judge about a potential sale.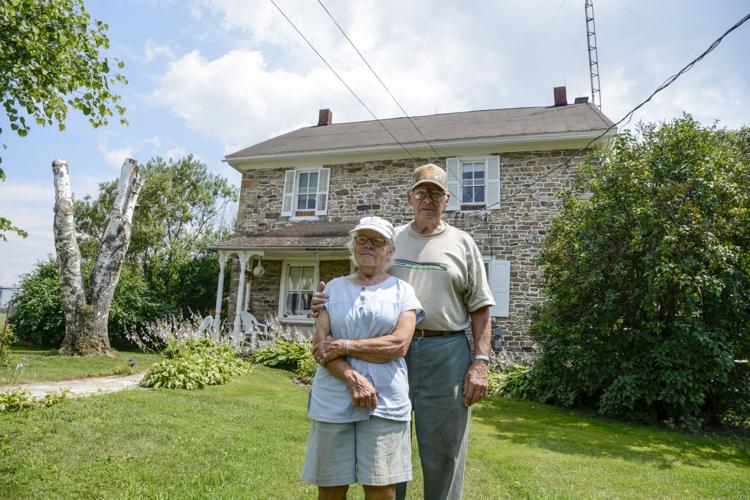 The couple rocked slowly on a bench swing last week as Richard Noll recalled, at 20 years of age, propositioning the Showers for perhaps the most productive farm in the county.
"His response was, 'hell, yes, I'll sell it," Richard Noll recalled.
With a $15,000 sale began a 53-year legacy that lives on. The first decade, the Nolls focused on dairy; since 1974, strictly grain. When the Nolls moved in, they utilized an outhouse that stands to this day. There were no kitchen cupboards until they added them. The farmhouse's interior plumbing was modernized with a bathroom in 1965. A log addition was built in the 1980s as were multiple farming structures over the years, including grain bins, a drier and, in 2014, a weigh scale. As the farm was improved, a once-hidden root cellar was discovered when the summer kitchen was relocated.
The farm stands at 110 acres.
Aside from the engraved stone marking "G.C.S. 1812" just below the eaves on the western gable end, Richard Noll said he knew next to nothing about the farm's history when he and his wife bought it.
"Look how big some of the stones are," said Grace Noll as she gazed from the grass toward her home. She stretched her hands, leaving about 2 feet of space between. "And the wall is 27 inches thick!"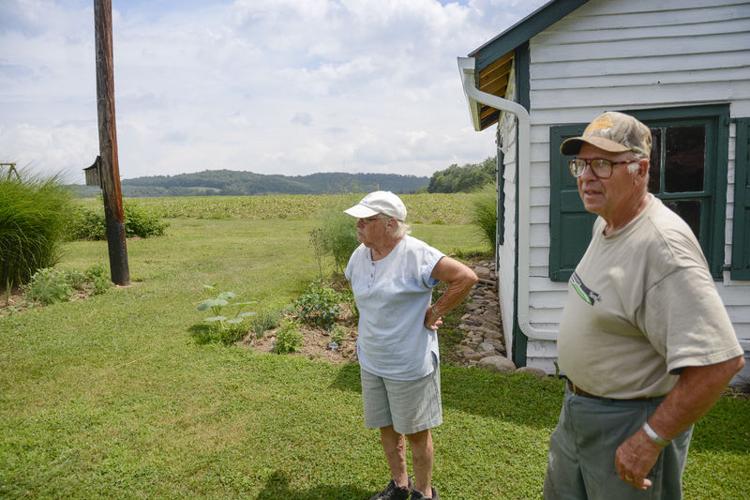 "It was a place to crawl in and sleep. I never really thought about it much," he said. "I just wonder how long it took them to build this."
Research and designation
"My parents always acted like it was just a place to crawl into," Tony Noll said.
He knew better. In 2012, he began to research — pulling files from the musty basement of the Northumberland County Courthouse and devoting hours over slow winter days to studying and compiling the farm's narrative the best he could.
He had help.
A descendant of the Spanglers, Gary, recently deceased, helped Tony Noll, who also sought input from his middle school history teacher.
"There's no greater compliment a teacher can get," said Sharon Lynch who with her husband, Bill, operate the nearby Penns Creek Pottery.
Lynch, vice president of the Union County Historical Society, wrote a letter in support of Tony Noll's successful application. She said her former student's ambition and work inspired herself and her husband to undertake the application process themselves for the National Register of Historic Places.
The Park Services own review of Tony Noll's research and the history of the Spanglers could lead to future designations.
"Several of the farms surrounding the Spangler Farm also appear to retain high levels of historic integrity, making it quite possible, given further research, for the potential of an agricultural historic district," it states.
For more information about the celebration at the Noll-Spangler historic farm, call 570-837-3104 or email stonycreekfarm1802@gmail.com.
Email comments to escicchitano@dailyitem.com. Follow Scicchitano on Twitter @ericshick11.