The date chosen for Tuesday's special election caused polling places in two eastern Union County voting precincts to temporarily relocate on the campus of Bucknell University.
Registered voters in East Buffalo Township District 4 and Lewisburg Borough Ward 3 will cast ballots Tuesday inside Elaine Langone Center, 701 Moore Ave., Lewisburg.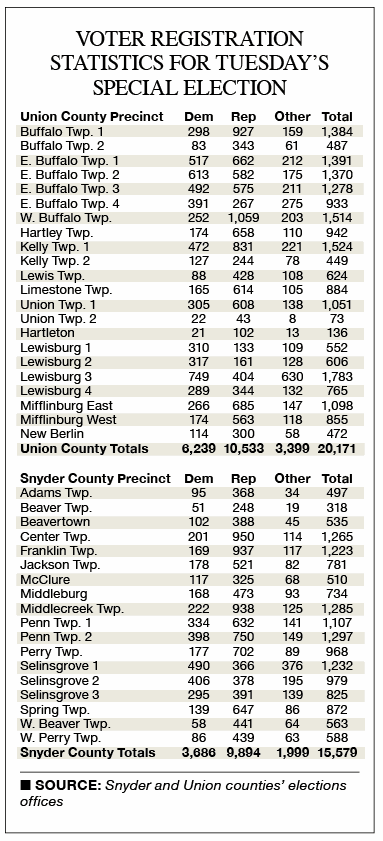 They'll return to their permanent polling locations for the Nov. 5 general election: East Buffalo Township District 4 at the Weis Center and Lewisburg Borough Ward 3 at Larison Hall, according to Greg Katherman, chief election coordinator and registrar.
Timing of the surprise election caused the relocation, Katherman said, adding that a location map and notice of the temporary change was mailed to voters in both precincts.
Because the election is specific to the 85th Legislative District of the state House, voters in Gregg and White Deer townships in Union County won't participate. They're in the 84th District. Voters in Shamokin Dam, Freeburg and the townships of Chapman, Monroe, Union and Washington in Snyder County are located in the 108th District and also won't participate.
Below is a listing of the polling locations in both counties for the special election:
SNYDER COUNTY
Adams Township: Troxelville Community Hall, 9186 Route 235, Troxelville
Beaver Township: Beaver Lutheran Church, 18207 Route 522, Beaver Springs
Beavertown Borough: Beavertown Borough Building, 111 W. Walnut St., Beavertown
Center Township: Penns Creek Fire Hall, 50 Troxelville Road, Penns Creek
Franklin Township: Paxtonville United Methodist Church, 1281 Paxton St., Paxtonville
Jackson Township: Zion Lutheran Church, 4298 Route 204, Selinsgrove
McClure Borough: McClure Volunteer Fire Company, 49 West Specht St., McClure
Middleburg Borough: Grace Covenant Church warehouse building, 99 Cafe Lane, Middleburg
Middlecreek Township: Kreamer Fire Hall, 37 Manor Drive, Kreamer
Penn Township, No. 1: Grayson View, Main Lounge, 29 Grayson View Court, Selinsgrove
Penn Township, No. 2: Penn Township Building, 228 Clifford Road, Selinsgrove
Perry Township: Fremont Fire Hall, 229 Millrace Road, Mount Pleasant Mills
Selinsgrove No. 1: Sharon Lutheran Church, 120 S. Market St., Selinsgrove
Selinsgrove No. 2: All Saints Episcopal Church, 129 N. Market St., front, Selinsgrove
Selinsgrove No. 3: Snyder County East Building, 713 Bridge St., Selinsgrove
Spring Township: Beaver Springs Senior Center, 55 Elm St., Beaver Springs
West Beaver Township: Bannerville Fire Hall, 7547 Stage Road, McClure
West Perry Township: Mount View Community Church, 277 Mill Road, Richfield
UNION COUNTY 
Buffalo Township 1: Municipal Building, 2115 Strickler Road, Mifflinburg
Buffalo Township 2: Buffalo Valley United Methodist Church, 954 Johnson Mill Road, Lewisburg
East Buffalo Township 1: Municipal Building, 589 Fairground Road, Lewisburg
East Buffalo Township 2: Union County Public Library, 255 Reitz Blvd., Lewisburg
East Buffalo Township 3: Donald H. Eichorn Middle School, 2057 Washington Ave., Lewisburg
East Buffalo Township 4: Elaine Langone Center, Bucknell University, 701 Moore Ave., Lewisburg
Hartleton: Union Church, 115 Catherine St., Hartleton
Hartley Township: Hartley Township Municipal Building, 1845 Route 235, Laurelton
Kelly Township 1: Municipal Building, 551 Ziegler Road, Lewisburg
Kelly Township 2: United in Christ Lutheran Church, 1875 Churches Road, West Milton
Lewis Township: Municipal Building, 116 Maple St., Millmont
Lewisburg 1: Senior Center, 116 N. Second St., Lewisburg
Lewisburg 2: Union County Courthouse, 103 S. Second St., Lewisburg
Lewisburg 3: Elaine Langone Center, Bucknell University, 701 Moore Ave., Lewisburg
Lewisburg 4: St. John's United Church of Christ, 1050 Buffalo Road, Lewisburg
Limestone Township: Municipal Building, 3840 Wildwood Road, Mifflinburg
Mifflinburg East: Mifflinburg Area High School, 75 Market St., Mifflinburg
Mifflinburg West: First Evangelical Lutheran Church, 404 Market St., Mifflinburg
New Berlin: Community Center, 318 Vine St., New Berlin
Union Township: Fire Company, 40 Municipal Lane, Winfield
West Buffalo Township: Municipal Building, 577 Johnstown Road, Mifflinburg