LEWISBURG — Snow White cheerfully cleaned up after seven sloppy men.
Cinderella never talked back, never stood up for herself because, after all, "good" girls are obedient.
Ariel was a mermaid and her role was to remain under her father's rule.  She wanted to explore the world out of the sea, but she was not entirely capable of doing that herself, so when she tried, she ended up in a bad situation.
All three characters were beautiful young women who, though they were incapable of living independently, found their Prince Charmings and lived happily ever after.
Mary Marshall raises questions about what kind of messages that sends young women.
Marshall, 34, of Lewisburg, spurred that discussion with a presentation at the Susquehanna Valley Ethical Society meeting on Sunday at the Lewisburg Hotel. Her talk "Informing and Reflecting Society through Entertainment: The Ethical Implications of Disney," explored how beauty, romantic love, women and men are portrayed in Disney animated movies.
"As the mother of a 13-year-old daughter, I pay attention to what is forming her beliefs," said Marshall, an SVES member who works in fundraising for Bucknell University and is working on her bachelor's degree in philosophy and literary studies.
She also has worked with children as a Girl Scout volunteer and volunteers in schools.
Marshall showed brief clips of some of the movies to illustrate her point, though, the dozen people at the gathering were, like most people, familiar with the plot lines.
Of the 1937 movie, "Snow White," Marshall noted the mirror said Snow White was "the fairest of all."
But Marshall questioned, "What makes her the fairest of all?"
She said it was her beauty and fair complexion, which almost got her killed when the witch tricked her into taking a bite of the poison apple.
"But it also helped her attract a handsome man to take care of all her problems," Marshall said.
She said the men — the Seven Dwarfs — go to work and the witch gives Snow White the poison apple, "because she can't make decisions on her own."
Her traits include her beauty, she's a damsel in distress, her quiet domesticity, she is naive and she is sexually submissive. The prince, for his part, kisses her without having asked permission.
In "Cinderella," in 1950, "We are taught to be what it's like to be a 'good' girl," Marshall said.
Cinderella is obedient to her stepmother and stepsisters, even though they treat her poorly because of her beauty.
But the lesson the story teaches young girls is that their dreams will come true, as long as they are pretty, Marshall said.
"And you have small feet," added member Penny Weinberg-Uebelhoer.
"Beauty and the Beast" from 1991, reflects the belief, again, that beauty is the most important thing. Belle is considered odd because she reads books and is not interested in the man all of the other young women want, Gaston.
Marshall said Belle was able to look past the beast's appearance, just as society is more likely to look past a male's appearance. But Belle also looks past the beast's mental abuse.
"That's an issue with middle-aged women," Marshall said. "We look past the abuse at home (and say), 'Maybe if I try a little harder, if I don't say stupid things."
She added, "Seventy-five percent of women are killed by an ex-lover."
She addressed the princes, as well.
"How did they get the girl? With their charm, physical attractiveness, wealth and fame," she said. "Even the beast was charming under all that, and he turns out to be handsome."
Marshall agreed that those films followed what were society's standards at the time, and that the Disney characters are changing with the times. 
Weinberg-Uebelhoer noted that in newer productions, women are more independent, "but they are beautiful and scantily clad."
Member Kim Eaton said the woman are more well-endowed, citing 1995's "Pocahontas" as an example. She said Disney has "hypersexualized" its more modern characters.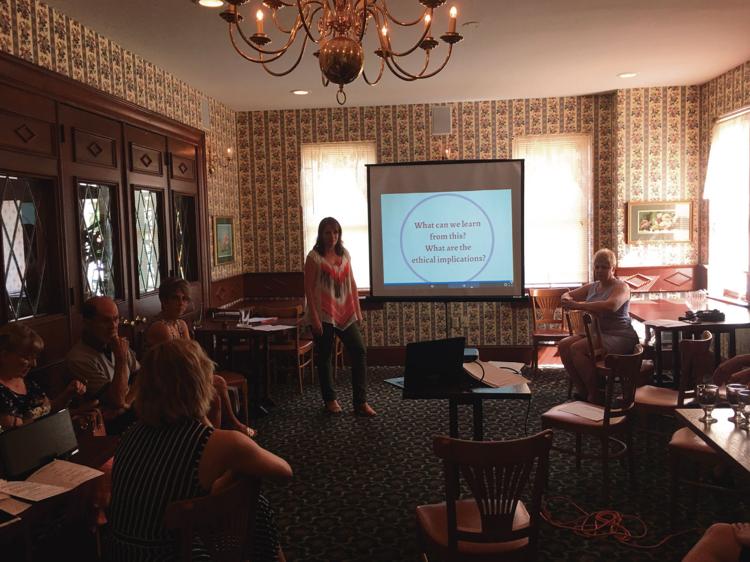 Marshall pointed out, though, she was not opposed to Disney.
"I'm not saying Disney is the devil, I'm not telling you to smash your DVDs," she said.
But she said parents can pay attention to what their kids are watching and ask them what they think.
Afterward, Marshall said that being a mother and working with children started her asking questions about children's entertainment. Her presentation was the result of her studying the features.
"It's a lens for the viewing of what we think of our entertainment," she said. 
For more information on the Susquehanna Valley Ethical Society, visit the website at http://www.susquehannavalleyethicalsociety.org.
Email comments to jsylvester@thedanvillenews.com. Follow Sylvester on Twitter @JoepSylvester