Lewisburg High School and Bucknell University graduate Doug Lebda is disrupting the formerly staid world of loans with Lending Tree, the online company he first thought of while a graduate student at the University of Virginia's Darden School of Business.
Lebda's genius was to recognize that consumers should be able to enter basic information into a website and they should be able to get multiple offers that are real offers and have lenders compete. "Let the consumer take the deal that works best for them. We were always envisioned as a search engine or a comparison shopping site," the 47-year-old said in a long-distance phone interview from his corporate headquarters in North Carolina.
The idea originated from a time when Lebda got a mortgage in 1994 for a condominium. "I was frustrated by the process as most people are. My insight that there might be a more efficient way of consumers and lenders to find each other was in 1996, as a result of me doing consulting, auditing work for companies in the energy business."
Lebda was never a lender, he said. "The initial concept was a marketplace, as it is today."
And now The Lending Tree is sizzling hot. Fortune magazine recently named Lending Tree the third fastest growing company in the U.S. "In nine years, as a public company," Fortune magazine said, "the online loan broker has delivered a 47 percent average annual return to shareholders." Its three-year annual growth rate is 177 percent.
"Lending Tree's success is directly related to Doug Lebda's unique skill sets," said Bill Gruver, professor of management practice, Bucknell University. "Doug possesses the unique combination of being a visionary, who is also a great manager. I know a lot of good managers, I know a lot of wannabe visionaries. It is rare that you get the two combined in one person. That accounts for an awful lot of Lending Tree's success — those two skill sets landing in one body in the form of Doug Lebda."
Lebda's success as an entrepreneur has its roots in his hometown, Lewisburg, where, he helped his father, Bob, in various endeavors.
"I had an entrepreneurial background," he said. "I was scrappy. I helped my dad sell cookware. I've had experience starting and running businesses. I'm good at understanding customers' needs. For example, I know what a lender needs to make something successful, to make a program successful."
Upon leaving Lewisburg High School, he had no master plan for his life's work. After finishing high school he went to Bucknell, graduating in 1992, and then achieved an advanced degree at the University of Virginia's Darden School of Business.
"That's where I got the idea for the Lending Tree," he said. "I worked on the business plan there."
Lebda took a leave of absence from school and moved to Charlotte, N.C., "and basically gave myself one year to see if I could make Lending Tree work. It did, and I finished up at the Darden School in 2004."
In 2003, Barry Diller's company IAC, acquired the company from Lebda, as Doug became president of IAC.
Four years later, Lebda took Lending Tree back as its CEO — just as America entered into the Great Recession.
"It wasn't the best timing to re-take the lead in Lending Tree," Gruver said, "but he got through the meltdown of the mortgage market and the company is doing better than ever right now."
Some have compared Lending Tree to Amazon, something Lebda refutes. "The difference between us and Amazon is that Amazon is a retailer selling you amazon products. ... We are more like a Priceline or Expedia giving the user a range of options from multiple different providers. You get results based on the information you enter. ... comparing multiple different options," he said.
Lebda on entreprenuerism
Entrepreneurs can never predict success, Lebda said.
"When you choose to be an entrepreneur you are basically choosing a lifestyle, not necessarily an outcome," he said. "Statistically, entrepreneurs lead happier lives because they control their destiny, and statistically, financially they do better off. That said, you can never predict the outcome."
Lebda was able to put together a business model that addressed the needs of consumers, lenders and Lending Tree.
"If you can find a way for a consumer to get a win, a lender to get a win, and Lending Tree to get a win, that's a sweet spot, and one of the best experiences you could give somebody," he said. "And therefore we can make money by doing this. If you read our mission statement, we empower consumers to make smart decisions, save them real money. We love that lenders can build a business around Lending Tree. And, if you build a business the right way, around good price and good service, (you) build a company where we can make money and make profits but not do that at the expense of customers, not hurting anybody and adding value to our customers."
"I haven't studied Lending Tree in depth to try and ascertain why they are so hot right now," Gruver said, "but I think a lot of it has to do with ... there is an optimism in the country that is being reflected in the mortgage market. And at the same time, there is a skepticism in America of traditional institutions. Doug and Lending Tree, as a non-traditional institution that intermediates and gets between the consumer and the traditional institution, helps overcome that consumer skepticism.
Gruver said Lending Tree gives lenders a new distribution channel, but his gut reaction is that consumers finding a trusted, objective source is the main driver of the business' growth.
"They know that by going to Lending Tree they can make apples-to-apples comparisons," he said. "Previously, when I shopped for car loans and mortgages, I never knew if it was apples to apples. You don't know if the fees are the same — the closing fees, pre-payment penalties, etc. Lending Tree gives every opportunity for an apples-to-apples comparison so you can really make well thought out decisions as a consumer."
Entrepreneurship in the Valley
Lebda thinks entrepreneurs can be successful anywhere.
"One of the biggest misconceptions is that there are certain hotbeds where entrepreneurs can succeed or not," Lebda said. "Now, if you want to run an internet-based startup and you need access to engineers and capital and an ecosystem around technology, your odds of succeeding are going to be higher in an area where there is that kind of an ecosystem."
Lebda said, "in Central Pennsylvania, farmers are entrepreneurs. They are taking what is unique about their experience, their understanding and their assets. They put all those things together in a unique way. The output of that business might be a family farm, but those people are entrepreneurs."
"I know entrepreneurs who have not been technology-based startups," he said. "I know someone running a staffing company, but they're still making tens of millions of dollars a year. Or my dad's friend who makes Amish buggies and sells them."
So, Lebda asked, could you create a tech startup in Central Pennsylvania? Then answered, "Absolutely. However, is it generally smart for somebody with no technology experience and no knowledge of the internet to go start a website? That might not be the highest odds of success — unless those are your strengths."
Entrepreneurism exists everywhere, Lebda said, it exists with big companies and small and there are a lot of entrepreneurs around Central Pennsylvania. They don't necessarily need to be websites.
Technology isn't really an industry, Lebda said. "Technology is revolutionizing every industry, including places like Wood-Mode," the Kreamer-based cabinet maker.
"If you wanted to start a LinkedIn, would it be better to start in Silicon Valley or Lewisburg?" Lebda said. "Silicon Valley. That said, could LinkedIn have started in Lewisburg? Absolutely. it was started by someone who knew the recipe that became LinkedIn. If Mark Zuckerberg went to Bucknell, he could have started Facebook at Bucknell. Zuckerberg was successful with Facebook not because he went to Harvard. He was successful with Facebook because Mark Zuckerberg's unique ingredients were that he was very smart. He could code his own website. He was walking in the shoes of other fellow college students who were looking for ways to access information about other college students. And then from there, he made it better and better.
"Geographic location is only one variable that goes into whether or not you can succeed or not," Lebda said.
Most gratifying
Lebda said he is thrilled to see employees realize their dreams. "That might be career, or financial. Or might be personal, going back to college, paying for their kid to go to college," he said.
The ability of consumers to save real money and turn the tables is also a thrill, he said. Lebda had his colleagues develop a program to help people improve their credit scores so that they can live out their dream of buying a house, for example.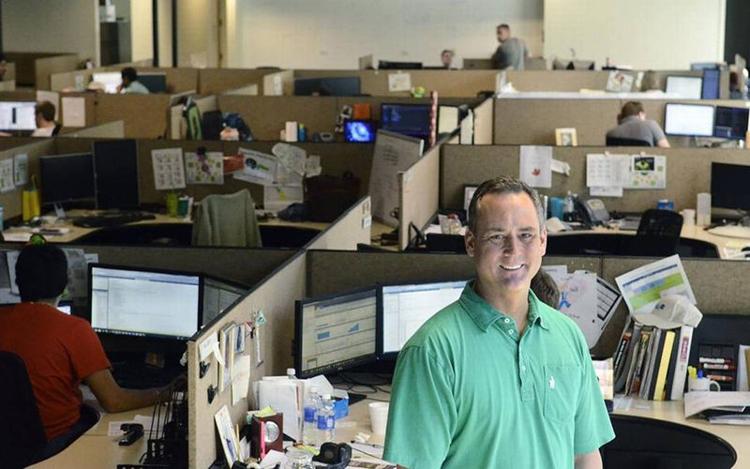 "And then it is neat seeing lenders build big businesses around us and they have to do it by offering great pricing and great service," he said. "It is wonderful for me to see a lender who had 10 employees a few years ago now have 100 employees doing Lending Tree business. Helping other people realize their dreams is what I find most exciting."
Send comments to rdandes@dailyitem.com. Follow Dandes on Twitter @rdandes.