MILTON — Seven cadaver dogs made a positive detection for decomposition over the past two days at the North Front Street home at the center of the Barbara Miller cold case homicide investigation.
At the conclusion of the second day of an exhaustive search Thursday focused on the basement of 751 N. Front St., Sunbury Police Chief Tim Miller confirmed the dogs' findings and said a thick concrete wall at the center of the investigation may be knocked over and removed.
That wall, or perhaps the ground below, may be where Miller's remains are hidden, Chief Miller said.
He also announced he's requested the assistance of the Federal Bureau of Investigation and the New York City Police Department as local investigators work to close the nearly 28-year-old case.
"I am going to do whatever it takes," Chief Miller said. "I told you all I am not going anywhere. I will get a tent, and I will remain here if I have to, but I am not going anywhere until I know for sure we have exhausted all our options."
Bruce Barton, chief K9 handler and director of Rescue International and Northeast Search and Rescue, said all six dogs brought to the site Thursday "hit" on an odor within the same general locations.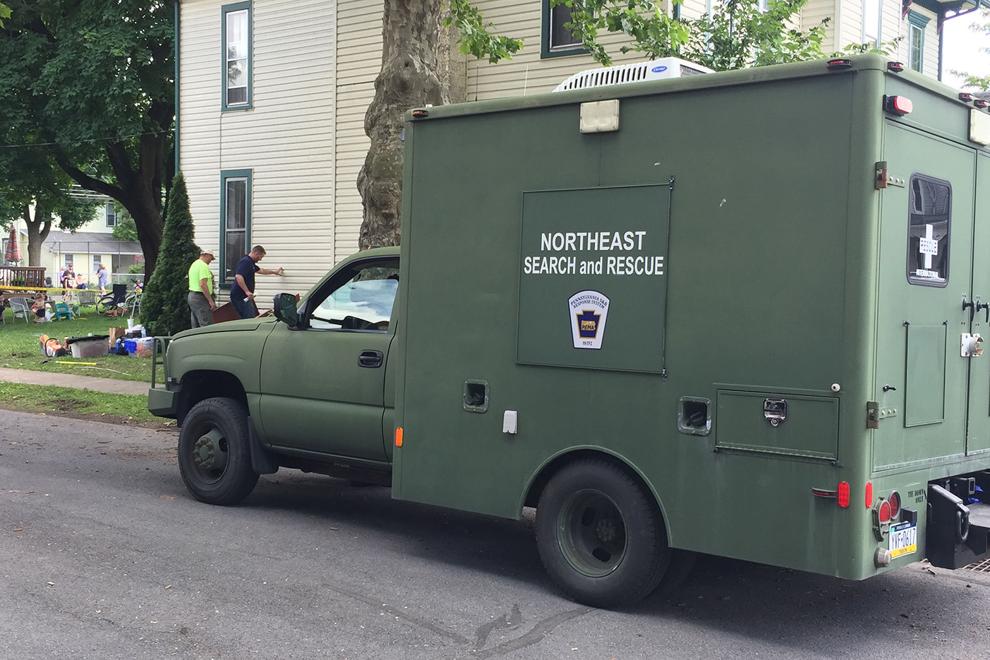 A seventh dog, the initial cadaver canine brought to the scene Wednesday when the search began, also "hit" in similar areas, Chief Miller said.
Dogs only detect humans
The dogs are trained to detect only human decomposition and not that of animals. They were taken by handlers both inside the basement of the two-story duplex and inside a hole dug outside to expose a basement wall.
"All six of the dogs have shown there are signs of human remains in the areas they are digging," Barton said of his group's canines. "There is something there."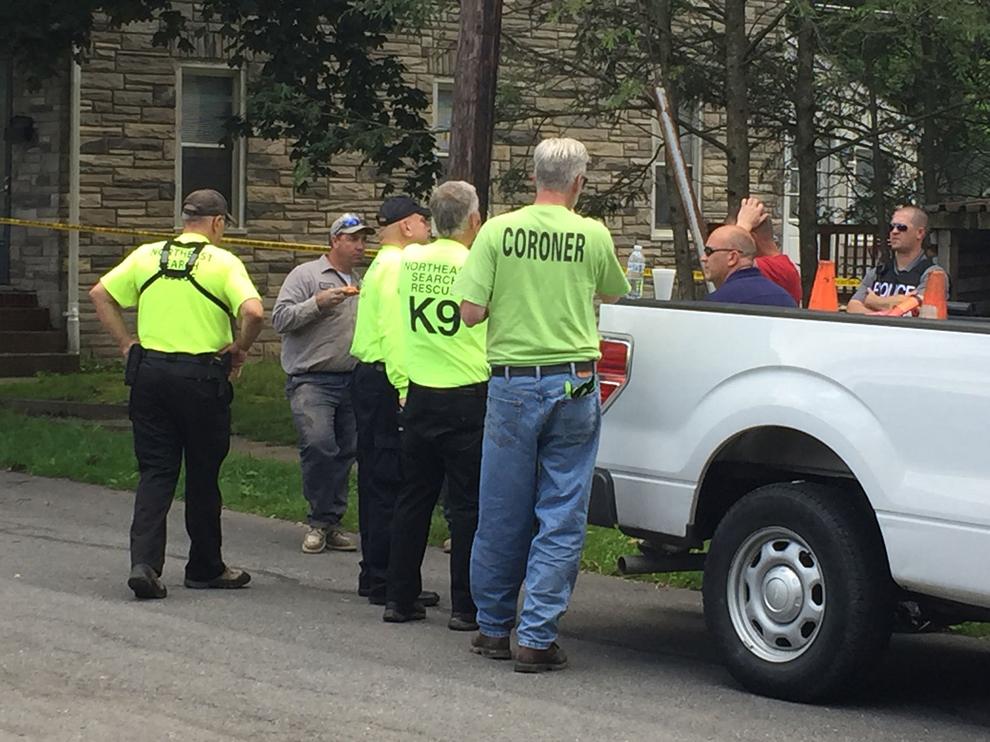 Investigators served a search warrant at the property Wednesday signed by Shamokin District Judge John Gembic. It is based on information pulled from existing case files and confidential informants as well as new leads generated after a case-specific Facebook page was launched.
Chief Miller wrote in a search warrant he has found no less than six references of Barbara Miller having either been buried or entombed inside a Milton property. Further investigation led him to a specific home — the discovery of a 2009 report by Sunbury police where a confidential informant provided the address of 751 N. Front St.
The report was never followed up until Chief Miller joined the department in 2016 and eventually launched his own inquiry.
The warrant names an ex-Sunbury officer, Joseph Walter "Mike" Egan, as the lead suspect in the disappearance of Barbara Miller. The Sunbury woman was 30 years old when she went missing. She was last seen with friends following a wedding June 30, 1989.
MILTON — Sunbury Police Chief Tim Miller said Thursday that there are other suspects in the cold case homicide of Barbara Miller and he would …
Declared dead in 2002
Five days later, Egan reported her missing to police officers at the department where he once worked.
Miller was declared legally dead in 2002 by Northumberland County Judge Charles Saylor. The case has largely been cold, at least publicly, over the last three decades.
That was until Wednesday.
A basement wall at 751 N. Front St., described by investigators as excessively thick, is at the center of the investigation.
Jackhammers and drills are doing little to extract evidence.
With the backing of the detections from the cadaver dogs, Chief Miller said he may resort to ordering the entire wall be knocked down with heavy equipment and removed to another location for further inspection.
"If I have to take the wall out, I will. I don't want to, but at this point, it's kind of looking like the wall's coming down," Chief Miller said.
A mini-excavator from Northridge Group Inc., Winfield, was used to remove dirt from beneath a rear porch to provide access on both sides of the wall. The firm has had employees on site since the inspection began.
Radar used in backyard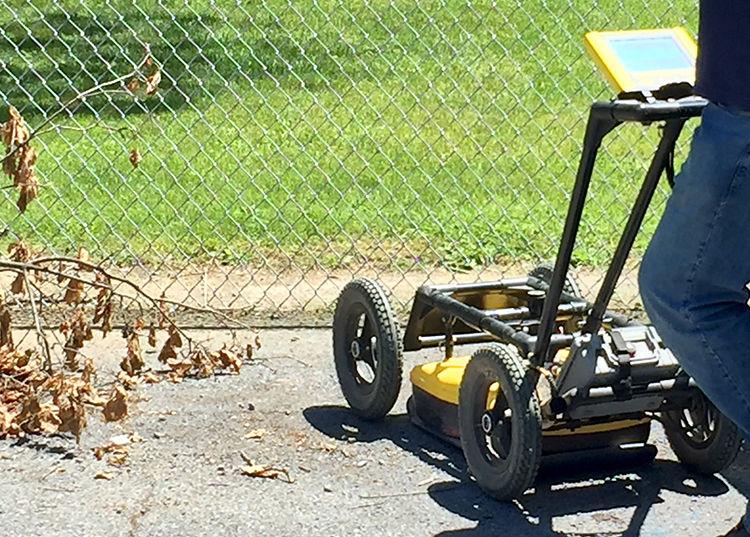 A ground penetrating radar from Hillis-Carnes Engineering Associates Inc., Hagerstown, Md., was used Thursday to canvass the backyard. It expanded a similar inspection by forensic staff and students from Mercyhurst College the day before.
Later in the evening, the use of heavy equipment in the basement resumed.
Northumberland County District Attorney Tony Matulewicz hasn't yet visited the scene. Reached Thursday, he declined to comment.
"It is an active Sunbury City investigation in the hands of Chief Miller," Matulewicz said.
Investigators spent an estimated 14 hours on scene Wednesday and another 13 hours Thursday.
Northumberland County Coroner James F. Kelley and Milton Police Chief Curt Zettlemoyer remained on scene with Chief Miller since Wednesday morning, accompanying the chief to the front door to serve the warrant.
Municipal leaders from Sunbury pledged their support to Chief Miller in hopes the investigation will end with an arrest and bring closure to Miller's family and friends.
"It's been an awfully long time and it sounds like it is coming to an end," said Sunbury Mayor David Persing. "We will see it through and hopefully there will be closure for the family of Barbara Miller."
Council members Rick Reichner and Beth Kremer each agreed.
"Chief Miller has my support in this all the way," Reichner said. "He has been doing a fantastic job, and I support anything he wants to do with this."
"I support going all the way with this. I believe this would be wonderful for the Barbara Miller family," Kremer said. "I am so impressed with Chief Miller and his dedication to this. I also want to thank Jim Kelley. He has been awesome. I only hope the rest of the county leaders will jump on board with this and help us see this all the way through. Barbara Miller was a person, and she didn't deserve what happened here. I say keep going with whatever we have to do to get the answers."
Email comments to fscarcella@dailyitem.com or escicchitano@dailyitem.com. Follow them on Twitter @scarcella11 and @ericshick11.