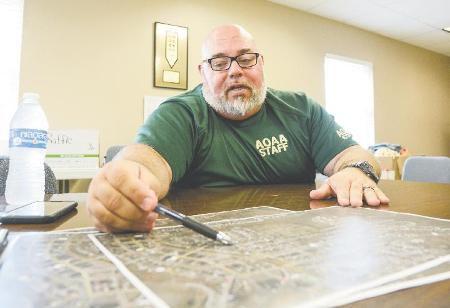 SHAMOKIN — A November event beckons riders of off-road vehicles to drive out of the mountains and into the city's downtown in an effort to jolt the local economy and build on the tourism potential of the Anthracite Outdoor Adventure Area.
Officials from City Hall and Northumberland County's Anthracite Outdoor Adventure Area (AOAA) Authority worked together to create Taking it to the Streets. The event allows AOAA riders to travel a designated route from off-road trails onto city streets governed by police and 25 volunteers.
It's a test run towards potentially gradually opening access more frequently — quarterly, monthly, weekly and, in time, permanently.
"You need to at least try this to spawn business downtown. (Business owners) think this is going to be part of the revitalization of Shamokin," Mayor John Brown said, adding he expects a mixed reaction from city residents. "Being it's the first time, we want to be as cautious as we can."
"If we don't try, we're never going to know if it works," City Administrator Bob Slaby said. "I'm all in favor. If it helps Shamokin, let's do it."
Taking it to the Streets is slated for 11 a.m. to 5 p.m. Nov. 3. All riders must come through the AOAA trailhead along Route 125 in Coal Township, about two miles outside Shamokin. No one can join from any other point.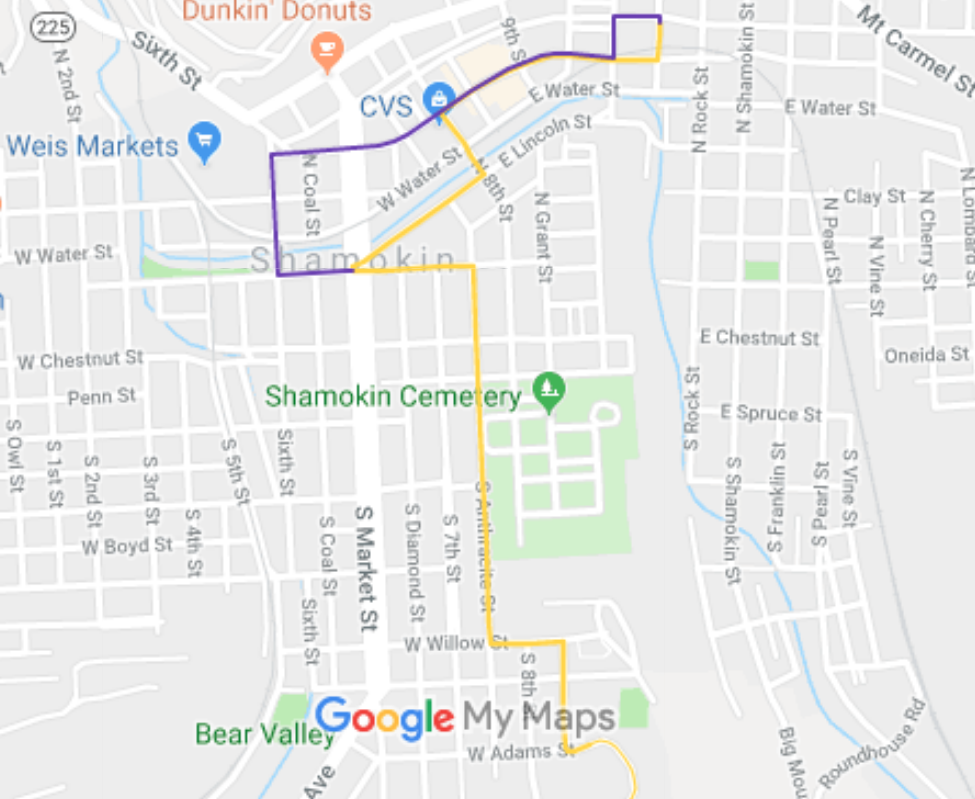 The route remains tentative and could be altered. It's planned for riders to come off the eastern reserve at Adams and Grant streets near the Raspberry Hill housing complex and ride Willow Street to a sparsely populated stretch of Anthracite Street. From there, they'd take Arch Street to Lincoln Street to Eighth Street and onto downtown Independence Street. Riders can then go to Sixth Street and back to Arch for a return to the mountains. Parking may be permitted on Chestnut Street, between Sixth and Market.
The point is to allow access to restaurants downtown and nearby like Ale House Bar & Grill, OIP, Dining Room and the newly opening Heritage Restaurant and Lost Mined Brewing Co. Riders also could fill up and buy snacks at Turkey Hill, stop into Weis Markets and more.
'Shot in the arm'
Labor Day, a holiday marked by travel and picnics, was slow at the Ale House, 147 E. Independence St. Co-owner Forrest Curran, who operates the business with his wife, Amanda, described it as such: "crickets." There were 800 people checked in at the AOAA that day. Curran is a member of the newly formed Shamokin Revitalization Committee.
"Those 800 people should have been down here," Curran said. "I think it's going to be the shot in the arm Shamokin needs to be successful."
Bill Bacas owns Coney Island Lunch at 218 E. Independence St. He's in favor of opening access to AOAA riders.
"It's something the city needs," Bacas said. "When the AOAA is open during the summer months, it should be this way every weekend. I think that would bring even more people to town."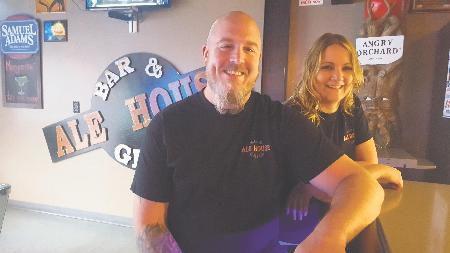 Vehicles can't veer off course. Rules of the road for city streets and AOAA regulations all apply. Also, the route avoids state highways with the exception of crossings at Market. To travel on a state highway, the city and the AOAA would need PennDOT's permission. That may be considered in the future for Route 125.
Successful in W.Va.
The idea is a first for the city but it isn't unique. Zerbe Township allows similar access in Trevorton annually for an AOAA benefit ride.
The incorporation of "Park and Ride" rules for off-road vehicles (ORV) is part of what's made the Hatfield-McCoy trail system in West Virginia a success. Riders can do just that: travel designated public streets, park where permitted and patronize restaurants, gas stations and shops in several ORV-friendly towns including Matewan, Delbarton and Williamson.
Dave Porzi, director of operations of AOAA, said at a place like Hatfield-McCoy, riders tow their ORVs to lodging near a trailhead and often don't touch their on-road vehicles again until they leave town.
"We've been open four years. People often say to us, 'How come this isn't done yet?' … How do you eat an elephant? A bite at a time," Pozi said. "This project is economic development. It's much more than motorized recreation."
The AOAA opened in May 2014. It spans 6,500 acres of forest and reclaimed coal land in Coal, East Cameron, Mount Carmel, West Cameron and Zerbe townships. The park is owned by Northumberland County and managed by the AOAA Authority. Nearly 19,000 passes were sold in 2017.
As many as 1,000 visitors come to the AOAA some weekends, Porzi said. Visitors travel from metro areas of New York, Baltimore and Philadelphia. Without any immediate lodging, they often stay at hotels in Schuylkill County and the areas of Danville and Shamokin Dam.
Porzi added that the visitors AOAA attracts largely follow established rules. He expects that will be the case when riders meet the road in Shamokin. Plus, he added, any rule-breakers will be addressed immediately.
Boost through tourism
When the AOAA was first conceived, the project was one about conservation, controlling access to county-owned land and creating economic development through tourism. Opening access to downtown Shamokin is part of getting those visitors off the mountain and into town to stimulate the economy. Should it work, Porzi said it's possible to expand access to parts of Coal Township and more frequently in Trevorton.
Pat Mack, a member of the AOAA Authority since its inception in January 2013, said "destination riding is what our users ultimately want."
"They want to get on their machine and never have to leave it. We have to do this to compete with the bigger facilities if we want to grow. Also, I think we owe it to our local businesses. It's a struggle for them, I think, to get to our market," Mack said.
For more information about AOAA and Taking it to the Streets, visit www.aoaatrails.com or search @AOAATrails on Facebook.