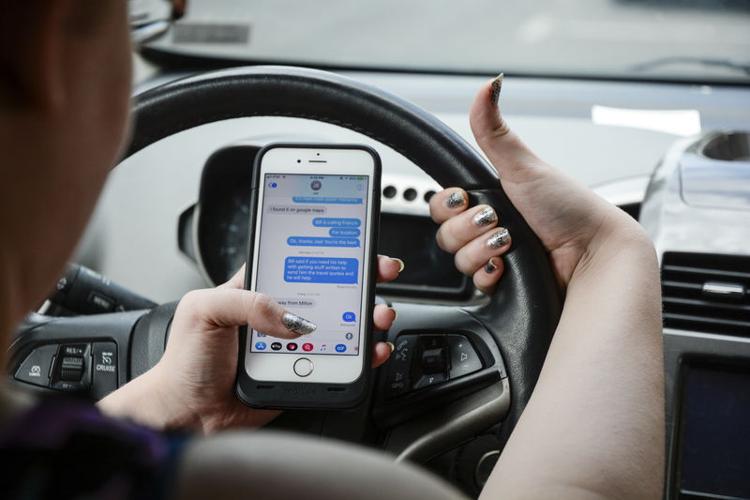 A Pennsylvania law in place for seven years prohibits drivers from texting and driving. 
But some Valley police chiefs say the law has too many loopholes, which makes it difficult to enforce. Several of the chiefs said their departments have issued few, if any, citations for the violation.
That could change under a proposed change to the law that would not only prohibit texting while driving, but forbid use of a wireless device, such as a phone call, that requires use of the driver's hands. Under the proposed change, drivers under 18 year of age would not be able to use any interactive wireless communications device, including one with a hands-free accessory.
Texting includes sending, reading or writing a text-based message, according to the law.
"While the law prohibits certain specified actions, it allows other very common actions, such as making phone calls or operating the device as a GPS," Mahoning Township Police Chief Sean McGinley wrote in an emailed response. "The clumsily worded law even provides people a defense if the device is 'physically integrated into the vehicle.' So, this particular loophole gives drivers who connect their phone to the vehicle via a USB or other tethered charging cable carte blanche to drive while texting, email, etc. 
"Despite seeing dozens of drivers per day holding and manipulating their cellular devices, police simply aren't able to legally stop that person because the requisite threshold to initiate a traffic stop is not met. Quite honestly, I'm surprised police are able to cite as many drivers as they do."
Statewide, the number of distracted driving citations increased by 118 percent, from 2,195 in 2014 to 4,793 in 2018, but the number of citations dipped 5 percent from 2017's 5,054 to the 4,793 last year, according to figures from the Administrative Office of Pennsylvania Courts.
McGinley hopes the proposed changes in House Bill 37 would strengthen the current law.
The bill, which includes among its co-sponsors Rep. Lynda Schlegel Culver, R-108 of Sunbury, states, "Any adult driver of a motor vehicle who holds a valid driver's license may only use the driver's hands to initiate or terminate a wireless telephone call or to turn the handheld interactive wireless communications device on or off."
The bill also allows the driver to enable a hands-free interactive wireless device.
It also states, "No person under 18 years of age shall use any interactive wireless communications device, including one with a hands-free accessory, OR OPERATE A HANDS-FREE WIRELESS COMMUNICATIONS DEVICE while operating a moving motor vehicle on a highway or trafficway in this Commonwealth." 
The new law would increase the fine for violations from the current $50 to $200.
Commercial motor vehicle drivers cannot text or even use a handheld mobile device, under a 2014 state law. The fine for those violations is $100.
'A good idea'
Don Shannon of Sunbury said the proposed change is a good idea.
"I don't use it in the car at all," said Shannon, 55. "If I get the opportunity, I turn it off. I usually don't use my phone when I'm driving."
April Baker, 33, of Sunbury, agreed with the change. She said she doesn't even take a call when she's driving.
"She hands the phone over to me," April's mother, Nancy Baker, 64, said.
"I got two kids," April said. "I don't want them doing it."
McGinley is hopeful the state will pass the bill, which was sent to the House Rules Committee last month.
"While there has been some action on the bill, similar attempts to strengthen our law have run into a brick wall," the chief said. "The truth is that PA's texting and driving law is inept when compared to many surrounding states."
Under the current law, police cannot confiscate the driver's phone, unless they suspect texting led to a serious crash.
Pennsylvania passed a law that took effect early in 2017 that increased penalties for texting violations in certain instances, according to McGinley.
"That law, commonly referred to as Daniel's Law, provided for prison sentences for anyone who caused a crash that seriously injured or killed someone, and when texting was a contributing factor," McGinley wrote.
He said police usually obtain search warrants in those case to examine the phone or obtain records that help establish that someone was texting or messaging at the time of the crash.
"But, police simply aren't going to go through the effort of getting search warrants and engaging in a time consuming investigation for the run-of-the-mill violation of texting while driving," McGinley said.
'Their face is glowing'
Shamokin Dam Police Chief Tim Bremigen agrees with McGinley about the difficulty of enforcing the current law.
"If we see it, we issue a citation," Bremigen said. "We issue more citations for speeding and those types of violations."
He said his department has issued several texting and driving citations.
"If we see something and we make the stop, even though we may not be able to prove that, they may be given a warning for that," he said. "When we were doing the aggressive driving patrol with funding from the state, Buckle Up Pa., those are the violations we are looking for."
He said the texting violations are easier to spot at night.
"That's when we find it little bit easier to see it, because their face is glowing."
Sunbury Police Officer in Charge Brad Hare said the department has only issued a handful of citations in recent years.
"They're hard to do," he said. "If we have a traffic grant, we tend to watch for that." 
"We have issued citations for these violations, but not an extensive amount," said Buffalo Valley Regional Police Chief Paul Yost. "The violation is difficult to enforce, especially when operating a marked police vehicle. We have conducted several operations utilizing unmarked vehicles." 
Danville Police Chief Eric Gill said, "The Danville Police Department has given out warnings for possible texting while driving. No citations that I am aware of."
McGinley, who has been the township's police chief since February 2017, said he reviewed his department's records to check for citations.
"As I suspected, we did not issue any citations for texting and driving over the past year," he said. "However, considering the impotent law we have to work with, that isn't surprising."
Said Hare, "People just need to use their head. If something serious happens, we could get the phone records." 
He added, "If you don't have to be on the phone when you're driving, just don't."