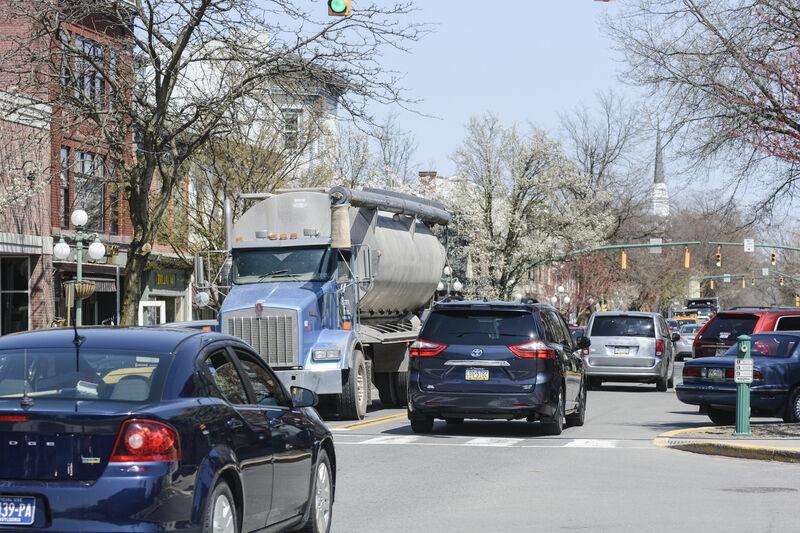 Pollution, for many people, is easy to see and explain. It's easy to see the remnants of a nearby industrial plant or trash tossed aside a highway.
The pollution you can't see — a loud motorcycle revving its motor or oversized vehicles barreling down a main street — is much more difficult to define as pollution. It is there, experts say, and it is impacting the quality of life for many.
As the pandemic has forced many people into the outdoors to dine, for recreation and other outlets, awareness of noise pollution grows. A study conducted by the United States Census Bureau noted that noise is a major concern in neighborhoods and is the No. 1 reason people wish to move.
"Most people do not recognize the negative effects of noise pollution," said Ted Rueter, executive director for Noise Free America, a national non-profit advocacy group. "Most people seem to believe that noise is merely a 'nuisance.' Some people say, 'Oh, it doesn't bother me.' But it does bother their body — whether they realize it or not."
It is a nationwide problem. According to Pew Research, when the U.S. Department of Transportation mapped noise across the nation in 2017, 97 percent of the population was found to be subjected to man-made noise, from traffic and construction work to leaf blowers and lawnmowers.
Some Valley business owners and elected officials are concerned not enough is being done to control what they view as an ever-increasing problem.
Citations for noise pollution are few to none in Valley towns, according to district magistrates and police chiefs.
For some residents, it's just a way of life and for others it goes beyond the level of nuisance.
"I grew up on Market Street in Lewisburg, so I was familiar with trucks, traffic and noise," Lewisburg Mayor Judy Wagner said. "I tend to give a pass, but not everyone feels that way. It is an issue we are trying to deal with. We are always open to good ideas."
Lewisburg resident Kitsie Morris said fumes and loud noise from the volume of trucks make it unpleasant to be outside and eat outside in her town's downtown.
"My husband and I have not eaten downtown since the pandemic started, but we will definitely not eat outside on Market Street even after the restaurants all reopen," Morris said. "The noise and fumes are not inviting."
Morris did recognize that there's no quick solution to the problem
"I am sure that if it were an easy fix, it would have been done already," she said. "Short of redirecting trucks, I don't know what can be done."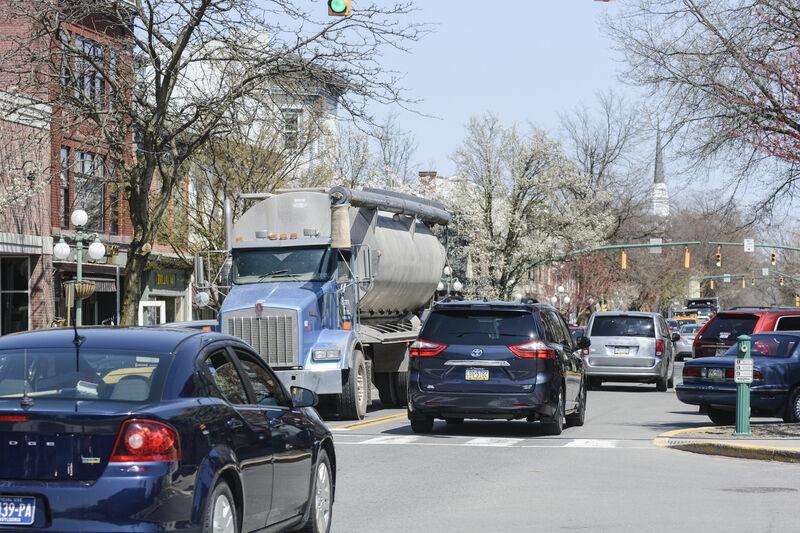 Noise ordinances in Valley
Most municipalities have a noise ordinance that covers everything from loud music to loud engine braking on tractor-trailers in downtowns.
They can be wordy, and as Mifflinburg Mayor David Cooney said, a little vague. Cooney pointed to Mifflinburg's borough code which files noise violations under "disorderly conduct."
"Any person who shall willfully make or cause to be made any loud, boisterous and unseemly noise or disturbance, to the annoyance of the peaceable residents nearby or near to any public street or alley, or public ground in the Borough, whereby the public peace is broken or disturbed or the traveling public annoyed, shall be guilty of disorderly conduct," Mifflinburg's code says.
"That is difficult to understand," he said, which makes it difficult to enforce. There is a fine of up to $100 and related costs.
Sunbury's city code defines noise as "Any sound which disturbs humans which causes or tends to cause an adverse psychological or physiological effect on humans." Code also notes a noise disturbance includes any sound that "disturbs a reasonable person of normal sensitivities."
City Police Chief Brad Hare said he is not aware of citations for noise violations for trucks, vehicles or motorcycles as long as he has been an officer in the past 20 years.
"It's hard to process and we do not have the equipment needed to actually measure it," Hare said. "The city has a noise ordinance but it's a complicated ordinance."
Hare said there is a engine breaking — or "Jake Brake" — ordinance in the city for trucks, but there hasn't been any issues with many trucks driving downtown where the breaking would be needed.
Violators of Sunbury's noise ordinance could be hit with increasing fines: $150 for the first offense, $250 for the second offense, $375 for the third offense, $500 for the fourth offense, etc., not to exceed a maximum amount of $1,000 per incident plus court costs.
In Lewisburg, fines of not less than $50 or more than $300 can be levied, plus costs of prosecution.
In Danville borough, fines go up to $600 and if someone defaults on the payments, there could be a penalty of up to 30 days in the county jail. "Violations can be issued for any noise which either annoys, disturbs, injures, or endangers the comfort, repose, health, peace or safety of others, or to create any unreasonably loud, disturbing and unnecessary noise of such character, intensity or duration as is detrimental to the life or health of any individual or persons within the limits of the Borough of Danville," according to code.
Survey results
In 2019, Lewisburg commissioned a traffic study for its downtown corridor. Part of the study was a 238-page Noise and Vibration report. It sought to compare and quantify "representative sound levels along Market Street," along 10 pre-determined locations.
The report notes more than a dozen types of "noise sources," ranging from traffic along Market Street — which is also Route 45 — passing car stereos, truck traffic, sirens from emergency vehicles and even spring insects like crickets. The report concluded the sound levels were "quite high and were overall much higher than most of the PennDOT ambient background construction studies we have worked on in the past."
Part of a public presentation of the report included survey results of downtown merchants concerning economic impact. Eighty-six businesses were selected for the surveys, namely those dealing on-site with customers such as retail, service and lodging. About half responded. Of those, 67 percent reported that congestion and traffic volume impacted their revenues, while 88 percent received complaints from customers about traffic issues. Safe street crossing, noise spoiling the downtown culture and parking were among such complaints.
According to a noise study, peak volume brought noise levels downtown comparable to that of a construction site or a nightclub with music playing, or about 100 to 110 decibels.
"There is a concern about excessive noise, particularly now that we've reached the season where more people are working to establish dining, outdoor gathering spaces," said Ellen Ruby, executive director of the Lewisburg Downtown Partnership. "It's not a brand new concern, but something we want to revisit with our stakeholders."
Do something
Bob Albin's Tawsty Flower bed & breakfast is located a block off Market Street along Fourth Street in Lewisburg. He also rents rooms at an annex building on Market Street.
Albin said he has had customers request rooms at the inn and not at the annex building, specifically because of the noise.
"We get comments from a number of guests wondering why we tolerate it, why does the town tolerate it?" Albin said. "What I would say is that it's seriously hampering the downtown experience. We have a peaceful little downtown, but on any given weekend, it's a racket."
Mike Molesevich, an environmental consultant who lives just off Market Street, said citizens have the right to clean air and clean water. Noise pollution falls into clear air, he said.
"It's just a constant barrage everywhere you go," he said. "On a nice Saturday or Sunday afternoon, it's just a constant barrage, motorcycles, souped-up cars. But it's a low priority for people. It's like we are picking which laws we are going to enforce. You are more likely to be pulled over for not having a taillight than not having a muffler."
Ruby said LDP members have voiced concerns to her about a lack of action. LDP has worked with Lewisburg borough officials and the Buffalo Valley Regional Police department about what steps to take to accommodate businesses and customers.
"There is a desire to explore if we have options to try and reduce the noise," Ruby said. "At the borough level, there is talk about acquiring some equipment. A lot of what we talked about is 'what do we already have in place,' and 'Are we doing everything that can be done?'"
Wagner acknowledges enforcement and accommodations remain a work in progress, but borough officials say they will do whatever they can to improve the experience for those working, shopping, eating and visiting downtown Lewisburg.
"People really enjoy sitting outside and we are going to make our outside presence even greater," the mayor said. "We are going to add more bistro seats and make it attractive for people to be outside. Route 45 is in the middle of town, it is an issue. We live it, but if we can think of better things to do, we will do it."
For BVRPD chief Paul Yost, the confluence of Routes 45 and 15 inevitably means heavy traffic in the center of his jurisdiction of Lewisburg and East Buffalo Township.
While many use the highways to pass through to other areas, Lewisburg is also a destination, especially for bikers, one of the top reasons for increased volume. Yost, who rides motorcycles himself, said you rarely see one motorcycle at a time.
"Lewisburg is a vibrant downtown, we see a lot of events which has made Lewisburg a destination place for bikers," he said. "After the last year, they want to get out in the fresh air and they are looking for a destination. So you might see 10-12 bikes a time, but that doesn't mean what they are doing is illegal."
"If you can hear it more than 50 feet away, it's a violation," Molesevich said.
Not many complaints
Northumberland and Mifflinburg boroughs both went through multi-year road projects over the past decade.
With those projects came traffic detours and noise. Mayors Dan Berard in Northumberland and Mifflinburg's David Cooney said things have quieted down since then and they hear little from residents about the noise.
"Our businesses on Chestnut Street (Route 45) are accustomed to it, it's been going on forever," Cooney said. "I haven't heard any complaints. We do get a couple along Route 304. But for the most part, we deal with it."
The Duke Street Reconstruction project lasted more than two years in Northumberland. It led to trucks being detoured off Route 147 and onto smaller streets, which did lead to some conflict in the borough.
Since the project has completed, Berard said residents have been muted.
"A year or so ago, I got a letter from a guy who wanted us to start giving tickets out for motorcycles with loud pipes," he said. "With all the inconveniences on us and residents, for the most part, residents put up with it as a necessary evil. Noise pollution is in the eye of the beholder.
"If you like to complain, this gives you something to complain about."
That isn't how Molesevich and others view it. They would like to see a more proactive approach from elected officials and law enforcement
"In my lifetime, I don't remember it being this bad and it's not getting any better," he said.
Daily Item reporter Francis Scarcella and The Associated Press contributed to this report.