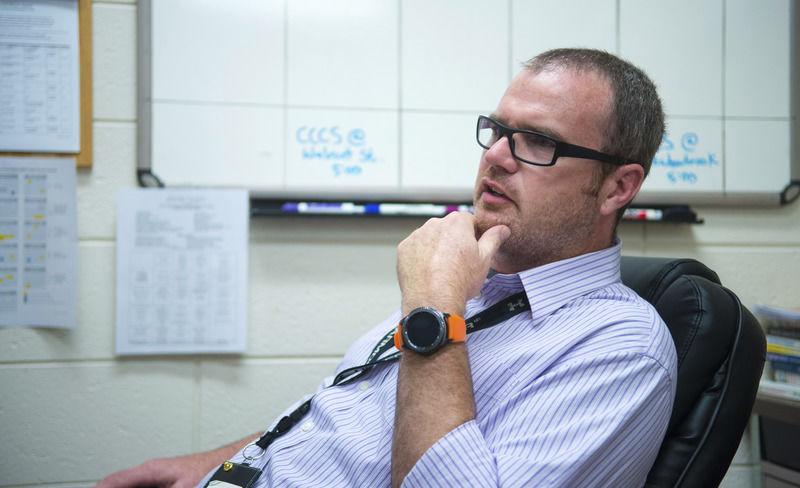 The role of school guidance counselors continues to evolve, in part, because the experiences the students go through in and out of school evolve.
As in the past, guidance counselors today are primarily focused on students' academic achievement and career planning, with social and emotional development becoming additional critical responsibilities of the job. 
Several Valley schools have hired additional mental health professionals this year to help counselors. Over the past year, Line Mountain has brought on five new professionals: One mental health professional, two behavioral health workers and two social workers. Midd-West hired a mental health professional in the wake of two student suicides last spring.
"I never could have anticipated how my profession has changed over the past 10 years," said Aaron Slusser, a Milton Area Middle School counselor, with 13 years experience. "When I was in high school I didn't even know my guidance counselor until my senior year. The focus back then was on career planning. That responsibility hasn't changed much over the years, and there is still a focus on academics. But what has changed now is a strong emphasis on student safety and recognizing risky behavioral issues."
If you go to almost any school district around the state or nation, said Mark DiRocco, executive director of the Pennsylvania Association of School Administrators, administrators will tell you priorities are safety and mental health of the students.
DiRocco, a former Lewisburg Area School District superintendent, believes there has been a tremendous shift in responsibility, "in that we know that more and more children are coming into school with either documented or observable behaviors that could be at risk to themselves or to others," he said.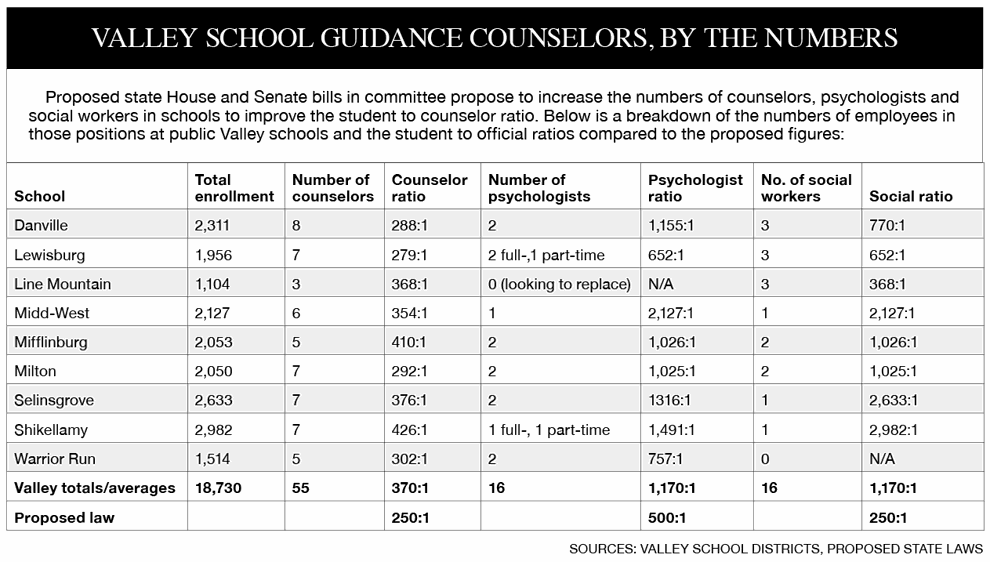 "Just the sheer numbers of requests for evaluations and concerns expressed by staff members or parents has skyrocketed over the last decade," DiRocco said.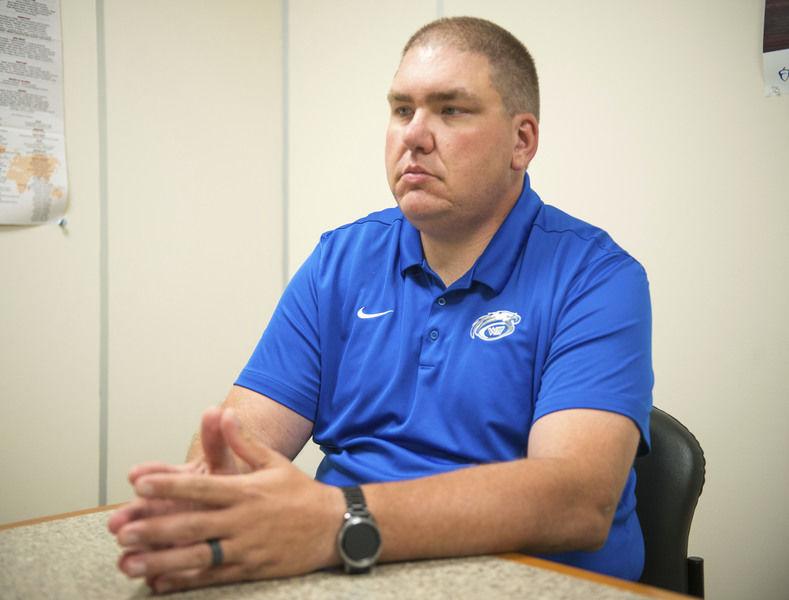 It all changed
Chris Long, a Warrior Run High School counselor with 18 years experience, said everything changed after Columbine in 1999 and the Sept. 11, 2001, terror attacks.
"I never thought I'd see the day when we would have police officers — school safety officers — roaming our hallways," Long said. 
This is a generation of kids that have grown up with school shootings, DiRocco said.
"I didn't. I'd never even heard of things like this when I was growing up," DiRocco said. "It wasn't a concern of ours. We didn't go to school thinking that someone could come down the hallway at any given moment and start shooting."
Today's students have grown up with that concern hovering above them, he said, "although I don't think this is in their thought process day in and day out. It is lingering in the background because it has happened so much and it is so prevalent in the media."
David Campbell, Line Mountain School District superintendent, doesn't think the trauma that kids have to deal with today has changed much over time. "I do, however, think there are more and more kids who have experienced some form of trauma."
Students today exist in an environment of locked doors and classes outfitted with devices to bar doors to keep them from being opened from the outside.
"And active shooter drills. We just had one last week at Milton. It's more a norm now," Slusser said.
New skill sets
Guidance counselors today come to their job with certain skill sets that they might not have had or needed 10, 20 years ago and that is because kids' needs change over time, DiRocco said.
"That is the one thing that public schools have always been asked to do," he said. "Respond to whatever the issues are in the greater community and the greater society. Because our public schools are really a reflection of society. The issues come into the school and then they manifest themselves there. The district is then asked to respond to them in the best way possible."
You also have students reaching out, usually to their friends first, seeking help, DiRocco said. "You have a lot of those same friends worried about some of their friends and don't know who to go to, or to report it to," he said.
Selinsgrove School District Superintendent Chad Cohrs agrees that "we are seeing students enter our doors with more and more issues. I think some of that is attributed to early programs like pre-k and early intervention programs, in which kids are identified sooner. The school system is charged with helping to meet those needs in a school setting. That has really put a new demand on our school counselors."
These responsibilities mean counselors are constantly learning new things, and it's not just counselors. Social workers, school psychologists, and teachers are expected to work as a team, documenting issues that might arise.
"There was a day in a school district you'd never see the school psychologist or a social worker unless a student is being evaluated for something," Slusser said. "Now they are becoming more visible. There is no more working in silos anymore. In Milton, we have counseling team meetings once a month. As a team, we work on things that will benefit every student in the district."
Counselors can't do everything alone, Slusser said. "You have to get your teachers onboard because they are the ones with the students every day. So, some of the stuff that is coming in, requires social-emotional training. We are being trained on things to look for, things to watch out for. Telltale signs. Even getting community agencies involved."
"You can't be afraid to do a referral for community services or therapies either," he said. "Anything that will benefit the family is relevant."
Bringing in experts from outside agencies into the school to work with the psychologist, social workers, counselors and teachers is the norm.
"All of our teachers have to go through suicide prevention training," Slusser said.
Social media
Social media is a tidal wave that schools are having to deal with, Slusser said.
For Long, learning about social media was made easier by having school-age kids of his own.
"So much goes on outside of school," he said. "Things happen that we're not even aware of. But those issues are sometimes played out in school."
Slusser agreed, saying a lot of what happens on social media makes its way to his school.
"If it is a social media issue ... sometimes a student will come to us directly and say they are having an issue with a person or a group," Slusser said. "Parents will call us and say this person is saying this on social media. ... Whether SnapChat, Facebook, Instagram — social media is something we, as counselors, have to wade through quite a bit."
Guidance counselors will often field calls from parents about online bullying, expecting them to have authority.
"Parents will call us and say, 'this weekend so-and-so was bullying my kid on Instagram.' OK, what did you do as a parent?," Slusser said. "There is a lot of handing off of responsibility. Many times we'll tell parents, if it is an issue that is happening outside of school, you have to get law enforcement involved. I don't have jurisdiction over Facebook and what is said on that platform.
"Many issues come up because parents want us to do the parenting. They want us to be the bad guy."
School counselors are the unsung heroes of a school district, said Campbell. They have to work with students as they take their state tests. They write recommendations. They prepare grades to be sent to colleges. And then, above all that, they have these behavioral responsibilities.
"They have an incredibly full plate," he said.