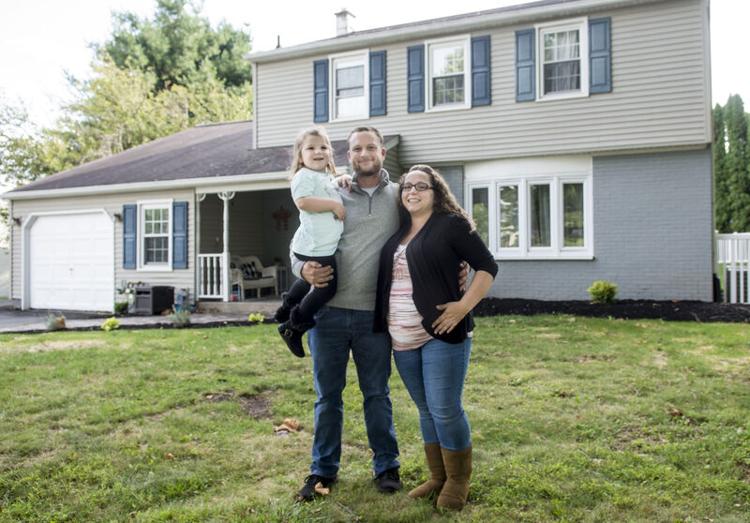 The Dull family put down multiple offers on multiple houses across the Greater Susquehanna Valley over the last few months, but faced fierce competition each time.
Northumberland borough residents Chad and Ashley Dull, who have a 3-year-old daughter Peyton and a daughter due in November, said they toured "countless homes" in Lewisburg, Northumberland, Selinsgrove, Shamokin Dam, New Columbia and other towns but they were outbid any time they made an offer.
When they finally had one accepted on a home in Shamokin Dam, it came after a swift tour, with a house only two days on the market. They made an immediate offer, and wrote a heartfelt letter to the sellers about why they loved the home.
"I was getting discouraged again and again," said Ashley Dull, 32. "It felt like we wanted to give up (before the offer was accepted)."
Their story is a similar one in the world of real estate in 2020. Many buyers are touring multiple homes, according to Realtor Aimee Buehner, associate broker of Bowen Agency Realtors and president of the Central Susquehanna Valley Board of Realtors. Sellers are grateful for the quick sales.
"This is absolutely the busiest I've ever been," said Buehner. "I would say in the 12 or 13 years I've been doing this, I have not seen a market like this one."
RE/MAX LLC, a global real estate franchisor, reported that July home sales jumped 8.7 percent despite low inventory, halting a streak of year-over-year monthly sales declines in April, May and June triggered by the COVID-19 pandemic.
July was the best month in the report's history.
It set a record for most home sales in any month among the report's 53 metro markets. Seven months into 2020, home sales are just 4.8 percent below 2019, compared to the end of May when the year-to-date total was 8.9 percent behind last year's pace. Monthly sales in 2020 have exceeded 2019 in four out of seven months thus far, according to RE/MAX.
Low-interest rates
A combination of historic low interest rates and a lack of inventory over the last 12 months has created "a textbook seller's market," Buehner said. "Buyers are in a position to look quickly and act quickly and many properties are going under agreement in a very short period of time with multiple offers."
The lack of inventory has been described nationwide. People are staying in place longer, some are moving in with family members and homeowners have not been selling, she said.
"That was a bit exaggerated because of the pandemic," said Buehner. "People realized where they live is not adequate for working from home, which has become a reality for folks. That's a big part of it."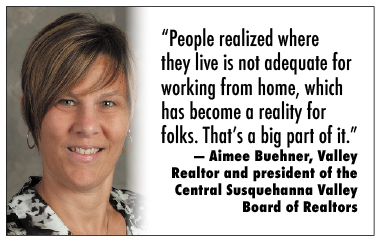 Ann M. Hilliard, broker and owner of RE/MAX Bridges in Lewisburg and Watsontown and RE/MAX River Valley Realty in Northumberland, said the market is "crazy."
"Certain price ranges are literally flying off the market," said Hilliard. "I've got buyers I'm working with that are in that $150,000 - $225,000 price range. I schedule showings on new listing on Tuesday for a 7:30 p.m. showing Wednesday and receive notification that no more showings after mine and all offers being presented before noon on Thursday."
Buyers are offering over asking price, sometimes as much as $20,000 and still not being successful in their quest to purchase, she said.
"We are seeing historically low interest rates," she said. "I work with mostly local lenders and they're at 2.4 for a conventional rate. That's unheard of."
Appraisers are booked out four weeks, she said.
During the March shutdown to curb the spread of the coronavirus, Gov. Tom Wolf ordered the closure of all nonessential businesses in an effort to slow the spread of the novel coronavirus. That included real estate companies until May.
"With all of that said, we are in some ways behind where we would have been had we not been shut down during COVID.   We were classified as nonessential and were not permitted to conduct any business activities during what is normally our busiest listing time," said Hilliard. "It's a catch 22.  Sellers aren't putting their properties on the market because they can't find something to buy so there is a pent up demand by buyers because there's nothing to buy."
Buehner said prior to the pandemic, people who were looking but couldn't find anything were forced to wait. Now there's a surplus of buyers and a lack of properties for sale. "Sprinkle in the historically low mortgage rates and here we all are," she said. 
Ashley Dull, who graduated from Shikellamy School District, said she and her husband of five years are scheduled to close on the new home on Oct. 9 and she is thankful for Buehner, as well as the suggestion to write the letter to the seller. It's the couple's first home together after being together for nearly a decade.
"We weren't expecting how competitive it is in Northumberland to buy a house," she said. "It's such a process. It's the most emotionally exhausting experience for sure."
Adam Contos, RE/MAX Holdings CEO, said in a statement that buyers have returned to the market more quickly than sellers, likely spurred on by those historically low interest rates and coronavirus-inspired lifestyle changes.
"Home is the center of life in 2020, and the pandemic has caused people to reconsider their living situations — especially with so many people working from home," he said. "So far, buyers have shown they are willing to pay steadily increasing prices, so the months ahead could be very active, especially if more homeowners decide to jump in and sell."
House shopping for months
Renters Cierra Gross and her fiance Wyatt Hoffman, of Selinsgrove, have been house shopping since January and have expressed frustration in their experiences.
Gross and Hoffman say they have toured at least 10 homes in Snyder and Union counties. In one instance, they were interested in a home in Selinsgrove and were scheduled for a showing the next day but got contacted that the owner already accepted an offer.
"It is frustrating but I enjoy going to showings," Gross said. "You almost have to put an offer down right at showing or you might lose the opportunity to buy it."
She added, "You really gotta jump on a house if you're interested or it will be too late."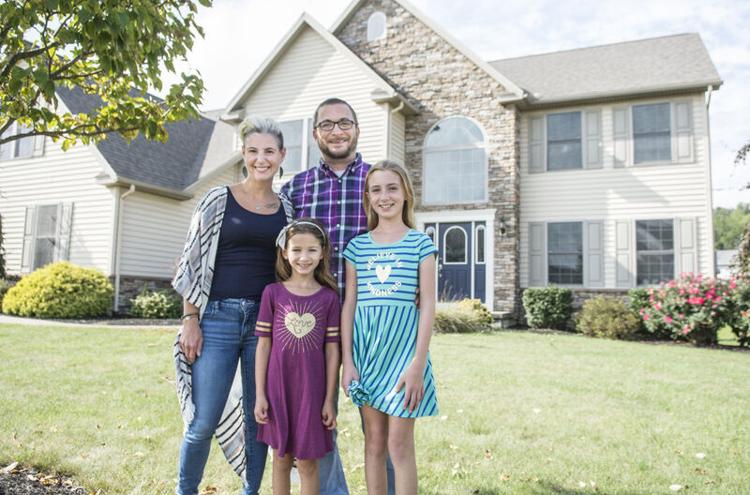 Geoffrey and Deborah Shaffer and their two daughters moved from Penn Township to Monroe Township. They made an offer in December, agreed on the sale of the old house and closed on a new house in January, closed on the sale of the old house in February and finished the mortgage process in July.
Since the Shaffers were buying a house before they sold the old house, they needed to do a bridge loan. It was a short-term interest-only loan that paid off their mortgage on the old house and allowed them to buy the new house. Once the old house was sold, they had to transition that bridge loan into a conventional loan, said Geoffrey Shaffer.
"The biggest problem with the pandemic was the first larger bank wanted to send somebody into our home to do the closing," said Geoffrey Shaffer. "That was pretty early on into the shutdown so there were a lot of unknowns and it wasn't something we were comfortable with. With people losing jobs, buying a new house was a little nerve-racking, but we were pretty much at the finish line by the time everything got really bad."
The basic process of selling and buying a house was "daunting" and they switched from a national bank to a local bank, meaning it took longer to finalize everything. He said COVID-19 likely played a part in delaying the process.
"This is our third home," said Shaffer. "The biggest difference was when we bought the second home, we had a buyer on the first home. We were also very fortunate that we were able to schedule the closings for those two homes on back to back days so we took the proceeds from our sale one day to the purchase the next day. We had it worked into our agreements, both times we sold, that we had a set amount of time after closing to move out.
'Roller coaster of uncertainty'
Kelsie Murray and boyfriend Tyler Jenkins, of West Milton, have been house hunting since the beginning of the year. Once COVID hit, they stopped and started saving more money for a downpayment. By the end of July, they started looking for properties again.
They said they went on 20-plus showings in a 35-mile radius and found a house in West Milton. They went to see the house, put an offer in and had the paperwork signed within a week, said Murray.
"Our fear was not being able to sell our townhouse and being stuck paying two mortgages," she said. "Fortunately for us, the townhouse was posted by TEU Real Estate Corporation on Friday, Aug. 21, and had two showings the following Wednesday and the first person that saw it put in an offer in that same day."
Murray said they are "beyond grateful" the property sold so fast, but it was a "roller coaster of uncertainty."
"Overall, I am thankful that the process went as smoothly as possible and as quickly as it did," she said. "I do, however, understand people who are apprehensive to buy right now due to the uncertainty of the economy during the pandemic. I am not sure If we would have made the same decision if Tyler and I were not considered to be essential workers and our incomes were not affected during shutdown."
Murray first's purchase of a home went much differently.
"I was surprised," she said. "It seemed like it took a year when I originally purchased the townhome I was in. But this time everything went very quick."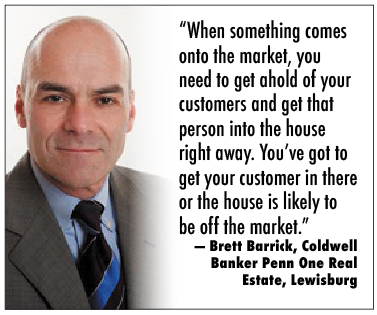 Other Realtors agree
Brett Barrick, a Realtor and vice president of Coldwell Banker Penn One Real Estate in Lewisburg, said he has not seen such a busy extended period of time since he started as a Realtor six years ago.
"From May on, it's been non-stop," said Barrick. "It's not because of a ton of listing, it's because you're doing it more than once with buyers. When something comes onto the market, you need to get ahold of your customers and get that person into the house right away. You've got to get your customer in there or the house is likely to be off the market."
Many buyers are met with multiple offers and homes go under agreement within a day or two of being listed, he said.
"There were eight-plus weeks of pent up demand that got released in May," said Barrick. "People weren't showing, they weren't posting, and then it was May and all of a sudden — bang — all these people who were sitting around wanting to buy a house are now doing it."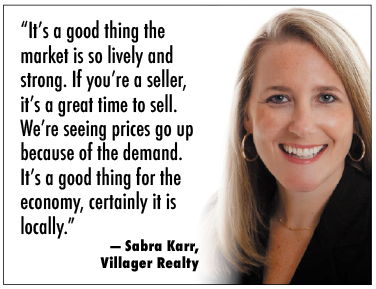 Sabra Karr, an associate broker for Villager Realty, agreed with Barrick and Buehner about the state of the real estate market. As a director of the Pennsylvania Association of Realtors, Karr said the "situation is everywhere right now."
"It's a good thing the market is so lively and strong," she said. "If you're a seller, it's a great time to sell. We're seeing prices go up because of the demand. It's a good thing for the economy, certainly it is locally."
Buehner and Barrick said they haven't had any one specific trend of people right now, but Karr said she has been in contact with interested buyers from outside the Valley looking to move from more populated areas to the rural parts of the Valley.
Such interest isn't necessarily new, she said. With Geisinger and Evangelical Community Hospital and the state and federal prisons nearby, Karr said buyers come from out of the area and help keep "our real estate market very strong."
Buehner said some buyers are compromising on their priorities but others are keeping their expectations.
"It can go either direction," said Buehner. "People are realizing that not all the boxes will be checked and cosmetic things will be the first box that they don't have to check. On the other hand, if they are paying top dollar for these properties, their expectations still exist. It's a fine balance."
If they want a house, they might be willing to make compromises, but it depends on the priorities of the buyers, she said.
Current challenges
While Realtors were allowed to list properties during the pandemic shutdown, they were not allowed to show properties. Some Realtors had agreements signed during the shutdown that were contingent upon viewing the home.
The challenge now, in a post-shutdown market, is making sure sellers know how quickly the process will move. That means making sure that sellers have a place to move to, having buyers pre-approved, able to make decisions quickly and in a position to be competitive, Buehner said.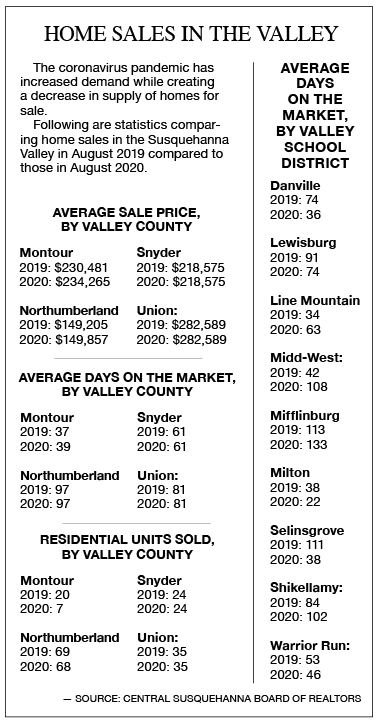 Barrick said COVID-19 has created more paperwork, such as health and safety acknowledgments, as well as a need for contact tracing to ensure that they know who was in the house and when. If a potential buyer tests positive for COVID, the buyer must be made aware.
Attorneys are also having trouble with court records because most courthouses require appointments to come in now for legal documents, said Barrick.
Will it last?
Realtors said it's hard to predict how long the market will remain as it is.
"I don't see an abrupt end in the near future," said Buehner.
Karr said she is confident the interest rates and inventory will remain low for the remainder of the year and into next year because of the demand.
"I believe it will," she said. "I don't have a crystal ball, but that's my assumption. That's what we're facing ahead."