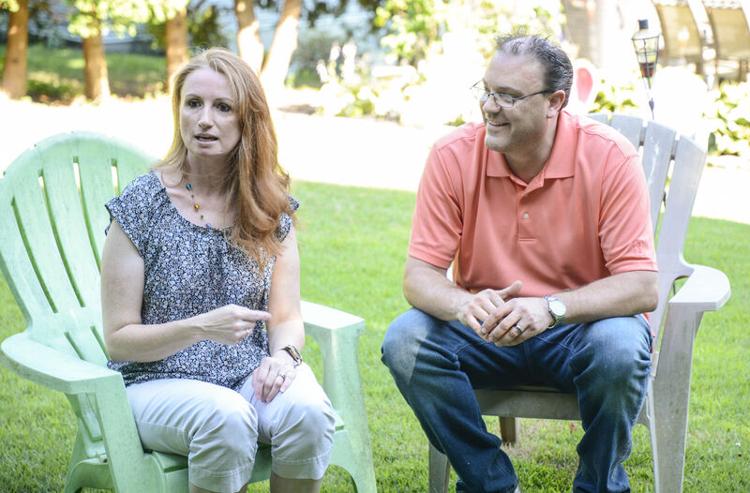 Cathy Shaffer is conflicted about sending her 12-year-old daughter to Selinsgrove Middle School next month.
"This is all so unfamiliar," the Monroe Township mother said of schools reopening while the COVID-19 pandemic continues. "I do want Laci to be in school. She's a very social girl and does better with structure and being in a classroom with teachers. But I want her to be healthy."
Health and safety is a concern of parents, students and educators across the nation during the pandemic as a new school year nears. 
Valley education officials have been working steadily since Pennsylvania schools shut down in March to come up with a plan to safely reopen schools in the 2020 fall semester. 
Each district is required to develop its own reopening plan and administrators have been getting guidance from the Central Susquehanna Intermediate Unit, local health professionals and parents.
The end result is a hybrid of learning options, from in-class instruction with face masks and social distancing required, virtual classes, online learning and cyber school. 
Classrooms will look different for students and teachers, said Joseph Stroup, director of curriculum and instruction at Midd-West School District.
To enable students and teachers to stay six feet from one another and allow students to remove face coverings in the classroom, he said, shelving and other items will be pushed to the wall or removed.
Many will require elementary students to eat lunch in their classrooms, with older students having lunch in cafeterias set up with additional tables or other rooms.
Recess, physical education and extracurricular sports will be offered while the state is in the green phase but details are still being worked out at each school.
Mask-wearing — both pro and con — has been a major concern for the parents while transportation is the biggest, and most costly hurdle, for the districts.
While Sherry Blazer's 14-year-old daughter doesn't like wearing masks, Blazer said, she will return to classes at Midd-West in August even though the district is giving students the option of being in school, learning remotely through virtual classrooms, online or cyberschool or a mix.
The district will provide masks or clear face shields to students each day at a cost of between 67 cents and $1 per mask, said Stroup. 
Most Valley schools are asking parents to help out with transportation, since there is no option for social distancing on buses and all riders will be required to wear masks. Adding more buses to the schedule would be too costly, administrators said.
Rich Askey, president of the Pennsylvania State Education Association, said the U.S. Congress should allot $175 billion nationwide to help school districts.
"We need to really focus on making sure, if they're going to open, they're going to open safely," Askey said. "And everyone has to feel like every resource is there, every plan is there."
Chris Snyder, president of the Midd-West Education Association, said everyone is working to ensure safety is the priority.
"The staff is concerned about everyone's safety but knows it is essential to get back to learning this fall, safely and with respect to individual needs," he said.
The Daily Item talked to several teachers and staff members about reopening plans at their schools, many did not want to go the record with their responses but three from Oaklyn Elementary School in the Shikellamy School District talked about the anxiety, excitement and uncertainty of the moment.
"In my 23 years of teaching this is unchartered territory," Ron Pratt, a first-grade teacher at Oaklyn Elementary School said. "We have never experienced anything like this so I am not really nervous but I think it is more that we all have to be flexible. The flexibility factor in this is important. We all want to get the kids back to having things as normal as they can be as opposed to the last few months I am excited to be back in a brick and mortar setting as a teacher but the key is we all have to be flexible."
Betsy Grimm, a 4th grade science teacher at the same school said she is also a bit nervous but excited to return to the classroom.
"I am excited because i like being in person face to face but I am nervous for the safety of all of us," she said. "Every precaution has been taken but the rules change so often. We are all hoping for the best and we will roll with it."
Bill Zeigler, a fifth-grade teacher, said he is excited about resuming face-to-face instruction.
"I can't wait for the first day of school to arrive," he said.
Zeigler also said he is a bit nervous with COVID-19 cases still rising.
"I'd be lying to say a little part of me isn't nervous," he said. I know every precaution will be taken to keep our students and the staff healthy, but regardless I'm anxious and excited."
Schools in the Valley will be relying on parents and students to monitor the health of students before sending them to school each day. Students that become ill during the school day will be isolated until a parent can pick them up.
Shaffer said she'll decide, with input from her 12-year-old daughter, how the seventh-grader will receive an education once all the options are presented in the Selinsgrove school district.
"I need to see a concrete plan from the school," she said,
Those will be available during the next couple of weeks as school boards approve individual district reopening plans.
Danville
A mix of in-school and remote learning or strictly online education may be offered to Danville Area students. The board is scheduled to vote on the plan Wednesday.
Under the back-to-school plan, Danville Area school administrators unveiled last week, elementary students in kindergarten through fifth grade would attend school five days a week, while secondary students in sixth through 12th grades would attend four days a week in school and have one day of virtual learning, said Middle School Principal David Snover.
Students also would have the option to enroll in the "Bridge/Hybrid Model" that involves assigning students a Chromebook with access to other instructional materials. The instruction they receive from district teachers will mirror the instruction students are receiving in school and serve as a bridge from home instruction to school instruction, or vice versa. 
Students coming into the schools will have temperatures taken, wear masks and practice social distancing.
The district's e-learning academy will also be a choice and expanded to include students in kindergarten through fifth grades.
The Danville school board will vote on a plan Wednesday night. Parents are encouraged to respond to a survey posted on the district website by 3:30 p.m. Monday. Nearly 500 parents, or 52 percent of the respondents so far, prefer in-school instruction and 60 percent favor a return to classrooms if mask-wearing is mandatory.
Lewisburg
Students in Lewisburg will attend school five days a week with one early dismissal on one day to allow for more extensive sanitizing and cleaning.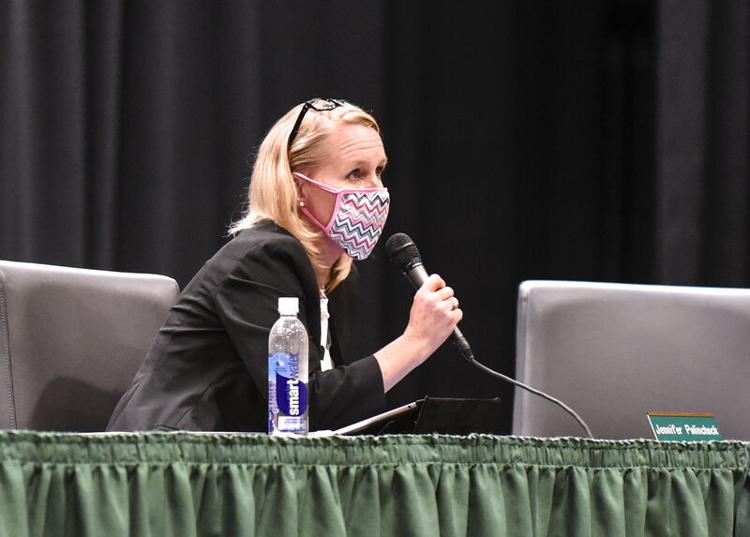 "We have decided not to do a hybrid, half the students here, half the students there," board president Jordan Fetzer said. "The reason for that is to help parents. If someone needs daycare and we have students here one day and not another it can complicate things more than they already are."
Because of the uncertainty, the district expects it has to be fluid. New Superintendent Dr. Jennifer Polinchock focused on options available to students in her report. Students who choose to enroll in Lewisburg's e-school, which the district partners with CSIU to offer, will find a different environment from the abrupt way districts had to go online to end last year. 
What online learning looked like in the spring "is not what it is going to look like in the new school year," she said. "We've had months now to prepare for it. We have a plan A, plan B and so on.
The school board will vote on a final plan at a special meeting. A date has not been set.
Line Mountain
The Line Mountain School District will provide its school reopening plan at its July 28 board meeting. The first day of school is scheduled for Aug. 17.
The proposed plan will be on display for two weeks and be up for discussion before the first day of school.
The district will develop a screening process for all staff and students each day using a tiered approach where most screening occurs at home and is reported through a system. Attendance policies for students and staff will be flexible to encourage anyone feeling ill to stay home.
The district will physically distance students and staff as much as facilities allow and limit or adjust procedures and activities where physical distancing is difficult, Superintendent Dave Campbell said. Students and staff will be required to wash their hands with soap and water or antibacterial gel thoroughly and often, he said.
All fall sports and band are on the schedule while the county remains in the green phase, said Brad Skelton, the dean of students and athletic director.
Midd-West
Midd-West School District held four public meetings at each of the schools to outline its proposals, which include variations based on whether the state is in the yellow or green phase of the pandemic. The 60-minute presentations were followed by question and answer sessions.
Like most other school districts, Midd-West is offering in-class, virtual and hybrid learning options for students. A copy of the slideshow presentation used during the meetings is available on the district website at https://www.mwsd.cc/article/268783?org=mwsd.
Family survey results are included in the presentation, showing most of the respondents (68.2%) are most concerned about students having to wear masks.
The school board is expected to vote on the plan Aug. 10 and the first day of school is scheduled for Aug. 24.
Mifflinburg
Exactly how Mifflinburg schools plan to resume in-person instruction will be made public when administrators present details to school board directors at a 7:30 p.m. meeting on July 28. The first day of school is Aug. 20.
Superintendent Dan Lichtel said the district is focused on returning to classrooms but that hybrid learning could be a contingency. Like other schools, the district also licenses a cyber option with a curriculum independent of the district's but that mirrors the education and allows for participation in extracurriculars.
Returning in-person centers around three components: enhanced cleaning, sanitizing and disinfecting practices; screening and monitoring student and staff health; social distancing, masking and hygiene practices.
Lunch will be served in cafeterias, classrooms, gymnasiums and other spaces and with smaller groups to spread students out.
"We are working very hard at attempting to get into the fall and the regular school calendar as normal as possible," Lichtel said.
Cost will be a factor, Lichtel said, but grant opportunities exist through federal and state agencies that could help offset the cost of personal protective equipment, hand sanitizer and thermometers.
Milton
The Milton School board will review the reopening plan at Tuesday's public meeting.
Developed with the aid of nearly 640 families and 205 district employees who responded to surveys, Superintendent Cathy Keegan said, "Inclusion of a diverse group of stakeholders is critical to the success of planning and implementation."
Whatever plan is adopted, she said, it will remain flexible depending on the state's executive orders and based on local COVID-19 cases.
Mount Carmel
Mount Carmel Area Superintendent Peter Cheddar said a learning community survey is available on the district website as well as a presentation of the reopening options that include in-person, online or virtual learning or a combination.
"I believe there is a realistic possibility that we will be completing all three at some point during the 2020-2021 school year," said Cheddar. "Our administrative team is planning out all options so we can move back and forth between all three in a short notice and based on new guidelines due to the COVID pandemic."
Selinsgrove
Selinsgrove School District will unveil its plan this week followed by a board vote on Aug. 10, said Superintendent Frank Jankowski.
Officials are still digesting the result of two parents surveys that were filled out by more than 1,100 families, he said.
Those responses, combined with recommendations by the Center for Disease Control and Prevention and the Pennsylvania Department of Education will be key in how Selinsgrove opens school on Aug. 19, Jankowski said.
Shamokin
The Shamokin Area School Board will adopt its plan Tuesday and district parents are invited to respond to a survey, posted on the district website, about the options available.
Three options — a return to in-classroom instruction, remote learning and a hybrid — are on the table, said Superintendent Chris Venna.
"We may be doing all three at some point during the school year," he said.
Shikellamy
At a meeting Thursday night, Shikellamy unveiled its starting plans, acknowledging that the district will adjust monthly based on COVID-19 cases and changes to state and national guidelines.
The district will allow parents to choose between in-class or virtual academy options.
The 53-page strategy outlines some common practices that will meet CDC and state guidelines, like constant sanitizing in high traffic areas, face mask requirements when six feet of social distancing is not possible and having students bring their own water bottles to school.
Some of the highlights in the 53-page plan include constant sanitizing in high traffic areas, requiring face masks when the recommended 6 feet of social distancing is not possible, and having students bring their own water bottles to school.
The district also plans to equip sneeze guards on desks and have students eat staggered lunches, during which they won't be allowed to serve themselves. 
The complete plan is available on the district's website https://shikbraves.org/. Parents are being asked to complete an updated survey.
Warrior Run
The Warrior Run School District school board will hold a special meeting at 6 p.m. Monday in the Middle School auditorium and through Zoom to present the district's reopening plan for the 2020-2021 school year. 
The board will vote on a final plan July 27. 
"We sent a survey and received 690 responses representing over 1100 students, or nearly 75 percent of our student population," said Warrior Run Superintendent Alan Hack. 
Survey results show 61.5 percent of respondents are considering sending students back to school in the fall with safety protocols in effect; 15.2 percent of respondents are considering a combination of in-person and virtual learning; 3.8 percent online learning with Warrior Run teachers; 2.5 percent Warrior Run Cyber; 1.6 percent homeschooling; 4.7 percent selected 'other' and 11 percent are unsure.
"Our reopening plans will continue to be flexible and adjust according to the conditions and needs of our community," Hack said.
Other parts of the state
In other parts of the state, school districts are tackling the challenge of reopening in different ways.
In Crawford County, Penncrest Superintendent Timothy Glasspool said the district will ask parents to screen their students before coming to school, performing temperature checks or checking for any signs of symptoms. Any student feeling sick or unwell is asked to stay home.
"We cannot stress this enough," Glasspool wrote. "Schools will be flexible with the number of student absences."
District employees will screen themselves before coming to work. Daily temperature checks will occur for students and staff, and anyone who becomes symptomatic during the school day will be isolated.
Jarrin Sperry, superintendent of the Conneaut School District, said testing students daily is not feasible.
"Logistically, I just don't think that's possible," he said, describing a potential bottleneck of students at the school entrance waiting to have their temperature taken. "We'll have to rely on students and families reporting if someone is ill."
Seton Catholic School in Meadville has worked closely with local school districts in crafting its safety plan for COVID-19. Despite having fewer students than public schools, at only 135 students spread out across nine grade levels, Seton Principal Christine Hess said the school is taking the safety of students very seriously.
"Our concerns are definitely for the health and safety of our students and staff," Hess said.
The Catholic school has not yet released its full safety plan since it is pending approval from the Diocese of Erie, but Hess said temperature checks will be done of any student who becomes ill at school.
Hess said there has been some discussion regarding pre-screening students before letting them into the building, and the school may ask parents to perform temperature checks at home before bringing their kids to the building. The school will also be encouraging parents to keep their kids home if they feel even slightly sick.
With additional reporting by The Daily Item staff reporters Rick Dandes, Francis Scarcella, Eric Scicchitano, Justin Strawser and Joe Sylvester and Rick Green of the Meadville (Pa.) Tribune.