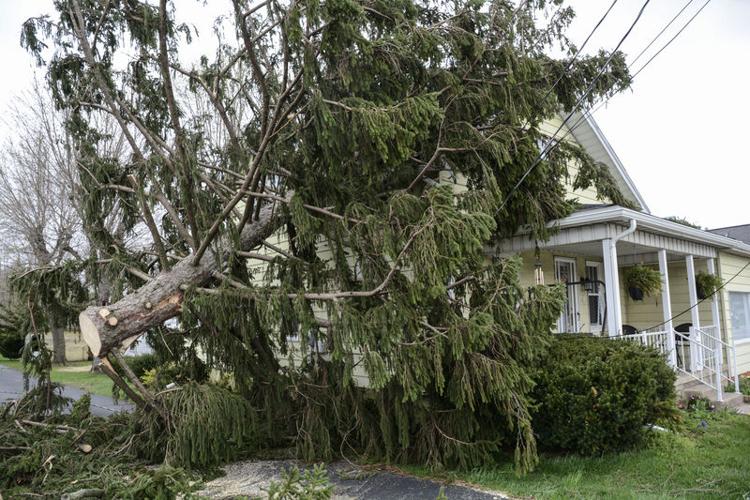 The tornado that swept through Union County last week was the first in the Valley since July 24, 2017, and the 29th since 1950.
National Weather Service in State College released a series of tornado-based maps Monday on its Twitter page, including one that showed the number of tornadoes in Pennsylvania counties since 1950.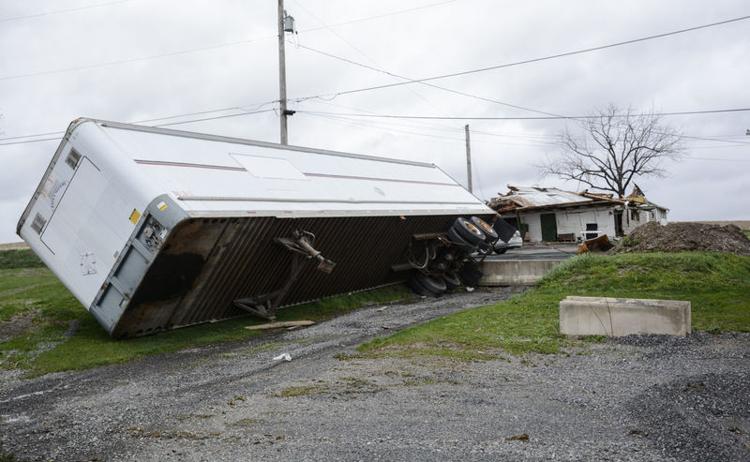 Several of the Valley's twisters spanned multiple counties, including a massive twister on May 31, 1985, that affected Lycoming, Union and Northumberland counties, killing six people and injuring 60, according to tornadohistoryproject.com, which has compiled data from the Storm Prediction Center and the National Climatic Data Center.
Union County Commissioner Preston Boop remembers that twister. He was living in Union County, where he lives now.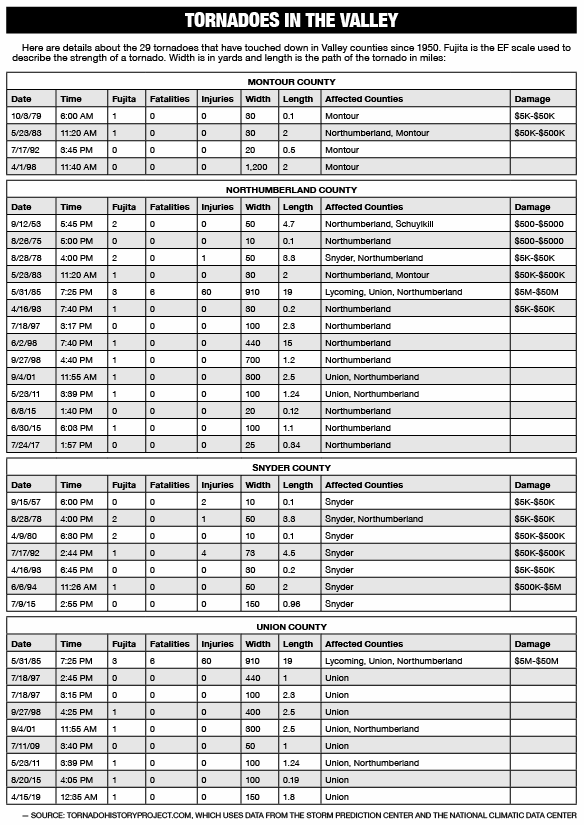 "It wasn't near us, it was maybe 15 miles up the road from my place, in Gregg Township," he said. "But I do recall seeing the carnage. It went through a campsite area and tore the place up."
The tornado, an EF-3 on the Enhanced Fujita scale — which means it reached winds of 136 to 165 mph — was 910 yards wide and on the ground for 19 miles. According to tornadohistoryproject.com, there was up to $50 million in property damage.
Boop did not remember any specific damage at his place from the related storm, he said.
"I do remember hearing about it afterwards," he said. "A day or two later, I remember driving by and the campsite was torn to pieces. The tornado went there and decimated everything. Stripped the trees. It was a wooded area, It made a mess of everything."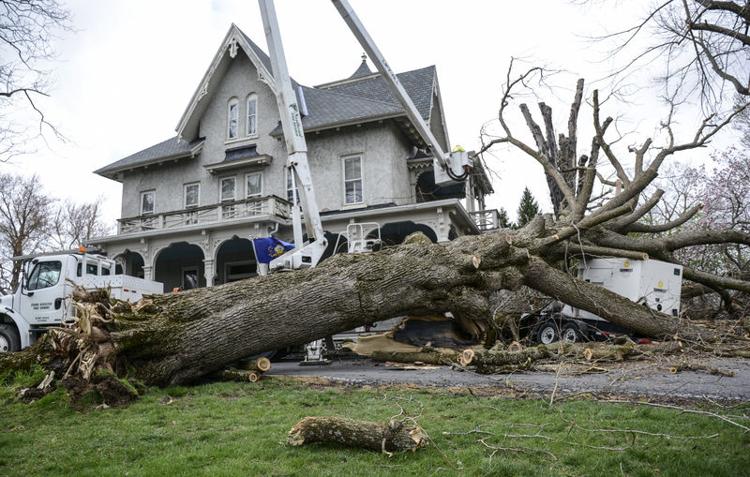 The storm that swept across the state early last week led to nine confirmed tornadoes in Pennsylvania, including the EF-1 in Buffalo Valley, Union County, that uprooted trees and tore off roofs. No injuries were reported.
The conditions were perfect for a twister to form, explained Jake Sojda, a meteorologist with AccuWeather, in State College.
"What we saw last week was a cold front pushing through the area ahead of a warm front," he said. "That is a good setup for strong thunderstorms. Warm, humid air likes to rise and as the cold front approaches it gives the air a boost, making the air rise faster."
A tornado forms when there is a change in the wind direction as you go upward, Sojda said, "and that's when the storms begin rotating. What we had last week was winds at the surface from the south but as the air was rising, the wind changed to more westerly."
If you picture something pushing in those different directions, you see the funnel with swirling, spinning winds, and that is what happened last week, he said.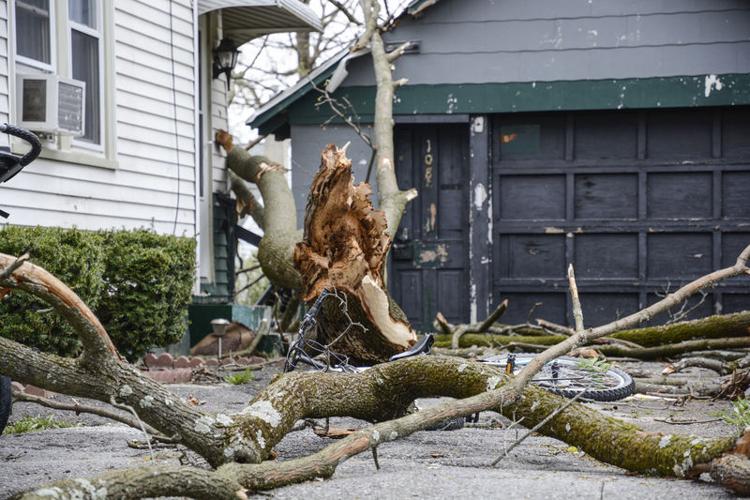 An EF-1 tornado — wind speeds between 86 and 110 mph — touched down at Buffalo Valley United Methodist Church about 12:35 a.m. April 19 in Union County. It left a trail of damage across 1.8 miles. Storm analysis by the National Weather Service estimated maximum wind speed at 90 mph and found the tornado grew as wide as 150 yards.
It was the first tornado to hit Union County since an EF-1 was on the ground for less than a quarter mile on Aug. 20, 2015. That twister, which hit just north of Penns Creek, was the third to hit the Valley in two months. On June 30, 2015, an EF-I was on the ground for more than a mile south of Riverside. A few weeks later, an EF-0 — speeds from 65 to 85 mph — traveled nearly a mile between the Selinsgrove Speedway and the Isle of Que.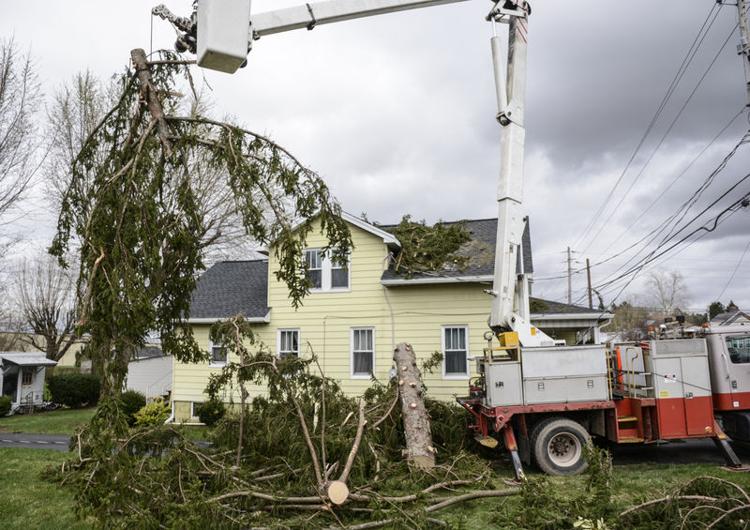 The last tornado to hit Montour County was on April 1, 1998, when a 1,200-yard wide storm was on the ground for nearly two miles just south of Washingtonville. No injuries or damage was reported. Only three other counties — Mifflin (1996), Northampton (1996) and Bucks (1997) — have had longer tornado droughts than Montour.
Two EF-2 storms — winds from 111 to 135 mph — hit Snyder County. One was on Aug. 28, 1978, and the other was April 9, 1980. Montour has never had a storm stronger than an EF-1. The two EF-1s to hit the smallest county were in 1979 and again in 1983.