Fifty years ago this week, a Valley teenager hitchhiked his way from Sunbury to the Woodstock Music and Arts Festival near Bethel, N.Y., not realizing at the time, how significant a cultural event it would turn out to be.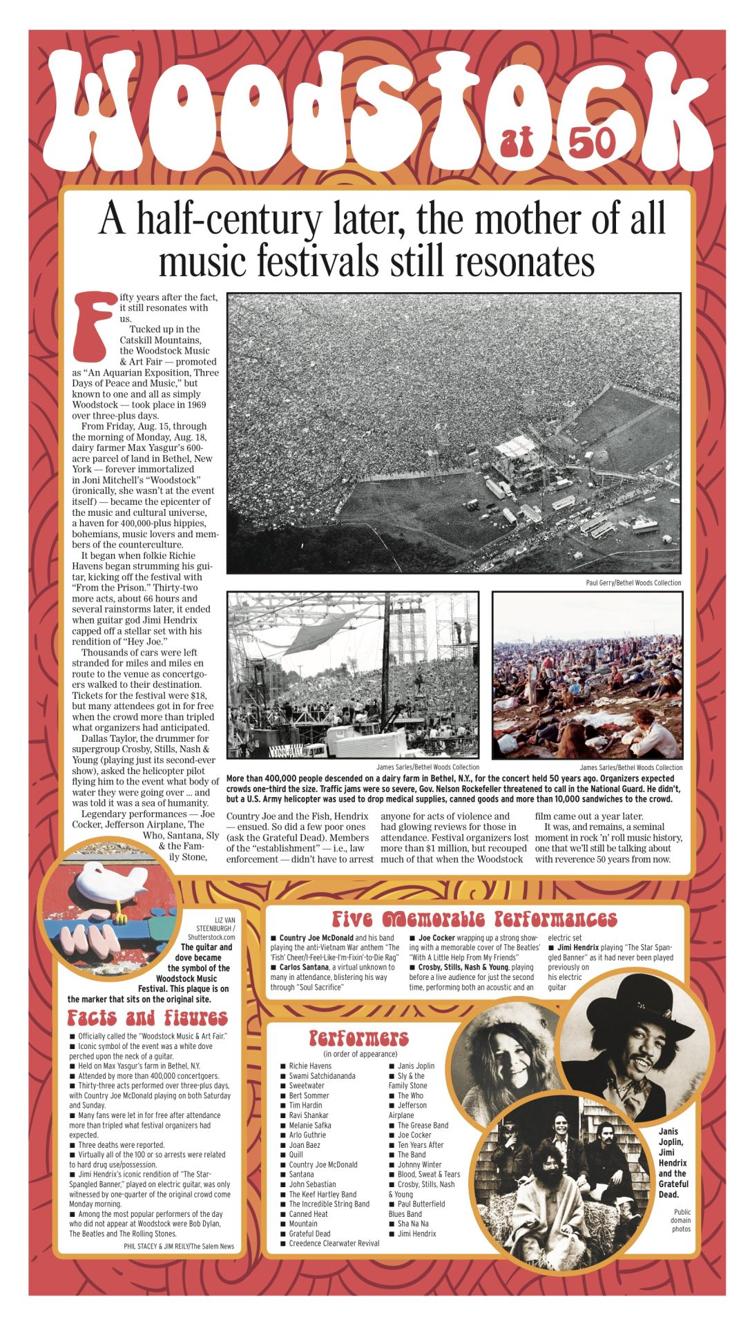 It was between Nick Neff's junior and senior years at Shikellamy High School that he and two friends made the 203-mile trek to Woodstock, N.Y., where, Neff had heard, "there was going to be a large outdoor music festival with bands I liked."
Neff, of Sunbury, then 16, had learned about Woodstock from his brother, who had gone to an Atlantic City festival a couple of weeks before that. "He came home and told us about it."
A friend of Neff's who lived down the street "and another kid, who was only 13 ... the three of us wanted to go to Woodstock."
His parents were out of town, Neff recalled. "But they knew where we were going and they were OK with that."
It was a different time, Neff said Monday, when three teens could pack up on their own, with a tent, and safely find their way east.
Another friend drove them to Interstate 80 and caught a ride to Woodstock N.Y.
But that wasn't where the concert was.
"We left on Thursday and got there Thursday night," Neff recalled. "When we got to Woodstock we were let out of the car and started walking. I don't know how many miles we walked. It was dark then. By the time we got to the festival grounds the first thing we saw was the lights and the cranes. They were still building the stage."
Neff said, on Friday, they got as close to the stage as they could.
Neff and friends never paid to get in. "There was an admission fee, I heard, but there were no gates or anything," he said.
They camped out that first night, away from the concert field.
When they returned to the festival Friday, the music had already started. "I remember hearing Richie Havens play."
Havens was one of the first performers at the festival.
The crowd
The crowd just kept growing, Neff said. He had no real sense of how many people would eventually be at the festival, only learning later it was estimated at about 400,000.
There were ponds where people were swimming, but Neff said he never saw the ponds.
The atmosphere in the crowd was friendly, Neff said. People were having fun. Marijuana was being smoked out in the open. 
He was close to the stage, "but I eventually had to go to the bathroom, and I never went back into the crowd. There were too many people," Neff said.
There were other things to do on the grounds. Buses in psychedelic colors lined the camping area. And bands were playing there, away from the main stage. People were doing yoga. There were pathways through the woods and people were selling stuff there.
There was nudity, he recalled. Women taking baths where there was water.
Few recollections of bands
Neff had few recollections about the bands that were playing over the weekend. 
On the last day of the festival as Neff was leaving, Jimi Hendrix was on the stage. "I had known about Hendrix, of course, so we walked back down a hill to watch the show. By the time we got there only about 40,000 people were left. The field was a mess. Because of the weather, everything got backed up.
Neff was referring to Sunday, "when it poured and the entire area turned into a mud hole.
After Hendrix, they walked out of the field and jumped on the back of a car, and they were taken to the highway.
"I asked where they were going. They said Indiana, by highway. So they drove us all the way to Danville," Neff said.
Neff's brother picked them up in Danville. "First thing he said was 'you guys stink.' Three days in that mess. I immediately took a shower when I got home," Neff said.
Woodstock's importance
Woodstock has stayed in the American consciousness mostly because it was a marker of Baby Boomer youth experience in the '60s, said Alexander Riley, Bucknell professor of sociology. "The Boomers, who as a demographic group exercise an inordinate amount of status and power in American society, continue to write and talk about it in a way that gives it a central place in American cultural history."
Like all other historical events, Riley said, it has been transformed to some degree over the years by exaggeration and distortion. The fact that the event has been so heavily mythologized plays a role in precisely how it's important and what its implications are.  
The image you most often get in the media and other accounts of what happened at Woodstock is something along these lines, said Riley. "More or less, perfect hippie communal social utopia created for several days around the countercultural values of peace and love and brotherhood. One doesn't have to be a cynic to know that such simplified narratives about human history are never fully correct and are frequently driven by desires and ideologies more than by facts."
Most people will talk about Woodstock, if they were actually there or if they've just absorbed the Zeitgeist about it from media sources and the stories of others they know, in anecdotal terms, but a more accurate way of gauging what events like this were about involves the kind of intellectual tools social scientists use, Riley said.  For example, in response to the claim about an idyllic hippie paradise, one does well to ask how many people, for example, were hurt or died at Woodstock?  
Turns out at least 3 people died at the festival, and at least one, perhaps two of those were drug overdoses, Riley said.
Mythological memories
Here's another example of the mythological memory of Woodstock: Much of the musical performance has taken on superlative attributes over the years, Riley said. "In fact, those who know much of anything about live music performance know that there are many things that can go wrong to spoil live performances — guitars going out of tune, amps failing — and avoiding all of them seldom happens. Even some of the most mythical musical acts at Woodstock gave weak performances there."
Jimi Hendrix's set, "which I had the chance to see/hear in its entirety for the first time in a few years just a few days ago," Riley said, "has a few moments of real transcendence, but the majority of it is rambling and close to unlistenable. Being there likely made some of this less noticeable — the crowd ambiance matters — but the recordings don't lie."
The Grateful Dead's set was dreadful, Riley said. 
"Much of what we make of Woodstock today has less to do with the reality of what happened there than with motivations we have to tell ourselves and others particular kinds of stories about the importance of the Baby Boomer generation, the viability of the counterculture of the '60s, and the possibility of achieving social panaceas and utopias, even for just a few days," Riley said.