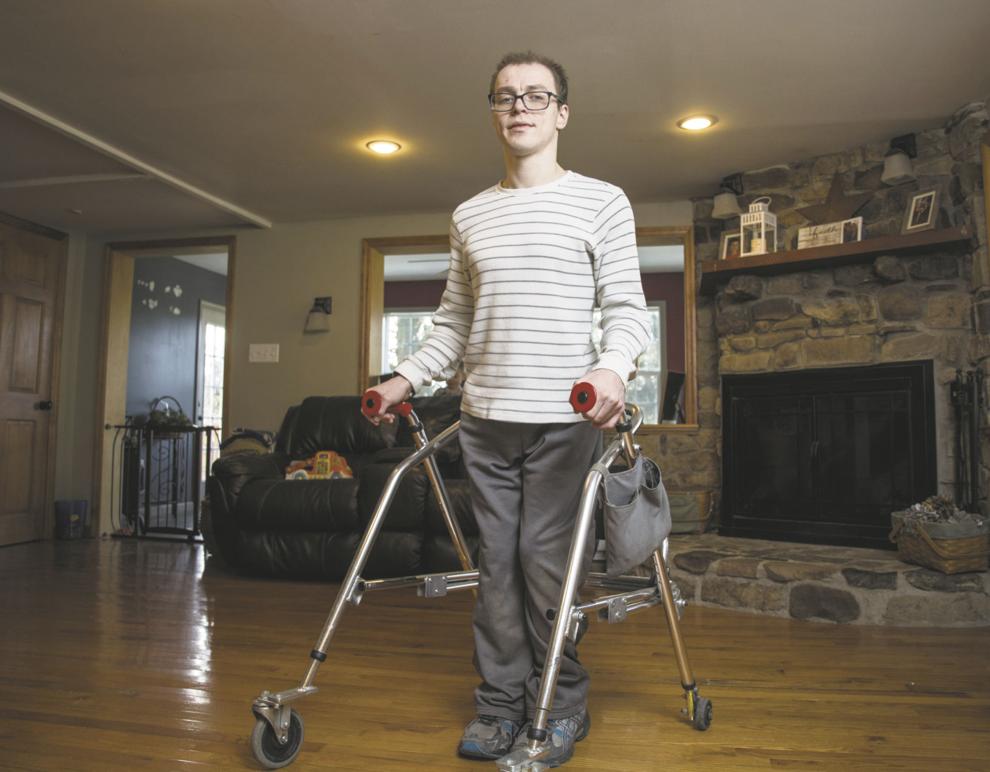 Update: This story has evolved following a conversation between the Catlin family and Walmart. See the link below for the latest update.
Adam Catlin, a 30-year-old Middleburg man born with cerebral palsy, believes he won't keep his job as a greeter at Walmart's Selinsgrove Super…
Adam Catlin remains resolute after his story went viral online and fetched widespread media attention — the 30-year-old Middleburg man simply wants to keep his job as a greeter at Walmart Supercenter in Selinsgrove.
The retail giant said Wednesday it is looking for a solution "that keeps him with the store."
Walmart began in 2016 shifting job duties at the fronts of stores in a staggered rollout. The company asks employees in the new position of "customer hosts" to do more in the way of carrying merchandise and keeping watch on those who come and go as a way to deter shoplifting, according to a company blog post. 
The work extends beyond checking receipts and giving a warm welcome and farewell that "greeters" take on, and the physical demands are more than what Catlin said he can handle due to cerebral palsy.
After 10 years at the store, Catlin faces losing a job he loves, the only job he's ever held. His last shift as a greeter is scheduled for April 26. Though he's given the chance to explore options at the Selinsgrove store and nearby locations, he doesn't believe there's another job that would allow for his disability.
"All I want is to be able to go to work and see my friends," Catlin said Wednesday. "I am not looking for anything other than to be able to continue to do my job. But it's pretty cool to see so many people care about me."
Cerebral palsy restricts Catlin's his strength and motor skills. He relies on a walker to hold himself upright and walk. The new job duties ask that he stand for extensive periods of time, carry merchandise and supplies up to 25 pounds and twist, turn, reach and bend in ways his body won't allow. 
A Walmart corporate spokesman, Kory Lundberg, said in an email to The Daily Item in the noon hour Wednesday that the Catlins would be contacted today. Lundberg reiterated that the shift in job duties from greeters to customer hosts is based on data studies at individual stores of theft and safety issues. More than 1,000 stores have undergone a change since 2016, he said.
"Adam is a valued member of the team and part of what makes our Selinsgrove store special. We're looking for a solution that keeps him with the store and are reaching out to him and his family again today to ensure they are fully aware of all the options that are available. There is a 60-day transition period as part of this change, which allows us to be thoughtful and find the best solution for everyone," Lundberg said.
"We know there isn't a one-size-fits-all solution to staffing our entrances and serving customers," he said.
News began to spread Monday about Catlin's situation when his mother, Holly Catlin, of Middleburg, posted to Facebook. It's since received more than 7,700 shares, 2,000 comments and 2,700 "likes."
A Facebook group, Team Adam, gained more than 5,100 members in about one day. Members have bandied about loosely made plans for a demonstration at the store and sales of t-shirts in support of Catlin. Mostly, they share messages of support for Catlin and condemnation for Walmart. A petition created at change.org had more than 3,500 signatures by 2 p.m. Wednesday. 
Adam Catlin received job offers from Rocco's Pizza and Papa John's Pizza, Geisinger Medical Center, Red Robin and Weis Markets, according to the Catlin family.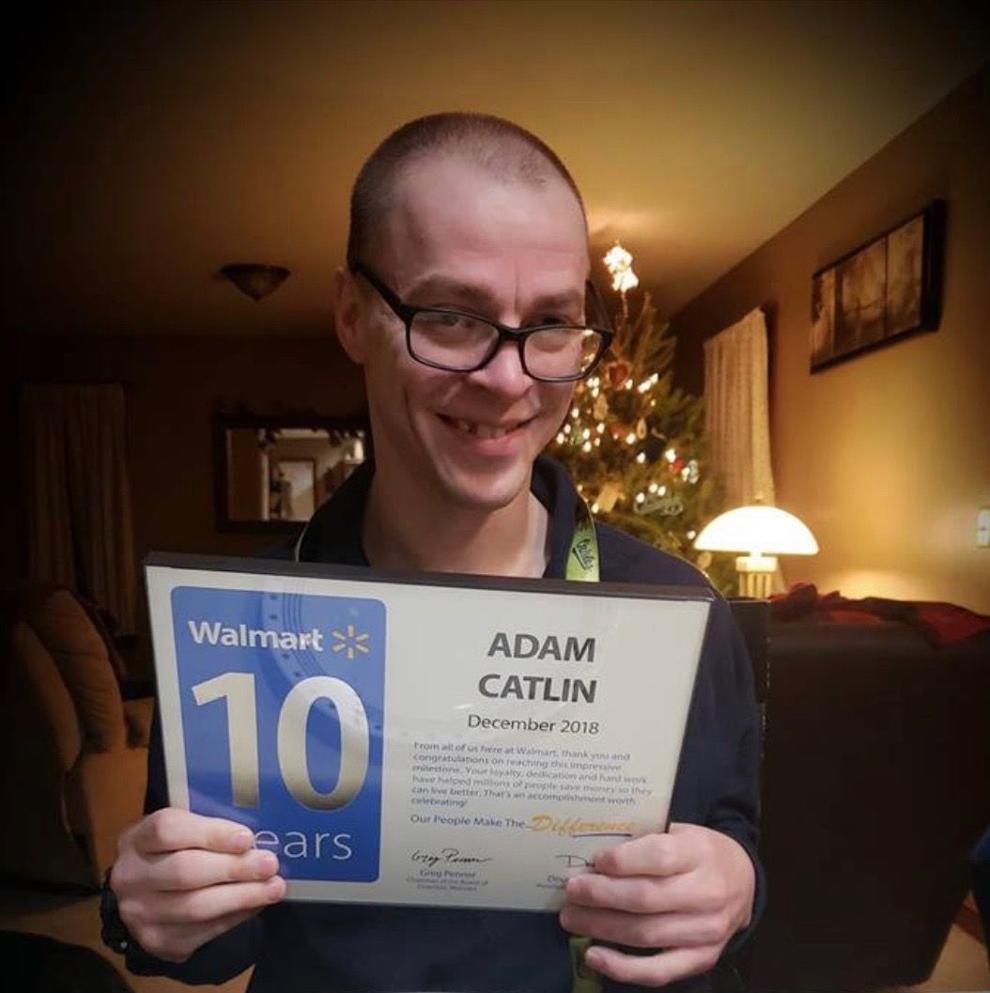 Holly Catlin and her daughter, Amber Piermattei, repeated notions of gratitude for the way the community responded to Adam Catlin's situation.
"It's been overwhelming," Holly Catlin said Wednesday. "The community support has just been amazing."
"Sometimes we all take for granted the community we live in but after seeing this it shows what a strong community we have," Piermattei added. "We are all very overwhelmed with this and we can't thank everyone enough for their support."
Holly Catlin said that while the family greatly appreciates requests by community members to conduct fundraisers and benefits on behalf of her son, they're not in need of monetary benefit. She also cautioned that if a public demonstration were to occur, the family wouldn't want it to be disrespectful to Walmart or embarrass Adam Catlin. Piermattei clarified online that while the family wouldn't attend a protest, if people chose to organize a demonstration she asked it be done respectfully.
"Please know that we do appreciate your good-heartedness and generosity. We will not have any extra expense through this situation and do not wish to gain anything besides Adam being able to keep his job. We also hope that this, in some way, helps other handicapped employees nationwide. So, I am kindly asking that you wait and do those things in the future for families in the community who have suffered a tragedy or an individual with a medical need," Holly Catlin wrote in a Facebook update.
Holly Catlin received messages from people all over the country and has been contacted by national media outlets looking to tell Adam's story. However, they hadn't heard from Walmart by Wednesday mid-morning.
"We haven't heard anything," Holly Catlin said. "I was planning on going into the store and just talking with them and seeing how we can keep Adam's job."
"I just want to go back to Walmart," Adam Catlin said. "That's where all my friends are."
Adam Catlin's next shift is Friday and he said he will do what he has done for the past 10 years.
"I will greet everyone that comes in," he said. "That's what I love to do."