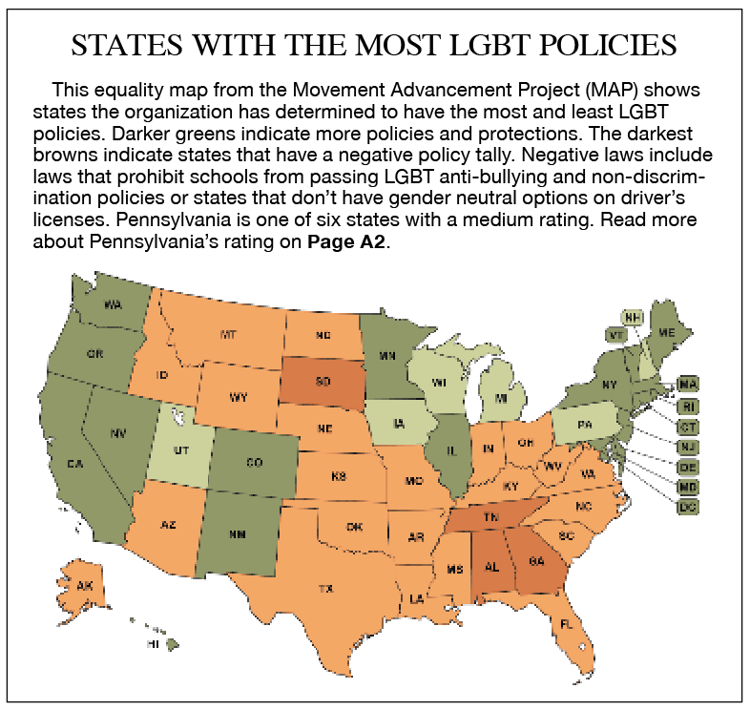 HARRISBURG — A U.S. Supreme Court decision on discrimination protections for the LGBT communities has huge implications in Pennsylvania, because protections based on sexual orientation and gender identity are not yet guaranteed in state law, said Jason Landau Goodman, executive director of the Pennsylvania Youth Congress.
The state Human Relations Commission last year handed down guidance indicating that it would view discrimination based on sexual orientation as discrimination, but advocates say that move, while welcome, doesn't provide the permanent cover that legislation would.
"This guidance can be taken away at any time," said Goodman. The Pennsylvania Youth Congress is a statewide youth-led LGBT organization based in Harrisburg. "Discrimination is still happening. We get the calls."
Peterson Toscano, of Sunbury, is a performance artist and gay rights activist.
Workplace discrimination against LGBT employees "encourages a lack of integrity," Toscano said, and is an added pressure in a world where economic insecurity can be a constant in people's lives.
"It encourages people to lie about themselves, to hide parts of themselves. Do you really want to have an employee who can't be fully honest about who they are?" Toscano asked.
"Do we really want to train our children, that the way to get ahead in life is to hide things about yourself? And to lie about who you are? Or do we want people to grow up in a place where they can be themselves and not be punished for that?"
Toscano said the most important thing is for people to be authentic and be themselves in life and at work.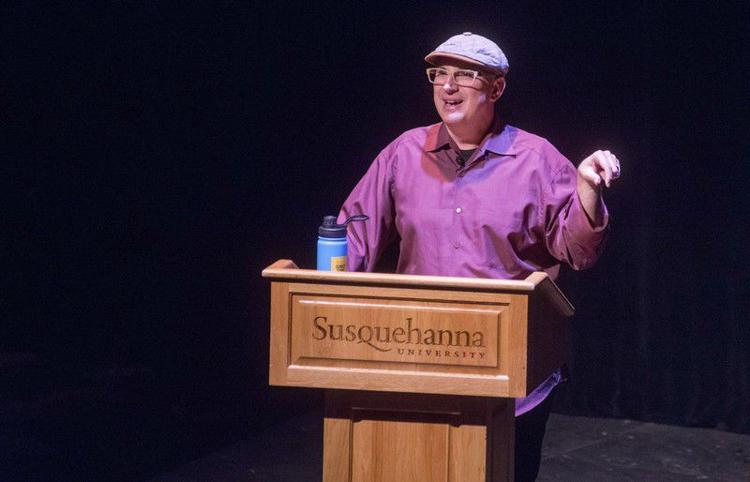 "You are trained to do a job, you do it well...can you do it well, or not do it well? That should be the bottom line," he said. "Any time we discriminate against people and say you can't have this job because of who you are, how you look, how you feel it's wrong."
Changing the state law would reinforce that discrimination based on sexual orientation or gender identity is forbidden, said Andy Hoover, a spokesman for the American Civil Liberties Union of Pennsylvania.
Asked to explain what objection, if any, House Republican leaders have to the proposal, Mike Straub, a spokesman for House Majority Leader Bryan Cutler, R-Lancaster County, made clear that they have little enthusiasm for it.
"We believe discrimination in any form is wrong, and no person should ever be subjected to it," he said. "However, when we start drawing lines around what makes us different and putting those lines into law, we are working to further separate ourselves."
Hoover said that with the state HRC's guidance in place, there would be some protection for members of the LGBT communities, regardless of how the U.S. Supreme Court rules in the cases before it.
Supreme Court
The U.S. Supreme Court on Oct. 8 heard three cases that are likely to decide whether existing federal law protects gay, lesbian, bisexual and transgender Americans from discrimination at work. An adverse ruling could leave millions vulnerable in large areas of the U.S where firing workers solely because they're LGBT would be legal if not for the federal government's intervention, according to The Associated Press.
Since 2013, the Equal Employment Opportunity Commission has considered firing and harassment of workers because of sexual orientation or gender identity to be illegal sex discrimination under Title VII of the Civil Rights Act. Appeals courts in different U.S. circuits have reached conflicting decisions in cases that ask whether the EEOC overreached in extending the 1964 law's protections to LGBT workers. Those opposing rulings set the stage for the Supreme Court to decide the issue.
The federal Equal Employment Opportunity Commission received 311 complaints from Pennsylvania residents alleging discrimination based on sexual orientation between 2012-2016, according to data compiled by The Associated Press.
Currently, only 21 states and the District of Columbia have their own laws that prohibit job discrimination based on sexual orientation or gender identity, according to the AP. One state, Wisconsin, outlaws targeting workers because of sexual orientation, but doesn't protect transgender employees, according to the AP.

The Pennsylvania General Assembly came closest to passing legislation that would make discrimination based on sexual orientation illegal in 2016 when the Senate Urban Affairs and Housing Committee voted to bar discrimination based on sexual orientation in housing or employment. That legislation never got a vote before the full Senate.
There are three bills currently introduced to bar discrimination based on sexual orientation. A measure sponsored by Sen. Larry Farnese, D-Philadelphia, was cosponsored by every Democrat in the Senate. A measure in the state House, sponsored by state Rep. Dan Frankel, D-Allegheny County, has 88 cosponsors.
He said that the first bill aimed at barring discrimination based on sexual orientation was introduced at the state Capitol 40 years ago.
"It's heart-breaking" that the state hasn't passed the legislation yet, he said. "The time has come."
Little traction
Farnese, in floor comments earlier this year, expressed frustration at how little traction the LGBT anti-discrimination measures have gotten despite being introduced in session after session.
Farnese described a conversation with an 18-year-old man who had come out of the closet but decided the only place he felt safe to socialize was in a gay bar because he didn't think his peers would accept him.
"They realized that there was no hate crimes protection, and they realized that in the eyes of many people here in Pennsylvania, they are not equal. They are less, and as such being less they should be treated as less, and, in fact, they are, and they still are today. I felt embarrassed during that meeting," Farnese said in floor comments. "It shocks me at times that when we talk about our rights as citizens and how important our constitutional values are that we hold true, that today there are still people who do not feel they are worth our care, our protection, and it is an embarrassment."
State Sen. Patrick Browne, R-Lehigh County, the chairman of the Senate appropriations committee, has authored Senate Bill 224. Browne was the author of the 2016 measure that got committee approval. All three bills would accomplish the same thing but Goodman said that Senate bill 224 is likely to be the legislation that moves, if any of them get traction.
Referred to committee
Both Senate bills have been referred to the Labor and Industry committee. State Sen. Camera Bartolotta, R-Washington County, the chairwoman on that committee didn't return a call seeking comment about the prospects for the legislation.
In the state House, House Bill 1404 has been referred to the state government committee.
State Rep. Garth Everett, R-Lycoming County, said that he has no plan to hold a committee vote on the measure in the fall session. More likely, a hearing on the proposal could happen when the Legislature reconvenes in 2020, he said.
Everett said he's not sure how much opposition there is to the legislation. One concern is whether the proposal would force private religious schools to hire people regardless of their sexual orientation or gender identity, he said.
The proposed legislation does have exemptions that intended to provide religious groups from violating tenets of their faith, he said.
Advocates are preparing to ramp up the pressure to get legislation moving again, he said.
The Youth Congress is leading a coalition of elected officials, non-profits and chamber groups called Pennsylvania Values, formed to lobby for anti-discrimination protection for those in the LGBT community, Goodman said. That coalition includes chamber and business organizations in Adams, Allegheny, Chester, Delaware, Lehigh, Montgomery, Philadelphia, Pike and York counties, according to the coalition's web site.
Everett was approached by representatives of the Williamsport-Lycoming County Chamber of Commerce, on behalf of the Pennsylvania Values coalition, he said.
The support of the business groups may reflect changing attitudes on the issue across the state, Everett said.
"There seems to be more tolerance," he said.
Even so, Everett said he's not pledging that his committee will hold a vote on the anti-discrimination bill.
"I'm not saying it's going to happen," Everett said. "It's something I'm willing to discuss."
Hoover at the ACLU said that changing societal attitudes suggest that the state will pass the protections eventually.
"Time is on our side," he said. "The public supports it. Polls consistently show 70 percent support for banning LGBTQ discrimination. As usual, the political class is behind the public. It's time for them to catch up."
Daily Item reporter Rick Dandes contributed to this story.