Pennsylvania runs a "closed primary," which mandates that voters registered with a political party can only vote in that party's primary.
If you're an independent, or have registered with a minority party, such as the Green Party, you can vote on primary day, but only in the special Congressional election, not the primaries.
The special Congressional District 12 election, pits Republican Fred Keller, a four-term Pennsylvania House Representative representing Pa-85, Kreamer, against Democrat Marc Friedenberg, a professor at Penn State University, and someone who ran against Marino in the 2018 midterm election.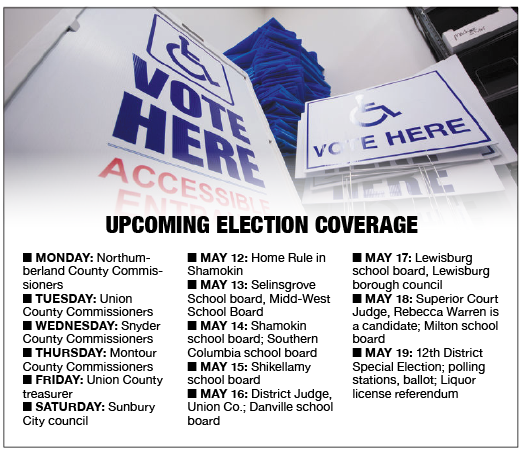 Voters in Union County who are not registered as a Republican or Democratic will only be able to vote for the 12th Congressional Special Election race, with one exception, said elections director Greg Katherman. 
"In Union Township," Katherman said, "there is a Liquor License referendum question and all registered voters in Union township will also be voting on the question."
In Northumberland County, Alisha Elliott, Northumberland County director of elections, added that "if you are registered with one of the minor parties, say, the Green Party, when you come to vote your ballot will only show the special election option. That would be the only vote you can cast."
The exception in Elliott's county is Shamokin, where all voters have an opportunity to decide if the city should create a commission to research a Home Rule Charter, which would allow the city to exit Act 47, or financially distressed status, but continue to use some of the benefits afforded. Voters can also select the members of the commission on the ballot.
Pennsylvania is one of nine states that have a closed primary.
Other states have open primaries, which allow independents and other registered voters beside Republicans and Democrats to vote if they are registered ahead of time.