Union County voters may be casting ballots on new machines in November as Pennsylvania moves toward improved voting transparency.
The state is proposing to decertify all voting machines and require counties upgrade to systems that provide more verifiable voting results by spring of 2020.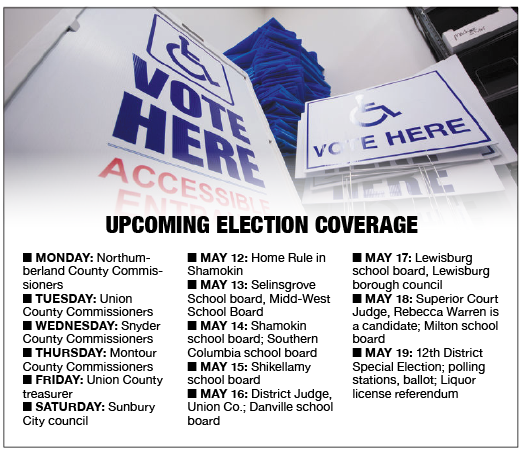 Several counties, including Snyder and Montour, already use machines that produce paper ballots — a point that has legislators debating the need to spend about $125 million in taxpayer money — but they are all looking into the costly upgrade in the likely event it is mandated by the state.
Union County Board of Elections Director Greg Katherman said he would like to get new machines in place by this summer, before the November general election.
"I'd like to get at least one election under my belt" before the new machines are required to be installed, he said.
Elections officials in Northumberland, Snyder and Montour aren't planning any machine upgrades until the 2020 primary election.
"The commissioners are going to decide after this year's general election," said Pat Nace, elections director in Snyder County.
The cost to upgrade Snyder County's 50 voting machines will be about $300,000, she said.
Northumberland County is also waiting until next year to make any necessary changes, elections director Alisha Elliot said.
"More than likely we will implement them in 2020," she said. "We don't have a contract yet" with any company to replace the machines, Elliot said.
Darlis Dyer, assistant director of elections in Montour County, said officials haven't started looking at new machines or what it would cost to update the machines.
"We're still holding off," she said.