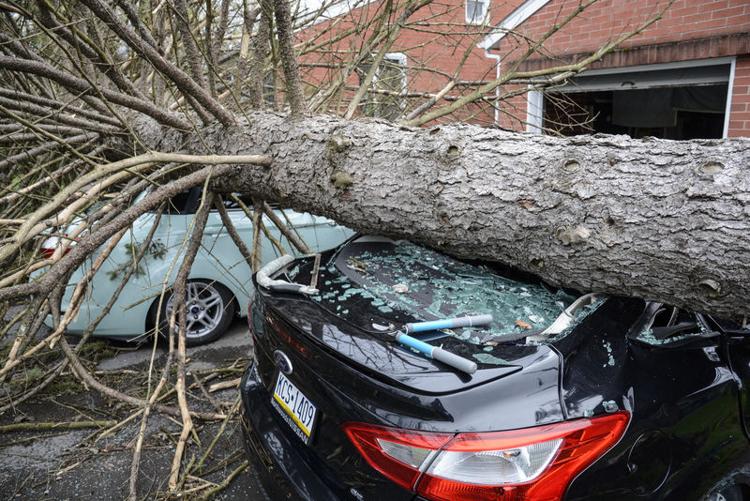 BUFFALO CROSSROADS — A tornado touched down about 12:35 a.m. Monday at Buffalo Valley United Methodist Church on Johnson Mill Road and barreled north and east to the Eastern Industries Quarry 1.75 miles away off Route 192, according to the National Weather Service (NWS).
Its winds estimated at 100 mph tore apart barn roofs and uprooted towering trees sent toppling onto lawns, cars and homes. Gusts blew down power lines, cutting electric service to homes and farm buildings as the tornado passed by.
At least one barn was knocked down to the ground in Buffalo Crossroads where the storm hit.
"There were no injuries to the best of our knowledge," said Michelle Dietrich, emergency management coordinator for Union County.
The National Weather Service rated the tornado as an EF-1. NWS confirmed tornados touched down in Benton in Columbia County and in Warren County in Northwest Pennsylvania.
PHOTO GALLERY: Tornado touchdown, power loss hit Valley
A tornado in that class features winds between 86 mph and 110 mph. It formed out of a line of severe thunderstorms that lashed the region with damaging straight-line winds, according to Senior Meteorologist Mike Dangelo.
Before the tornado struck, Justin Chappell gazed out the window of his rented home on Meeting House Lane, 1,000 feet from where the storm touched down. His view in every direction was awash in bright green light.
"I've never seen anything like it in my life. It was almost like it was light out and somebody colored my glasses in with a green Sharpie," Chappell said.
Hail arrived in moments, thrashing against the walls and roof. Wind gusts battered the two-story structure that stood in place since the turn of the 20th century. The accompanying noise sounded like a jet engine roaring in the living room.
"Just that quick," Chappell said and snapped his fingers, "it stopped."
The green color Chappell saw, Dangelo explained, is caused by light passing through the hail accompanying the storm.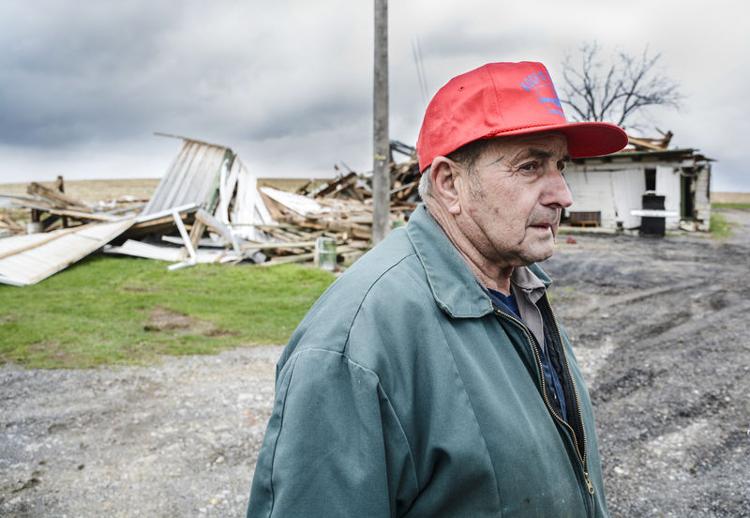 Across the road from Chappell's home, maybe 20 paces, the timber that had constituted Dean Koch's barn and the contents stored inside laid scattered, splintered and broken. An excavator picked at the ruins Monday afternoon in an attempt to clear a gravel road so that delivery of feed could make it to a hog farm nearby.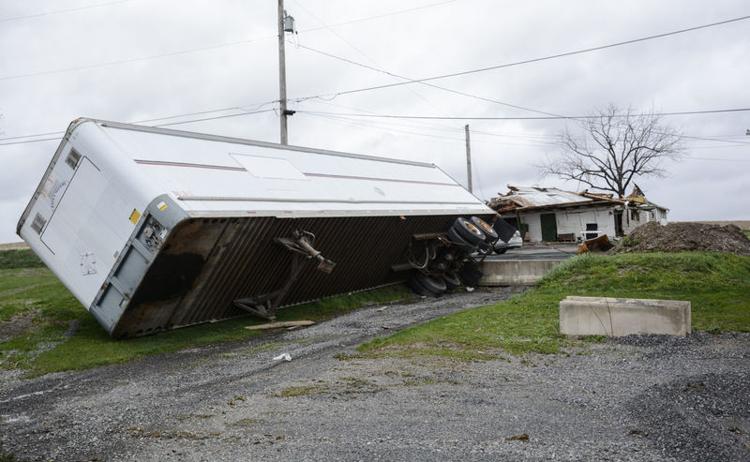 Winds hadn't just felled his barn. The storm blew strong enough to lift a semi-trailer Koch owns and turn it almost fully onto its side.
"The barn's blown down, torn apart," said Koch, owner of Koch's Trucking and Chappell's landlord.
A stiff steady wind continued to blow Monday afternoon as Koch surveyed damages.
"They called and told me. I just didn't think it would be this bad," he said.
Pastor Daniel H. Hicks of the Buffalo Valley United Methodist Church thanked God that the enormous trees — about nine in all — on the lawn surrounding the church fell harmlessly to the grass.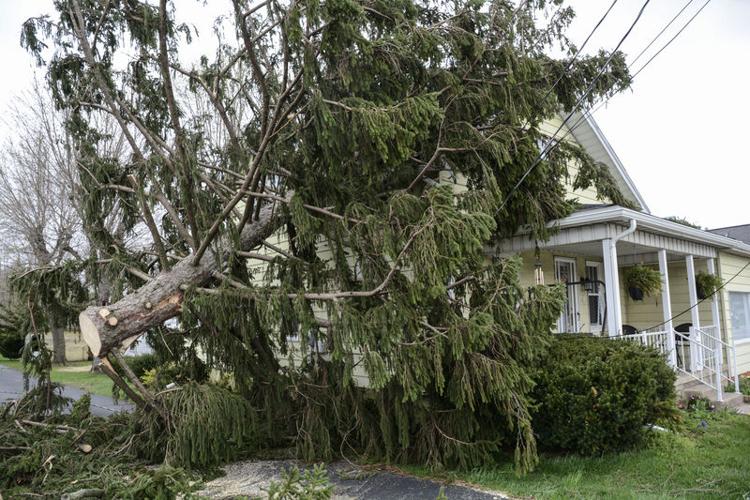 "If that had hit the church, what would have happened? We're very thankful," Hicks said.
Frank Saner lives on Buffalo Crossing. His rear lawn borders the church property.
"It was wind blowing like I never heard before. I ran out in the kitchen, the wife and I got up, and headed for the cellar," Saner said, explaining they waited there maybe 5 minutes tops. "It didn't last all that long until everything was still."
The roof to Saner's garage sustained some damage and the mount for the electric line to his home broke free. He was grateful that's all the damage his home took on.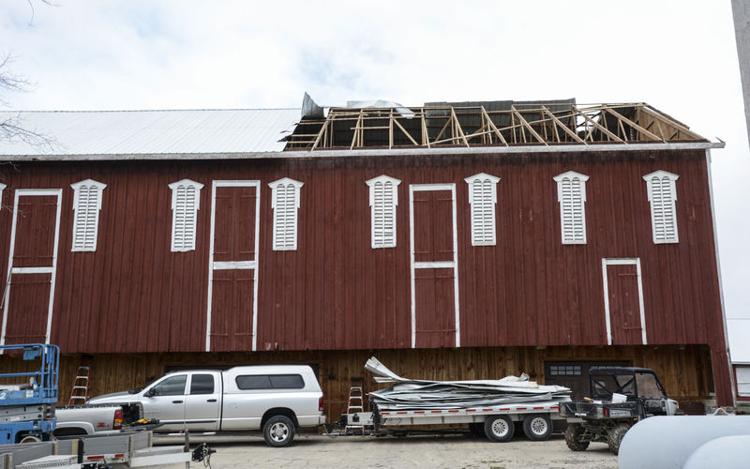 Daniel Reiff lives along the tornado's path — across Route 192, Buffalo Road, off Johnson Mill Road. He runs a farm there where parts of the roof were torn off one barn and the metal door to another flipped up and laid atop the roof. A poultry barn was spared.
Friends from his Mennonite church climbed atop the barn as others on a ladder helped position and guide the wide, heavy door lowered to the ground with a tractor loader steered by Reiff.
"I saw the lightning flashing and flashing, and I was always told that was tornado weather," Reiff said. "It was flashing so much, it turned green, and that was something I'd never seen before. At about that time, it let loose, the current went off and we ran for the basement."
Corey Stacks was asleep at the home of his girlfriend's parents on Buffalo Road when they woke him up about 3 a.m. The house was shaking at the time, he said.
Stacks said his girlfriend worried that her car would be damaged by hail.
"Little did we know there's a tree on top of the cars," Stacks said.
Tornadoes are rare in the Valley, but have touched down before. A tornado was confirmed near the village of Kline's Grove in Northumberland County in July 2017.
In 2015, four tornadoes touched down in the Valley in 73 days, hitting East Cameron Township, Northumberland County; Rush Township Northumberland County; the Isle of Que in Selinsgrove; and Dice, near Mifflinburg, between June 8 and August 15.