DANVILLE — About 30 people gathered Monday evening to remember transgender people who lost their lives through violence this year.
Shiloh United Church of Christ participated in the Transgender Day of Remembrance program, which included a candlelight vigil and ringing a bell for each victim.
At least 25 transgender Americans have been killed this year, which surpasses last year's total of 23, said church pastor, the Rev. Mary Schmotzer. This was the third year the church held the day of remembrance.
When she visited her daughter in Reno, she said she met a transgender woman who had been married to a woman nearly 17 years and the couple had six children. Her wife filed for divorce after she discovered she was transgender.  Some friends rejected her and her wife turned her daughters against her. Their two sons continued to support their transgender dad.
After Schmotzer spoke, she asked if anyone wanted to speak with Derek Longan, saying he never felt like a girl and always wanted to be Ken and not Barbie. "I was bullied all my life in and out of school," said the young man, who was suicidal at one time. By sixth grade, he decided he would be alone the rest of his life.
When he got to eighth grade, he realized there are people who like the same gender. He met a girl and as a couple, they were bullied, including having food thrown at them. "Her mom hated me," he said.
He realized he was transgender as a senior in high school. He changed his name and he and his ex-girlfriend got back together even though she was a lesbian. Later, "she was forced to leave me," he said.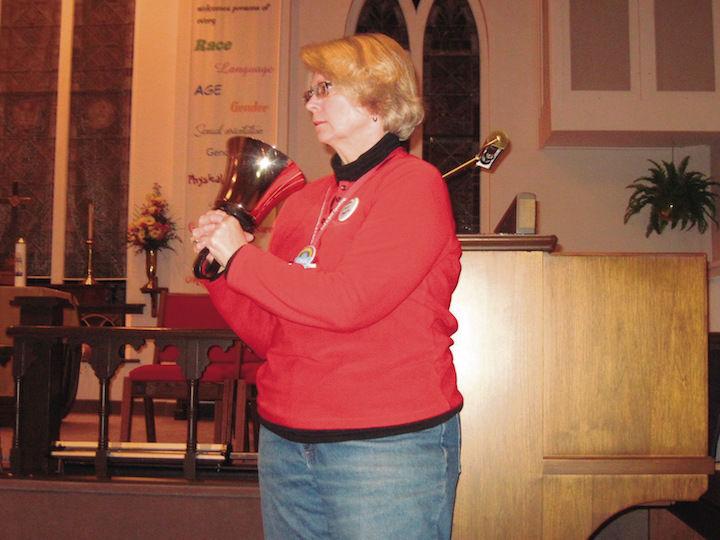 Planning to further his education in January, he said he is "being able to be free and who I am. I'm becoming me for the first time in my life."
After candle flames were burning, Schmotzer and volunteers read the names of this year's transgender victims of violence.
Kay Shulski, Shiloh music director, rang a bell after each name was read and rang it one last time "for more that have not been identified," the pastor said.
Darcy Decker, one of the readers from Shiloh, said there are transgender people in the area who are not always treated well. She said she'd like to change this so people understand them more and "so they are not afraid. There's a lot of fear going on that's not necessary."
The day of remembrance was created in 1999 by Gwendolyn Ann Smith to memorialize victims of transgender killings after Rita Hester, a black transgender woman was stabbed 20 times in the chest in her Boston apartment in November 1998. This year's victims range from 17 to 59, according to the Human Rights Campaign.
Email comments to kblackledge@thedanvillenews.com. Follow Karen on Twitter @KLBlackledge.