Bucknell is taking 16 members of the men's crew team to England for the Henley Royal Regatta — 14 rowers and two coxswains.
The two coxswains stick out from the rest of the members of the team for one simple reason — they're female.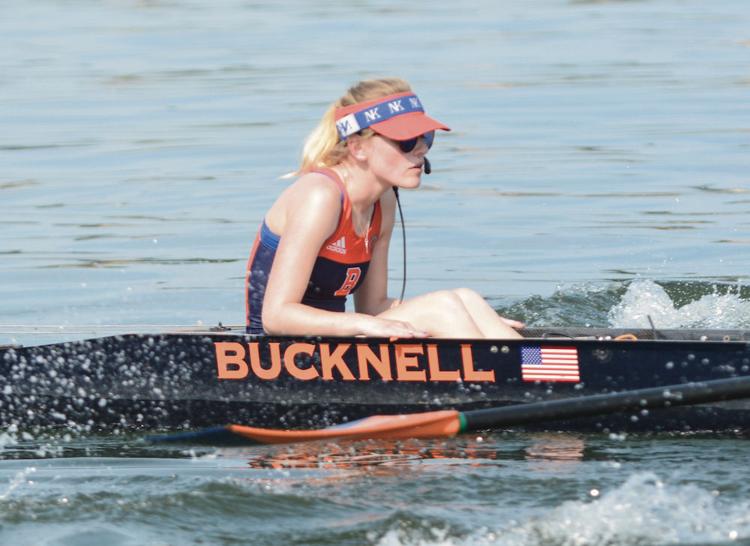 "It's one of the only sports in college where it's very regular for someone of the opposite sex to be on an all-male team," Bucknell coach Dan Wolleben said. "You read articles every once in a while about the female kicker who is playing on the football team. If you walked around a regatta, it would be very regular to see female coxswains coxing male crews."
Sophomore Cami Berlin will cox the varsity 8 and junior Nicole Finian is coxing the varsity 4.
Bucknell men's crew coach Dan Wolleben wanted to do something athletic when he arrived at college at Fordham.
"The combination of things I use to describe it is being the pilot and a horse jockey," Berlin said. "The most important part is keeping the rowers safe and making sure I don't crash into anything or damage the boat. The boats don't go naturally straight, so I have a mechanism that connects to the rudder and I need to make sure the boat goes straight.
"I also keep an eye on technical things. I have to call them out if they're doing things wrong. I have a microphone."
Berlin and Finian are in charge on the water.
"I think it ends up being a neat dynamic, having women who are leading men everyday," Wolleben said. "They're the boss in the boat. They're the ones I direct all the instructions to and they lead practice. They motivate the team and the guys in their boat. It's a pretty important role and a role of power on the team."
Berlin said there are differences in being the coxswain on a men's team compared to a women's team, but noted it may be easier on the men's team.
"This is my first year coxing men," Berlin said. "I coxed women since I was in eighth grade. There are pros and cons. The guys will be more explosive on the water, but once you get off the water that goes away. The girls will hold more grudges."
As the Bucknell men's crew team prepared for the American Collegiate Rowing Association National Championship Regatta in late May, coach Dan W…
Since the coxswains don't row, there is an advantage to them being smaller. Plus Wolleben said he doesn't have many guys on the team who can even fit into the coxswain's seat.
"I think part of it is the size," Wolleben said. "Coxswains at races have to weigh in and there is a minimum weight. Every coxswain at the regatta has to weigh 120 pounds. If you're under that weight, you actually have to carry a sand bag to get you up to 120 pounds. If you're somebody who weighs more than 120 pounds, theoretically you're putting your crew at a disadvantage. People who weigh over 120 pounds become very good coxswains and their crews are not at a disadvantage, believe me.
"If you were to say, what is the population of people who probably have more people who weigh at or around 120 pounds? It would be women. That's probably why you see so many women coxing men's crews."
Email comments to kritzman@thedanvillenews.com. Follow him on Twitter @keritzman.