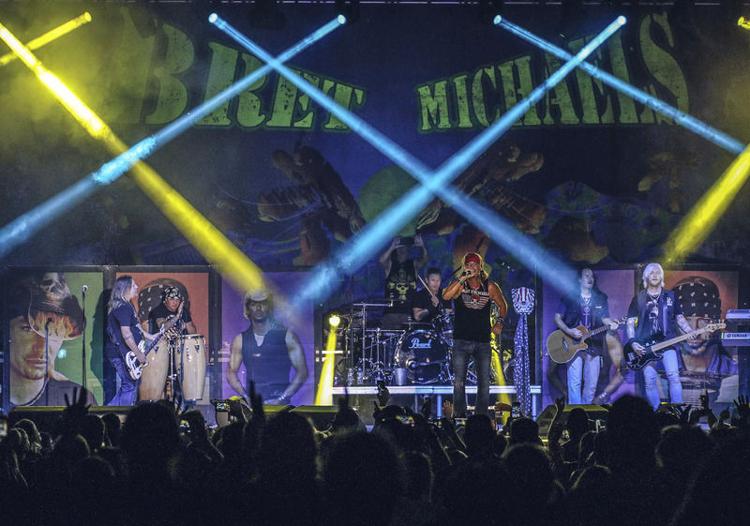 Editor's Note: This is one of an occasional series of stories detailing what life is like on a typical day in various parts of the Susquehanna Valley:
SUNBURY — Hosting a party for 3,000 people in your backyard is no easy task.
Just ask Tom Webb, owner of Spyglass Ridge Winery in Sunbury.
One night, 13 years ago, Webb and his wife, Tammy, sat on his patio while their daughters, Alyssa and Cassandra, now 19 and 23 respectively, did homework inside.
A radio blasted Kansas in the background. As "Dust in the Wind" played, Tom looked over the field behind his home. "How cool would it be to have Kansas play in our backyard?"
"You're nuts," Tammy said. "How do you think you will pull that off?"
The next day, Tom called Rod Bower — a stage technician for a light and sound company, who has been friends with Webb for more than two decades. The two always discussed having concerts at the winery, near the Webbs' home.
Tom makes his own wine, works on projects — including the new Three Beards Brewery — at the winery and works full-time at Service Electric Cablevision in Danville.
"We tried a little show at first with local bands and we didn't even have a stage," Tom says. "Then we had a second show called Celtic Fest and we had a small wooden stage."
Today, the stage is 78 feet long, 45 feet wide and 50 feet high. The likes of ZZ Top, Heart, Joan Jett, Chicago, George Thorogood and multiple others have performed on that stage. Ticket prices for concerts range from $45 to $79.
And the first big-name band to play in his backyard? Kansas.
"I told her (Tammy) I would pull it off," Tom joked. "And now I am blessed to say we have become a destination location for some bands to play at."
Bret Michaels, lead singer of the band Poison, hit the stage July 27, his second show there in three years.
The Daily Item was given exclusive behind-the-scenes access to the concert, from setup to encore and everything in between.
Read on for an hour-by-hour account.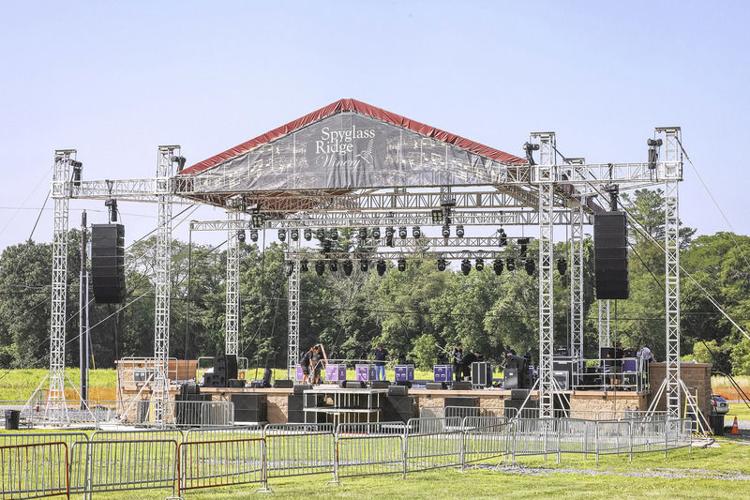 8 a.m.
Tom Webb is on his normal walkthrough of the property. He wants to make sure the grass is cut, the fencing around the property is secure and the grounds are picture-perfect.
"We do all the cutting and weeding a day or two before," Tom says. "The morning of a concert I walk around, make sure everything is in order and if anything needs to be touched up."
Vendors that will line the property with food begin to arrive and set up.
Bob Taylor, of Taylor Concessions in Lewisburg, is already making sausage sandwiches. Taylor likes to get things in order for what he knows will be a mad rush of people at 5 p.m.
"I love these concerts because it is a fun day," Taylor says. "We work hard and we have zero time to just relax. But it's great to be here. It's great to see so many out there having a good time."
Taylor is preparing for another hot day. Temperatures will rise into the 80s. Taylor says the inside of the stand can reach near 115 degrees on a mid-summer day.
"It gets very hot at times," he says. "But we are prepared for it and expect that during these months."
9 a.m.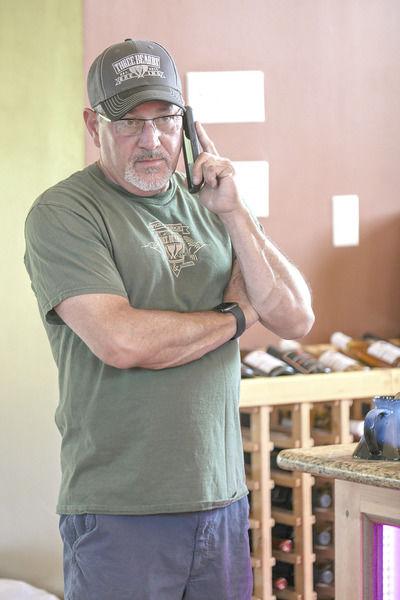 Webb makes his way back to the house. There he and his wife, Tammy, start working on the list of more than 100 volunteers who will work the gates and security when fans begin to arrive.
"We start to make our lists and start to get everything in place for the next few hours," Tom says. "We appreciate all the great people who help us and we want to make sure they have water or snacks near them for the day. So we get all of this together early."
One of Michaels' assistants calls. The musician wants to come to the winery early to have a picnic backstage with his friends and family, including Bret's father, Wally Sychak.
Michaels is from Mechanicsburg. His father resided there until his passing earlier this month.
When Tom hangs up the phone, he calls for an extra tent to be placed backstage with tables, chairs, water and soda on ice. He also calls for more catering.
"These are the type of things that just pop up," Tom says. "I mean, listen, it is a great feeling to know that these types of performers want to come here early and hang out with us."
He is now sidetracked making sure the backstage area — already flooded with production people setting up the stage — is prepared for Michaels and his family.
"Tom's right," says Rod Bower, the venue's stage manager. "We are trying to get the stage set and make sure everything else back here is safe and secure. It's all part of the job."
10 a.m.
The Michaels team calls again.
"Last time when we were here Bret gave to a diabetes charity and we are wondering if we can do something like this again?" a member of Michaels' team asks.
Tom says he will run and grab a few guitars so Michaels can sign them and they can be auctioned off. The management team agrees and Webb prepares to leave the property to purchase two guitars. "I'll be back," he tells Bower and the rest of his team.
The phones are ringing with people calling for last-minute tickets, for parking details and with other general questions.
"This is nonstop up until like 6 p.m.," Webb says. "We answer each call and do the best we can to make sure everyone gets taken care of.
"It doesn't always happen, but we try our best."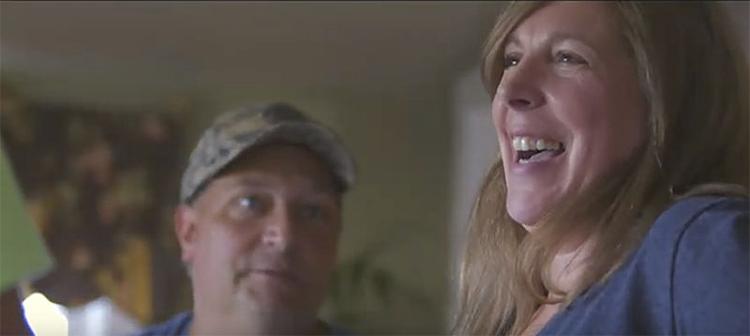 As Webb leaves, Michelle Morgan, the Spyglass Ridge Winery media coordinator, arrives. "OK, so we need to get these lists all together for the VIP sections and will call," Morgan explains to her team of volunteers.
Morgan gathers a group of 30, explains their assignments for the day and where they will be stationed.
"These days are just hectic at times. It is nonstop," Morgan says. "I have to go all over and check on everyone, make sure everyone is OK and has what they need."
In walks head of security and Sunbury police officer Keith Tamborelli.
"We need to talk about parking," he says. "Last time there was some concern about the upper lot and how many people are using it."

11 a.m.
Keith Tamborelli gathers his security crew together to explains their assignments for the day.
"We have armed and unarmed security," he explains. "We make sure each person has their spot for the day and they monitor the place with constant movement."
Tamborelli offers a peek inside of a police trailer. It's internet-ready with cameras inside and out recording the day.
"We have radios dedicated to state police. All we have to do is click it and it goes directly to the barracks at Stonington," Tamborelli says. "It's like the Bat Phone."
In his 10 years of heading the security at Spyglass, Tamborelli says there have been only three incidents. Tamborelli said they have individuals who had too much to drink or maybe pushing into other people.
"We are lucky. Everyone comes and just has a good time," he says. "They cut off the beer and wine at a certain time and it helps. We have been very lucky to have no major incidents."
The perimeter of the winery is always a major concern for Tamborelli. His crew sets up orange fencing around the entire property three days before the event.
"It takes a lot of time," he says. "What people don't know is we really start preparing for concerts six months in advance. We have to deal with PennDOT and police to make sure traffic is flowing and what roads need to be open and closed."
The winery also uses fire police on days of concerts to direct traffic off of routes 61 and 890. Those attending concerts also can arrive off Carroll Road, which leads directly to the VIP parking area.
Tamborelli will drive around the property on an ATV all night. He is only a click away on the radio in case of an emergency.
As several hundred people begin to line up for the 6 p.m. opening act, Tamborelli meets with his security team and gases up 4-wheelers to patrol the grounds.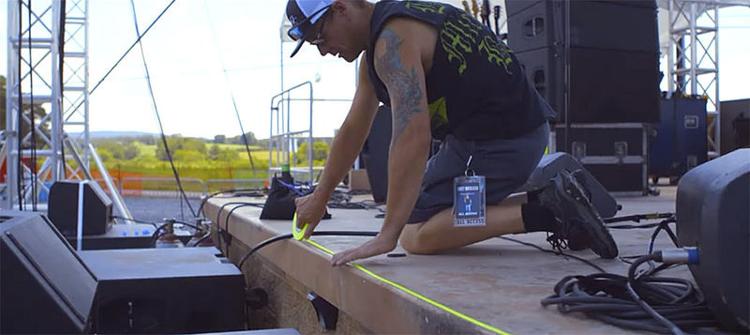 Noon
The first of Bret Michaels's production team arrive as the temperature soars to near 90 degrees.
"It's going to be a hot one and we need to make sure we have water nearby for the crew," Webb says.
About 30 people begin to set up lights, speakers and a Bret Michaels background set.
"Bret loves this place. He was ready to come back and see all his fans," Walter Strobel, of California, of the Bret Michaels stage crew said. "We are all excited to be here. It's like one big party for us."
Stage crew members continue to hook up speakers and wires ahead of a soundcheck scheduled for 2 p.m.
Food vendor Lottie Neiswender, owner of Grilled Cheese Cafe 2, of Catawissa, says she is preparing to make more than 1,000 sandwiches in the blazing heat.
"We love it here. We love being able to serve the fans," she says. "People don't realize we pull in by 8 a.m and start preparing to hopefully be all set up and ready to go by 5 p.m. for the rush."
Neiswender and four others will hustle all evening to make sure people have a good experience.
"We sometimes see that the band will come out and get food from us," she says. "This place just has such a great atmosphere. We just love Tom. He does so much and to bring this type of entertainment to the Valley is amazing."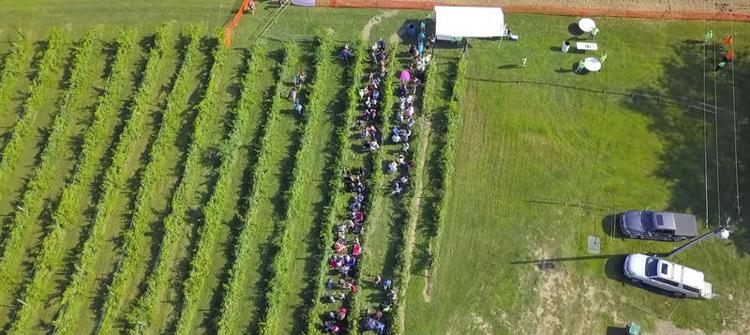 1 p.m. 
Four hours until the gates open. A sense of urgency is setting in.
Webb and his crew are in and out of meetings. They gather at the winery.
"We make sure my staff is fed and is well hydrated and have everything they need," Webb says. "These days can get so hot and to stand out there all day and deal with the rush of people can be a lot at times."
Laurie Berard, 64, owner of Townside Garden Cafe in Northumberland, has been catering concerts since Webb began hosting them.
"It's been so much fun," she says. "We have met so many of these people. It's always a blast."
Berard, the wife of Northumberland Borough Mayor Dan Berard, says she has had normal requests and some not-so-normal menu requests for band members.
Over the past 13 years, she said acts have requested various types of imported water, special cheeses. They even had to feed singer Lita Ford's dogs.
"They (the dogs) wanted chicken breast," Berard says. Berard has made meatloaf, mashed potatoes, pork loin and more for sometimes up to 50 people in the bands' crews, she says.
"It's funny because I would bet that back in the day a lot of these people could care less what they were eating and now they want organic foods and specialty stuff," Berard joked. "Either way it is a blast doing it."
"Bret Michaels' people just wanted home cooking," she says. "They didn't want anything fancy."
Bret Michaels menu was easy: Plain chicken breast with asparagus.
As Berard prepares food in Northumberland, employee Bree Fitzgerald, 37, of Sunbury, serves lunch to Michaels' crew and opening act, The Sweet.
"The Sweet guys were so nice. We sat with them while they ate," Fitzgerald says. "I usually am back in Northumberland helping. I wanted to be at the winery for this one because I am a Bret Michaels fan."
Fitzgerald prepared Michaels' chicken and asparagus at the winery. "I got to bring it to him and I even got a picture," she says. "It was great."
Berard and Fitzgerald are in it for the long haul.
They will be at the winery until well after midnight on concert days to feed the bands after the show, Berard says.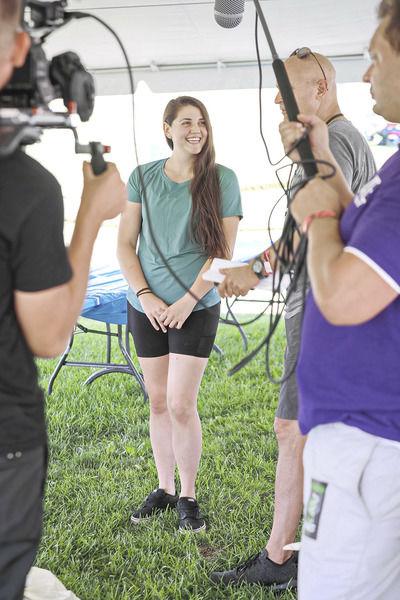 2 p.m.
Alyssa Webb is in charge of the wine tent. That is no easy task for thirsty fans waiting to get a glass of their desired choice.
Alyssa starts stacking glasses, making wine slushies and preparing to deal with long lines all while having to talk to the several other volunteers working in the beer and wine tent with soundchecks blasting in the background.
"It will start off slow when people file in at 5 p.m to set up their chairs," she says. "Then the rush comes and we don't get a break the rest of the night."
Alyssa said even though she is a music fan she only gets to hear the bands from a distance. She is busy making sure concert attendees are enjoying themselves and their glasses are filled.
"It's busy and I do get to at least sometimes go and meet the bands," she says. "But this can be stressful up here."
While Alyssa and her crew set up, the stage is beginning to take shape. Sound checks continue.
"This is where it gets interesting," Bower says. "Each band has its own method and we need to make sure everything is correct and the lights are matching what the bands want."
Bower said sound checks can go on for hours.
"They may come out and play a bit to tune everything in or members of the stage crew may already have the instructions and get things prepared. I've seen these take various times to get completed over the course of these 13 years."
Bower climbs the top of the stage to ensure everything is secure and the sound is all correct. "We have this all figured in in case it would get windy or rain or whatever the case may be," he says.
Tom Webb also makes his way to the stage. "I am down there doing whatever is needed," he says. "You have to be a jack of all trades with this and over the course of the 53 shows I have done with Rod we are getting pretty good at this."
Behind the stage, crews load and unload boxes of cable wires, speakers, microphones and musical equipment.
"It is a long, slow process to get everything set up," Bower says. "When it's over we take it all apart and put everything away. We are here until 3 a.m. some nights."
4:15 p.m.
Members of Michaels' band begin their sound check.
At the same time, Webb receives an urgent call. "Bret's people called and said his friends and family were going to be in here a bit earlier than they thought," Tom says. "So now we have to go and make sure they have drinks and some food in the tent."
Webb talks on the two-way radio to Morgan, offering a heads up.
By 4:30 p.m. Morgan is on her way with cases of water, soda and several snacks for the private backstage tent.
"This is the part of the day that is something that can be unexpected," she says. "We try to make sure everything runs smoothly all the time but things change and we are a team here so we adapt and make it happen."
With that Morgan heads back to the main entrance. It's almost time.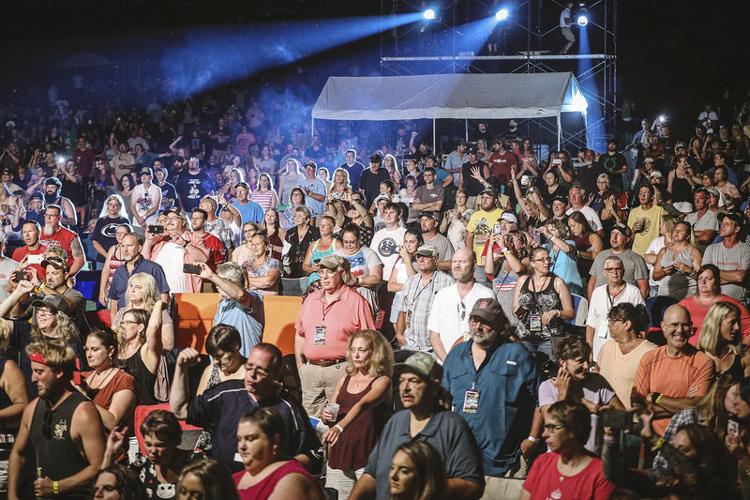 5 p.m. 
The gates are open. Tamborelli and his crew are set with security wands. Several volunteers begin to scan tickets and check VIP and will-call lists.
"Each person will come through and their bags will be checked. They will make sure nothing is getting inside," Tamborelli says. "All of my crew is in law enforcement or works in the field. We are trained to check for weapons and anything of that sort."
The lines are long. People are getting excited to get in and rush to the front of the stage to place their lawn chairs.
"This is what is great about this place," Carol Fallock, of Harrisburg, says. "I have been to three of these concerts so far and I stood in line early enough to get the best seats."
Tom says he loved the idea of people bringing in their own seats 13 years ago and he still does.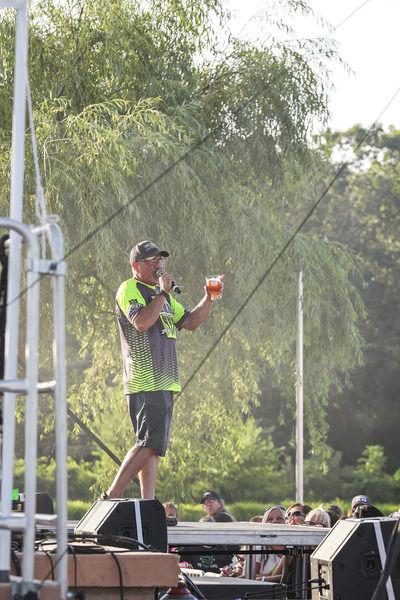 "It's our backyard," he says. "People visit each other and they bring chairs and sit outside and talk and enjoy themselves. That's exactly what we wanted here."
Hundreds of people begin to fill the grounds. There are chairs everywhere. People line up to buy wine and beer. The food vendors are already serving sandwiches.
"We will get very busy starting now," Alyssa says. "We do all we can to keep up and make sure people get what they want and are able to go and enjoy themselves."
Security member Judd Long, of Sunbury, said he has been watching crowds at Spyglass for 10 years now and there has been no serious trouble.
"The gates are now open so people will rush to get a good spot in front of the stage," he said. "They will do their thing and grab food and drinks and talk and just hang out all night. We keep a close eye on people who look like they may be drinking too much but really that's about all we see."
6 p.m.
Fans rise from their chairs to sing and dance as The Sweet takes the stage.
"This is where we will now start to scan and watch the crowd," Tamborelli says. "We want people to have a good time but we also want to make sure no one is bothering anyone else or being disruptive."
Security stands by the stage. Long, a professional powerlifter and skilled boxer, says he loves working security. He sees people he knows, listens to good music and enjoys a night out.
Backstage, Michaels' friends and family begin to arrive and mingle in a tent, including Bret's father, Wally Sychak.
Sychak arrives with family and goes under the tent laughing and talking while waiting for his son.
"It' just so cool to know people want to come here and then they want to bring their families," Tom Webb says. "I am proud of that."
Sychak talks to several Spyglass volunteers and mingles with his family.
"This is a great place up here," Sychak said. "I am really happy to be able to make it and watch this tonight. I always liked it up this way and the people here have just been so nice to me every time."
Sychak died Aug. 4 after suffering a heart attack, five days after visiting the winery to watch his son perform. He was 85.
Sychak spoke with The Daily Item throughout the night saying he was enjoying his time in Sunbury and with his family.
As The Sweet continue to play, the stage crew monitors lights and sound to assure everything is running smoothly.
"It's literally an all day and night thing," Bower says. "I will be back here all night and I will be here until 3 or 4 a.m. taking everything down when it's over."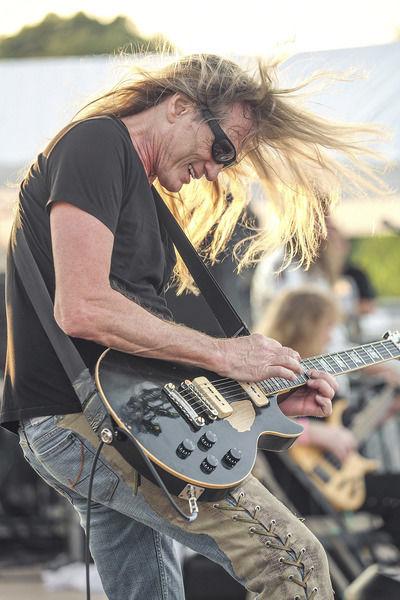 6:45 p.m. 
A white Cadillac Escalade pulls into the backstage area of the grounds of the winery.
Bret Michaels emerges from the passenger side with a big smile and says: "How is everyone doing? I am so happy to see you all again. Let me get settled and let's have an amazing night."
Michaels enters his trailer and spends time with his father who is waiting in the air conditioning.
7:45 p.m.
Michaels comes back outside and mingles with family, friends and some fans during a private meet and greet.
"This place has such a family feel to it. I have been a lot of places in my life but Spyglass Ridge Winery will forever be one of my favorite places to be at," Michaels says. "I won't let one of these people here not get the chance to say hello or to get a picture. This is all about them. I am forever grateful to each and every one of them."
For the next 45 minutes, Michaels shakes hands, poses for pictures and meets The Sweet for a group shot.
"This is awesome," Michaels says. "My first concert ever seeing was The Sweet in Hershey."
"Who would have thought this," Tom Webb says. "I mean right here in Sunbury in our backyard we have these major performers in the industry hanging out and just being down to earth normal people enjoying themselves."
Michaels and Webb meet and shake hands. "It's so good to see you my friend," Michaels says. "I am so happy to be back here and ready for a party."
Webb thanks Michaels for returning to the winery. "We are all happy to see you. Everyone was looking forward to tonight," he says.
Michaels makes his way back to his friends and family for a bit before spending more time with his father in the trailer.
Meanwhile on stage is The Sweet, best known for '70s hit song "Ballroom Blitz."
"This was an awesome surprise when Spyglass announced The Sweet was coming to play," Ryan Penny, of York, says while standing in the front of the stage with his wife, Susan. "I can't wait for 'Ballroom Blitz.'"
The Pennys weren't disappointed. The Sweet played until nearly 8:45 p.m. and ended with "Ballroom Blitz" and a screaming and dancing crowd.
"This is so much fun and what a perfect night," Susan says. "Can't wait for Bret."
9 p.m.
AC/DC blares over the speakers. The crowd sings along to "Thunderstruck." The music stops. Drums start to play on the stage. Backstage security starts to clear a path and a stage crew member runs a live microphone to Michaels' trailer.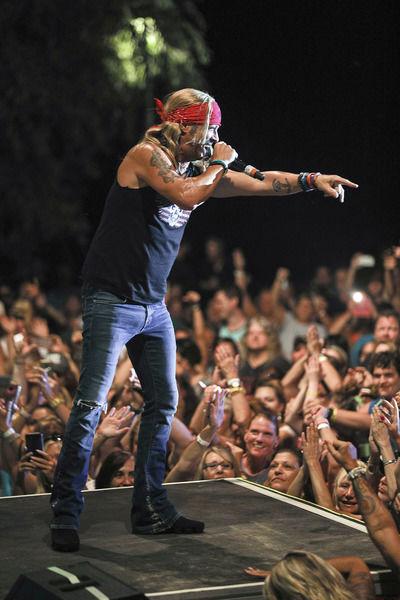 "Are you ready Sunbury?" one of Michaels' lead guitarist yells through the microphone. "The party starts now!"
Michaels exits his trailer with the live microphone, giving high fives to security members, his friends and family and the stage crew.
"Sunbury, are you ready to party? It is good to be home!" Michaels yells, shaking hands backstage and ascending a short set of stairs to the stage.
The stage lights up with smoke and flashing lights and Michaels kicks off his show, saying, "All my friends raise your hands, I said raise your hands. Are you ready to go old school?" before starting "Talk Dirty to Me," one of his Billboard Top 10 hits in the '90s.
The crowd sings along while jumping up and down. Tom Webb stands by the stage and says, "I will never stop doing this for these people."
Michaels continues his set for the next 90 minutes. He follows with two encores. Michaels brings up military veterans on stage and sings his hit song, "Something to Believe In," while giving each one of them a handshake and hug.
"Sunbury, we are in no hurry to go anywhere," Michaels says. "We also want to tell you we will be back. I can't promise anything, but I have been talking to the boys of Poison and we are working on getting together for another party right here in Central Pennsylvania."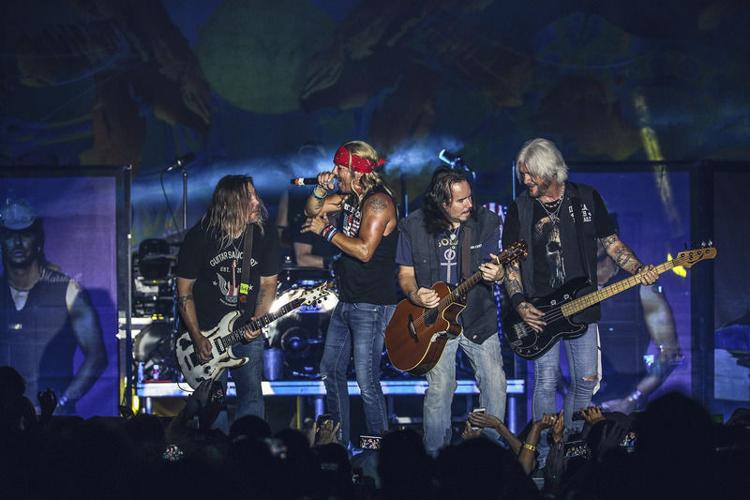 10:30 p.m.
As the show ends, Michaels meets with fans who purchased VIP tickets. There are more pictures during a meet and greet that runs until midnight.
The money raised will go to one of the charities that benefits through his Bret Michaels Life Rocks Foundation.
The foundation was started by Michaels, who suffers from diabetes, to send children to various camps to help them learn how to deal with diabetes. Now, Michaels makes donations to children's cancer organizations, military organizations and various other causes.
"I can't say running one of these shows is easy at all," Tom Webb says. "But I will tell you this much, it never gets old and to see what Bret (Michaels) does with his shows by giving back to the communities through his foundation is heartwarming."
As Michaels continues to meet with VIP fans for photos and autographs, the Spyglass crew is working hard at getting people to their vehicles and making sure everyone is safe.
"After the show we work just as hard ensuring people are leaving safely," Tamborelli said.
The stage crew has already begun to pull down the lights and speakers. Michaels' crew is unplugging the sound.
"We will be here until the early morning cleaning up," Webb said. "Then on Sunday we will walk the grounds and clean up the rest of what we missed."
Webb says he will take a short break before preparing for Big & Rich on Aug 31, the winery's first country show.
"Then we get to do this all over again," he says.