MAHONING TWP. — A former military helicopter, transformed into a LifeFlight helicopter, will go into service July 1 in Carbon County.
The military used the aircraft, painted in Geisinger blue, for training and testing, LifeFlight program director Gerald Splitt said during Tuesday's debut of the aircraft at Geisinger.
"We were looking at an aircraft that was standardized and went to the used market," he said of the medium size twin-engine craft manufactured in 2010 with only 500 hours.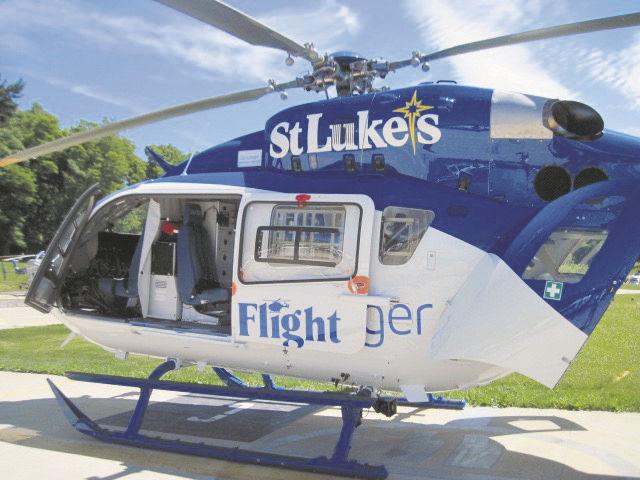 He said the program needs an aircraft with identical cockpits for crews "that are the same at 3 a.m. as they are at 3 in the afternoon."
Geisinger and St. Luke's University Health Network, in the Allentown area, partnered for the craft to be based at Arner Airport in Carbon County and the sixth LifeFlight base. There are three other LifeFlight helicopters rotated in accordance with inspection and maintenance schedules.
The non-medically equipped helicopter cost about $6.5 million. "We are a flying ICU (intensive care unit)," Splitt said. The medical equipment will add about $100,000.    
With the medical equipment and a pilot, a flight registered nurse, a flight paramedic and up to two patients, he said, "it's cozy."   
Besides Danville, other LifeFlight helicopters are based in State College, Wilkes-Barre-Scranton, Williamsport and Minersville. The Arner airport is the base nearest St. Luke's and the same base where current air ambulance service is based.
St. Luke's currently has a contract for air service, which Geisinger will take over as of July 1, said LifeFlight Safety Manager and pilot Peter Carros.
"The biggest thing for me as a pilot is it has the newest technology on it," he said of the newest helicopter that flies at about 135 mph, or about 120 nautical miles, at heights between 1,000 and 1,500 feet.
"It has a good backup system," Carros said of two autopilot systems. "If one fails, the other picks up," he said. 
Splitt said LifeFlight helicopters "are the best equipped in North Central Pennsylvania."
LifeFlight helicopters have three sets of night vision goggles for the crew. "This is one of the top safety enhancements in our industry," he said.
"We focus on patients with the most capable team," he said. He said their highly certified flight crews are trained to care for newborns through people aged 100 years or older. "The training never stops," Splitt said.
"We want to prepare for every case. Most times, it's the worse day in a person's life," he said.
LifeFlight officials are working on aircraft carrying a blood supply, he said. Among current equipment are a cardiac monitor, a ventilator, IV pumps and medications — "anything in the ICU is available here," paramedic John Jankowski said.
Helicopters will soon be carrying an ultrasound system, Splitt said. 
Splitt said the helicopters can fly with an isolette for transporting infants.
"This is a real exciting time for our program," he said of the helicopters logging 2,600 to 2,700 hours a year.
Geisinger's 37-year-old helicopter program began with one aircraft. The program, with an annual operating budget of about $15 million, has flown more than 60,000 patients from more than 45 counties in central and northeast Pennsylvania.
Sixty-five percent of flights are from one hospital to another and 35 percent of flights are to emergency scenes. 
About 100 staff members work in the program. 
Geisinger added a ground ambulance in 2015 for patients who don't need the speed of a helicopter, Splitt said.  
Email comments to kblackledge@thedanvillenews.com. Follow Karen on Twitter @KLBlackledge.